I love the tajines from Morocco. Simmered stews cooked in the famous earthenware pot with a cone-shaped lid. This one I present to you, is prepared in apple season and is a delicious mix of contrasts… Sweet, sour and salty… Simple and delicious!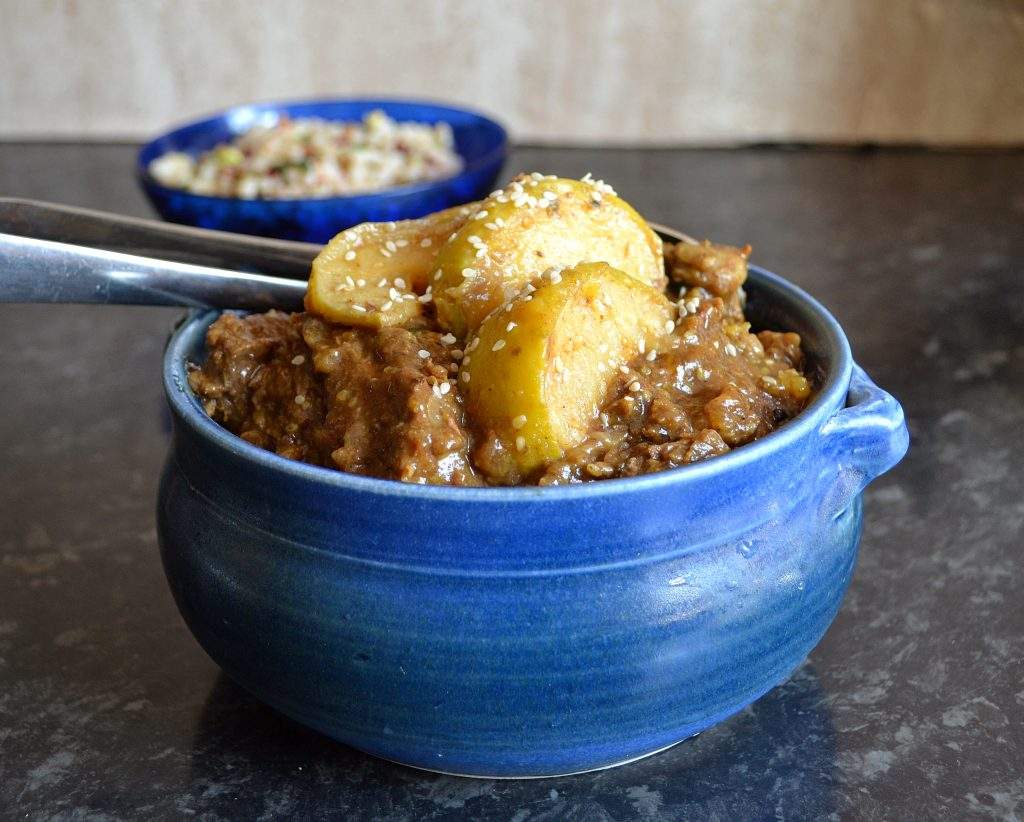 Ingredients for four people
1 kilo of needle or shoulder of veal cut into cubes of about 2.5 cm.
10+10 g of butter.
1 onion cut into thin slices.
1 pinch of saffron strands.
2 teaspoons of ground ginger
2+1 teaspoons of cinnamon powder.
A bunch of coriander tied up.
125 g of raisins.
75+25 gr of honey.
2 Granny Smith type sour apples, washed, quartered and cored
Sesame seeds.
Olive oil, salt and pepper
Preparation
Heat a dash of oil and 10 grams of butter in a heavy-bottomed pot and brown the meat in batches. Set aside.
In the same pot, add the onion and sauté over medium heat until soft. Add the saffron, ginger, the two teaspoons of cinnamon and freshly ground pepper. Stir the whole thing.
When the spice mixture gives off a smell (one minute is enough) add the meat and the bunch of coriander, add water, just enough to cover the meat. Season and cook over a low heat for 1 1/2 hours (if you see that there is a lack of liquid, add a little more water). At this point add the raisins, the 75g of honey and cook for 10 more minutes.
Meanwhile, heat the rest of the butter in a frying pan and brown the apples, turning them over from time to time, for about five minutes. Add the rest of the honey and the teaspoon of cinnamon, stir gently, turn off the heat and set aside.
Serve the meat with the apples on top and sprinkle with sesame.
Read more:
Moroccan Food in Fez
Moroccan Avocado and Banana Shake
Batbout Recipe
Fish Briouats Recipe
Byessar Recipe (Moroccan Bean Cream)
Lentil Falafel Recipe
Zaalouk (Aubergine Caviar)
Seffa Recipe
Beet and Coconut Balls Recipe
Moroccan Fritters Filled With Jam
Chebakia Recipe