Truth no. 14 if you are a fan of Moroccan cuisine: you have not been "baptized" until you buy a tajine in Morocco and curse yourself for having to carry it all the way, ferry included. I bought mine in Meknès in a ceramic products shop.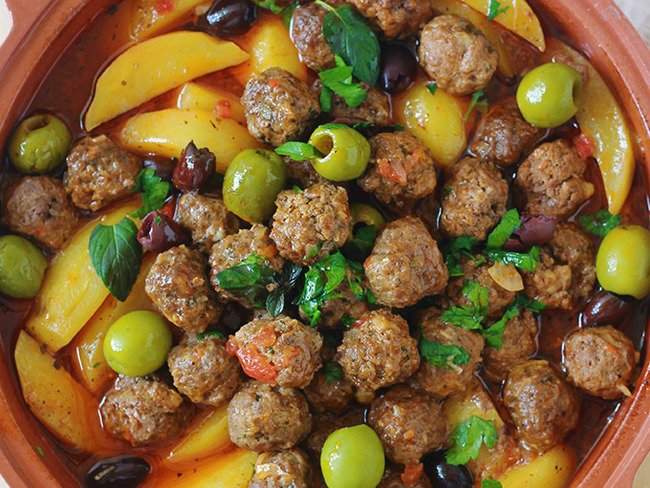 In honor of this characteristic container, we will dedicate today's post to the kefta tajín, but not without first clarifying a question: there are people who do not dare to prepare a tajín because they do not have one at home, and although you can certainly not get the same taste, you can also make it in a large pot or frying pan, making sure that the ingredients do not move.
In fact, I almost always end up doing it this way (and I will do it this time), as my kitchen is very small and it's usually a nuisance to cook with something so big (yes, despite being loaded with it from Morocco it has ended up becoming one of those things that mainly serve to take up space). Let's start then!
Kefta tajine recipe
Ingredients for Kefta Tajine (For 4 People)
-1 kilo of kefta meat
-4 eggs
-1 onion
-4 tomatoes
-2 cloves of garlic
-1 teaspoon of pepper
-1 and a half teaspoons of cumin
-1/2 teaspoon ginger
-1 teaspoon of paprika
-1 handful of chopped parsley
-Salt and oil
Preparation
We start by preparing the kefta meat and letting it rest. So as not to repeat unnecessarily, I refer you to the recipe for the kefta skewers. Once it is done, we form little balls (preferably small, as they take on more flavour and are easier to eat).
For the sauce, we put the oil at the bottom of the tajín covering the bottom. Then add the chopped onion and garlic and cook over a medium heat until it is soft and set aside.
Pour the chopped tomato into a bowl, beat it until it has the texture of a sauce and add it to the tajín. Return to medium heat and after 10 minutes add all the spices (pepper, cumin, ginger, paprika and salt) and leave to cook for another 10 minutes.
Then carefully place the kefta balls in the tajin over a low heat and cover for 10 minutes. Finally, turn them over, making sure they do not break, and cook for another 10 minutes.
In theory, these instructions should be enough, although I suggest adding an additional step: curdle an egg over a very low heat and cover it when the balls are ready. The added value it provides, both in terms of taste and texture, makes the dish gain a lot of whole.
The only thing left to do is to serve and eat with a good piece of bread, as the canons require. I hope you like it and we will see you in the next one!
Read more:
Moroccan Food in Fez
Moroccan Avocado and Banana Shake
Batbout Recipe
Fish Briouats Recipe
Byessar Recipe (Moroccan Bean Cream)
Lentil Falafel Recipe
Zaalouk (Aubergine Caviar)
Seffa Recipe
Beet and Coconut Balls Recipe
Moroccan Fritters Filled With Jam
Chebakia Recipe