Seffa is different. Subtly sweet and usually served in celebrations between Moroccan dishes to restart the palate; something similar to the lemon sorbet that is served between meat and fish. Here's the recipe for Cous Cous Seffa.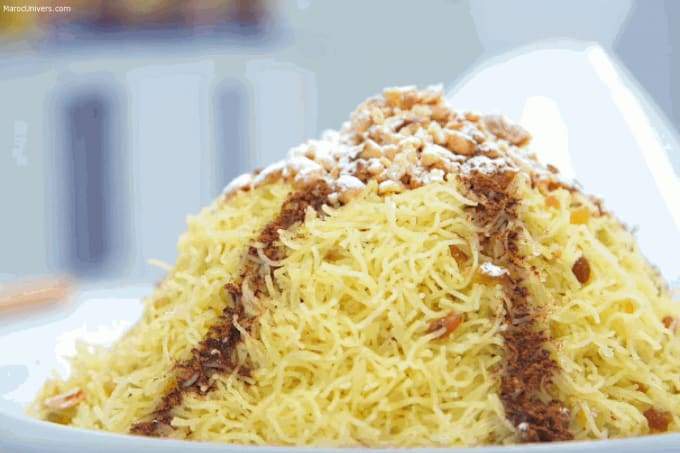 Ingredients for Seffa (For 4 People)
For the couscous
500 g medium grain cous cous
100 gr of sultanas
1 tablespoon of butter
3 tablespoons of icing sugar
2 tablespoons of olive oil
2 cups of milk
¼ glass of water
Salt
For the chicken
1 deboned chicken (if poultry, better)
3 medium onions
2 teaspoons ginger
2 tablespoons of turmeric
1 teaspoon of pepper
3 tablespoons of butter
6 tablespoons of olive oil
Water (approximately one litre)
Salt
To decorate
150 g of fried almonds
Cinnamon
Glass Sugar
Preparation
We will start with the raisins and the chicken, since they need a lot of rest, we can take advantage of this while they are being made to prepare the cous cous. The raisins are simply left to rest in water for at least an hour (the longer the better).
As for the chicken, which I recommend you buy already boned and cut up so that the meat is much softer and we do not find bones when we eat, we add it in a pot together with the oil, the onion (cut in julienne), the turmeric, the pepper, the ginger and the salt.
Put it on a medium heat and stir it constantly to mix everything well. Once everything is integrated, add the butter and stir again until it dissolves.
Cover and leave on the fire for 10-15 minutes. After this time, add water until it covers the ingredients, cover again and cook it over a low heat so that most of the water evaporates (approximately 45 minutes will pass). Set aside.
While we wait we will prepare the couscous, which should be prepared in the couscousera or in a specific pot for steaming, as unfortunately I don't have any because my kitchen is very small, and as I also think it will be the usual situation among you, dear readers, because with the passing of time the floors tend to be minimal, I will explain how to do it without these containers.
We'll put all the semolina in a bowl, to which we add oil and salt. We stir thoroughly with our hands to leave it as loose as possible.
Then we add the first cup of milk, little by little, to prevent the couscous from spoiling. Continue stirring until it is well integrated and let it rest for 10 minutes. After that time, stir again and repeat the first step (cup of milk, stir and rest).
Add the icing sugar, butter and hot water to the bowl (which should be boiled in a saucepan to melt and remove any lumps). Stir everything well with a fork until it is absorbed, add the raisins (previously drained) and let it rest again for 10 more minutes, if possible in a tray so that it cools down before and is less clotted.
Finally we plate, presenting the cous cous in a dish forming a volcano (leaving a hole in the middle), placing the chicken in the center and then covering it with cous cous. Decorate with cinnamon, almonds and sprinkled with icing sugar.
Some observations
Strictly speaking, seffa is the name given to any dish of similar preparation and nature (being a distinguished dish served between courses) although wheat semolina can be replaced by noodles (then called seffa medfouna) and even rice.
The chicken can be dispensed with, although personally I think the contrast between sweet and salty that the chicken provides is essential.
There are also those who prefer, instead of frying the almonds, to put them in pieces and mix them with sugar and cinnamon, creating an intermediate layer just after the chicken.
We could even add more sugar to the recipe (in the preparation of the cous cous or as decoration), although so much sweetness would take away that play of contrasts with the salty taste. As with the two previous observations, it is a matter of choosing the preparation that best suits your palate.
As a last but certainly the most important clarification: this dish is addictive. Be warned!
Read more:
Moroccan Food in Fez
Moroccan Avocado and Banana Shake
Batbout Recipe
Fish Briouats Recipe
Byessar Recipe (Moroccan Bean Cream)
Lentil Falafel Recipe
Zaalouk (Aubergine Caviar)
Seffa Recipe
Beet and Coconut Balls Recipe
Moroccan Fritters Filled With Jam
Chebakia Recipe