Hello, everybody! This week, to give a little variety to the blog, I bring you a rich and simple recipe for Beet and Coconut Balls that reminds us of the tastes and smells to transport us straight to Morocco!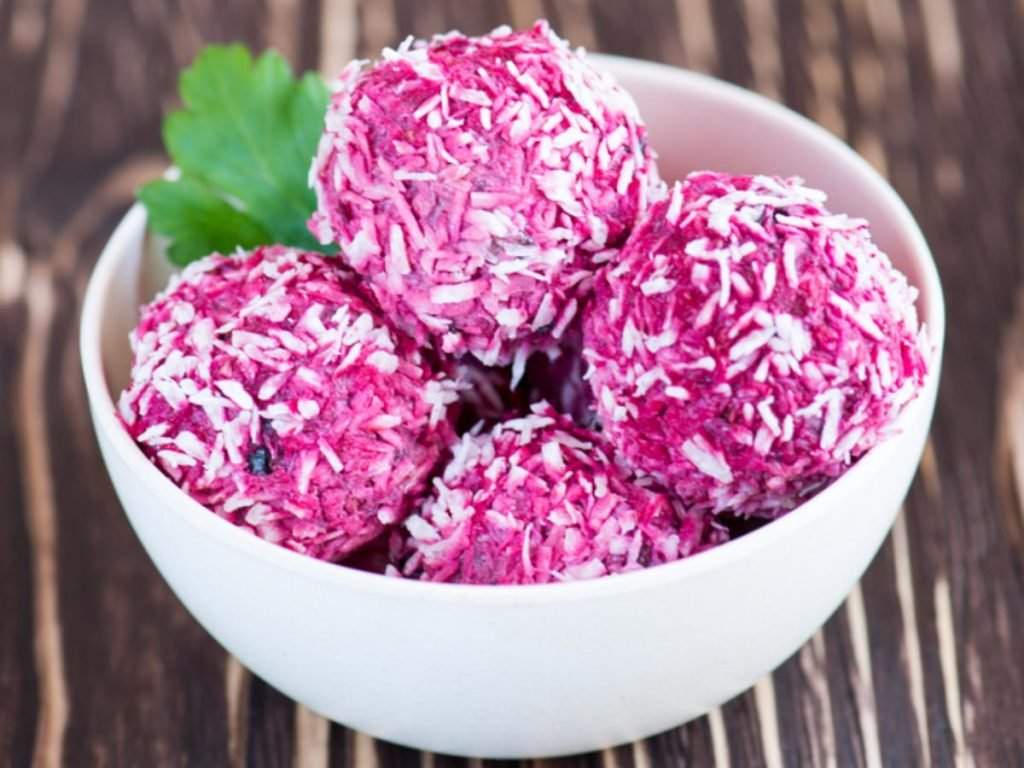 It's been a long time since I visited Fez for the first time, and at that time I was lucky enough to enjoy the company of 4 friends. Taking advantage of an afternoon we had free, we started to walk around the hotel, located in the new area of the city, until we found a very commercial street full of varied establishments.
However, in front of all that assortment of shops of all kinds and colors, there was one that caught my attention: it was a small, old-looking and humble confectionery shop that, in spite of its poor visibility from the street, was full of people. The undersigned came, motivated by the presence of an establishment that seemed to have remained intact over time by its own decision. As it could not be otherwise, what I found was a great offer of homemade and delicious-looking pasta!
From the varied and nourishing assortment that I tasted (as you know, out of pure gastronomic concern) there was a sweet that caught my attention and that unfortunately I have never seen again on any trip: some beet and coconut balls. I was surprised when recently, on Facebook, a follower of the page told me that she had the recipe!
Ingredients for 15 beet and coconut balls
-150 grams of grated coconut
-100 grams of sugar
-200 grams of beet
Preparation
The original recipe called for the beets to be cooked, left to cool and, once they were warm, peeled and mashed. However, we will cut to the chase by buying the cooked and peeled beets that you will find in any supermarket, heating them in a bain-marie so that they are warm.
Then we will chop them up with a mincer until they are mashed (or, if we are strong and patient, with a fork). For each large beet we should get approximately 200 grams of mash.
Then add the sugar, stirring until it is integrated with the mash and no grains are visible. In my case the amount I have added is 100 grams, as I think the beet is sweet enough in itself, but we can move between 80 grams (for those who prefer a more subtle taste) and 150 grams (for those who order the ice cream cups with enough cream on top to form a pyramid that defies the laws of gravity).
Finally, we will add the grated coconut and mix everything, until we obtain a homogeneous mass. Cover and leave in the fridge for at least 2 hours (ideally overnight and eat the next day).
After the rest, we will make little balls with the dough, battering them over some more grated coconut; all that will be left is to present them on a nice plate and eat them! If we also have guests, we can put them in muffin capsules to give them an extra presentation.
Try it at home, which is a very simple and colourful recipe, and it will make you remember those afternoons drinking tea in Morocco (and the ones to come)!
Read more:
Sleeping In Tents: An Unforgettable Experience
Best Beaches in Asilah
Getting Around Morocco
Moroccan Arts & Crafts
16 Best Things To Do In Meknes (Morocco)
Meknes To Volubilis
Fez in 2 Days
Marrakech to Ouzoud
Tamegroute Travel Guide
Where to Eat in Chefchaouen