Many will say that the Harira recipe is ideal only for winter. Don't even think about it: harira is a dish that feels great at any time of the year. Harira, sometimes mistakenly written as harera, jarira or jarera, is a very common Moroccan soup during Ramadan.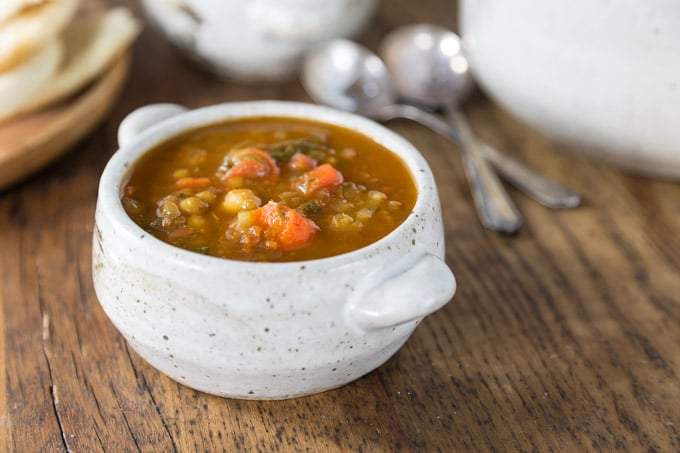 Ingredients (4 People)
-800 grams of ripe tomatoes
-200 grams of veal
-1 carrot
-1 celery stick
-A little handful of parsley
-100 grams of cooked chickpeas
-80 grams of lentils (soaked from the night before)
-A handful of noodles
-Spice to taste. In my case, I use a short coffee spoon of the following ingredients: ginger, cumin, ras el hanout and papikra
-2 tablespoons of flour
-1 litre of water
-Olive oil and salt
Preparation
First, we remove the pips from the tomatoes, beating them together with the chopped celery until they are pureed. Then we cut both the beef and the carrot into small cubes, so that they can be easily eaten with a spoon.
Next, we put everything prepared in a pot, to which we add the oil, putting it on a medium heat until it starts to boil. At that moment we add a glass of water, the parsley (very chopped), the salt and the spices, letting it cook for 15 minutes.
While everything is being cooked, we will take advantage of the most entertaining task of all: peeling cooked chickpeas. Obviously, the fun part is accompanied by a certain sarcastic tone: it is not at all pleasant to peel all the chickpeas one by one. But if we don't do it, we will spoil the characteristic texture of the harira.
After the cooking time, add the peeled chickpeas, the lentils and half a litre of water, and boil for another 20 minutes.
Finally, take the flour, dilute it in a glass of cold water and add it to the soup with the noodles. It is essential that this process is carried out by stirring continuously, in order to avoid lumps. On the other hand, the amount of flour indicated is only a guide, and will depend on taste (basically, if you like it thicker or less) but you should not go overboard or you will risk the soup becoming very dry.
One last piece of advice: if you are going to eat it from one day to the next, don't just add noodles, as they will absorb the broth and it won't be as good, not by a long shot.
Infinite Variations
There are as many ways of cooking harira as there are houses in Morocco, as it is an adaptable dish, intimately linked to the country's culture and frequently consumed. Apart from the flour and spices (making it more or less thick or spicy), some people prefer it with more or less vegetables (removing some, like the carrot, or adding others, like the turnip or the courgette).
The same goes for meat, as it accepts any type. With or without chickpeas, rice instead of noodles… the possibilities are endless, and I'm sure that, if you like it, you'll end up creating your own recipe.
Finally, remember that the harira reaches its maximum expression in the breaking of the fast, at the time of Ramadan. The reason, as so often happens, is to be found in both tradition and science, as it is a very complete food that helps to recover the nutrients lost throughout the day.
In conclusion, it's a very simple, balanced dish made from ingredients common to any kitchen. So you know, if you want to enrich your daily diet and replace the usual (and sad) noodle soup, accept my advice: put a harira in your life.
Read more:
Moroccan Food in Fez
Moroccan Avocado and Banana Shake
Batbout Recipe
Fish Briouats Recipe
Byessar Recipe (Moroccan Bean Cream)
Lentil Falafel Recipe
Zaalouk (Aubergine Caviar)
Seffa Recipe
Beet and Coconut Balls Recipe
Moroccan Fritters Filled With Jam
Chebakia Recipe