The best time to visit Morocco is during spring (mid-March to May) or autumn (September to October). The climate is neither too hot nor too cold, and there are fewer tourists to contend with than there would be during the peak summer or winter vacation periods.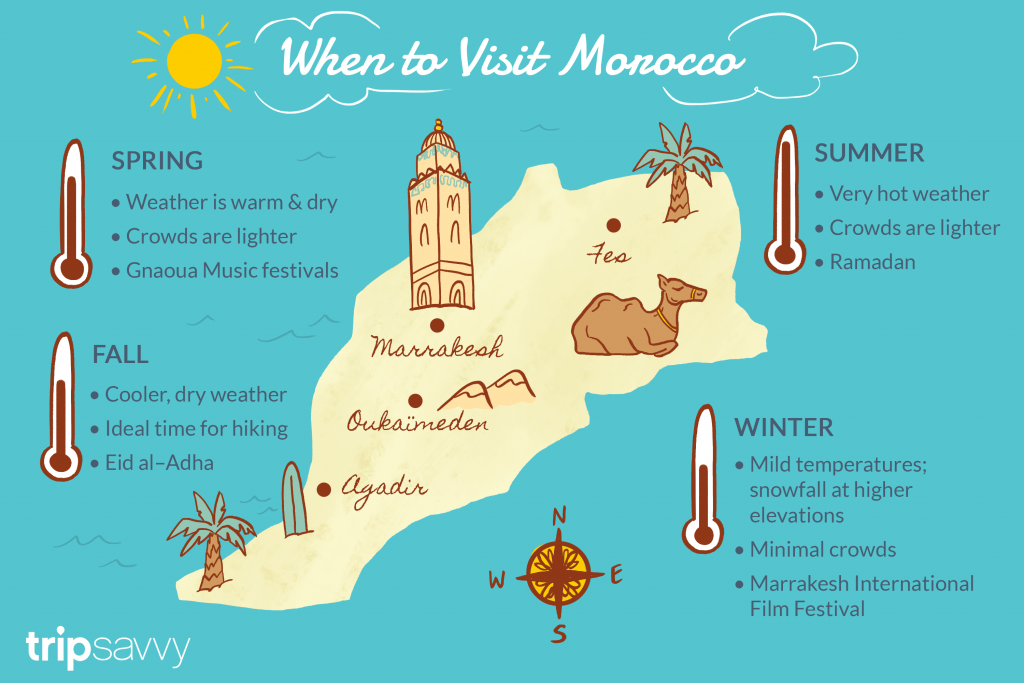 The weather has an important influence while choosing the best time to visit Morocco. In a country with extreme temperatures and huge temperature fluctuations, it is important to take this into account before you get your tickets. Because of its latitude and its proximity to the Sahara desert, Morocco is a very warm place, in general terms.
Most Moroccans always recommend the mild seasons to enjoy a pleasant trip to the country. In spring, especially, because its trees are in bloom, you can include a visit to some of the valleys (Dades, Roses, etc.). Autumn is also a great time to travel to Morocco, although the days are shorter than in spring.
If your destination is the desert and the southern Atlas, summer is not the best time to travel to Morocco. The temperatures regularly exceed 45ºC, making it really hard for those who are not used to it and for sensitive groups, such as children or the elderly.
On the other hand, the beginning of the winter is much better for a trip to the desert, in spite of the fact that it get very cold at nigh due to the abrupt temperature drop.
This is why many people choose Christmas as the best time to travel to Morocco. The end of winter can also be interesting to visit the Atlas, where there will still be large snowy areas, such as Ifrane and its ski resort.
Summer is the best time to travel to the most western parts of Morocco, i.e. the Atlantic coast, which enjoys a coastline of fresh waters and gentle breezes.
Ramadan: Take Advantage Of It Or Avoid It?
Is Ramadan the best time to travel to Morocco? That's another question many tourists ask themselves before taking out their tickets. And, again, it all depends on the type of trip you're expecting.
For most travellers it's not the most attractive because the country doesn't look its best: the daytime atmosphere of the souks falls dramatically, Moroccans tend to be in a worse mood, many shops close all day because their owners are on holiday, etc.
But if you are a group of curious travellers, who have never before witnessed this religious phenomenon, the answer is the opposite: it is a unique moment to get to know up close a thousand-year-old tradition that every year marks the life of the country, while also appreciating the joy that its people experience after sunset.