I have a hard time understanding a journey if it is not capable of providing me with moments that shake me up. Don't get me wrong, I've enjoyed my vacation at fancy resorts too, spending most of my time in a lounge chair by the pool. But I don't really consider it as a journey. One of the experiences that I remember with great affection and intensity was when I first went to Merzouga.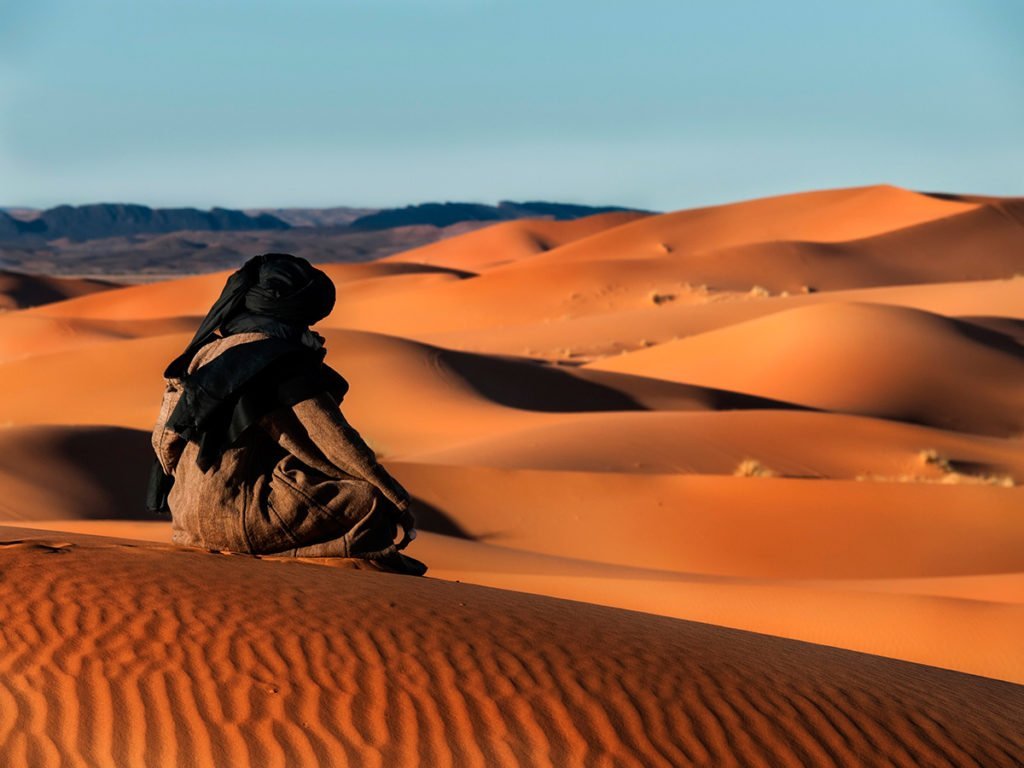 Merzouga Desert – Erg Chebbi
Although we usually call it Merzouga, in reality this constantly changing landscape is called Erg Chebbi, where Chebbi is the proper name and erg defines the type of desert (i.e. those composed of masses of sand). Other deserts, much more common, are the hamadas: hard, stony and with hardly any sand.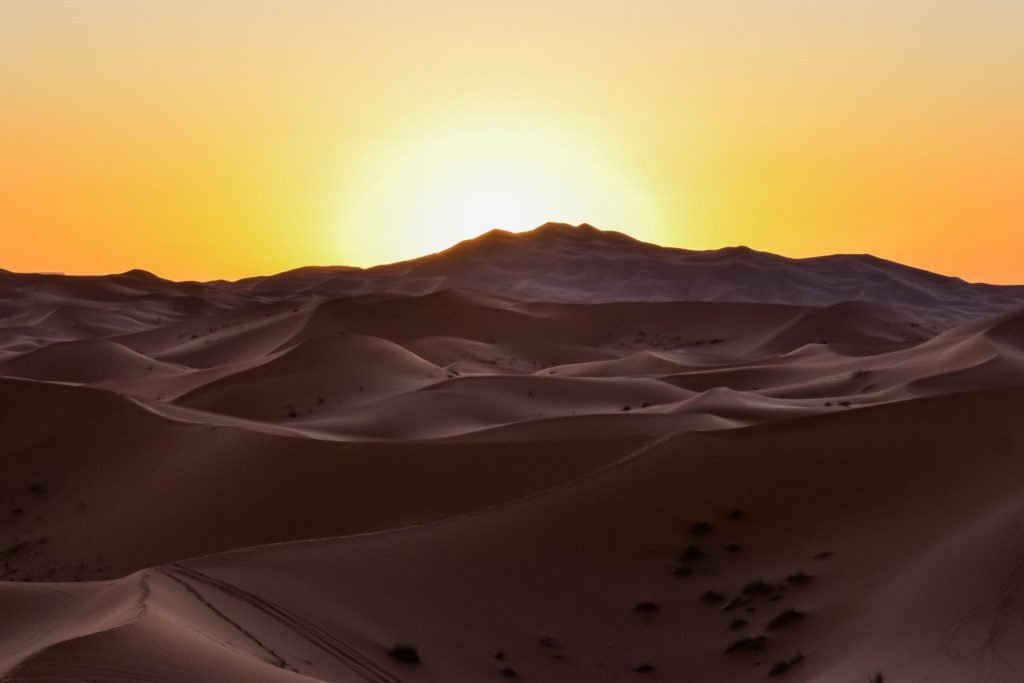 Without a doubt, this is the most famous desert in Morocco, and if the accompanying photos do not help you understand the reasons, their numbers will: it is about 30 km long and approximately 8 km wide; in addition, some dunes can reach more than 150 meters high. Another outstanding Erg in Morocco, although not so popular, is Erg Chegaga.
Merzouga is therefore, together with other villages such as Hassi-Labiad, Tanamoust or Takoujt from where travellers leave for Erg Chebbi. However, it is by far the first to attract the most tourists and where the majority of the riads are located.
That is why saying "the dunes of Merzouga" is common but inaccurate (although even I do it for convenience).
There are several ways to get to Merzouga, the most common being from Marrakech or Fez. Fez to Merzouga is an eight-hour drive and from Marrakech to Merzouga it is a ten-hour drive.
Here are the best places to stay in Merzouga.
How To Get From Marrakech to Merzouga
If you decide to use public transport or organized excursions, the journey is made in two days. This is not, in my opinion, a disadvantage, since the destination is as important and enjoyable as the road to get there with cities of adobe, kasbahs, palm groves, gorges, … a spectacular show to enjoy from the window.
From Marrakech the first night is usually done in Dades (stopping before in Ait Ben Haddou) and the later in a camp of tents and Erg Chebbi. The next day starts early in the morning and returns to Marrakech in a single day.
However, some choose to take a more personal and leisurely trip, either in their own 4×4 or on a private tour, visiting Ait Ben Haddou on the way back and staying in one of its kasbahs, thus spending a whole morning in the dunes instead of leaving early in the morning.
How To Get From Fez to Merzouga
The journey from Fez has the peculiarity of being more diverse and of showing the Moroccan geographical heterogeneity, since at the beginning we will cross the middle atlas, with green trees and snow capped peaks, until we approach Merzouga when the rough landscapes begin to emerge. The main places where we usually stop on this route are Rissani, Ifrane and Midelt.
What to do in Merzouga
The best thing you can do in Erg Chebbi is simply to enjoy the scenery and become aware of how tiny we are. But for those of you who like to travel with a plan, here are a few of the activities you can do in Merzouga.
Riding Through The Dunes On A Motorbike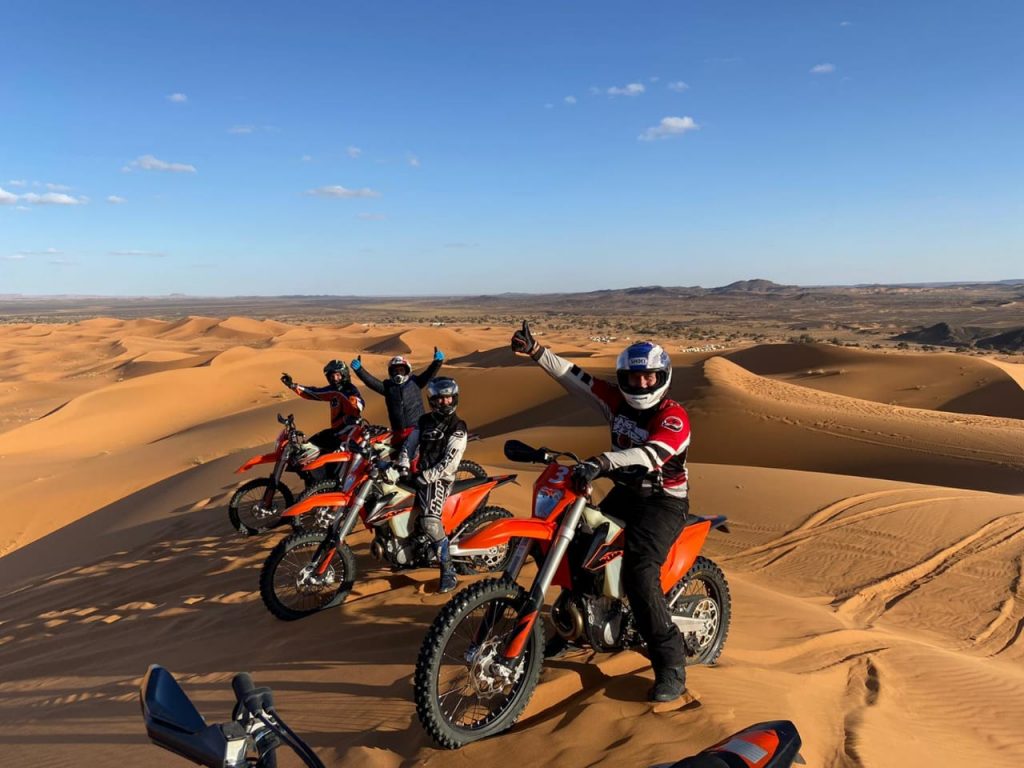 Dune Bashing on Quad Bikes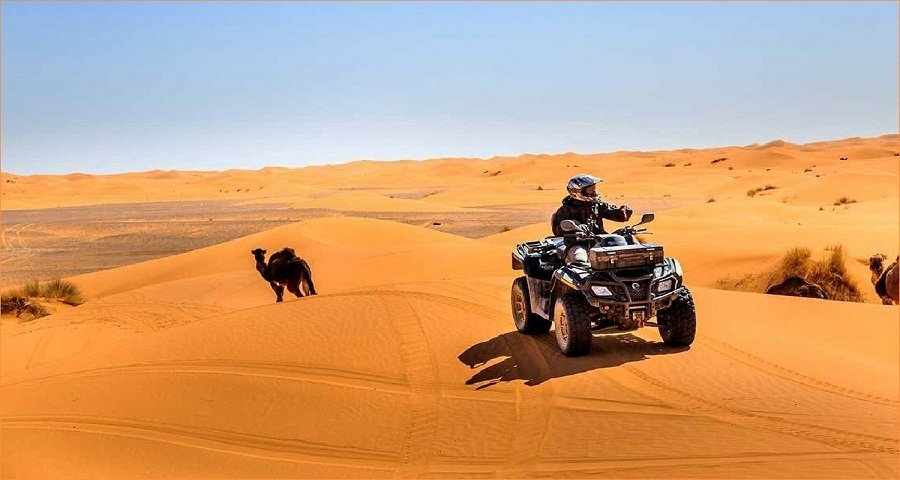 There are multiple ways to go around the dunes. In my case, I enjoy two of them the most: either in a 4×4 (adrenaline and bumps are guaranteed) or on quads, with all the participants following a leader. It is impossible for you to fall down, I assure you.
Sandboarding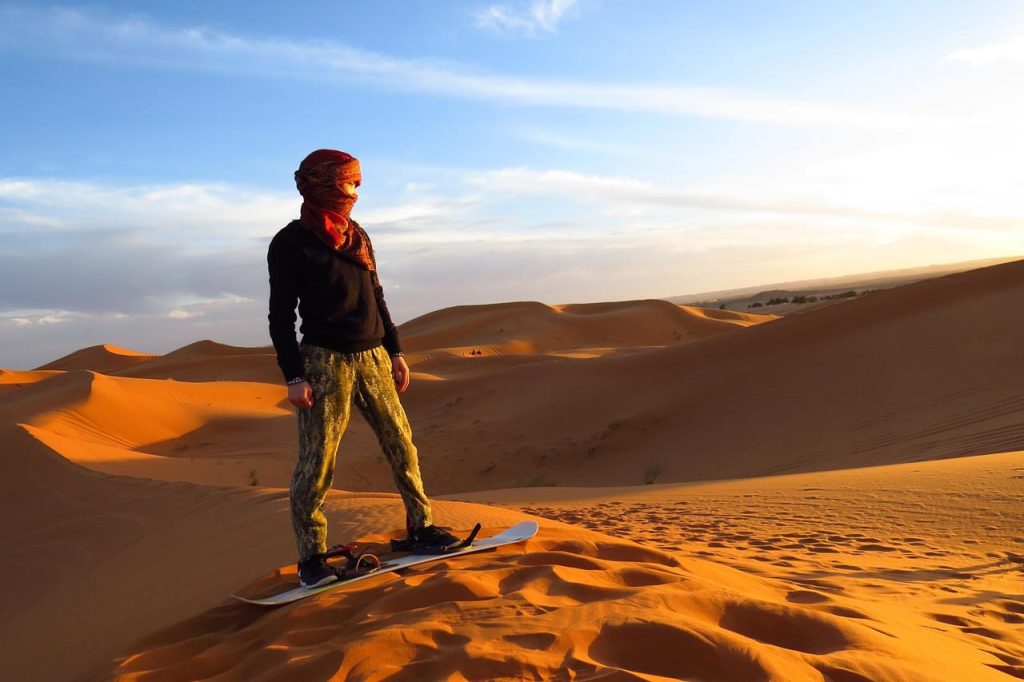 It isn't necessary to use any vehicle to feel the excitement of the desert. Even if you do not have a board designed for this purpose, it is very likely that one of the hostels in Merzouga can provide you with one, either for a fee or free of charge.
Dromedary (Arabian Camel) Ride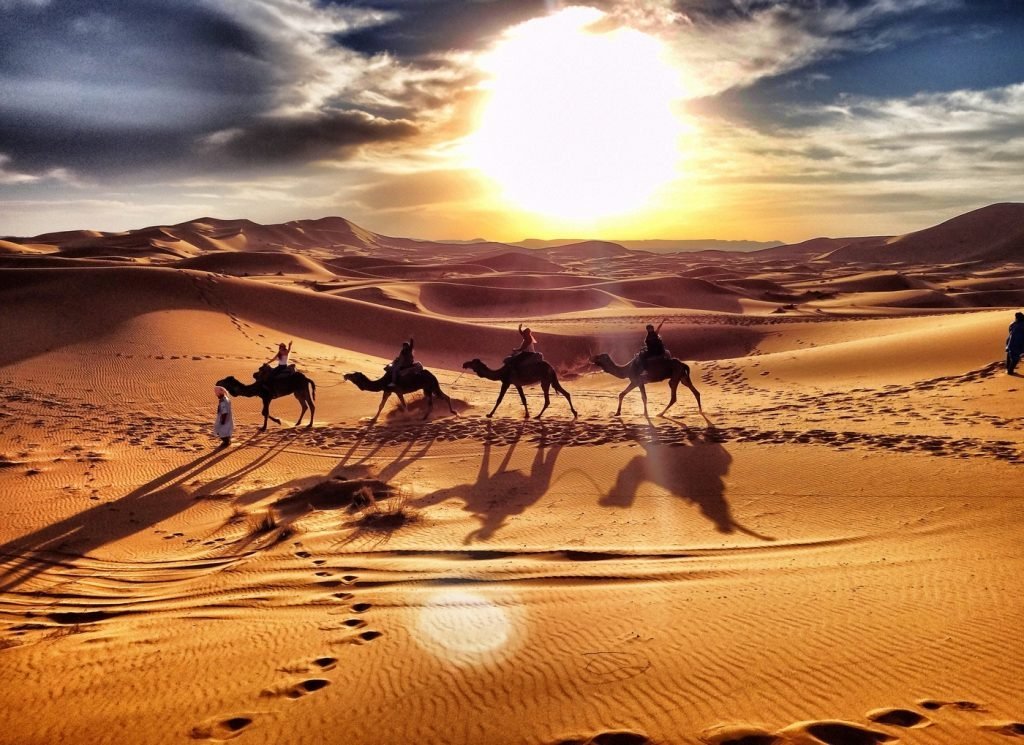 It's almost certainly the way you'll access the tent camps. It's usually a little scary at the beginning because of the size of the dromedaries and climbing them. But after the first 10 minutes the tension will have disappeared and you can enjoy the rest of the ride.
Search for animals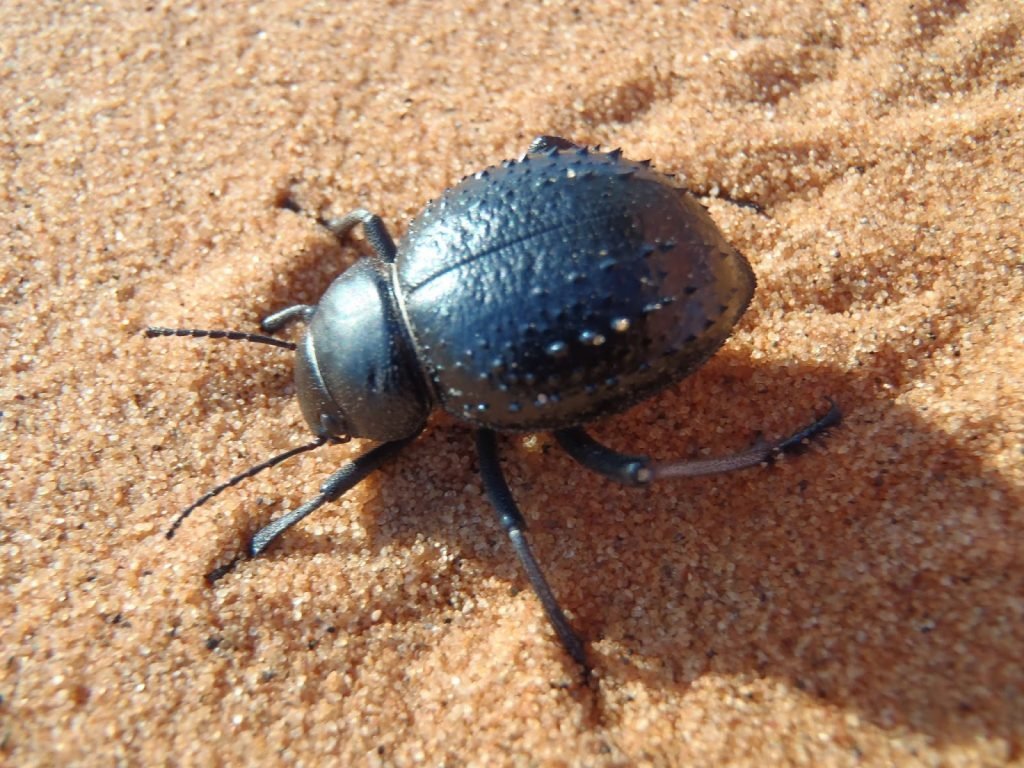 The desert has its peculiar and varied fauna, from insects to foxes. If the spirit of exploration does not run through your veins, you can at least try to deduce to whom the footprints and burrows you find belong.
Behold the dusk and the dawn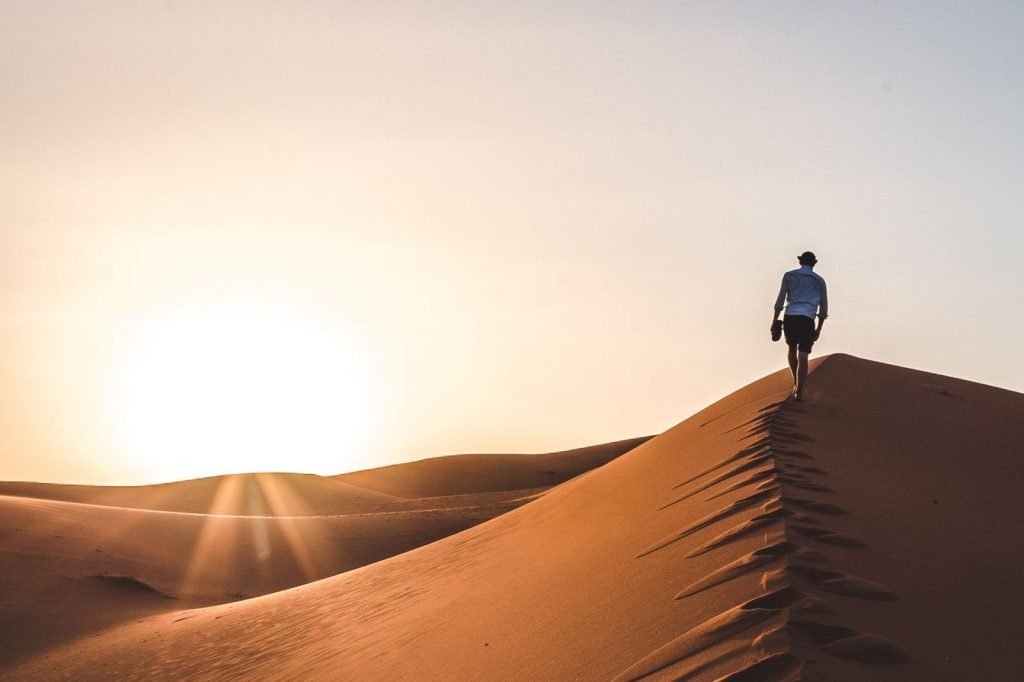 In Erg Chebbi the landscape changes not only in form but also in colour: at dawn the sand becomes reddish, and as the sun rises, more yellowish. So it is not something to admire only when the sun is about to set or rise, but practically every minute.
Enjoy the night (and the company around the fire)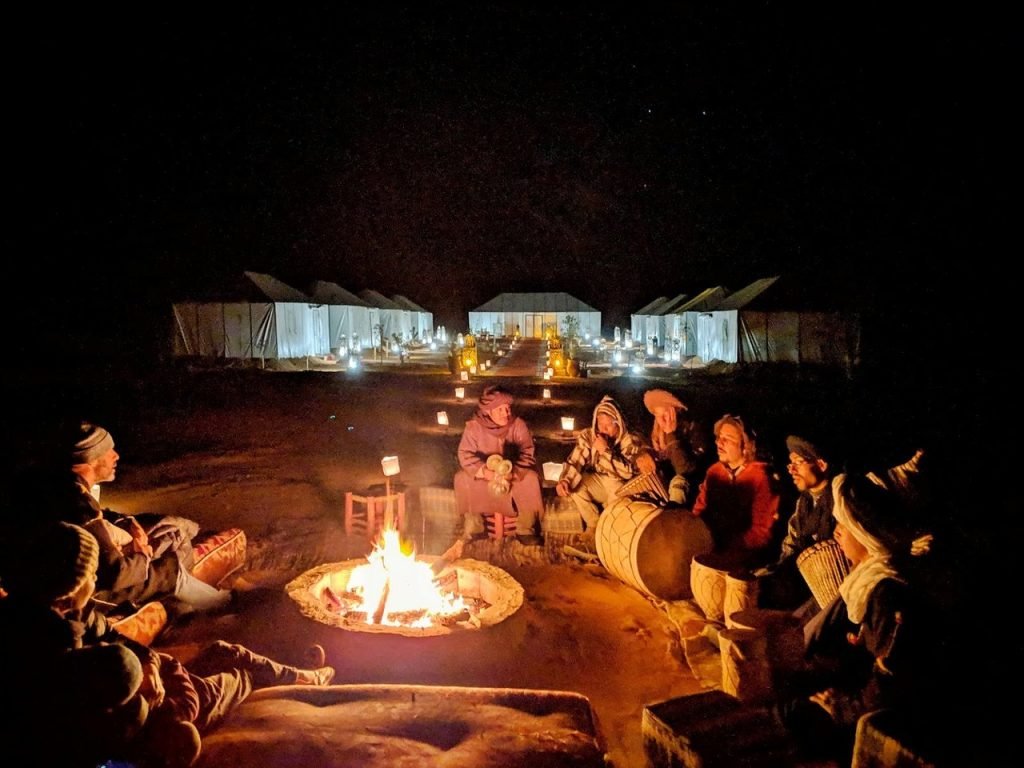 If light is a spectacle in Erg Chebbi, the lack of it is also a spectacle. When the sun goes down everything will be reduced to pitch black, the coldness of the sand and a starry sky. And if you accompany him to a bonfire with your travelling companions and improvised Moroccan musicians, better than better.
Getting to know another culture
I will not tire of repeating that Morocco's true heritage is its citizens. But within the vast human wealth of Morocco, it is possibly the people of the desert who have a vital approach and a more particular way of understanding the passing of the days.
What to see in and around Merzouga
Erg Chebbi is not only important as a destination, but also as a strategic place from which to get to know the surroundings. The tents serve as a unique experience but are not comfortable, so it is advisable to sleep from the second day in some hotel in Merzouga, so you can explore the rest of the surrounding places.
Nomadic Families in Merzouga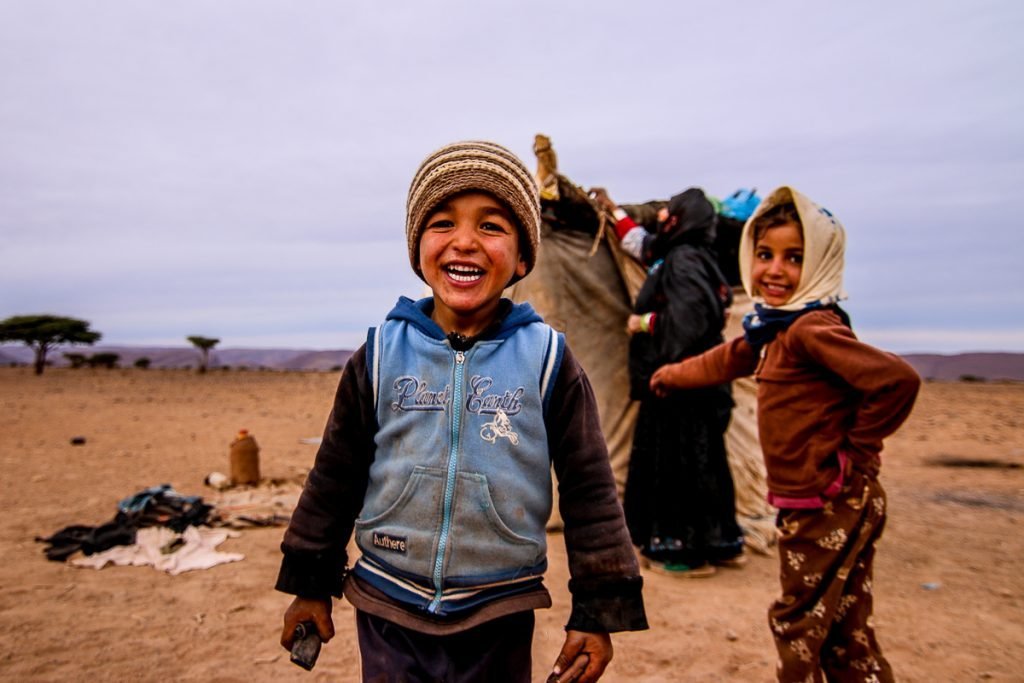 It is fascinating to see how some people decide to live in the desert with a small livestock as their livelihood and a house made up of one or two tents and a small adobe room for cooking and preserving food. Although, as they themselves say, their home is much bigger than ours, since the sky is their roof.
You should not be afraid to approach them; they will most likely gladly accept your presence and invite you to tea.
Khamlia or "the black people" of Merzouga
The black race is indissolubly linked to the Moroccan people, especially as we move south. This is because their ancestors were brought as slaves from Central and West Africa.
After their emancipation and a period of nomadism, they settled down. This is how Khamlia was founded, a village I strongly advise you to visit and where Gnawa music is present in every corner and with influences, as you will have deduced, from both traditional Arab music and African percussion.
Lake Dayet Srij and Lake Yasmina
Lake Dayet Srji is located in the southwest and is only visible in the rainy season (when it stops being a swamp), but it is especially recommended in June and September, as it receives many migratory birds, including pink flamingos.
Another one with similar characteristics is Lake Yasmina, located to the north and that, although it is somewhat smaller, since it is located at the foot of the dunes, it offers at the same time two apparently contradictory manifestations of nature.
City of Orion, Celestial Stairway and Golden Spiral
Particularly suitable for those who love architecture and interventions in natural areas (commonly known as Land Art). Located on the Marha plateau, they are three constructions (or sculptures, depending on how you look at it) that, at the same time, impact on the land but seem to belong to it.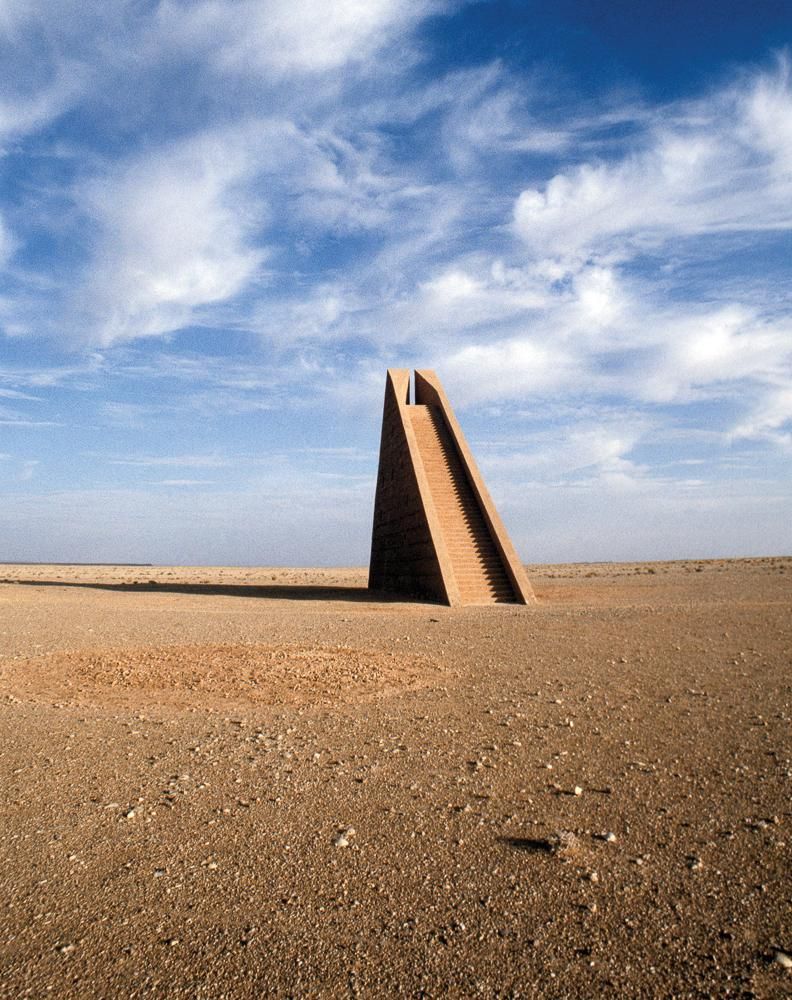 Erfoud and the fossils
Erfoud has as one of its main attractions the extraction and polishing of fossils from nearby quarries (if you like adventures you can go hunting for those scattered between the outskirts of the city and Erg Chebbi).
The visit to the handicraft workshop begins with an explanation and sample of the polishing process until the stones are converted into different objects (figures, dishes, basins, etc).
MFIS Mines (Kohl Mines)
These mines were exploited by the French to extract mainly lead and zinc. Although practically abandoned, it is not difficult to imagine the harsh conditions to which the workers were subjected due to the high temperatures and the more than 40 meters deep shafts.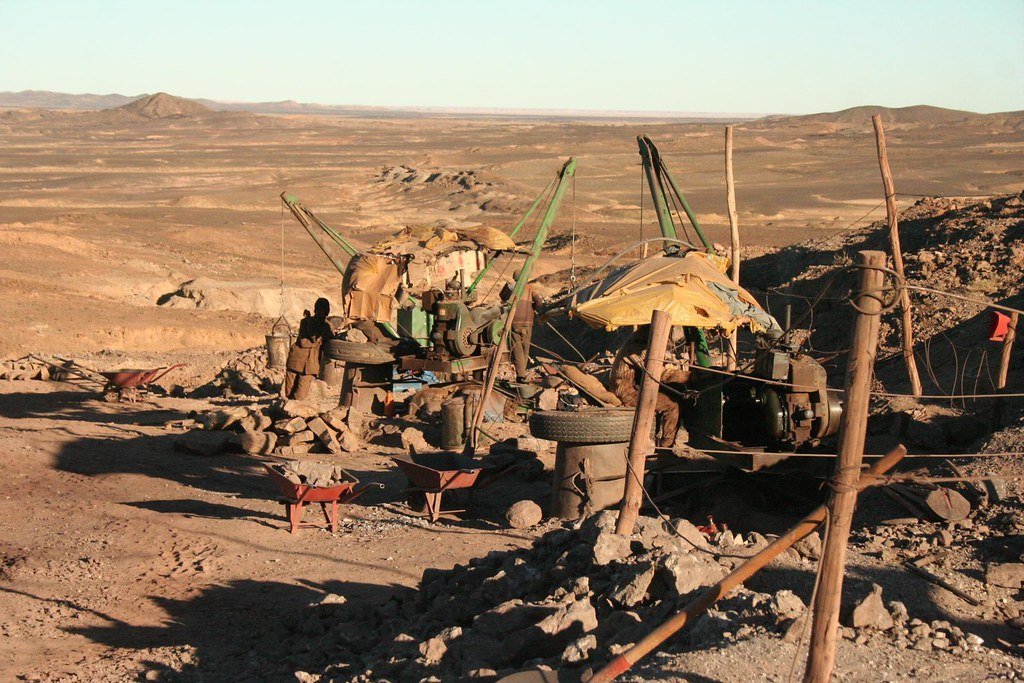 Its name derives from the fact that kohl, a cosmetic used by most Moroccan women as an eye mask, is blackish and has lead sulphide as its main component, although this place has little to do with beauty products.
Rissani Market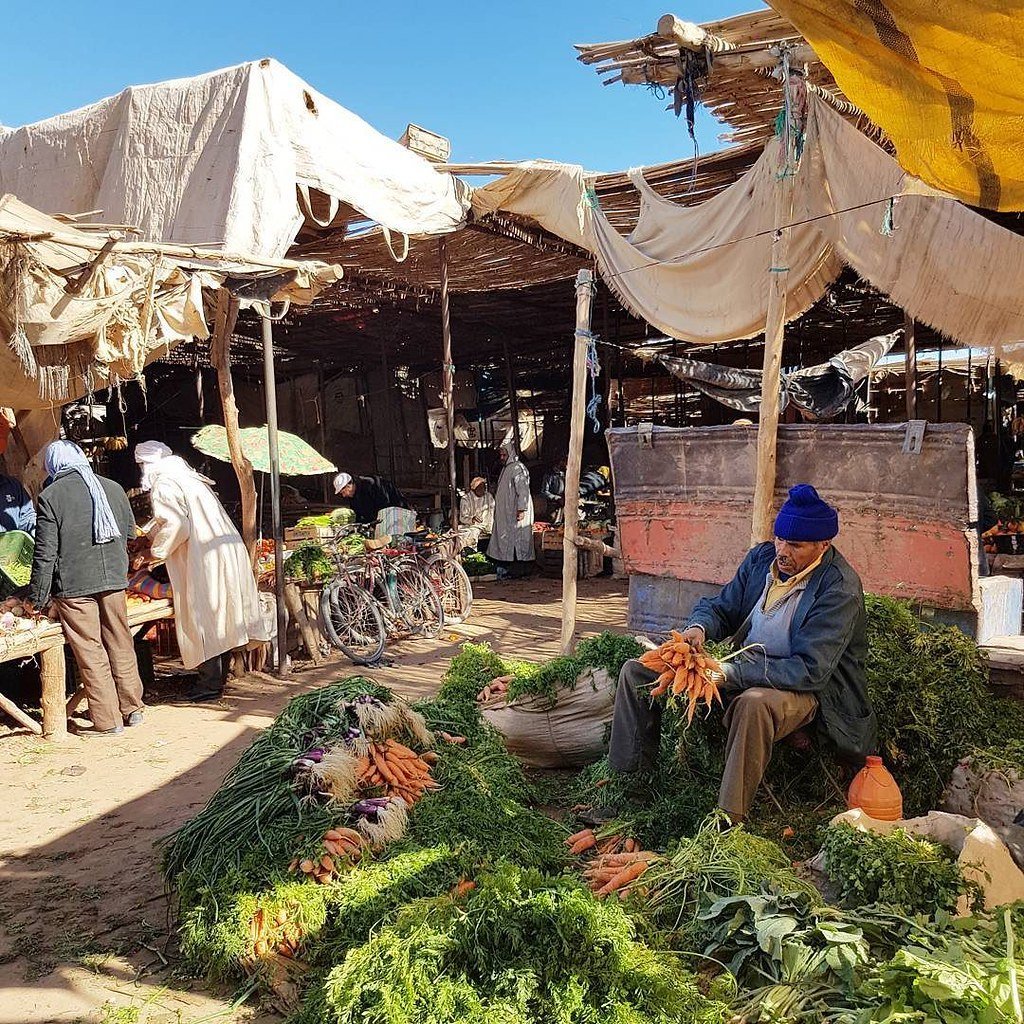 If you are in Erg Chebbi on Tuesday, Thursday or Sunday you must go to Rissani, which is when the most authentic and lively market in the area takes place. But if you have a taste as peculiar as mine, you will probably photograph the donkey parking lot, as this is the means of transport of many of the traders who come to the event.
Taouz Necropolis and Cave Paintings
On the outskirts of Taouz there is a series of prehistoric buildings, formed by the vertical accumulation of slabs and with a small door and window as the only elements of connection with the outside.
Nearby there are also testimonies of another era in the form of cave engravings, with hunting as the main motif.
Difference between Zagora and Merzouga
I wouldn't like to end this post without talking about a Plan B that is usually called for due to the lack of time to go to Merzouga from Marrakech. I'm talking about Zagora, a town much closer to Marrakech (6 hours away, almost half) that allows a similar experience because it offers a similar desert area for those who are short on time.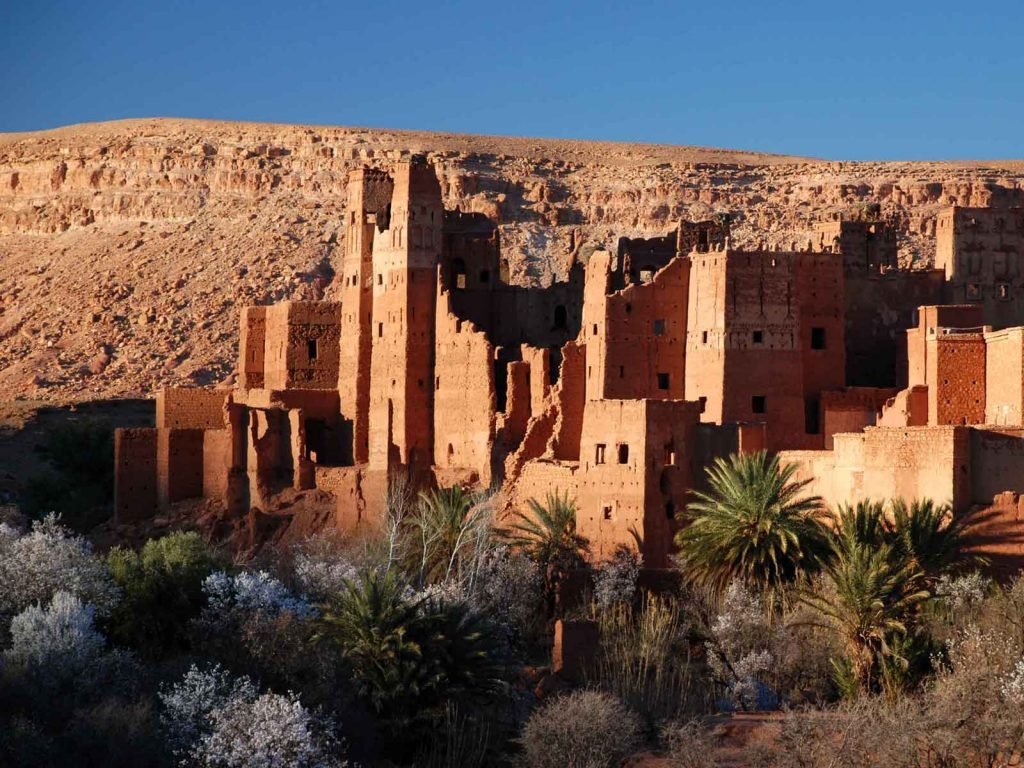 However, it is important to note that it does not have the same bucolic landscape, as it is much more arid and rocky and with smaller dunes. Therefore, I recommend it if you do not have more days and, once decided, accept that although the spectacle is not comparable, two of the main characteristics of the trip will remain, ie: the beauty of the journey and the magical starry night with other travelers.