The desert of Erg Chegaga, which we will talk about today, is considered by many as a preferable alternative to Erg Chebbi. Let's find out why.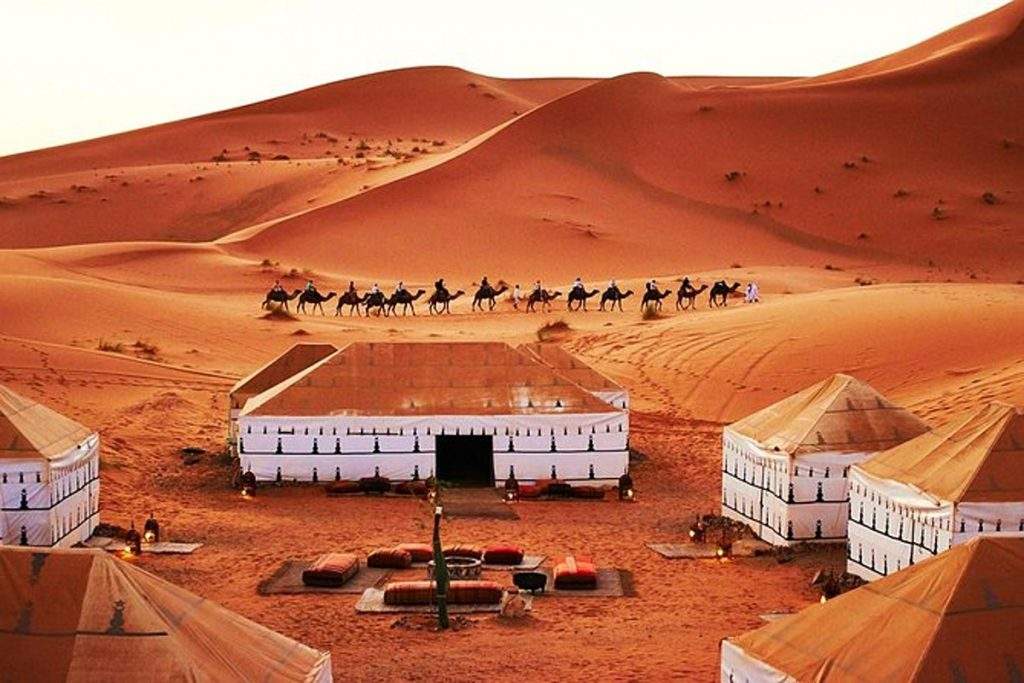 Erg Chegaga
The Sahara desert is the largest hot desert region on the planet. Of great heterogeneity, one of its best known geographical phenomena are the ergs, or sand landscapes. Two of the most significant ergs of the Sahara within Moroccan territory are Erg Chebbi and Erg Chegaga.
The latter is larger in area but somewhat more horizontal, since its dunes are lower (62 meters compared to 150), although this difference is difficult to appreciate because the mounds are staggered, unless you compare both side-by-side.
The main difference lies in its accessibility – and therefore, the number of visitors – due to the distance from the nearest urban centre: Merzouga in the case of Erg Chebbi, a few metres away; M'Hamid if we talk about Erg Chegaga, 50 km away on unpaved tracks, so only 4×4 vehicles can access it and tour operators do not usually offer services to get there.
Getting to Erg Chegaga From Marrakech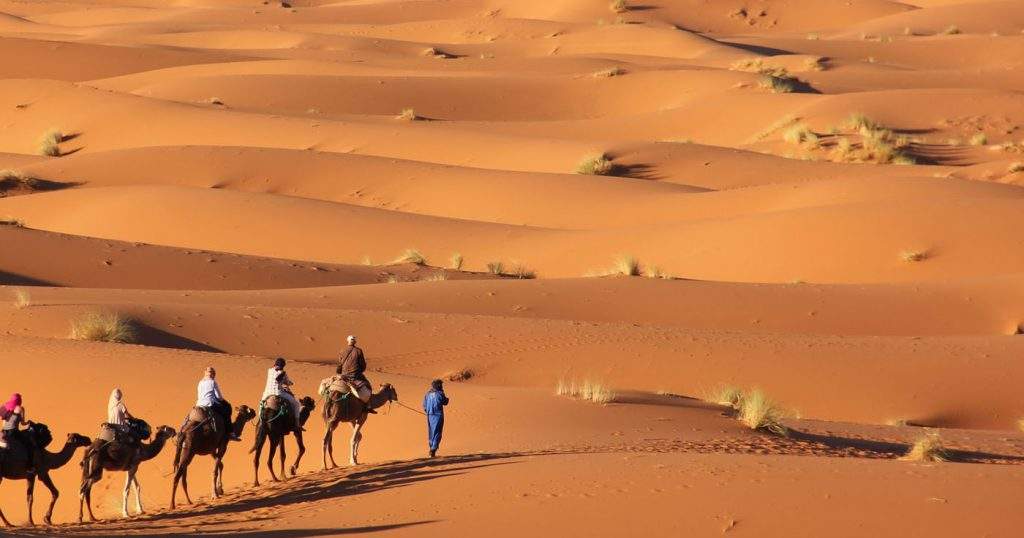 In Morocco, places are as important as the roads leading to them. If we compare the routes that lead to both ergs from Marrakech, they share the same route until they reach Ouarzazate, reaching before that the port of Tizi n'Tichka or Ait Ben Haddou.
From here the road forks, and although of similar length, the nature of the landscape differs. With Erg Chebbi, the presence of kasbahs and rocky landscapes dotted with palm trees is maintained throughout the route. Whereas with Erg Chegaga, in its second half the landscape becomes increasingly horizontal and desert-like.
Probably the best example of the difference between the two routes is when you leave the urban space, so with Erg Chebbi a walk or a half hour camel ride from Merzouga is enough to reach its dunes. With Erg Chegaga the situation is quite different, and once we leave M'Hamid behind it is necessary to cross various landscapes for 2-3 hours.
A cinematic experience structured in three acts:
In the first act, the introduction, we cross a huge plain scattered with dark stones and small elevations, also known as the black desert.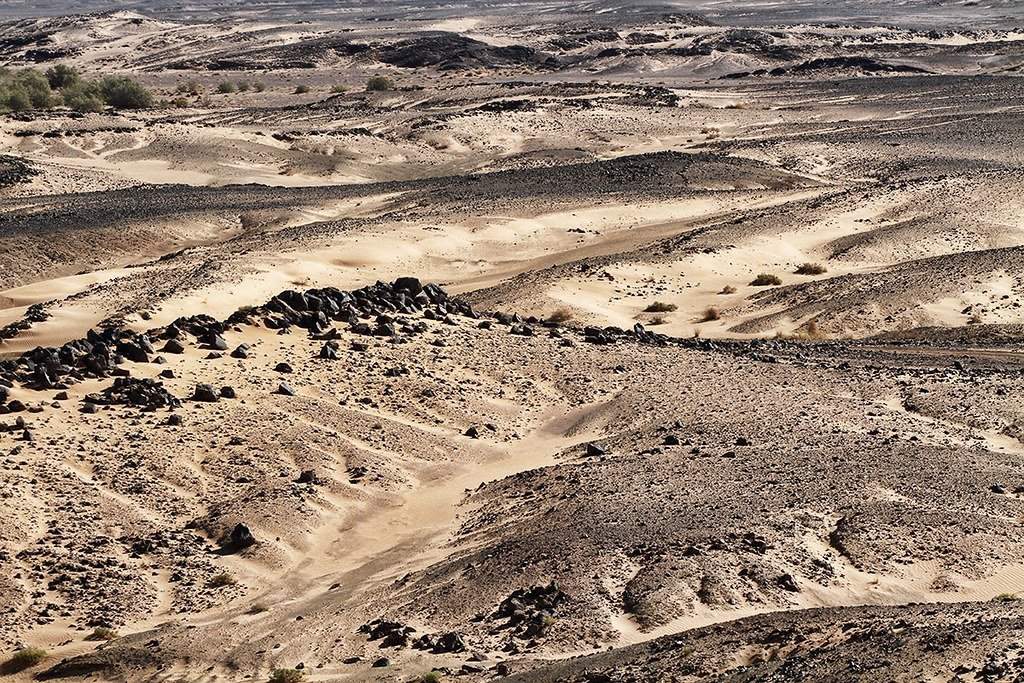 In the second, the knot, crossing mounds of bushes and sand of such a fineness that, as soon as the wind blows, its movement is guaranteed, blowing a phantasmagoric tone to the scene.
And in the final act, the denouement, where on arrival at the erg a welcoming committee made up of poisonous plants awaits.
Erg Chebbi or Erg Chegaga? It is a decision that depends on multiple factors
It is a journey that certainly requires a certain amount of patience, but at the same time is very rewarding, as it anticipates the destination subtly and gradually.
Around Erg Chegaga
The experience that there are no traces of civilization tens of kilometers away should be enough reason to make this trip, although it can always be seasoned with a visit to the surroundings, either by adapting the route to visit them, or by settling down in the erg and exploring its immediate surroundings.
These are some of those places:
Lake Iriki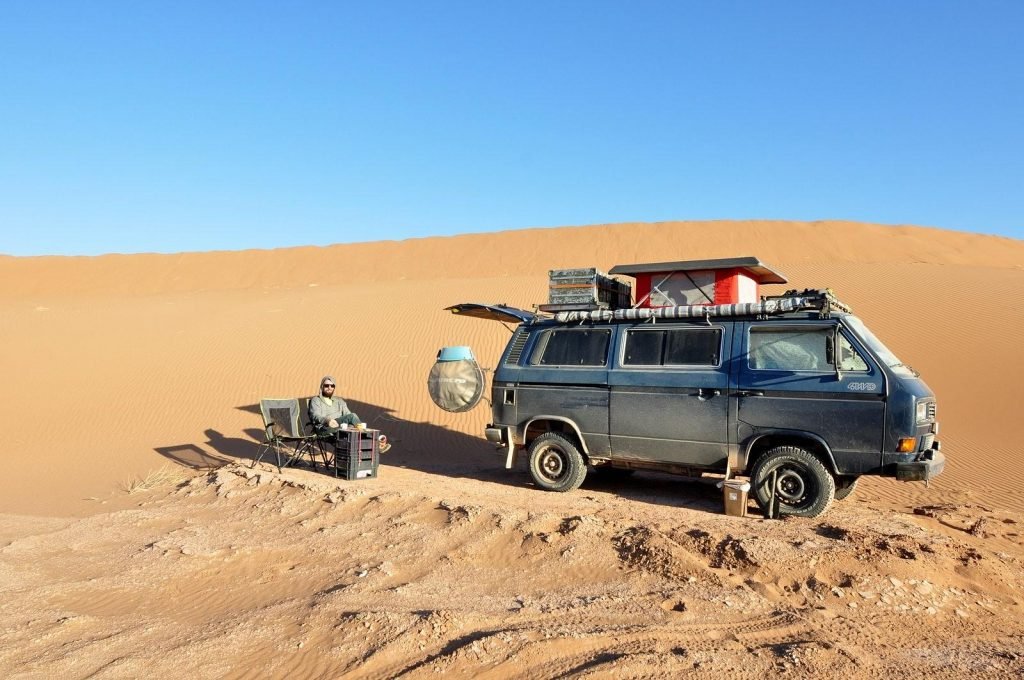 With a misleading name, this huge plain of petrified mud that received the waters of the Draa River has been dry for more than 20 years. It's a highly recommended landscape to cross once you start your way back. The only signs of life are illusory landscapes in the form of mirages or, occasionally in the rainy season, small lakes that attract birds from the area.
M'Hamid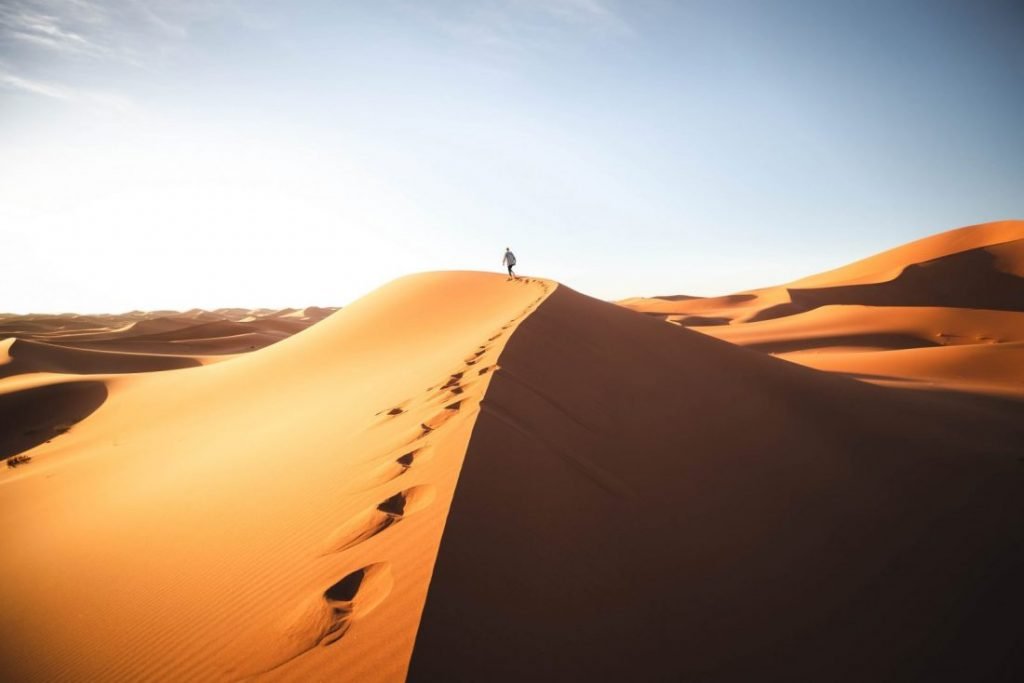 Although better known for being the closest town, this old caravan pass is well worth a visit, among other reasons because it is still built with earth. Also noteworthy are the ksars in an advanced state of decomposition on the outskirts.
Tamegroute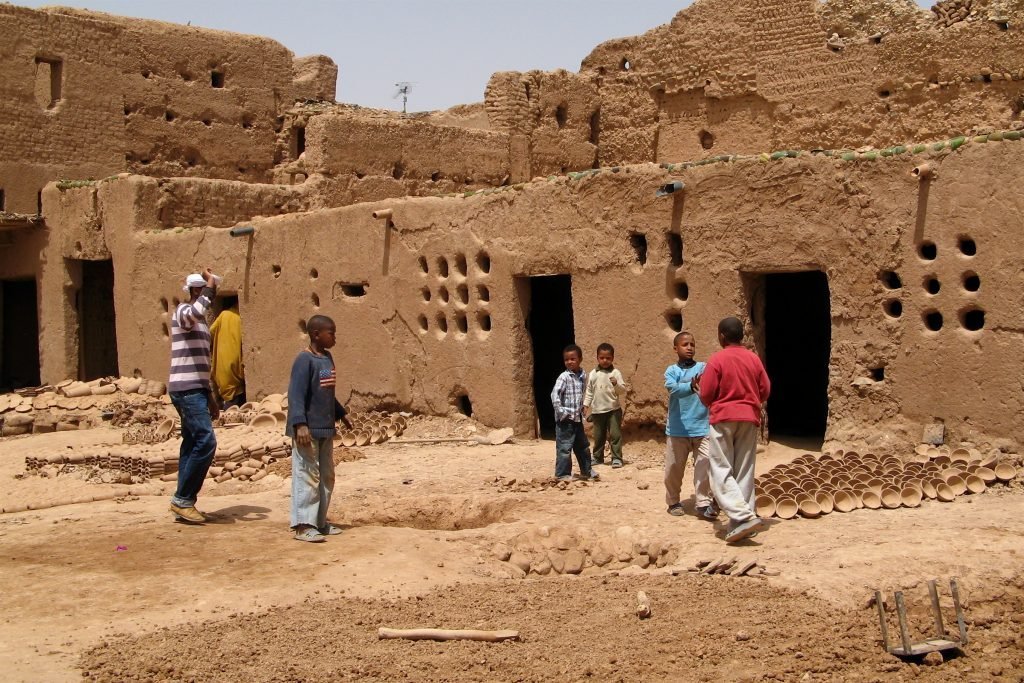 Formerly a centre for education and religion, it is known for its characteristic green ceramics. Tamegroute is probably the most recommended nearby city, as it has a library with more than 4000 manuscripts, a zagüia that is an active place of pilgrimage and a kasbah buried to withstand the high temperatures and where hundreds of families still live.
Agdez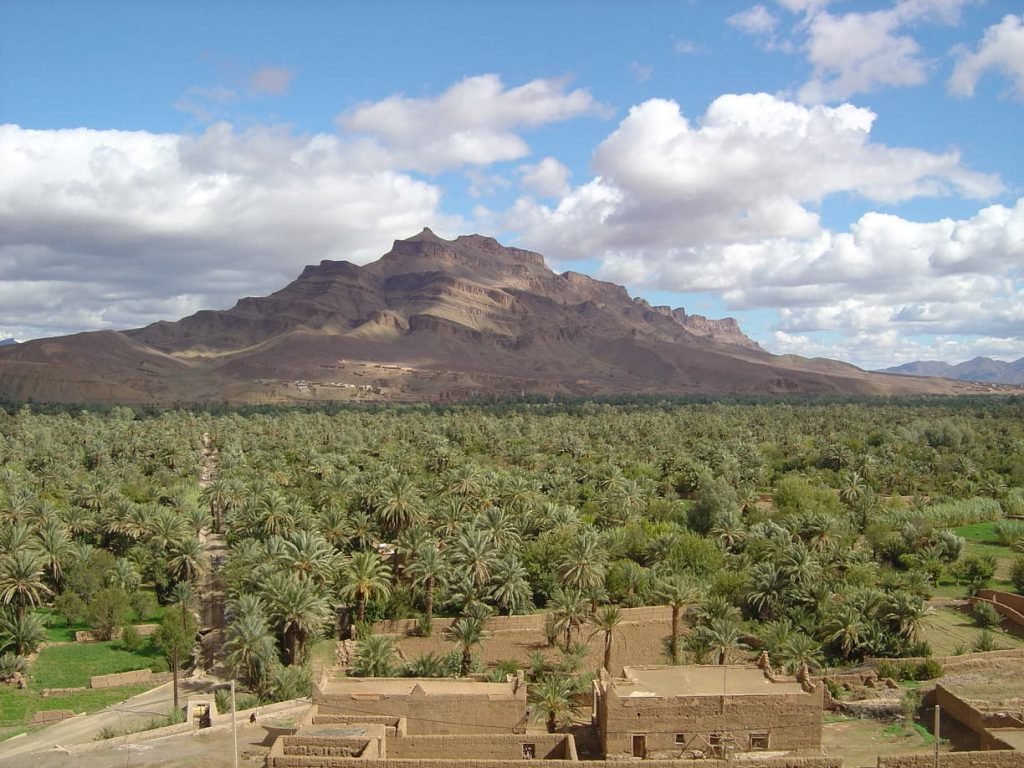 A strategic place to spend the night before reaching Erg Chegaga. In its interior is the Kasbah Caid Ali, and the outskirts is Tamnougalt, where there are two kasbahs, one homonymous and another called Kasbah des Caids, which has been the subject of many filming sessions.
Sacred Oasis of Oum Laalag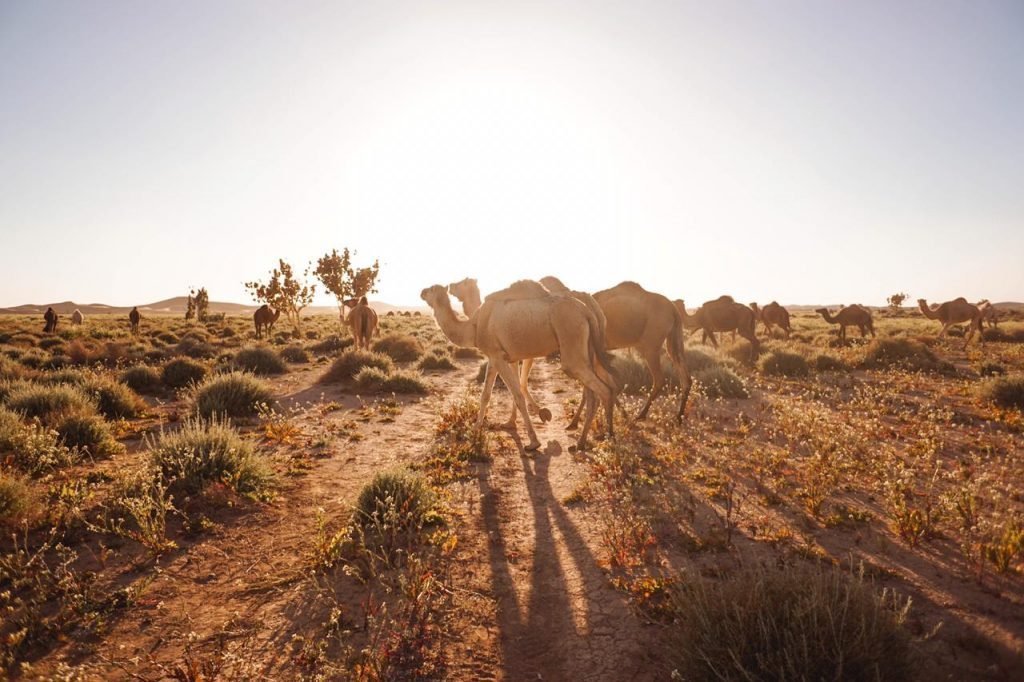 A few kilometres from Erg Chegaga, this oasis of almost 15 hectares extends, surrounded by an adobe wall, and from whose interior, in addition to palm trees, water continues to flow, giving it sacred qualities due to its miraculous proximity to the desert.
For those who are reluctant to travel without taking back a souvenir, this small town, but the main producer of Berber carpets in the country, may be a good choice. A visit to one of the cooperatives there – adding a good dose of patience and bargaining – will avoid the commission of intermediaries.
At this point, the dilemma is clear: Erg Chebbi or Erg Chegaga? The answer is not so obvious; either one will be a good decision, and the choice will depend on what each one wants out of a journey.
But it is true that taking advantage of a first trip to Marrakech to visit Erg Chebbi, suggesting a route with more desert landscapes and Erg Chegaga as a culmination, is what those who are passionate about Morocco usually choose. It is possibly the only fair option for both ergs.