Excited to start your journey to Akchour? Then read below for the complete guide containing all the relevant information you need to know when visiting the Akchour falls in Morocco.
Morocco is known for its rich culture and breathtaking views. The Ackhour waterfall is an ideal example to describe the beauty of this place. It is located near Chefchaouen, the Blue City/Pearl of Morocco. 
Once you're in this Blue Pearl, you cannot possibly leave without visiting Akchour waterfalls. The tranquility and the enthralling sight of the cascades will have you hooked. Be it hiking, swimming, or canyoning, you can do it all in the Akchour waterfalls.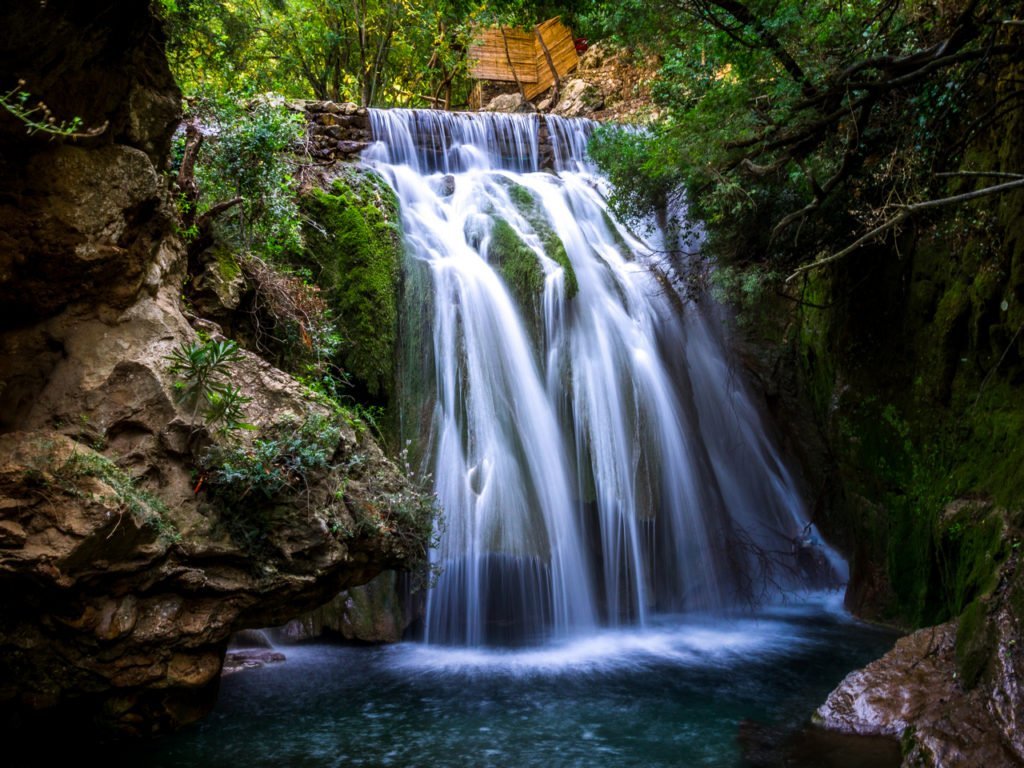 Where Are The Akchour Waterfalls located?
Akchour waterfalls are located in the heart of Rif Mountains. You will find this waterfall cozily nestled in the small town of Akchour and surrounded by diverse flora and fauna. If you're a nature enthusiast, then the sight of the Akchour waterfalls will be heaven on earth for you.
 It is a relatively short distance from Chefchaouen, the Blue Pearl of Morocco. These cascades of Akchour stand proud in the Talasssemtane National Park. You will find that the two main waterfalls are connected by a bridge called God's Bridge.
 Besides the main cascades, there are several other waterfalls in the trail which has their unique features. Each of them has a deep swimming hole. On a hot and humid summer day, you can take a quick dip in any of the swimming holes to feel refreshed for the rest of the trip.
How To Get To Akchour Waterfall From Chefchaouen
The trip from Chefchaouen to Akchour is pretty straightforward. With the help of an easy to read handy Akchour map, you can get here easily. However, if you ever visit Chefchaouen, it is advised that you spend one day from your expedition to visit tourist spots in this city.
The city gets its name of Blue City Or Blue Peral because of the magnificently painted blue alleys. After spending sufficient time in the city, you can rest overnight for your Chefchaouen to Akchour journey.  
Many cab drivers in the city will offer you a ride to the Akchour at pricey rates. They might even increase the rates if you seem like a foreign tourist in the area. You must learn the correct prices of the cab rides to avoid being scammed by these drivers.
The prices of the cab rides can go as high as 400 dirhams even during the quiet/low season. For a cheaper mode of travel, you should opt to take a grand taxi Chefchaouen to Akchour. 
The grand taxi to Akchour is shared with other locals and tourists. Thus, reducing the overall cost person. However, taking a Grand taxi may cause a minor delay. 
This shouldn't cause you any major problems because these taxis generally fill up impressively fast even during the quiet season. Each taxi can take up to 4-6 people at once.
The cost per person is as cheap as 25 dirhams per person. It is usually 45 minutes journey to reach your destination by the grand taxi. 
How To Find The Shared Grand Taxi?
Many of us are used to Uber and other cab services, but in Chefchaouen the grand taxis work differently. Rather than downloading an app booking a cab, you will have to do it the old-fashioned way. An Akchour map may be beneficial in such situations.
Firstly you need to walk to find Boulevard Hassan, which is fairly easy to find on the Akchour map. You can even ask the friendly locals for directions if you're familiar with the regional dialect. 
Start your walk from the old Medina to Boulevard Hassan. Continue walking on the same path until you reach then the police station. From here, take the first right exit, and you will see a line of grand taxis lined up down the road.
Akchour Waterfalls: The Hiking Guide
Your taxi ride will drop you off at the Talassemtane National Park, and your hiking trail commences from here. This territory is rather protected and secure. The 2-3 hour trek will be exhausting, but the picturesque view of the waterfalls will be well worth your sweat and efforts. 
 Ordinarily, you don't require a guide as an Akchour map can guide you adequately. Nevertheless, it doesn't harm to hire one at inexpensive rates for their abounding knowledge of the basic layout of the topography. 
There will be no chances of you getting lost in the lush green mountains. In addition, they will also know the safest places take a cliff dive from and other hidden gems to visit in the trail.
The Hiking Trail
The word Akchour in Berber means "somewhere" or "part of." The name was inspired by the seclusion and solitude. The starting point of the hiking trail begins at the hydro-electrical dam. The road forks into 2 directions from here. The one on the right will lead to God's bridge, and the path left will lead to the majestic Akchour waterfall.
Make sure you leave early- so that you can cover both the places. It takes 45 minutes to reach the glorious God's bridge. To hike to the waterfalls, which are 5.5 kilometers away, it takes you about 2 hours. 
Trek To The Lower Akchour Waterfalls
To begin your hike to the Akchour waterfalls, take the pathway leading to the left. Continue walking until you reach a stand that sells Tajines and fresh juices. It is the first sign that you're walking on the right road. 
As you walk on the small path behind that small juice selling stand, you will witness lush tropical plants that are native to this area surrounding the trail. This further confirms that so far, you're moving ahead in the right direction.
The Akchour waterfall is divided into two major waterfalls. The first one is the lower waterfall, which is a one hour hike. Its small size doesn't diminish its serenity and beauty. You can take a small break here and absorb the calmness of nature. Take a few pictures, or swim in the waterfall to reenergize yourself. The humidity may make you sweaty and agitated. Hence, this stop is an ideal place to unwind.  
There is also a small adorable cafe near the swimming hole. The infrastructure is open, and the natural ambiance is aesthetically pleasing. Authentic lip-smacking Moroccan food is served in this cafe fills your tummy with satisfaction. 
Trek To The Upper Akchour Waterfall
For those of you who are ambitious, you can continue the hike to reach the Grand Cascades. It takes an additional 2 to 4 hours, but it's a worthwhile experience. The en-route to the waterfall is a manageable path. 
Overall it's clear of major hindrances and large cement blocks, which makes it more manageable for you to walk on. The passage is narrower than before, but its nothing that you can't handle. Besides, the passage is another captivating experience in itself. 
Take a minute and listen to the birds chirping, take in the view of the cliffs and trees surrounding the area. As you move on, there are many other Akchour cascades with safe swimming holes scattered throughout the region. 
There are a couple of more eateries that you pass on the journey. You can quickly stop at these cafes and build-up your stamina for the rest of the journey. The last cafe up the trail will mark the final pitstop in your adventure to the upper Akchour waterfall hike.
Take the back route so you can get an enchanting view of the scenery from behind the waterfall. Due to its high elevation, the upper waterfalls are also named the Grand Cascade. 
Take a well-earned dip in the cold soothing water of this waterfall to reward yourself for finishing this long hard, and tiring journey.  
To The God's Bridge
It a natural rock arch situated in Akchour. The trek to the bridge is a notable example of the spectacular landscapes of Morocco. From the foothills of the Rif mountains, the path on the right will lead you to God's Bridge. 
The river is located in the canyon, which provides ample shade to the travelers. Furthermore, the water of the stream is also icy yet refreshing, which is a bonus on hot summer days. 
The path is made easier with strategically placed makeshift bridges constructed using solid wood and branches. You will later discover a series of delightful eateries on your way to the bridge. These restaurants serve traditional food and beverages, for example, mint tea, North African stew, and tagine. The vegetarian tajine is particularly favorite among travelers. 
Be prepared to jump, hop, and walk on tricky bridges. The trial, in general, is not that hard to cross. However, you do require high stamina to finish the journey. Canyoneering through these canyons is a phenomenal experience, one that you will remember throughout your lifetime. 
The Monkey Trail
As stated above, this territory is rich in flora and fauna. Thus, it's not unnatural to encounter monkeys on your trail. Most importantly, remember that these monkeys on your hiking trail are more or less harmless. 
The species of monkeys called 'Barbary macaque' are indigenous to the range of Rif Mountains. These species limit their habitat to Moroccan mountains, Algeria, and some secluded territories in Gibraltar. 
You will see them hopping from one tree to another and enjoying fruits on shady branches of trees. They are rather friendly and won't cause you any trouble until you do something.
Essentials To Carry In Your Hiking Backpack
Here are some crucial items that you must carry during your hiking trip to Akchour waterfalls.
2-3 liters of water per person
Protein bars, energy bars, fruits, and other types of snacks to fuel your energy.
Extra cash, in case you have to buy something on your way.
Wear hiking shoes that have a strong grip
Swimwear or extra set of clothes and towels (if you want to swim.)
Camera with an additional storage card and an extra set of batteries.
Vital Details You Must Know About The Trek
The online Akchour map is available on maps.me, which shows you the accurate way of the hiking trail. Nonetheless, carry an offline map as you can never be too sure of the signal in this hilly area.
Remember to leave as early as possible to cover both the waterfalls and God's Bridge.
Shared grand taxi from Chefchaouen to Akchour is the most economical way to travel. 
The total hiking distance is 11 kilometers.
Ensure to check the temperature variations and weather on the day prior to leaving. You don't want to get stuck in the middle of nowhere, without shelter and food.
What's The Ideal Time To Visit Akchour
Some of the tourist places are seasonal. Therefore, it's only smart that you visit these places during the right season to reap the full benefits of your trip. Akchour waterfalls heavily depend upon natural phenomena such as monsoon and moderate temperatures for it to not dry out. 
June to September is usually the warm season in this region. The maximal temperature is about 30°C. Thus, there are high possibilities that most of the cascades of Akchour would have dried up. You need to pack clothes accordingly to feel comfortable in the hot weather. 
March to May and October to November are usually the times when the place is packed with tourists. The Akchour Morocco weather is pleasant, the Chefchaouen Akchour waterfalls are as beautiful as ever, and overall it's much more convenient to do outdoor activities during this duration. 
Besides these months, if you have to pick one month out of the entire year, then February is the right choice. The Akchour weather during February is optimal, and the temperature ranges between 10-18°C. Furthermore, there are moderate chances of rain. This duration is when Akchour waterfall is at its best.
Where To Stay In Akchour
This stunning place filled surrounded by nature, and spectacular views will fill your heart with satisfaction and calmness. It's almost so beautiful that you will never want to leave. Lucky for you, there are several hotels located in and out if this region that has decent accommodation facilities for you and fellow travelers.
Below are some pristine Chefchaouen Akchour hotels that will enhance your travel adventure.
1. Hostel Meharchen
The hotel is placed uphill overlooking the surrounding mountains. Hostel Meharchen also offers a unique sun terrace from where you can witness the enchanting views of sunset and sunrise.
There is also a common sitting area where people generally relax and socialize. Every room is equipped with an attached bathroom. Furthermore, some rooms also have a small balcony or terrace attached.
The dining area, fireplace, shared kitchen, free parking, pet-friendly are some basic amenities available at this hotel. 
2. Marion D'Hôtes Akchour
This beautiful castle structured hotel is a minimum of 10 min drive from Chefchaouene. If you're traveling from either Ras El Ma or Tetouan city, it a rough 40 miles distance. 
The hotel provides you with social seating area, a TV facility, 24/7 front desk service, a tour guide, and more. You will also notice the hotel's kitchen serving traditional hot food. This will give you a taste of the sole authentic cultural local food.
3. I'Ermitage d'Akchour
Get ready to experience a royal treatment at the I'Ermitage d'Akchour. This hotel has allocated lounge area, attractively landscaped gardens, and massage services to alleviate the stress and exhaustion from your trip. 
To enhance your convenience, the hotel also offers a premium quality concierge and room services. Mouth-watering Continental cuisine is offered in the hotel's restaurant.
4. Akchiur Inn
Perhaps the most scenic hotel in this region, Akchiur Inn consists of a myriad of facilities of which you can take full advantage of. Start your day with a luscious continental breakfast, then go ahead and explore the different activities the hotel has to offer. There's an outdoor pool, patio with lush lawn views, and a terrace with sensational views.  
Some nearest destinations from this hotel are Outa El Hammam Square, which is about 19.3 kilometers, and Khandak Semmar, which is 29 kilometers away. Moreover, you don't have to worry about leaving your pet behind as this hotel is pet friendly too.
5.Caiat Lounge Refuge
This classy hotel is nestled in the heart of the mountains and has an adorable yet sophisticated infrastructure. You will find a well-maintained garden, posh BBQ area, and a spacious terrace in this hotel. 
Caiat Lounge is equipped with a multitude of facilities, for example, free Wi-Fi connectivity, 24/7 room service, fine dining, and a shared lounge area to make your stay comfortable. In addition, each room has a patio overlooking the garden, and also each room has a private bath with complimentary toiletries. 
Enjoy the chef's special Continental breakfast during your stay at this pristine hotel. 
6. Dar Echchaouen Maison D'hotes & Raid
This hotel situated in Blue City is immensely popular among tourists who visit Morroco. A stay at this hotel is truly an extravagant experience for you and your family. There are free parking and free Wi-Fi available on site.  
The hotel architectural design of this hotel is inspired by the deep-rooted Moroccan culture. Take a day off from your touring activities and unwind in the hotel's stunning gardens or swimming pool. 
What To Do In Chefchaouen 
Since you're visiting Akchour waterfalls, it's obvious that you will have to arrive at Chefchaouen first. It's highly recommended that before you start your trekking Chefchaouen Akchour waterfall adventure, you spend a day or two in this beautiful Blue City. While your stay at Chefchaouen's finest hotel, here are some activities ranging shopping in Chefchaouen to getting a massage, you can relish in the city.
1. Take a walk 
The streets of Chefchaouen are like a maze. One path leads to many others, and before you know it, you are lost in the familiar blue walls of this Old Medina.  
The walk in the enchanting and photogenic alleys will be a memorable experience for you. You can also strike a conversation with the locals and learn more about the Morrocan culture and lifestyle.
2. Shopping In Chefchaouen
The traditional akcho art is sold at every nook and corner of the city. You can witness the hustle-bustle of the daily lives of the locals in the street markets. From fresh fruits to handicrafts, everything under the sun is sold by these vendors at the souk market.
 You can buy their artistic products as a souvenir to reminisce about your extraordinary trip to Chefchaouen Morocco in the future.
3. History Of Chefchaouen
If you're interested in learning about the history of Chefchaouen in-depth, then the Kasbah museum is the right place to start. The Museum is situated in the middle of Old Medina, and some near attractions include Plaza Uta el-Hammam. You can learn about art, culture, local history of Morocco in this museum.
4. Treat Yourself With A Massage
If you visit Chefchaouen during monsoon season, then it is the right time for you to visit the Hammams in the city for a good old-fashioned Moroccan massage. The masseuses at the Hammams are highly skilled and professional.
There are dozens of Hammams in the city that offer massages at varied price ranges. Hammam El Harras is a prominent massage place in the city. It has a shared space in which you will find both the locals and tourists bathing from time to time. 
5. Lively Nightlife
The nights you spent at Chefchaouen Morocco City are as vibrant as daytime. Although there are a couple of bars and hotels that serve alcohol, the main nightlife attraction is Plaza Uta El-Hammam. This little square is filled with homely cafes with an impeccable ambiance that serves delicious Morrocan food.
Final Thoughts
Akchour Waterfalls is truly an underrated tourist attraction in the world. The breathtaking scenery of this place is nature at its best. With a plethora of activities to do in and around the city, you're assured to have an exciting time throughout your trip. 
Disconnect yourself from the online world and breathe in the fresh Morrocan air. The locals are friendly, and most of them are familiar with dialect, such as English. Thus, you won't face much trouble finding your way in the city. It's never too late for your adventurous hearts to take a spontaneous hiking trip to the Akchour waterfalls.
Read more:
Why Are There So Many Cats In Morocco?
Weddings in Morocco
Excursion to Berkane
Asilah International Cultural Festival
A 5200 Km Morocco Road Trip
Best Things To Do In Ifrane (Morocco)
Where To Eat in Meknes
Best Hotels in Larache
What To Eat in Rissani
Sahara Desert Temperature