Being only 14 kilometres away from the European continent, Morocco is a particularly interesting destination for those who want to get to know a different culture; but this is by no means the only reason why travelers visit (and re-visit) the country year after year.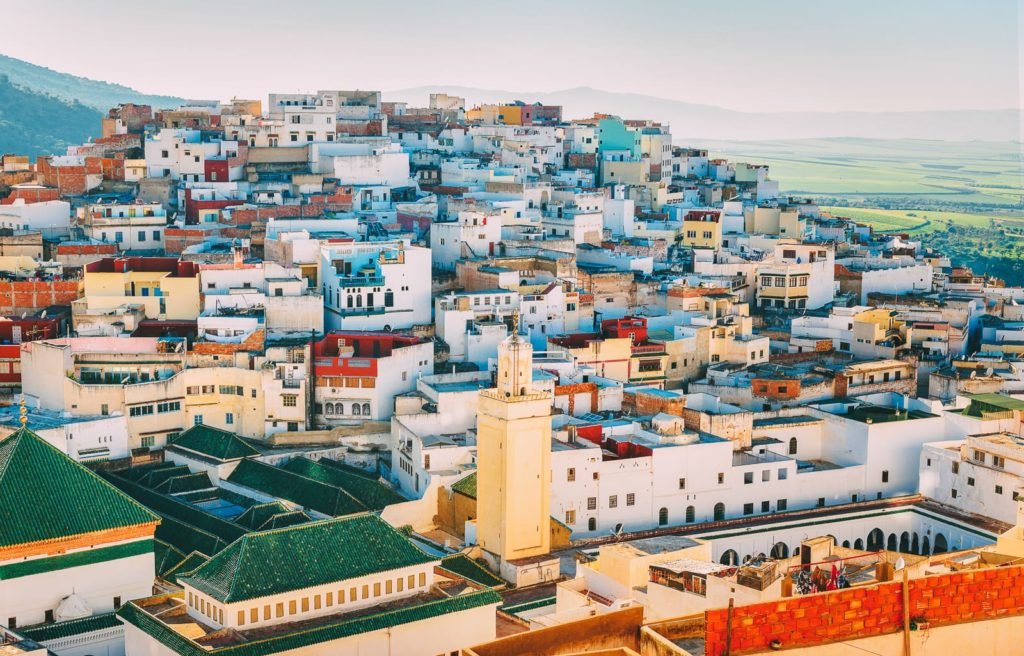 Morocco offers a range of possibilities to anyone who dares to enter it, and its proud citizens have made an effort to preserve their identity and customs. If we add to this its heterogeneity, we find a country that provides a host of experiences frozen in time.
You can tour its medinas while dodging donkey rides, sleep in the middle of the Sahara desert under a tent, or even pass through more advanced cities like its capital, Rabat, while its continuous calls to prayer remind you that you will never lose that which identifies you.
In short, Morocco offers an endless number of opportunities that will make you wonder how it is possible that at such a short distance you can visit a world so different from ours.
The Weather in Morocco
Morocco has a great geographical wealth, offering both rural and mountainous or desert landscapes. Moreover, it has the privilege of being bathed by two different bodies of water, which means that, broadly speaking, we have to differentiate between four areas to define its climate:
The northern area, between the Rif mountains and the coast, with a Mediterranean climate, which means mild summers and cool, wet winters.
The centre of the country, where temperatures increase considerably as it is not influenced by the coast, which is both an advantage and a disadvantage: while winters are more neutral, summers can be very hot, averaging around 38 degrees in cities such as Marrakech.
And if we move south the climate will become desert-like, with summer months exceeding 40 degrees but with more pleasant winters (although always taking special care with the changes that can occur during the night).
Finally, the mountainous areas are characterized by their low temperatures, falling from zero degrees in winter in the Rif and extending to half the year in the Atlas mountains.
Before You Go To Morocco
There are certain guidelines that should be followed, especially if it is your first time in Morocco. The following entries should be part of your basic reading guide.
Morocco Travel Tips
The Moroccan Currency
Prices
Bargaining in Morocco
Entry & Customs
Transportation
Map of Morocco
Moroccan Culture
We provide you with a selection of the articles that will best help you understand this fascinating and unfathomable culture.
Languages
Craftsmanship
Calendar of events and festivals
Moroccan Gastronomy
Ramadan in Morocco
And in case you want to go deeper, you can consult all our entries related to culture.
Getting To Morocco
There are multiple means of access and many countries from where to do so, but bearing in mind that a large percentage of tourism in Morocco comes from Spain, as it usually stops here and also the Spanish traveler tends to have more love for the country, we are going to focus on the main ways of how to get from the peninsula:
Traveling by plane airplane is the international medium par excellence and the way to directly access more cities, as it has several airports (although not all of them offer low-cost flights or flights with few stopovers).
The most common are those of Casablanca, Fez, Marrakech, and Tangier, reaching the last two Ryanair company from several points in Europe.
Traveling by boat is the most used and economical way for those tourists who come from Andalusia and want to know the north of the country.
There are ports of all kinds, from Casablanca, where cruise ships stop for day trips to Tangier, where most tourists and Moroccans enter crossing the Strait of Gibraltar.
In Tangier there are two ports: first, we have Tangier Vile, located in front of the wall of the medina. Departing from Tarifa, they have a cost of 60€ per ticket approximately and a crossing of 35 minutes duration.
It has the disadvantage of depending a lot on the weather conditions, being able to close for several hours if the waves and wind were unfavorable. The main advantage, apart from the short crossing, is its frequency, departing practically every hour.
On the other hand, we have Tangier Med, 35 kilometers from the city and receiving the boats that depart from Algeciras. They are more bulky, being used for transporting goods but also as an alternative when the weather is bad (to better withstand the gusts of wind) or when you want to cross by car, to offer better rates.
City Guides
Akchour
Asilah
Casablanca
Chefchaouen
Essaouira
Fez
Ifrane
Marrakech
Meknes
Merzouga
Ouarzazate
Ourika Valley
Rabat
Rissani
Ouzoud Waterfalls
Tamegroute
Sahara
Saidia
Tetouan
Tangier
Taghazout
Practical Information About Morocco
Tips For Traveling to Morocco
Prices in Morocco
Bargaining in Morocco (Part 1)
Bargaining in Morocco (Part 2)
The Muslim Calendar
Weddings in Morocco
Cats (and dogs) in Morocco
Christmas in Morocco: Good time to travel?
What is a Riad?
Map of Morocco
Moroccan Arabic
Traveling with children to Morocco
Money in Morocco