The small village of Taghazout (pronounced "Tarazout") located on the coast of the Atlantic Ocean in Morocco attracts more and more travelers every year, especially those who want to try surfing. This complete travel guide for Taghazout is especially intended for those who travel with a small or medium budget as well as those who want to save money on their stay, by supporting the locals who make the bay of Taghazout so pleasant and enjoyable.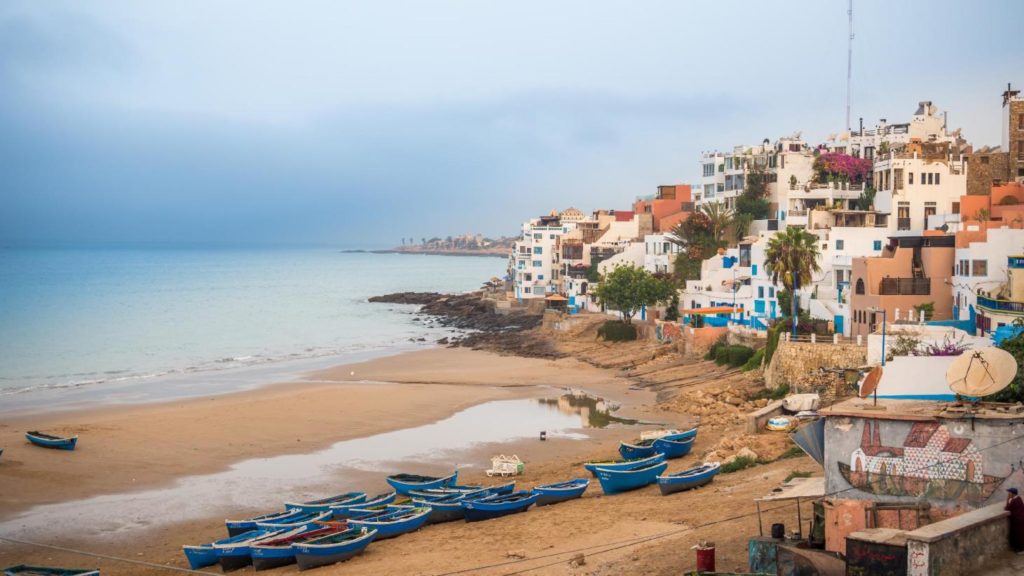 Less than 20 km from Agadir and its international airport, getting there is therefore accessible in less than a day, flight included from most of Europe. At the end of this article, you'll know the best time to go there, where to stay, where to eat and what to do in Taghazout and its surroundings.
When to go to Taghazout? Weather, climate and surfing season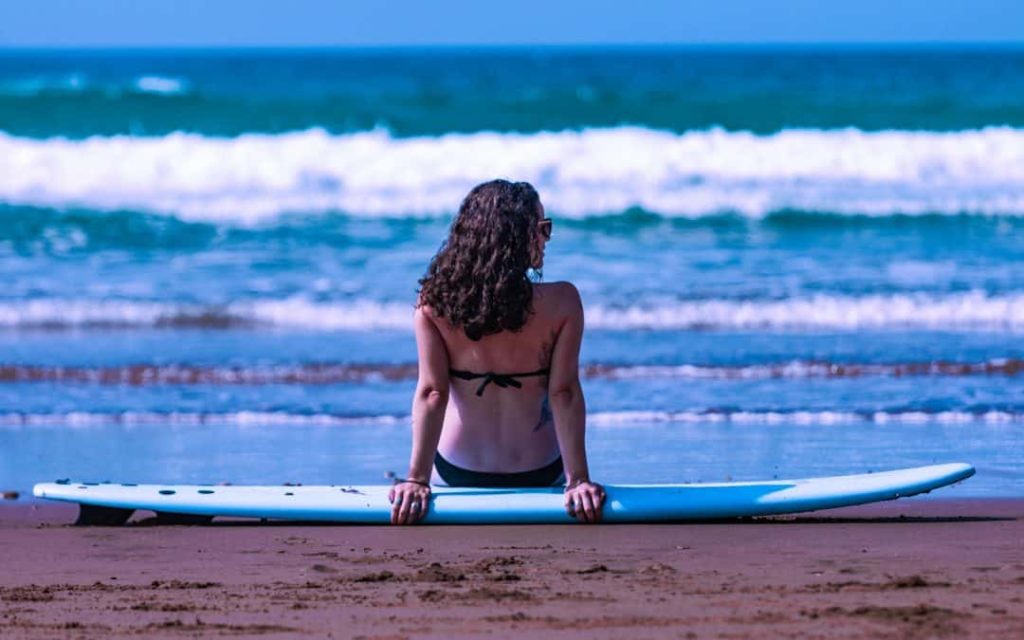 Well, you're in Morocco, so if it's become a popular travel destination for European holidaymakers, it's not because it has Europe's weather. There are however 2 things to distinguish here; the "general" climate, to go and land on the immense beaches of Taghazout, play football with the locals and try some water sports. And also the surfing season. I can imagine that most of us are not pros, but Taghazout is a great place to take surfing lessons. Many surf schools and surf camps have set up shop there.
General climate and weather in Taghazout
Taghazout enjoys a pleasant, sunny and dry climate most of the year. We stayed a good week in Taghazout before leaving the Agadir region to head in the direction of the port city of Essaouira and surf in Imsouane for a month. And I don't think it rained a single time during our month and a half there (August/September).
The summer is hot, even very hot, but the advantage of being along the Atlantic coast is the refreshing wind.
When to surf in Taghazout? The surfing season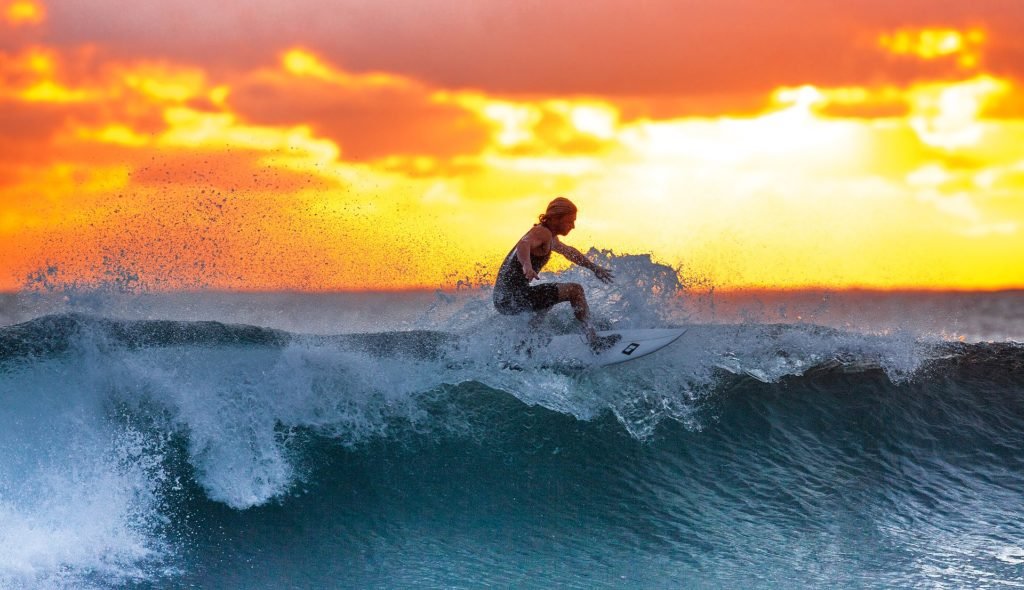 If you've already heard of Taghazout, chances are you're at least interested in surfing. This is one of the main reasons why this village in Morocco has become popular. (But it's still a nice village for a few days, even if surfing is not your thing).
It's during the winter that the surfing season is in full swing in Taghazout and (all along the Moroccan coast, by the way). Now, when I say high surf season, I mean huge waves that experienced surfers will love.
For beginners and intermediates, no need to go there only in December/January-February (high surf season), the waves are generally good from October/November to March/April will delight most of those who want to learn to surf. We arrived at the end of August and it was still "flat". In other words, very few or no waves. There are a few spots that work a bit (we were able to surf a bit in Devil's Rock), but nothing crazy.
I talk a lot more about surfing in Taghazout and the different spots by levels a bit lower!
How to get to Taghazout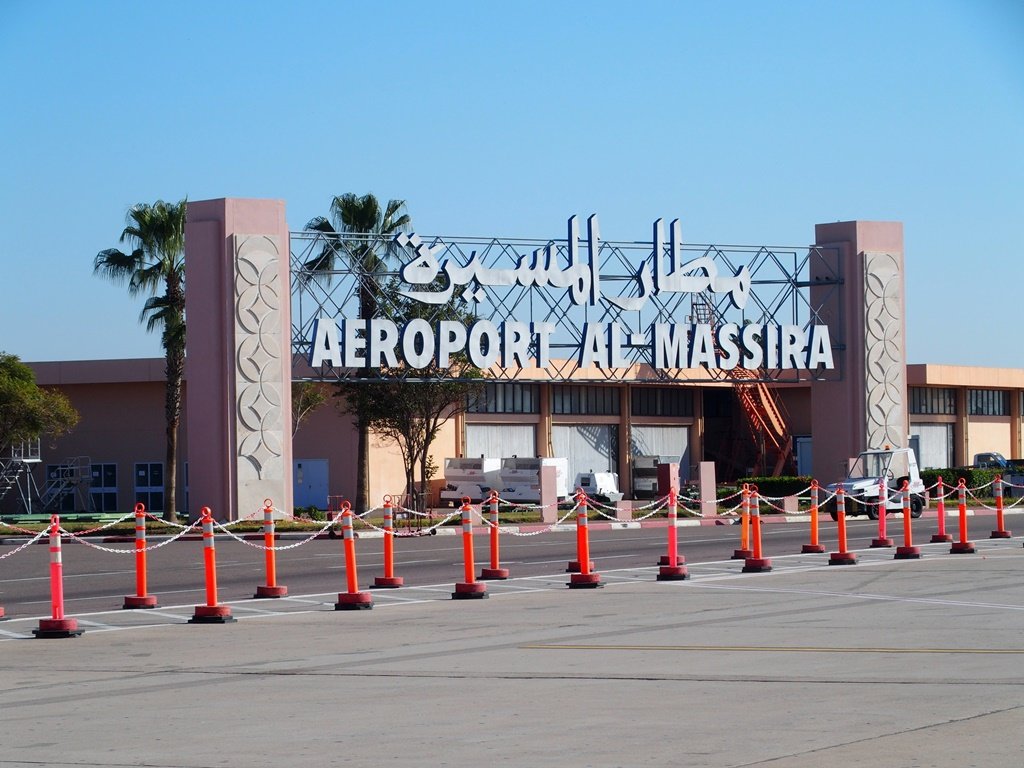 Now that you know when to go to Taghazout, it's time to know how to get there. Of course, from Europe, the easiest way is by plane. That's what we did the first time we went to Morocco.
Flights to Agadir (Agadir-Al-Massira Airport)
If you're planning to go to Taghazout, the easiest way is to land in Agadir. Agadir airport is the 3rd most popular airport in Morocco (behind Casablanca and Marrakech) and there are often very good airfares (in the 30-40€ range if you get there early enough). You can check SkyScanner for the latest deals on airfare.
Getting to Taghazout from Agadir airport
There are 3 ways to make the trip Agadir – Taghazout airport.
Rent and pick up a rental car at the airport.
The quick way, ordering a taxi.
The slower (but cheaper) method, public transport.
Rent a car in Taghazout
Renting a car for your stay in Morocco has become a popular practice. Many holidaymakers see it as the ideal solution to cover the entire Moroccan Atlantic coast from Agadir to Casablanca (or part of it, because it's already long!).
It is also possible to pick up your car from Agadir airport directly by booking via Rentalcars. You enter your date and city of arrival (or the airport), when and where you want to drop off the vehicle and compare.
I did a little test out of curiosity, and I found vehicles at less than 100€ for a week, so it can be interesting.
Compare rental vehicles for Morocco
Book a taxi to Taghazout (more expensive)
The simplest, most convenient and quickest way will be to take a taxi that will take you to Taghazout. It takes 2 hours to cover the 50 kilometers to Taghazout depending on traffic.
Price: a taxi from Agadir-Al-Massira airport to Taghazout will cost 300 to 400 MAD (Dirhams – 28 to 38 €). After that, it will depend on the number of people, your negotiating skills, etc.
Reaching Agadir by public transport from the airport
To do this you have to walk to the roundabout outside the airport car park, cross the road and wait.
Buses: but there's no real timetable, you go to the stop, you can wait 5 min or 40. We quickly gave up the idea, because locals told us that collective taxis were almost the same price and much faster.
The "collective taxis" or "big taxis" in Morocco: they are "common" taxis. They are more practical than buses and for almost the same price. They are often old Mercedes breaks or more recently monospace. Of course, there are 4 seats, but we consider a full collective taxi when there are 6 passengers (yes, you squeeze in the front as well as in the back haha).
It's not always easy to know where they are going so you have to ask 2/3 times to be sure before boarding. Be sure to show the place you want to go to on Google maps, it will avoid confusion with your driver.
Where to stay in Taghazout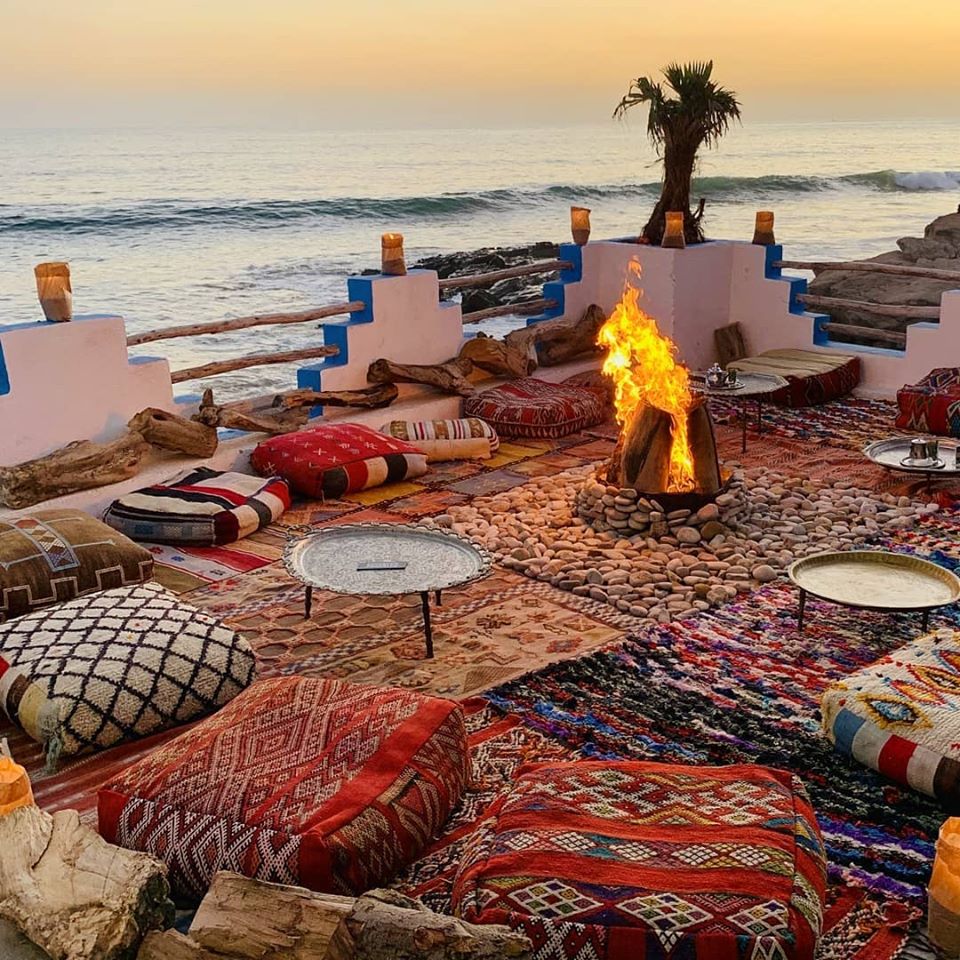 Taghazout has become popular thanks to surfing, so a lot of guesthouses, airbnb, hostels but also many Surfcamps/Surfhouses have been created. Of course, hotels have also established themselves around the village. Here are the options for all budgets.
Airbnb
On Airbnb alone, there's something for every budget. Surprisingly, it was on this platform that we found the cheapest double room. We recommend staying with Khalid, an extremely nice host who turned a building into 7 private rooms. It's not luxury, but a clean double room with shared bathroom and a really cool rooftop. It's clearly worth the price. At 12€ per night (for 2), it's hard to find a better deal anywhere else.
If you've never used Airbnb before, you can click this link to get 30€ off your first booking. The only condition is that your reservation costs 65€ minimum (excluding charges), so 5 nights could cost you 35-40€ thanks to the -30€.
Youth Hostels & Surf Houses
These are ideal for solo travellers and those who want to meet other people. You often have a family spirit and "holiday camp" atmosphere in Moroccan youth hostels. Here are a few hostels that we heard about or saw and that looked pretty cool!
Best hostels in Taghazout :
Hakuna Matata Surf House
Tayought Surf House
Tamazirt surf house
Surfcamps
If you travel solo, and have a bit of a budget, surfcamps have some very interesting deals, but you should expect to pay 350-400€ per week (with surf lessons, with boards included, yoga sessions, etc.).
We've heard a lot about Berber Surfing and Hash Point Surf Camp.
Double rooms and apartments
If you are not comfortable in a hostel, but rather looking for more comfortable double rooms, apartments and small studios, we can recommend these:
● Wavy Days Homestay
● Surf Morocco Taghazout Apartment
● Taghazout vacation house
Hotels in Taghazout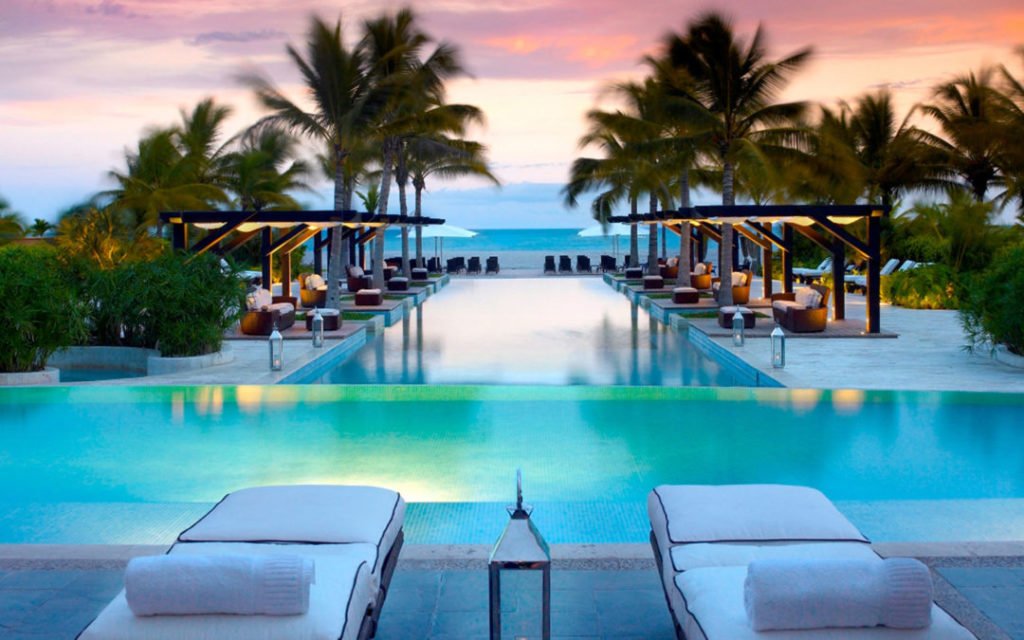 Taghazout Bay is an important eco-tourist project, south of the town. Located in a complex that will have other five luxury hotels with total capacity for about 8,000 beds, shopping centers, schools of tennis, surfing, golf, trekking, horseback riding or paragliding and a reserve of Argan, with a rural cooperative, to extract this precious oil.
With a golf course of 18 holes already built and in full operation. apartments and villas, it will have a commercial Medina course. We highlight the modern beach resorts, some of the all-inclusive type such as the five-star Hyatt Place, or the four-star Sol House Taghazout Bay Surf. The five-star hotels Riu Palace Tikida Taghazout and Riu Tikida Argan Bay were recently built. Around 7 km to the north, on the beach of Imi Oudar, you'll find the four-star hotel Paradis Plage Surf Yoga & Spa.
What to do in Taghazout – Beach & surf !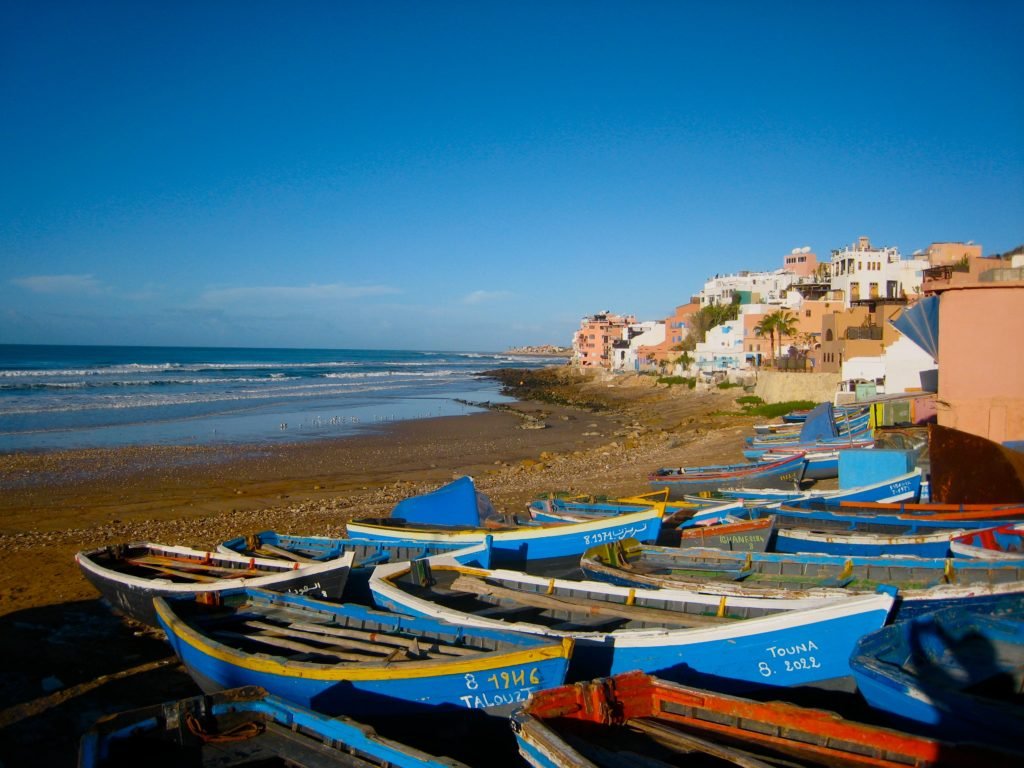 There is easily enough to do in Taghazout for a week. There are also day trips from Agadir to explore the dunes of the atlas and the famous Paradise Valley, although I think this village deserves at least a few days visit.
Visit the village of Taghazout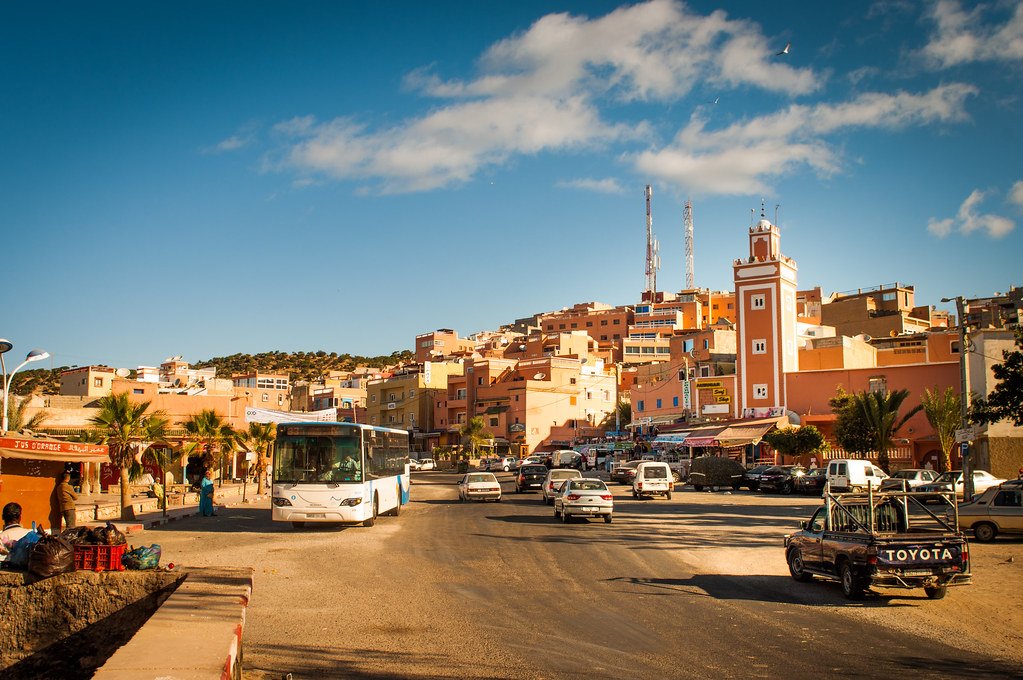 The main street is the heart of the village; lots of good little restaurants and cafes to drink real Moroccan tea (see section "where to eat"), surf shops and the mosque at the beginning of the village. But what we liked more were the narrow streets. Both "ocean side" and "mountain side" (on both sides of the main street crossing the village).
Those on the ocean side are more crowded, of course, everyone goes to the beach, and restaurants with sea view have quickly developed (higher prices). The "mountain" ones are more peaceful, calm and less crowded.
Surfing in Taghazout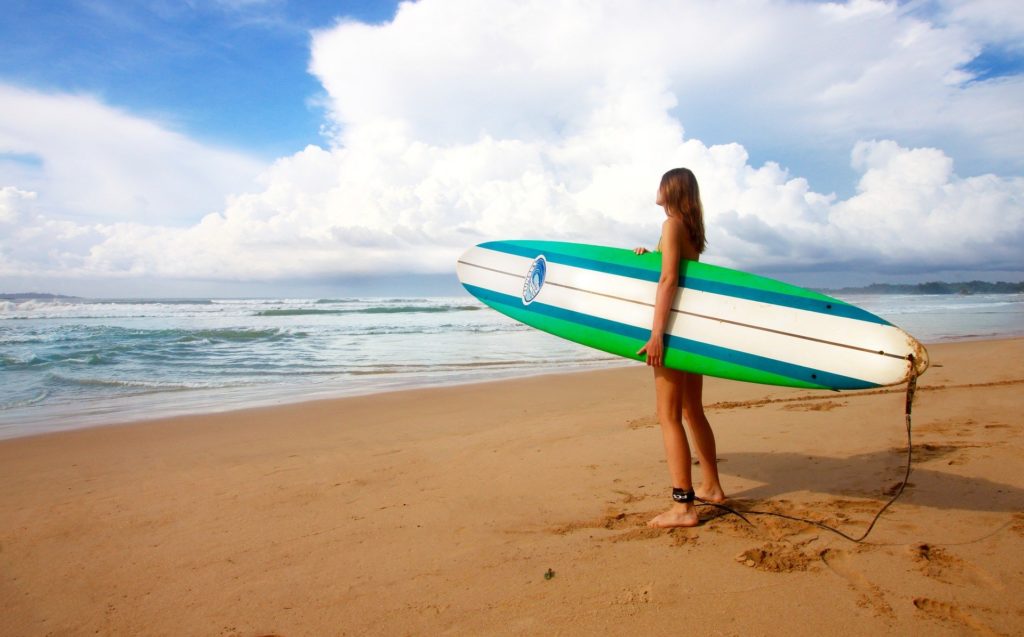 As a reminder, the surfing season runs mainly from October to April/May.
There are spots for all levels in Taghazout. We only had the opportunity to test one, Devil's Rock, which seemed good for beginners/intermediates, but we tested it when it was nice swells, nothing too crazy.
About ten spots are listed in the area, all accessible by bus (but often you have to bring your board so not very practical). Anchor Point is a very famous spot for experienced surfers.
But spots like Hash Point, Banana beach, Devil's rock (possibility to rent boards at Devil's Rock) are very good for intermediates (see beginners depending on conditions). The best is always to discuss with locals and get information on the spot. For info, renting a board + wetsuit costs around 70-80 dirhams/day.
This guide has more information about the surf spots in Taghazout.
Go to the Skatepark for the sunset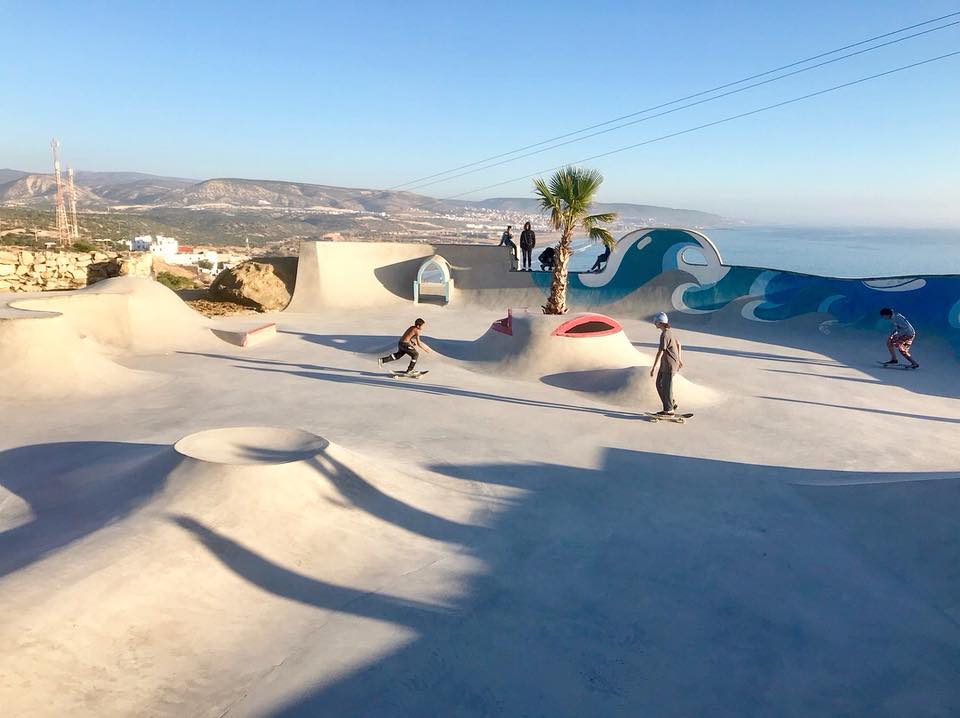 Who would have thought, but at the top of the next hill is a really cool skatepark. Which fits perfectly with Taghazout's "glide" and chill spirit. And which offers a breathtaking view of the Moroccan sunsets. You don't need to be a pro skateboarder to go there, or even to be a skateboarder at all, it's common for groups of people to go there to watch the artists at work or take pictures.
To get there, there's a small dirt road on the right (when you look north), just after the road that goes down from the highway to Taghazout.
Enjoy the beaches of Taghazout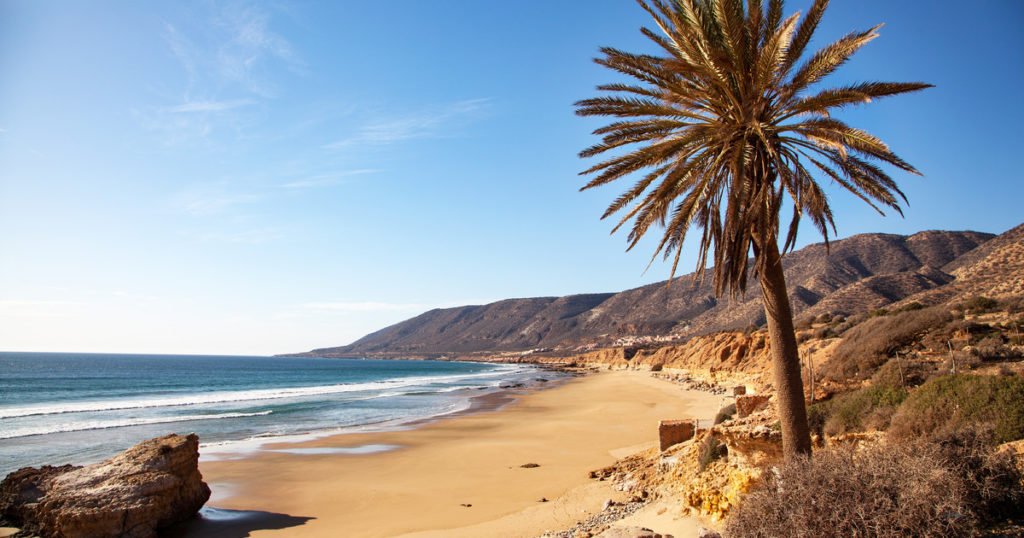 We were there just before the end of the Moroccan school holidays, so the beaches were full (people from Agadir spend their holidays along the coast). Taghazout has several beaches (which don't especially have names I think).
There's the main beach, the one just opposite at the bottom of the village, which really creates that "bay" feeling. Further south, there is a huge beach that stretches for many km's up to Devil's Rock, we did it on foot, and it's quite pleasant!
Visit the surroundings of Taghazout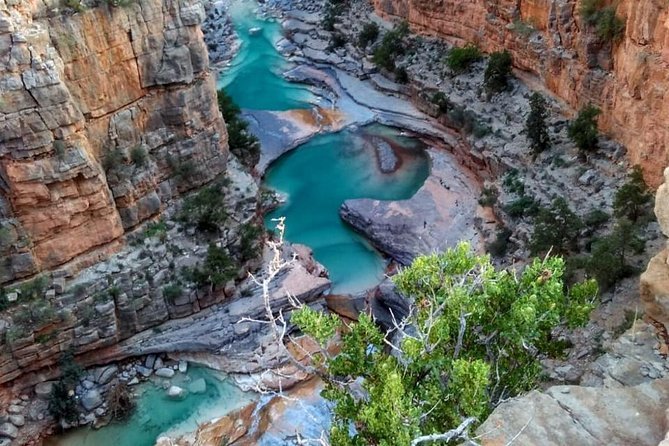 We highly recommend "Paradise Valley", it's a cove well known by the locals who take tourists there. Just ask and someone will know someone who… And it will be cheaper than going from Agadir. There is also the possibility to go quad biking in the dunes or simply explore the coast by taking the big taxis.
Where to eat in Taghazout?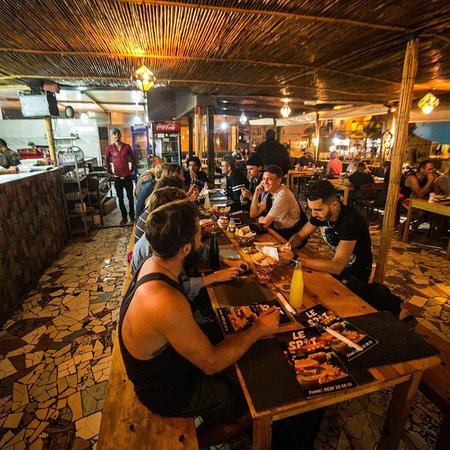 Our favourite restaurant is "Le spot". Hard to miss it, it's the high restaurant on the left side of the main street when you face north. It has a fairly varied menu, and more affordable prices than most other small "tourist" restaurants. And the food is very good. Special mention to the Tomato Basil Panini.
The most local/typical and cheapest restaurant is right next to the mosque. Where all the taxis wait by the bus stop. It's more rudimentary and you have to be patient, because it's often crowded. To give you an idea of the prices.
Breakfast = 20 Dirhams
Moroccan pancakes = 8 Dirhams
Vegetarian tagine = 25 Dirhams (be patient because they do not prepare veggies in advance)
Otherwise for lunch, there are lots of small places where you can find salads, sandwiches and panini for 10 to 20 dirhams.
Note: If you're a vegetarian, it's not a problem to find vegetarian options in Morocco. Even the tagines have their vegetarian version!
What is the budget for 1 week in Taghazout?
For one week in Taghazout, you can expect to approximately spend:
Transportation Agadir airport – Taghazout = 13€ (144 dirhams)
Accommodation = 6 x 12€ = 72€ + 10€ fee Airbnb = 82€ – 30€ referral link = 52€.
Food = 6 days and a half x 13€ (average for 2 per day) = 84,5 €.
Others (2 days board rental, bus, taxi, miscellaneous) = 40€.
TOTAL = 189,5 € for a week in Taghazout all included (94,75€ per person).
Finally…
I think a few days are enough to enjoy the beaches, the atmosphere and the things to do. If you're here to surf during the high season, you won't get tired of it. I encourage you to go and discover this small village and go to the heart of Taghazout, many locals depend on tourism and holiday-makers.
Don't hesitate also to recommend this guide or blog if the opportunity arises, word of mouth and sharing help me a lot to make it known.