Morocco has become one of the best holiday destinations, even outside the summer season. Camels, the Marrakech Palm Grove, the High Atlas, the Marrakech souks, Berber culture, Moroccan cuisine, in the heart of Moroccan culture, the change of scenery is total!
So how expensive is Marrakech? Marrakech and Morocco in general is not very expensive. Decent hotels start at approximately $20 a night and typical food costs are $10 a day. The most expensive part of your trip to Morocco will be your flight ticket.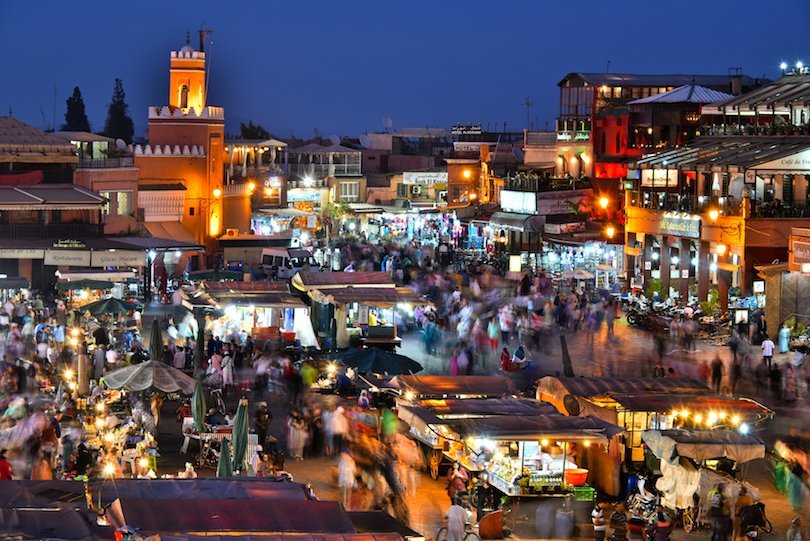 Here is all you need to know about the expenses of a trip to Marrakech.
How much does a ticket to Marrakech cost?
Are you looking forward to discovering Marrakech? The first step in planning a trip to Marrakech is obviously to choose the means of transport to travel to Morocco. In recent years, Morocco has become one of the most popular destinations for European tourists and for good reason, many airlines offer very attractive prices, making it easier to holiday at lower prices.
The flights are usually direct. Do not hesitate to compare the price of flights on Skyscanner or Google Flight. The advantage of Skyscanner is that you can compare prices between departure cities (very useful if you are between two airports) and for a whole month (perfect if you have flexibility with the dates).
Low-cost airlines compete for the market and offer increasingly attractive prices. A flight ticket to Marrakech costs an average of between 80 and 110 euros per trip. Sometimes tickets for a trip to Marrakech can drop quite low, reaching prices between 40 and 60 euros.
Watch out! Low-cost airlines charge for checked-in luggage and sometimes even for hand luggage. Don't forget to take this into account in the price of your ticket.
If the plane doesn't appeal to you, you always have the option of going to Marrakech by other means. The ferry accompanied by a bus or a train once you arrive in Morocco will allow you to reach the great Moroccan city. The advantage of the ferry is that you can take your car to move around Marrakech on your own.
The sea route will leave from the south of Spain (Algeciras, La Linea, Almeria) and you can go to Tangier, Melilla … You decide. Of course, the journey will be longer than by plane and the fares can quickly rise from 200 to 300 euros per way.
To give you an example, there are ferry seats available from 80 euros per way if you buy them in advance. You can also choose a bed for 100 euros, a cabin for 130-190 euros or a family suite for 230 euros. On the other hand, if you want to bring a standard vehicle, add 190 euros to these rates and almost 400 euros if you go with a motorhome.
How much does accommodation in Morocco cost?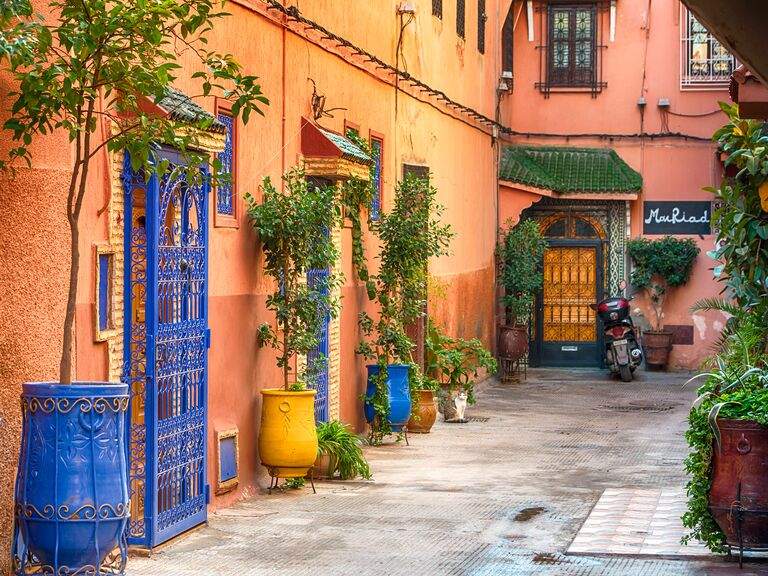 The city of Marrakech is clearly a tourist destination. Many establishments receive tourists throughout the year so the offer is very varied. Marrakech, nicknamed the red city, gives you the option to choose between its different neighborhoods when it comes to accommodation during your stay in this country:
The Medina. This is the city's historic quarter which houses most of the museums and monuments. It is a maze of alleys and small souks on every corner, where the atmosphere is very lively. It is the most touristic neighborhood of the city.
Gueliz. It's the modern neighborhood of Marrakech, constructed by the French during the period of the protectorate. It is less picturesque than the Medina and here you will find mainly big commercial and hotel brands. The area is quieter and you can find the botanical garden and the Berber Museum.
The Hivernage district. Located south of Gueliz, this is the place where the luxury hotels emerge.
El Palmeral: to the north of the city and a little further away, you will find resort type hotels, all included with multiple services. El Palmeral is quite far from the center of Marrakech and if you stay there, you will have to take a taxi ride to get to the city center. This is an ideal option if you want a relaxing holiday without leaving the hotel.
Whether you're backpacking or travelling with a packed suitcase, you'll find luxury hotels, hostels and more in Marrakech, but at what price?
---
---
Staying in a riad in Marrakech
A riad or dar (smaller) is a traditional house in Morocco. It is organized around an inner courtyard, often arranged with a fountain or a pond. The rooms are upstairs and usually offer a view of the roofs of Marrakech. There are many in the Medina area of Marrakech.
To stay in a riad is to want to be in the heart of the city, not far from your accommodation. However, riads are usually run by Westerners who have already bought several. So don't expect to live in the Moroccan way. These are luxury accommodations with Moroccan style and architecture, but the locals don't live there.
Here are some addresses according to your budget:
Riad El Marah: 5 minutes from the famous Jemaa el Fna square, this riad offers clean and well-decorated rooms from 37 euros including breakfast.
Riad Davia: located in the eastern part of the Medina, in a less touristy corner, Riad Davia is a rare pearl with a careful decoration and a hammam. Double rooms available from 48 Euro with breakfast included.
Riad Casa Lalla: perfect for a stay in the Medina. This riad has a terrace on the roofs to enjoy the sunset on the streets of Marrakech. Calculate 90 euros per night with breakfast included.
Dar Assiya: an intimate riad, far from the crowds but close to the centre. The double room costs 150 euros including breakfast.
Prices are indicative and may vary according to season. Tip: book in advance and choose the low season to enjoy excellent prices.
The hotels in Marrakech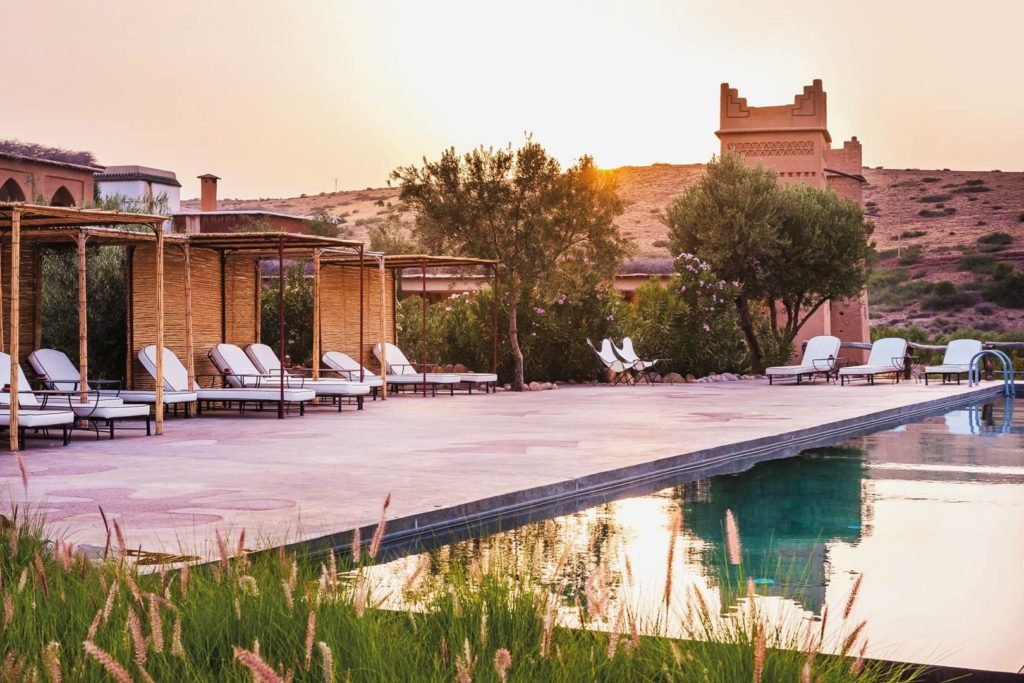 Generally speaking, the more eccentric the hotels are, the less expensive they are. However, just because a hotel is expensive in the city centre does not mean that it offers high-quality services. In order to choose a hotel you should take into account its location in Marrakech, but also the season in which you are going.
Overall, a luxury hotel in Marrakech costs between 120 and 140 euros per double room. A more classic hotel costs between 50 and 90 euros per room for two people.
Below, you will find some hotels that will suit your budget:
Ibis Marrakech: say goodbye to Moroccan style if you're looking for a cheap hotel. In this hotel, the double room costs 50 euros per night not including breakfast (at that price, I don't know about you, but I'm going to the riad directly!)
Palm Menara Hotel: near the Majorelle gardens, the hotel offers a swimming pool and double rooms at 75 euros per night.
Les Jardins de la Koutoubia: for a luxury hotel, choose this one, near the Koutoubia mosque with spa, jacuzzi and a large swimming pool, surrounded by palm trees. It is located near the Jemaa el Fna square and offers double rooms from 190 euros per night.
As you move away from the centre of Marrakech, it is possible to find four star hotels for the same price as a basic hotel in the centre.
Hostels in Marrakech
In a big city like Marrakech, there is no shortage of hostels, which are very advantageous for travellers on a tighter budget.
It is possible to spend a night paying a fee of between 5 and 10 euros for a bed in a shared dormitory. Of course, the rooms are with bunk beds, but the building can be as beautiful as the more classic hotels.
Here are some recommended hostels in Marrakech:
Waka Waka Hostel: at 5.50 euros per bed in a shared dormitory and breakfast included. This is a colourful hostel, located in a riad, 10 minutes from Jemaa el Fna square.
Majorelle Hostel: 10 minutes walk from Jemaa el Fna Square, the hostel is organized within a dar. Calculate about 5,50 euros for a bed in a shared dormitory, breakfast included.
Young & Happy Hostel: in this hostel you will enjoy a swimming pool for the price of 9 euro for a bed in a dormitory with breakfast.
Some hotels and riads also offer travellers with smaller budgets to sleep on a mattress on the roof of their accommodation for a few dirhams. If you have a tent, you can also pitch it upstairs. Don't hesitate to ask if you are travelling on a budget.
Airbnb in Marrakech
Renting a room or a complete accommodation in Marrakech can be a fantastic idea if you travel with family or friends. Otherwise, prices will return to approximately those of a good hotel.
You can find accommodation for 30-80 euros per night, depending on the size of the apartment and its location. There are more offers in the neighborhood of Gueliz.
Staying in a family home in Marrakech
To get in touch with the locals, why not try the experience of staying with a Moroccan? You will be welcomed by a Moroccan family carefully selected by the association.
The rates include breakfast and an additional meal of your choice and you must book a minimum of 3 nights per room. There are different levels of comfort that make the rates different:
Rustic: private room but does not have to have a bed and, of course, it is without access to hot water (families often wash themselves in the corner of the Turkish bath) From 24 euros per day per person (if you are over 5 years old) to 35 euros per day per person (if you are alone).
Medium: private room and shared bathroom with hot water. From 28 to 39 euros per day and per person.
Good comfort: western comfort room and private bathroom. Between 32 and 43 euros per day and per person.
What budget do you need for food in Marrakech?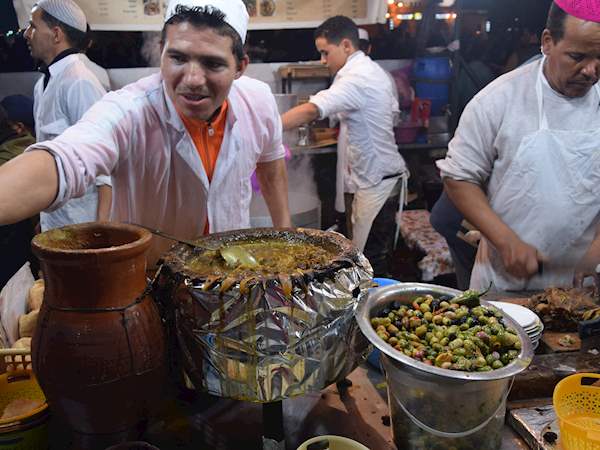 Food lovers will be delighted in Marrakech and in Morocco. Tajines, couscous, briouates, tanjias, Moroccan flavors that will awaken the taste buds of any traveler. However, besides having a cuisine rich in flavours, an average meal in Marrakech costs approximately 5 euros (about 50 dirhams). At this price, you will be able to dine in the restaurants all over Marrakech with delicious meals.
Of course, you can find more expensive restaurants with menus that can go up to 60 or 70 euros, but they are often restaurants that offer several dishes to share. That's a lot for one person.