One of the most accentuated properties of Moroccan cuisine is its family character, being prepared almost always at home and being one of the main reasons to sit down and discuss the vicissitudes of the day with friends and family.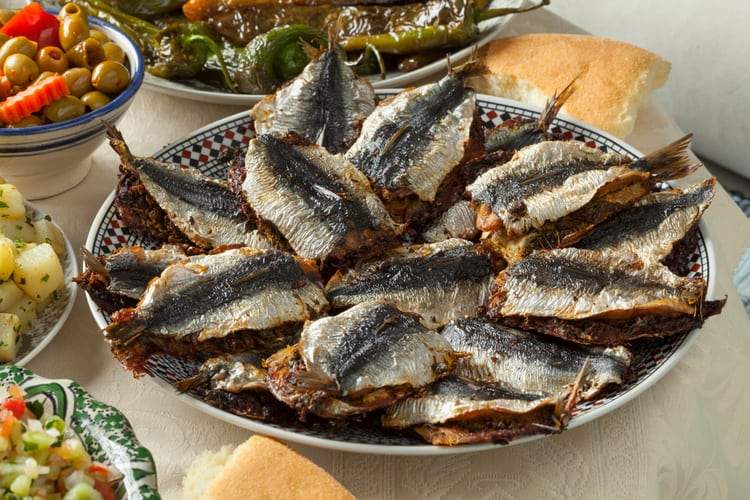 Most Popular Dishes
Among the best known main dishes, two stand out: the cous cous, made with wheat semolina and usually accompanied by vegetables, chicken or lamb, and the tajín, the name given to everything cooked in a container composed of an earthenware dish and a conical lid, whose function is to maintain heat and steam during and after cooking.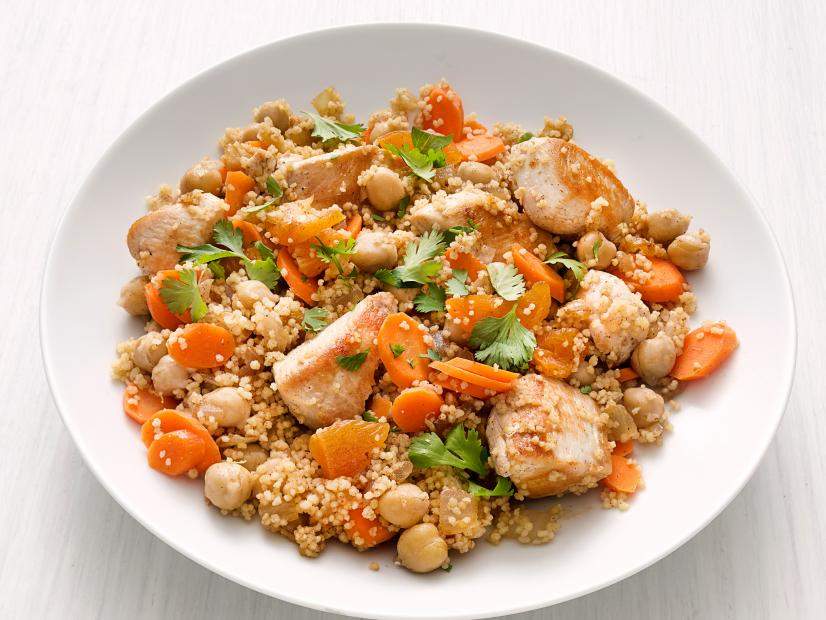 The most common ingredients are spices such as cumin and Ras el hanut, a mixture of condiments that is sold wholesale in the markets. Another ingredient that acquires a lot of relevance is the phyllo paste, used to make the famous pastry (of similar characteristics to the Spanish empanada).
Cereals are also very present, with woodbread as the undisputed king, and honey and almonds, a fundamental part of Moroccan pastries and the usual way to crown a lunch with tea.
It is also noteworthy the use given to seasonal fruits and vegetables, present in tasty salads, juices and smoothies. Fish and seafood are also of high quality and much cheaper than in Europe, although it is necessary to go to coastal cities to taste them.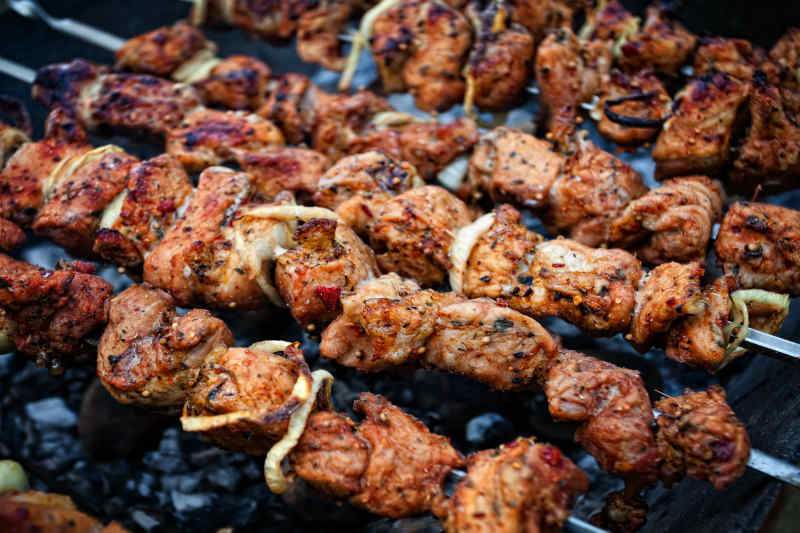 If we talk about meat, and taking into account that pork is forbidden by Islam, the main protagonists are chicken and lamb, mainly the second one, which is not only one of the favourite dishes of Moroccans to entertain their guests but it even gives its name to one of the most characteristic celebrations of the country.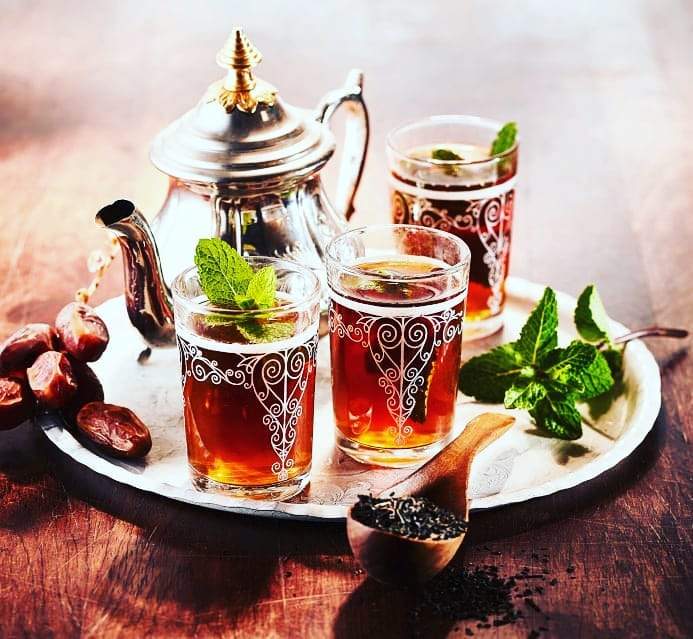 And tea is not only the favourite drink of Moroccans, but also one of the greatest representatives of their gastronomy and culture. Because to accept an invitation to drink a tea is to let oneself be carried away by a ritual in which simplicity and a philosophy of life unique in the world converge.
Moroccan Recipes
Although there is no doubt that the best way to enjoy the local gastronomy is to taste it in its place of origin, the following recipes will help you to transfer your senses to the neighbouring country.
Drinks
Moroccan Mint Tea : Learn how to prepare it as well as some curiosities about Moroccan tea, the drink par excellence of this country.
Moroccan Coffee : Learn how to prepare Moroccan coffee at home.
Banana and Avocado Shake : A banana and avocado shake is one of the best options for refreshing yourself and transporting yourself to the street stalls in Jemaa el Fnaa.
Starters
Batbout : Batbouts are very popular bread of Berber origin, especially during Ramadan.
Fish Briouats : Fish briouats are a variation of the most common briouat, and are filled with shrimp, mussels and rice noodles, all seasoned with harissa.
Byessar : Byessar is a starter very similar to hummus, the main difference being that cooked beans are used instead of chickpeas in its preparation.
Moroccan Keftas : The most popular way to prepare minced meat in Morocco is kefta. This recipe also tells you how to cook kefta skewers.
Lentils Falafel : Falafel is a popular dish in the Middle East that has caught on in Moroccan homes. However, instead of using chickpeas, you will learn how to make a lentil falafel.
Zaalouk : Zaalouk (also known as eggplant caviar) is one of the most traditional and characteristic starters of Moroccan cuisine.
Main dishes
Moroccan Chickpea Salad : If you are looking for a simple and refreshing dish, you will surely be interested in this chickpea salad.
Cous Cous With Chicken and Vegetables : No page on Moroccan cuisine that is worthy of the name could be without the cous cous with chicken and vegetables.
Harira Soup : The harira is one of the most common and balanced Moroccan dishes, reaching its maximum expression in Ramadan, during the break of the fast.
Seffa : Sweet cous cous Seffa is a sweet cous cous widely used in celebrations and other special occasions, served between dishes to revive the palate.
Moroccan Tomato Soup : Eating a Moroccan tomato soup is a very simple way to warm up during the winter months.
Kefta Tajine Recipe : Thanks to this recipe of kefta tajine, tomato and egg you will know one of the most common ways to use this very popular container of the Moroccan gastronomy.
Beef, Apple and Raisin Tajin : But if you want to cook an original tajin you will be interested in the one of beef, apples and raisins.
Sweets and Desserts
Coconut and Beet Balls : A very simple, economical and colourful way to please your guests is to prepare a beet and coconut ball.
Moroccan Doughnuts Recipe : Moroccan doughnuts are one of the most popular sweets offered by street vendors.
Moroccan Chebakia Recipe : Learn how to cook chebakia, the quintessential sweet to break the fast during Ramadan.
Recipe For Milk Cake : An interesting variation of one of the most famous Moroccan dishes is milk cake, which is present in many celebrations.
Where to eat in …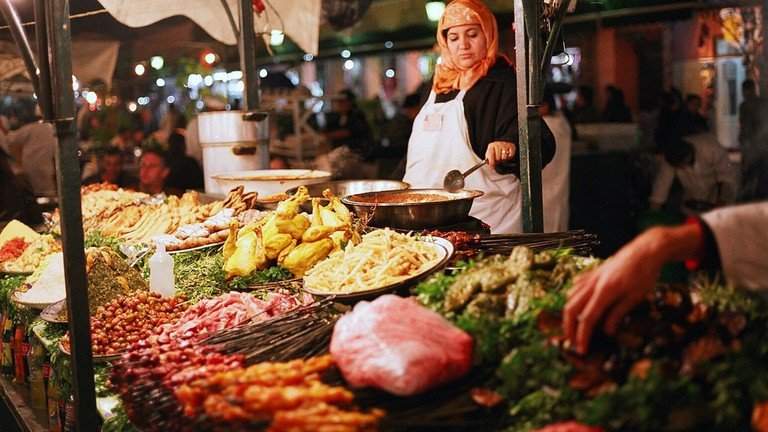 If you are one of those who enjoy tasting Moroccan food more than cooking it, you will be interested in the following articles, where we show you the best places to eat in each city of Morocco.
Where to eat in Asilah : we indicate some traditional restaurants as well as two Spanish ones for those who want to remember their native gastronomy.
Find out where to eat in Chefchaouen : we suggest some traditional restaurants and places to have a snack, even where to have a beer!
Restaurants in Essaouira offers you the best places to eat in Essaouira.
Know the best restaurants in Marrakech for traditional food, fish or fast food and even where to have a tea while you get a henna tattoo.
If you are looking for traditional or exotic restaurants to eat in Tangier, or just to have a tea, you will be interested in our recommendations.