Just as it came, it's going: another Ramadan that ends. It's so complex that even certain elements of gastronomy become important at this time of year, such as chebakia, the sweet par excellence when it comes to breaking the fast, largely because of its high nutritional value. Here's a simple Chebakia Recipe.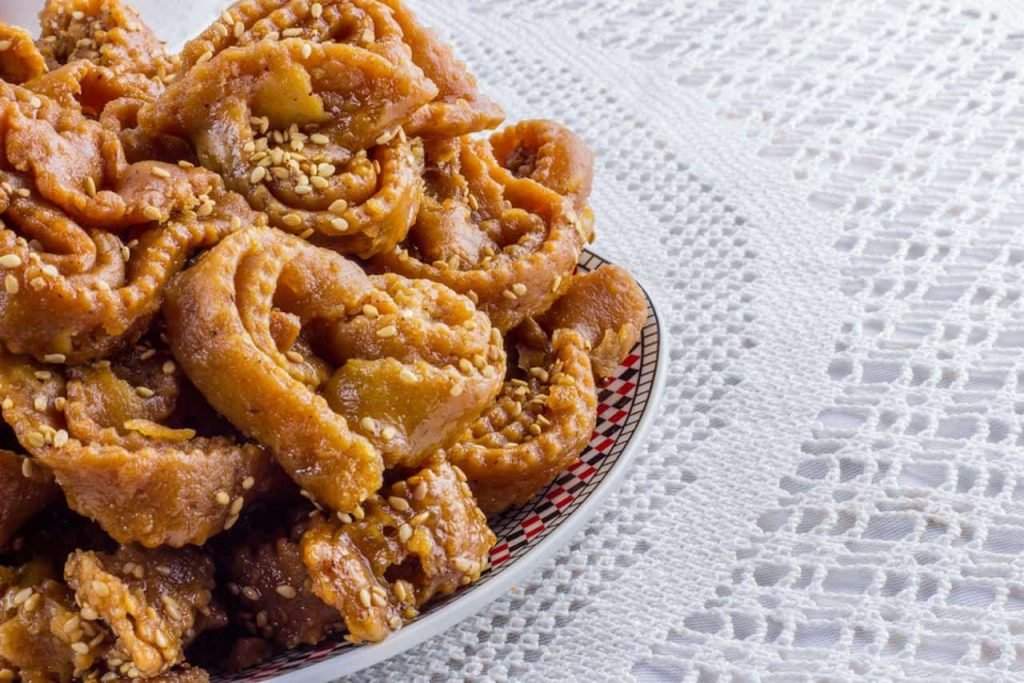 Ingredients
1 packet of Royal Yeast
250 gr. of flour
100 gr. of toasted almonds
75 gr. of toasted sesame (plus whatever you consider to sprinkle)
1 teaspoon cinnamon
50 ml. of orange blossom water
1 teaspoon of aniseed grains
1 egg
1 tablespoon of vinegar
25 gr. of butter
50 ml. of olive oil
100 ml. of water
Sunflower oil
500 ml. of honey
Preparation
We will start with the dough, being necessary to properly prepare all the ingredients that will compose it.
On the one hand, we will grind the almonds (which we will buy toasted and skinned) in a mixer until they are pureed (or else they will remain large pieces and then we will not be able to stretch them well with the roller). On the other hand, we make a paste with the toasted sesame seeds, throwing them into the glass of the mixer together with a good dripping of oil and aniseed grains.
Then add the puréed almonds, an egg, cinnamon and a spoonful of vinegar in a bowl, mixing everything with a fork. Then we add the sesame paste, oil and orange blossom water (this last ingredient is valuable if you want to provide nuances but dispensable if you do not have it at home). Stir everything.
Pour the mixture into a bowl and add the yeast and then the flour, well sifted and added little by little while kneading and making sure it integrates, or you will run the risk of facing a dough full of lumps that you will not be able to deal with.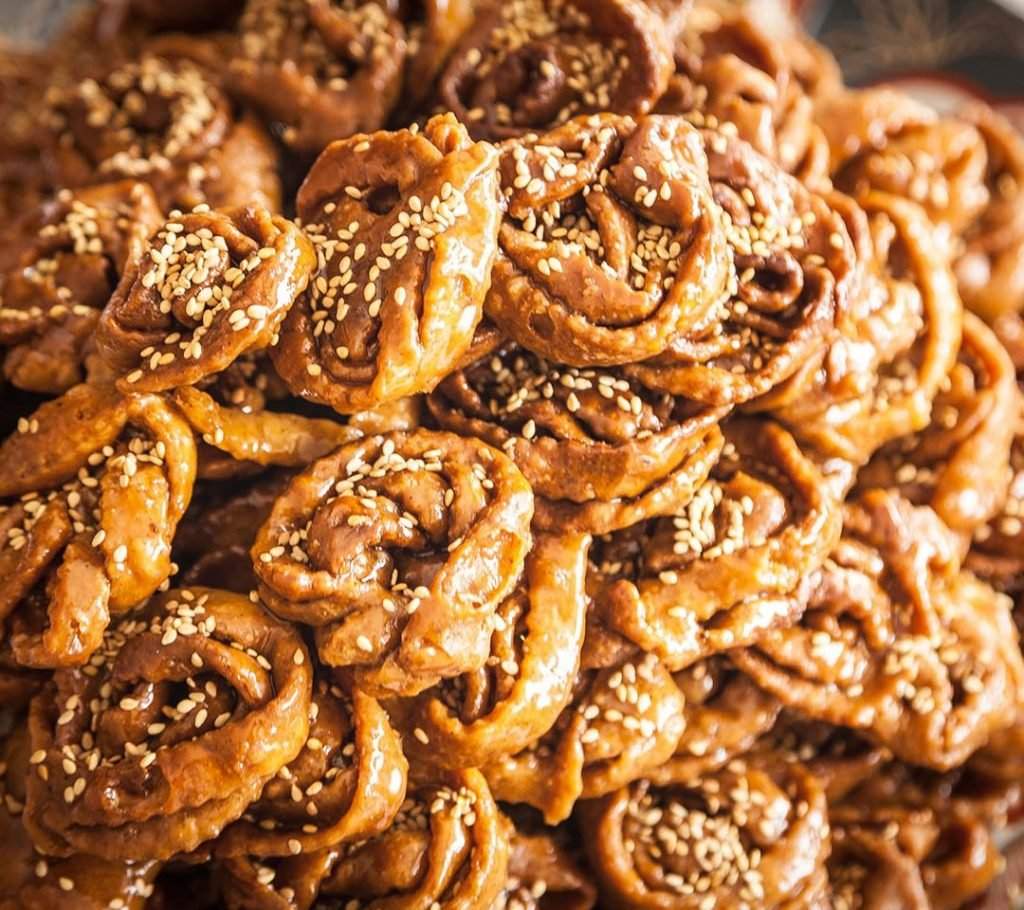 How do you make chebakia? First of all we have to make the dough
Then we place it on the counter, add the water little by little and continue working it for at least 15 minutes. I warn you that there will be times when you think it is getting sticky but don't worry: by kneading it with love and patience it will return to a normal texture.
On this last step there will be those who will have the initiative to not incorporate water because they appreciate that the dough is already well bound; if you make that decision I assure you, with almost all probability, that when you fry it, it will be too crunchy and dry.
Once it is ready, we make a ball with it and wrap it in a film, leaving it to rest for at least 30 minutes, even putting it in the fridge if, like me, you have the urge to make them in Seville in the middle of a heat wave.
After the rest time, we extend it well and divide it into three parts to make it more comfortable. We keep the piece we are going to work on first and stretch it with the roller (or better with a pasta machine if you have one) until it is as thin as possible.
Then we make rectangles of about 6 cm. approx., and inside each one 4 parallel cuts that do not reach the edges, as illustrated in the following photo. You can make this process in a much more comfortable and accurate way if you have a specific chebakia cutter.
Now comes the most complicated part by far: shaping it. It is a process that will need your patience and dozens of discarded chebakias (thank goodness the dough can be reused).
We place the rectangle on the palm of our hand, and with the index finger we separate the strips alternatively (one above, one below, etc.). Then we leave those on the sides fixed and fold the inside ones inwards, as if it were a sock. Finally we crush the ends and open the strips a little. The final shape should be similar to that of a rose.
Meanwhile, we put sunflower oil over a high heat to warm it up, and in a pan honey over a medium-high heat. As we make them we incorporate them to the frying pan. It is important to leave them the right time, so that they do not become dry or too crispy, so as soon as they are golden, we will take them out and put them directly into the pan, leaving them to rest with the hot honey for at least five minutes.
Finally, place them on a plate, sprinkle with toasted sesame seeds and they will be ready! All that is left is to choose to keep them in a tupperware jar on a clearly visible shelf and succumb to the temptation, at a rate of one chebakia every fifteen minutes, or keep five or six and divide the rest between neighbours and friends. In your conscience I leave it to you to decide what to do.
Some recommendations
It is important that the honey does not have any aroma (thyme, rosemary, etc.) or we will alter the final taste.
If you don't have almonds or you want to try a variation replace the 100gr of almonds with 75gr of pine nuts. Similarly, the pine nuts should be toasted before grinding.
If the honey is not one of your favourite ingredients, you can always reduce it with some water or simply varnish it over instead of putting the chebakias in it.
They are much tastier from one day to the next!
And with these last recommendations I finish the chebakia recipe; I hope it will encourage you to prepare them but, if it is not the case, I invite you to try them when you go to Morocco, it is usually the most present sweet in the pastry shops and the main culprit of smelling of honey and sesame.
Read more:
Moroccan Food in Fez
Moroccan Avocado and Banana Shake
Batbout Recipe
Fish Briouats Recipe
Byessar Recipe (Moroccan Bean Cream)
Lentil Falafel Recipe
Zaalouk (Aubergine Caviar)
Seffa Recipe
Beet and Coconut Balls Recipe
Moroccan Fritters Filled With Jam