Here's a recipe for Moroccan fritters provided by a chef friend of mine. Those of you who have already been to Morocco will surely remember them, as it is common for them to be offered in the street. In fact, when I cooked them I got nostalgic and remembered one of the first trips to Morocco that I made on my own, back in 2004, where, while walking around, I came across a stall that sold them.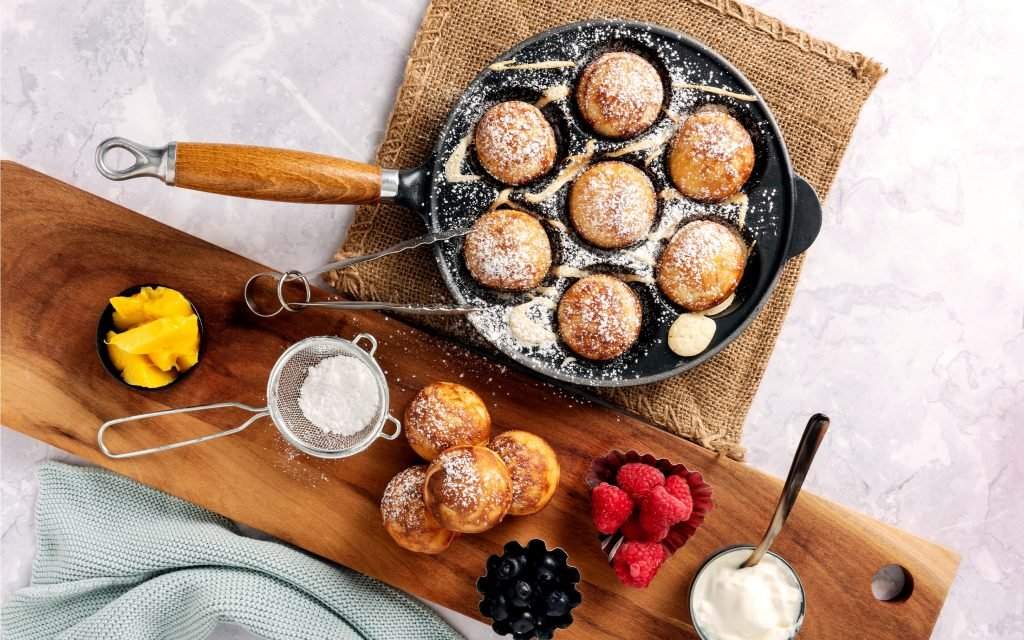 Ingredients
Before starting, I would like to make an appreciation: by "glass" I mean a cup of tea, while when I say "glass", I mean a normal size one (approximately 250 cl.).
1 small glass of warm water.
1 glass of milk at room temperature (so that it ferments better)
3 tablespoons of sugar.
1 sachet of dry yeast.
Half a glass of sunflower oil.
A pinch of salt.
700 grs. of flour (this is an approximate amount and will depend mainly on how it has fermented).
Sugar and sunflower oil (to fry and also to sprinkle the fritters).
Peach jam for the filling (optional)
Preparation
First, we add the sugar, water, milk and yeast in a glass of blender, mixing well and leaving it to ferment for about 15 minutes.
Once the time has passed, we add the half glass of olive oil and the flour. As I have clarified in the ingredients, the amount indicated is approximate, since it will depend on how it has fermented. Therefore, what I recommend is that you add it little by little, observing carefully how the mixture absorbs the flour until it acquires the ideal consistency, or you will run the risk of overdoing it and the dough will be very dry.
To give you an idea, I started by pouring it directly into the mixer glass, mixing it with the sticks until its consistency did not allow it to be moved any more. Then I continued with my hands until I noticed that the dough was soft but did not stick.
Once it's done, we left it in the shape of a ball and we waited about 20 minutes for the dough to lighten up.
After that time, on a well floured surface we stretch the dough, making sure it has a minimum final thickness of one finger, or else the dough will not rise and instead of buñuelos we will get cakes (as valid as our friends buñuelos, but aesthetically much less grateful).
Once the dough has been stretched, we make circles with a mould and let it rest for another twenty minutes. In my case, I chose to make them in two sizes, using a tea glass to shape them. It goes without saying that these are much more suitable if you want to present them at a meal with guests or you want to give them away (in my case, from the photo you will know that I could give a whole regiment a taste).
Next, we add abundant sunflower oil in a frying pan and put it on a medium-slow heat, preparing a dish with sugar next to it. When the oil is hot, we fry the fritters one at a time, paying attention that they are inflated to turn them over so that they take on the shape of a ball; do not wait too long or they will open. Likewise, do not let impatience make you set the fire too high or they will burn on the outside, leaving the dough raw.
Once they are done, put them on the sugar plate and batter them so that the sugar sticks to them, finally placing them on the presentation plate.
As an extra touch…
You can always give an extra kick to any recipe, and in this case it will be as simple as filling them, with our imagination setting the limits: nutella, cream, chocolate, … almost any ingredient will do, although I have preferred peach jam on this occasion.
This way, when you give your guests a taste, they will be pleasantly surprised at the first bite!
Read more:
Moroccan Food in Fez
Moroccan Avocado and Banana Shake
Batbout Recipe
Fish Briouats Recipe
Byessar Recipe (Moroccan Bean Cream)
Lentil Falafel Recipe
Zaalouk (Aubergine Caviar)
Seffa Recipe
Beet and Coconut Balls Recipe
Moroccan Fritters Filled With Jam
Chebakia Recipe