There are many things in Essaouira that are fascinating: many travellers come back again and again because there is something special about the place, something that is a real treat… if you visit Essaouira, here are the places where you should eat.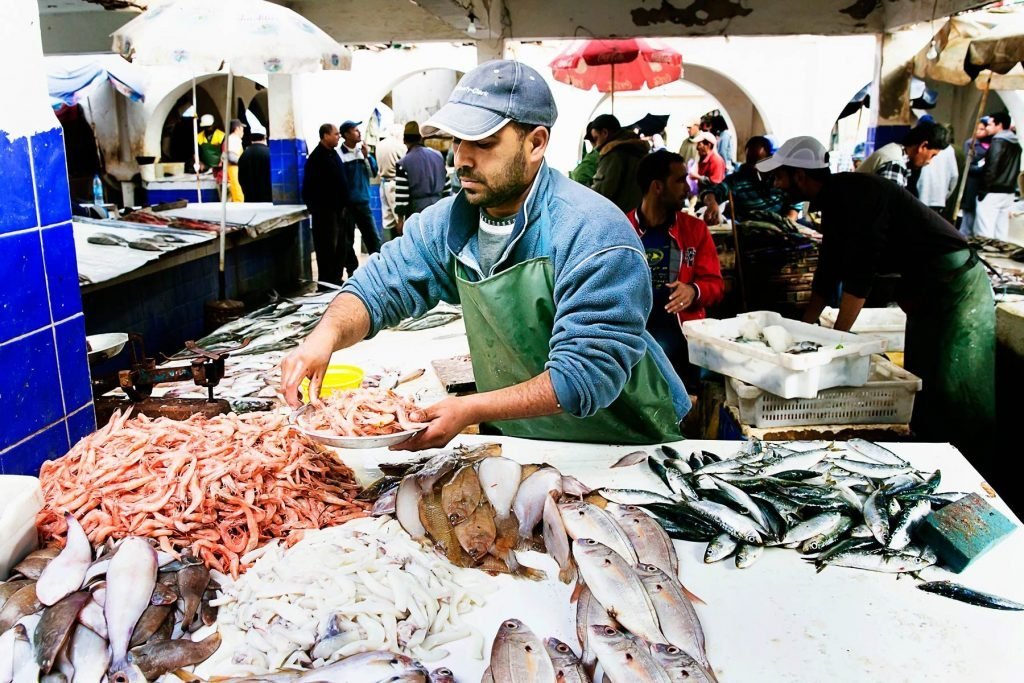 Eating well and at a good price is something that in Essaouira will not cost you much effort. The town has many cafes and restaurants serving typical Moroccan cuisine. Do not hesitate to try the fish dishes. It is fresh from the sea and is a feast for the palate.
WHERE TO EAT…
Restaurant les Chandelieres (phone: 024 476450; C/ Laalouj; main courses from 60 mad). In this elegant restaurant they serve Moroccan and French food. Its excellent decoration makes it ideal for a unique evening.
Restaurant Feradous (tel.: 024 473655; C/ Lebadi, 27; main courses from 40 mad. Although it is located in an area not very recommended, in this place they serve the best traditional dishes of all Essaouira.
Mareblú (phone: 067 646438; C/ Sidi Ali Ben Abdellah; menus from 30 mad. If you are a little fed up with couscous and tajin, this restaurant serves succulent pasta dishes.
Ocean Vagabond (tel: 024 783934; Blv Mohammed V; main courses from 60 mad). Ideal to take something fast and western but inadvisable if what is looked for is to taste traditional Moroccan food. Only serves pizzas, snacks and sandwiches.
Essaouira fisherman
But if what you really want is to have a good plate of freshly caught fish, you better try the outdoor fish grills. These grills are located around the port and they display the best fish of the day. You just have to choose the piece you want to eat and they cook it on the spot.
…AND DRINK
Near the Bab Doukala door there is a store selling alcoholic beverages, but the truth is that Essaouira does not have a great nightlife.
Café Restaurant Bab Laachour (pza Moulay Hassan) Another place to have a drink
Taros Café (tel: 024 476407; C/ Du Skala). This place has a nice terrace where you can drink the typical mint tea.
Read more:
Best Time To Visit Morocco
List Of Countries Whose Citizens Are Exempted From Entry Visa Into Morocco
Ifrane Travel Guide
Best Things To Do In Larache (Morocco)
Where To Eat in Larache
8 Best Restaurants in Fez
Fez in 1 Day
Taghazout
Erg ChegagaWhere To Stay in Tetouan