Fez was the last stop on our road trip through Morocco. Arriving was a bit of a shock: there isn't a more chaotic city in the whole country! However, we soon started to get the hang of it, and we must confess that after spending a few days here, we left with the desire to return. We've already told you everything there is to see and do in the city, so today we're going to recommend 8 restaurants where you can eat well (and cheaply) in Fez!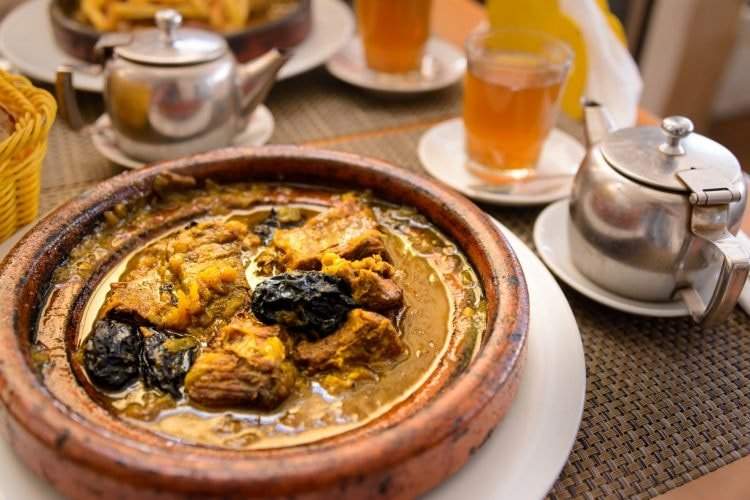 Here are the best places to stay in Fez.
Get the best deals and discounts on hotels here.
Chez Rachid
It's one of the cheapest options for eating in Fez. The food here is very tasty, homemade and traditional and the staff is nice. The best thing to do is to go in the middle of the day and pull out a menu that includes starter, main, dessert and drink and it only costs about 8 euros. If you prefer to eat a la carte, the main courses are 4-6 euros.
Nagham Café
We really liked this restaurant, with very good value for money and attention! It also has a covered terrace (perfect if it's hot as it has air conditioning) and another one on the top floor with great views of the city. For lunch we tried a vegetable cous cous and a beef tajin with plums and albericoque (delicious!).
Malak Snack
Good fast food place (but not only) both to eat there and to take away. We tried a taco (they call it that but it's more like a burrito) of mixed meat. It was so good that we repeated the next day! Price: 4 euros aprox.
Dar Tajine Fes
We found this place incredible: we tried the salad plate which for about 5 euros includes a variety of 12 different dishes (Moroccan, Berber and bean salads) and a chicken tajine with lemon and olives (8 euros).
Block House
We asked a friend where we could get a good (and cheap) pizza in Fez and he recommended us to come here. Result: very good! Prices: 4-8 euros. They also have pasta and more meals but, without a doubt, we recommend you try pizza (the Regina, with aubergines and ham is very tasty). That if, this in the zone of Ville Nouvelle.
The Ruined Garden
Don't let the name fool you: of ruins… nothing: the garden where the tables are set is very beautiful. It serves Moroccan tapas and main dishes. It is a bit more expensive than the other places we recommend in this article, but it is not excessive either: for 15/18 Euros you can eat and drink luxury, a little whim.
Veggie-pause
If you're looking for vegetarian restaurants in Fez, this one's pretty good. The menu is not very extensive but the variety of dishes is (there are from pasta and pizza to avocado toast with egg and budda bowl). Prices: 4-7 euros. Plenty of portions and don't forget to try the juices!
Al Oud Café-Restaurant
It's a small place but VERY recommendable: the food is good and the prices are good, but the guys who run it are also nice and friendly. We tried a tajine of keftas (little Arabian meatballs) which was delicious and lamb tajine with nuts, plums and apricots.
Read more:
Why Are There So Many Cats In Morocco?
Weddings in Morocco
Excursion to Berkane
Asilah International Cultural Festival
A 5200 Km Morocco Road Trip
Best Things To Do In Ifrane (Morocco)
Where To Eat in Meknes
Best Hotels in Larache
What To Eat in Rissani
Sahara Desert Temperature