Being a tourist city, there are many quality hotels in Fez. In this post we will cover hotels for all budgets. Not only four or five star luxury hotels, but cheaper hotels and guest houses too.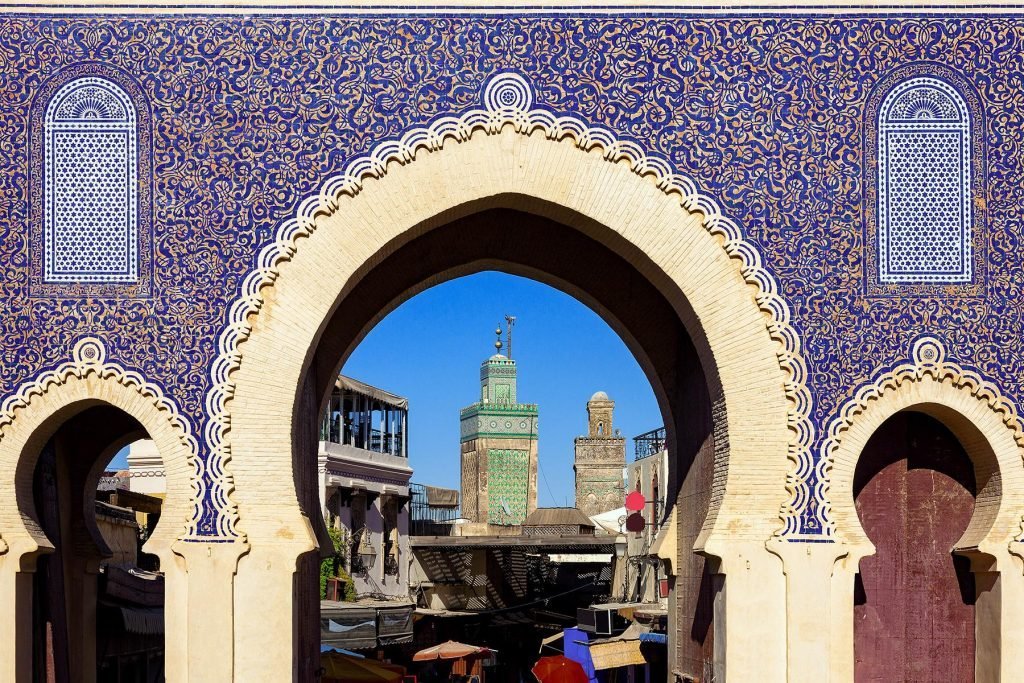 HOTELS IN FEZ
Hotels in the Medina of Fez
In the medina, the establishments are more typical of Moroccan riads. They have the advantage of avoiding transfers in vehicles or taxis but can be more unsafe at night. In some cases they are located next to the walls so you can get there by car.
Hotel Riad Fez 5* south, Bab Jedid, easy access, next to its walls.
Palais Jamais 5* typical Moroccan palace , next to Bab Guisa door, nice views. easy access high quality.
Riad Maison Bleue and Spa 5* north commercial street, Talaa Kebira
Palais Ommeyad 5 * spa. luxury north of the medina, Bab Guissas door
Palais Faraj 5*luxury south of the medina, Bab Ziat, good access, with views.
Palais Sheherezade 5*, south, Bab el jadid, in a 19th century palace, former residence of the vizier, and can be reached by car.
Riad Le Sucrier de Fès 4* south of the medina Bab el Jadid.
Riad el Amine Fes,5* luxury , north of the medina, old palace, with spa and terrace.
Riad Moula, luxury next to the Karaouyne mosque.
Dar Fes Tresor, luxury south of the medina.
Riad Gzira Fes, luxury in the center of the medina.
Hotels around the Fez medina
In the surroundings of the medina, hotels with large gardens and better amenities predominate. They offer beautiful views of the medina and as a negative point they require a vehicle or taxi to go down to the city. The most recommended are:
Hotel Sahrai 5 *, located near Borj Fez shopping center, surrounded by dense vegetation. It is an old colonial house and summer residence of Marshal Lyautey, overlooking the old medina and the Jewish quarter.
Hotel Palais Medina 5 *, is located near Fez el Jadid, in an Andalusian garden of 5 hectares south of the city, very well located, next to Borj Fez. It offers panoramic views of the Jbel Zallagh hill and the old medina.
A little further away
Hotel Merinides ****, located in the hills north of the city, with magnificent views over the historic city and its great heritage.
Hotels in the colonial city of Fez
The hotels in the colonial or modern city, although far from the medina, are very comfortable for the best urbanism of its streets and easy access to restaurants, cafes, shopping centers and nightlife, we highlight:
Hotel Fes Mariot, 5*, modern, 4 km from the medina.
Hotel Barcelo Medina, 4*, modern and very well located in the Hassan II Avenue, next to the Borg Fes shopping center.
Hotel Menzel Fes 4*, close to av Hassan II, with a view of the medina.
Hotel Sofia 4* a classic in the heart of the colonial quarter Florence square.
Hotel Ramada 5and Picalbatros Royal Mirage Fes 4 on avenue des FAR.
Hotel Zalagh 4*. a classic near Hassan II avenue.
Hotel Royal Mirage Fes, 4 * FAR avenue.
Hotel Volubilis 4* on avenue Hassan II, 3 km from the medina.
More economical, 3 * but well located
Hotel Ibis Fes, next to the FC station.
Hotel Zahrat al Jabal , on the avenue of the FAR.
Hotel La Perla, near the FC station.
Hotel Splendic , near Hassan II Avenue, near the Market.
Hotel de la Paix, very well situated in av Hassan II.
Hotels outside the city of Fez
Easy to get to when we come by car, with large gardens and pools, although you have to take a taxi to get to the city centre.
Hotel Zalagh Palace 5*, next to a modern shopping centre, on the Meknes road.
Hotel Sarhrai, 5 *modern neighborhood south of the medina , with views and 10 minutes by car from it.
Hotel Sogatour Sidi Harasen 4*, in this town 10 km away.
Villa Agapante, and Villa Medina at 9 km, in Ain Beda, rural area of the road to Sefrou.
Ibis Budges Fes 2* at the exit to Meknes.
Al Akha Hotel, 10 km away, Taza road.
What is a riad?
A riad is a traditional Moroccan house with a patio or interior garden. Riads are characterized by a small number of rooms and offer a familiar, hospitable and relaxed treatment. They usually have several floors and a rooftop terrace where you can rest, have dinner or have breakfast.
In almost all the riads the rate includes a complete breakfast consisting of bread of various types, honey, jams, eggs, dates and other Moroccan sweets. Breakfast is always accompanied by natural orange juice, coffee and milk.
If you have never stayed in a riad before, we recommend the experience. Remember that every room in a riad is different and when you start looking, you will want to sleep in all of them.
Most of the riads in Fez are located in Fez el-Bali and Fez el-Jdid, as this is where the oldest and most traditional buildings are located.