No trip to Morocco is complete without a visit to the Ouzoud Falls also known as Cascades d'Ouzoud. This amazing 110m high waterfall is one of the most impressive in the world, about 150km northeast of Marrakech and is a day trip for travelers to get away from the hustle and bustle of Marrakech (or any city for that matter). The falls are fed by the Bin El Ouidane reservoir and in late summer, they take a while to drip.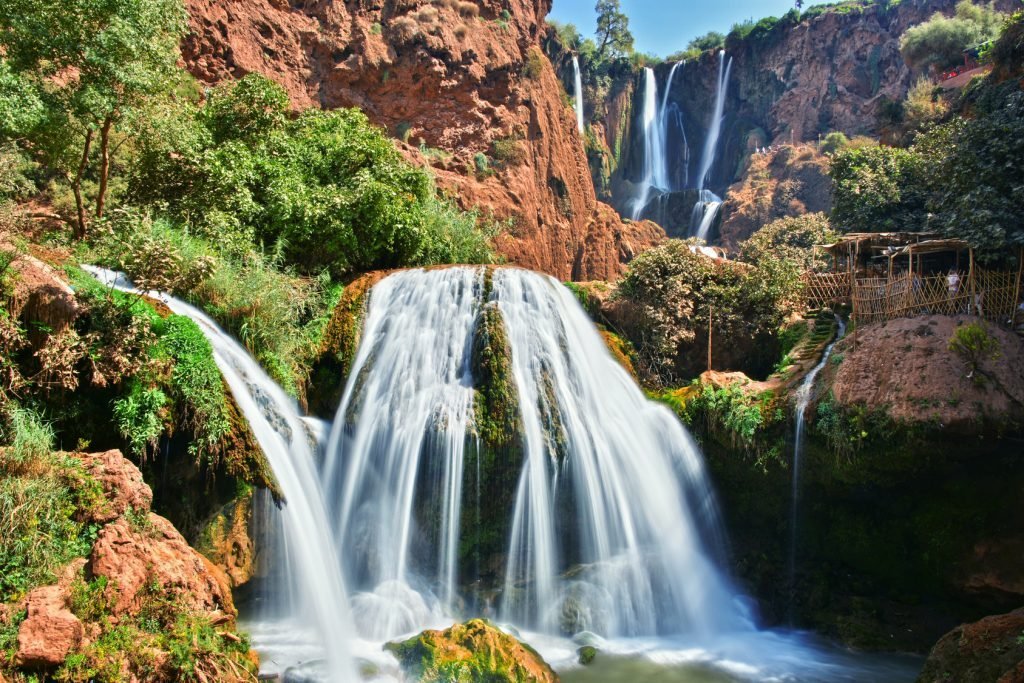 Location and how to get there
The Ouzoud Waterfalls are located at the foot of the village of Tanaghmeilt, near Azilal, although it is probably best known for being just under 150 kilometres from Marrakech. The falls are probably the favourite visit for those who stay a few days in the red city and are looking for a different experience.
There are two options for getting there, the roundtrip journey lasting approximately 3 hours. You can either hire an excursion or the services of a taxi driver. I only recommend the taxi if you're in a group big enough and you prefer to leave and return at a certain time, since the round trip can cost between 150 and 200 euros.
And if you're wondering whether the help of a guide is necessary, while in Akchour it seemed to be a good idea, I do not recommend the services of a guide here. It is quite simple and well marked. Besides, the rest of this post will be more than enough for your trip.
To access where the waterfalls, there are two ways to go down: a faster and more gradual way and a more rural way. We recommend the rural route.
The Waterfalls
The fact that they are unanimously considered the most important waterfalls in the country is not a coincidence: their 110-meter fall, interrupted by three jumps, adds to the impressive volume of water obtained from the river after which they are named. This generates a spectacle for both your sight and hearing.
But before going down, it is advisable to spend some time admiring it from above: get away from it a little bit, take advantage of the vantage point to see the set made up by the waterfalls, the lake that receives them and the walls that limit this place, mainly reddish clayey soil and moss.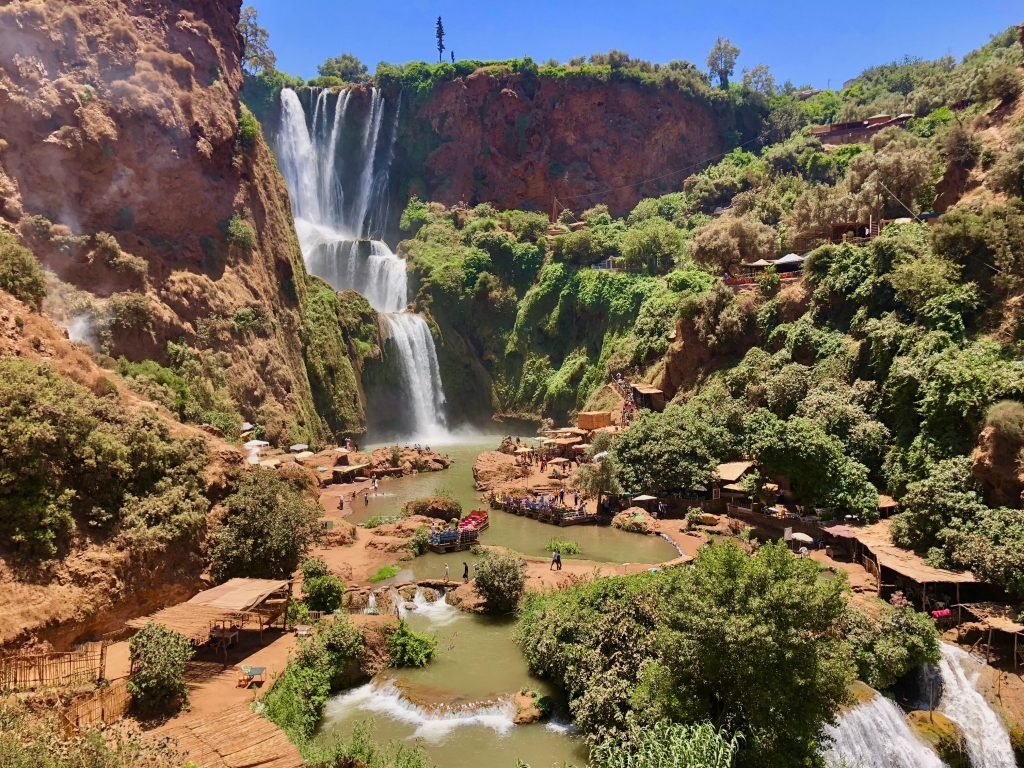 You can also take the opportunity to explore the park located just behind, with a certain bucolic aspect. It is common to see relaxed locals and contemplating the landscape.
Going down
The descent will be made on the ground itself. It will not present any difficulty, since the slope of the road is not marked and, except occasionally, it isn't narrow either. The most remarkable thing will be that you will lose sight of the waterfalls because they are covered on both sides by vegetation and it will seem like you are going through a forest.
In addition to trees, most of them olive trees (hence the name of the river and the waterfalls, since ouzoud means olive in Berber), somewhat improvised constructions and even locals grazing, what will most capture your attention is the community of macaques that bells at its width.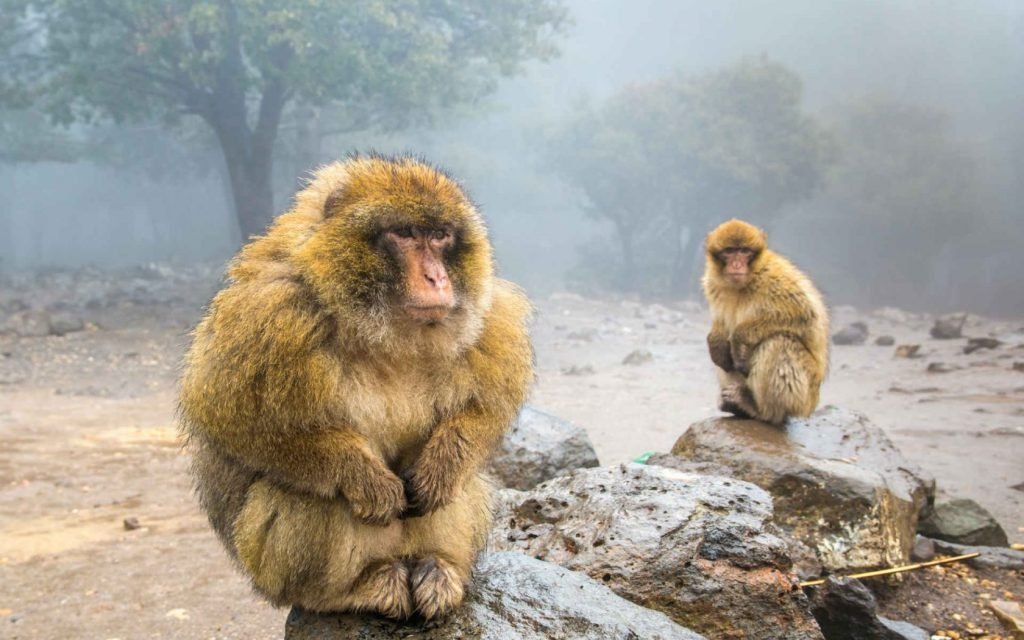 You'll be able to capture them jumping, climbing trees or even thinking. What I do ask you to do is to be cautious and to keep a certain distance unless they come close. After all, it is their house and we are just tourists.
Another element to highlight is the small lakes and waterfalls that you will cross. I strongly recommend stopping at a coffee shop that is almost at the end and whose views overlook one of those mini-waterfalls. There you can stop for a cup of tea.
Once down (the descent shouldn't take more than an hour) the waterfalls will come into view again. My recommendation is that, once you have contemplated the landscape, you should hire the services of a paddler. The cost will be 10 dirhams per person and you will have to pay when you finish at the counter located just behind where the boats dock.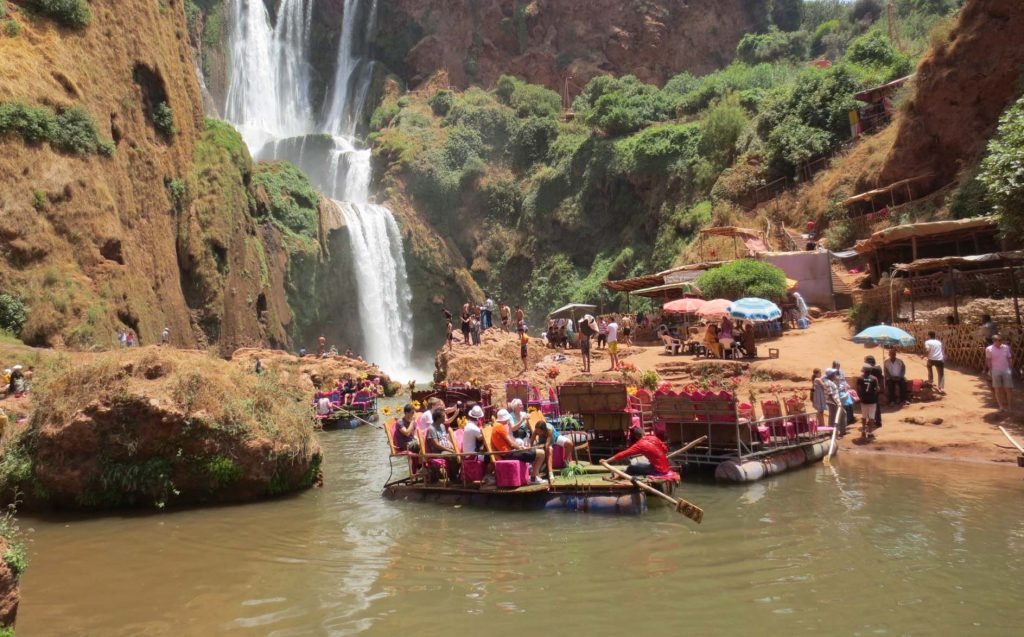 Its design deserves a special mention, as it represents the Moroccan's ability to set up a business in a pleis plas, using demolition materials and aesthetics: wooden strips and planks on plastic drums and dining chairs, covered with fabrics in different colours depending on the boat (blue, pink, orange,…), but invariably shrill.
Although it is not a particularly long-lasting activity, it is still a lot of fun. It is a small tour around the lake, where at some point you will get dangerously close to where the waterfalls break. Don't be afraid and encourage the rower to get as close as possible!
Alternatively, for the more daring ones, you can choose to swim, as long as the weather is good, as the water is usually quite fresh.
Getting back
The return, however, will lack any interesting landscape. It consists of a staircase (which, however, is perfectly stepped, so it will be easier and quicker than going down), with a series of buildings, mainly shops and restaurants, on one side.
As it will probably coincide with lunchtime, the best thing to do is to enjoy an inexpensive meal and magnificent views. Make sure you get the former by insisting on fixing the price early (don't give up until you get a menu for 70-80 dirhams) and the latter by going up to about half, which is where the restaurants with good views are located.
Almost two thirds of the way, you will also find a viewpoint and a stone of generous dimensions that is usually used for the last selfie.
Finally, the route will become flat and the macaques will reappear, as the Moroccans take advantage of this stretch to sell peanuts, and the monkeys, who are not exactly fools, come in droves to have a good meal.
As you can see it is a must if you travel to Marrakech, because it is economical, varied and does not eclipse a day in the red city. If you leave around 8 am, you can explore the falls for a few hours and be back at five or six pm. Plenty of time to enjoy the Jemaa El Fna Square at night!