"I would like to visit the most characteristic places in Morocco. I am looking for typical places like Chefchaouen, Marrakech, Fez, Casablanca and the desert. I want to do it in 4 days to enjoy a leisurely trip."
The above text is not a dramatization but a real request and is by no means an isolated case. It is understandable that, if the tourist sector tends -we usually- to simplify the promotional strategy, pointing out only the most striking destinations, one might think that these are relatively close, especially in a place like Morocco, where the geographical reality is deceptively simple.
It is the intention of this map of Morocco to solve this problem because, more than a standard road map, it indicates the distances so that the user can, at a glance, become aware of how the country is structured and build a realistic itinerary adapted to the time available.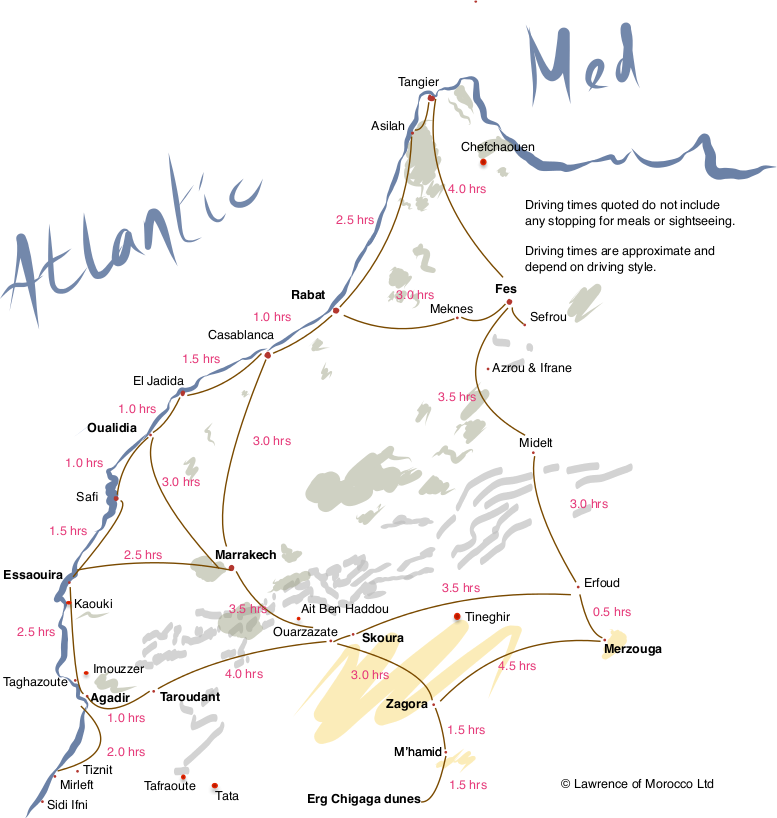 The main characteristics of this map are the following:
It is designed to be printed in A3 (although it could be done on a sheet of paper, although it would present some legibility problems). In order to make the most of the format, it is cut into pieces, so that the southeastern area, which is less touristy, forms a separate, smaller map.
The measure to be used is not kilometres, but hours, as 100 kilometres in Morocco is not comparable to 100 kilometres in most Western countries (especially as we move southwards) and can be misleading.
A network of main destinations has been established, followed by others classified as secondary because either they are not so popular, you have to pass through them to visit others, or they are necessary to offer a route that covers the whole of Morocco.
There is also a third network, formed by those places that are subordinated to a main one from which one can access, as specific branches (for example Ait Ben Haddou with Ouarzazate). This does not mean that you necessarily have to leave from these to visit them, but they help to have a more structured map.
Map of Morocco in Spanish. Airports Morocco map. Morocco map
Sometimes direct routes are discarded, opting for a more comfortable and complete route and sometimes even faster, although online mapping applications indicate otherwise. For example, it is often recommended to take the national road to go from Chaouen to Rabat, but in reality it is shorter if you pass through Asilah and suitable, since it borders the coast by highway.
Times have been increased for various reasons, such as general (in Morocco drivers are obliged to stop every two hours) or particular (at the entrance of Casablanca there is usually a traffic jam, or to reach Erg Chegaga you have to travel a minimum of 120 minutes of track), circumstances that do not usually contemplate online applications.
The minimum amount of time that has been counted is half an hour, to make it easier to add up the distances. In addition, it is always preferable to provide a measure, a priori, greater than what is expected, so as not to give rise to designing a route with just the right amount of time and that any unforeseen event results in staying halfway.
Finally, and although it may seem obvious, this is a map that is open to any suggestion made. If someone thinks that some interesting destination is not contemplated or that some of the measures indicated are not correct, please indicate it.
Hopefully it will help some reader and future traveller to approach the country in an accurate way and understand, that not only Morocco has another rhythm, but also it must adapt to it to discover it as it deserves.
Plan your trip:
7 Best Hotels in Tangier
Best Hotels in Casablanca
Best Hotels in Larache
Best Hotels in Marrakech
Best Hotels in Meknes
Where To Stay in Fez
Where To Stay in Rabat
Where To Stay in Tetouan