Akchour is a small town, located in the lower part of the Talembote valley, which in turn is part of the large Talassemtane National Park. As a town, it is not very interesting, but the two routes that start in this town and that I will describe next will allow you to spend a different day and see the enormous geographical richness that Morocco offers.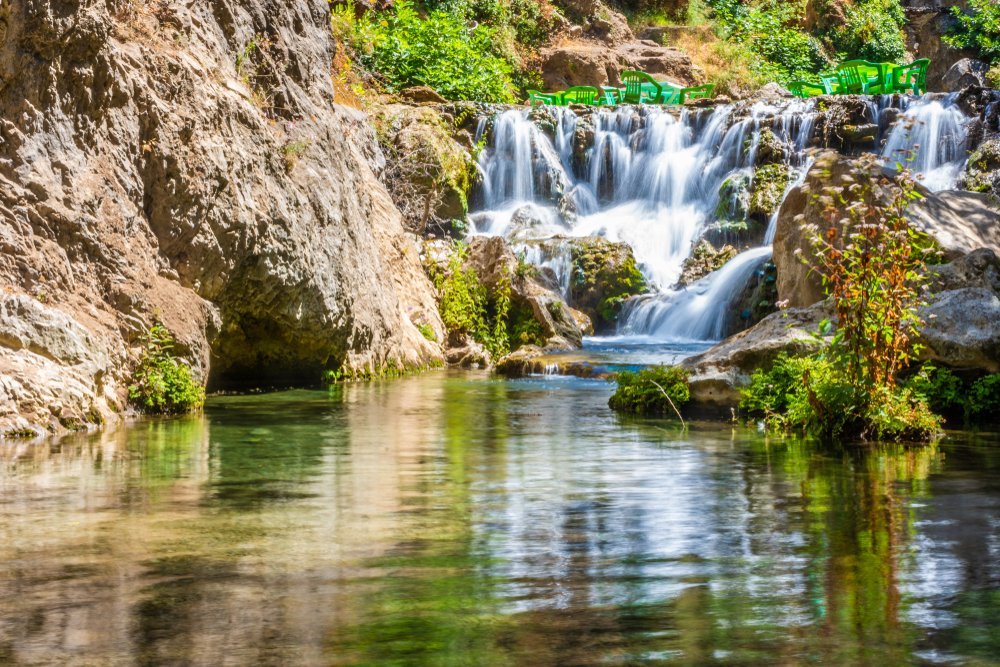 Anyone who knows me knows that I'm not exactly a sports fan. Every time I see people running in the streets early on, I get a feeling of admiration and I commit myself at that very moment to change my habits and do something different on the weekend. Then I talk to my partner, she reminds me that we have a date to have a beer or enjoy a good dinner or lunch and it goes away.
That said, escaping to Chefchaouen and not hiking in Akchour is something that even I can't resist. This trip is one of the most recommended activities for all those who spend a few days in the blue city, so let's get started!
Location
Being a little more than 30 kilometres away from Chefchaouen, it will take you approximately 40 minutes to get there, and in case you go by taxi you should not be charged more than 200-300 dirhams for the whole car. If you also decide to hire the services of a mountain guide, you can either consult him in the place where you are staying or directly look for him in Akchour, costing between 150 and 200 dirhams.
Is the help of a guide necessary? It depends: on the one hand, you should not have problems to get your bearings, but you will be accompanied by someone who will help you with certain crosses. Therefore, if you are used to this type of activity or you are a more or less determined group, it is not necessary. If this is not the case (or even if it is, if you need some extra help, depending on your budget) I recommend you to go to one.
Which route to choose?
Once you have left the main street and the parking lot behind you will reach a dam. It is then that you must ask yourself the following question: which route to choose, the one of the Bridge of God, located on the left, or the one of the waterfalls, on the right? In the first case you will move parallel to the river Farda, while in the second case most of the route will run along the river Kelaa.
Map of Akchour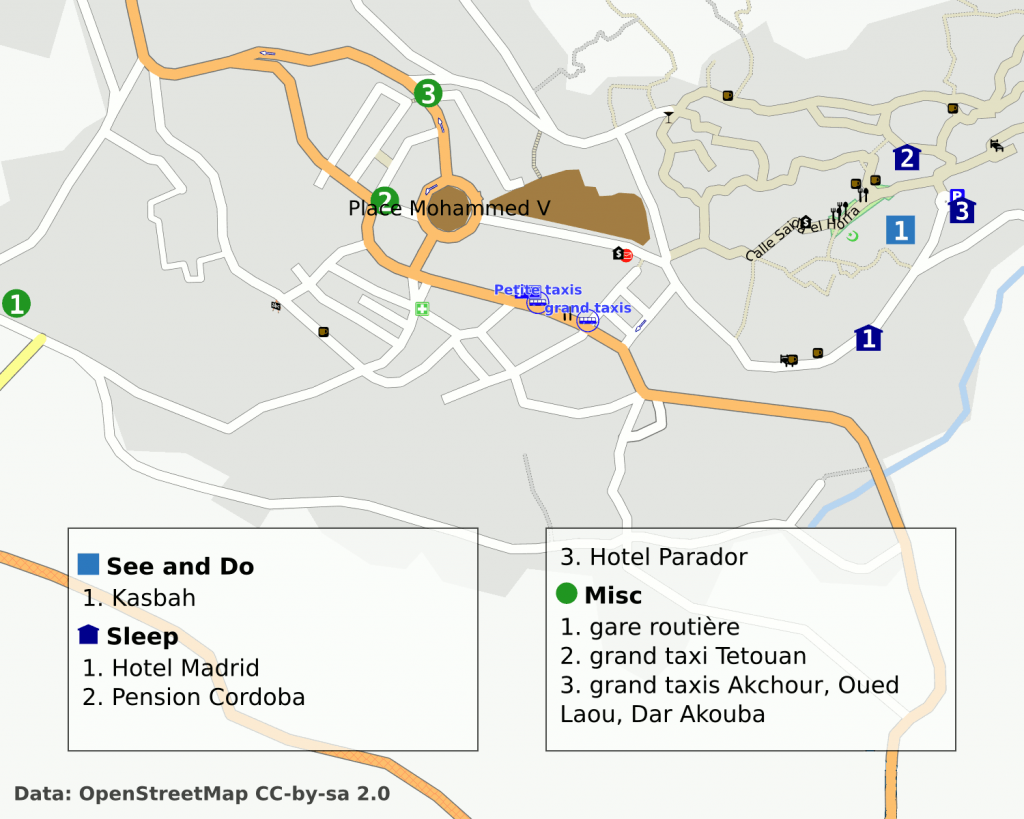 To make sure that you don't spend the rest of your days with permanent pain in parts of your body that you didn't even know existed, you will have to take a few things into account.
What differentiates one from the other is that the second, in my view, is more visually pleasing, being the more complicated and irregular route. On the contrary, the first one, although less spectacular, is more constant and with a much steeper slope.
Bearing in mind that the waterfalls route takes a little more than two and a half hours to get there and as many hours back, and that the other one is less than half as long, I would opt, if you only plan to do one, for the first one, as the experience is more rewarding. And just in case you want to complete both, start on the Bridge of God, as you will need to start with all the strength you can muster to climb steep slopes continuously.
Will you have enough energy for both routes? Only you can know that, but if you are one of those who like to rely on statistics, last time I accompanied a group of 15 people, with an average age of around 30 years. We started by going to the Main Waterfall (there were no plans to do the other one), and nobody had any problems to get there.
When we returned, four of those 15 people wanted to do the second route as well. Needless to say, I was not among those four, and when they left I said goodbye with the best of smiles, imagining the number of teas and pastries I was going to have with the rest of the group while we waited for them.
Of course, all of us except Diego, who is a sports teacher, were screaming with pain from that very night every time we went up or down the steps in Chefchaouen.
Be warned!
The Waterfall Route
If you opt for the route whose final objective is to see the Main Waterfall, you will experience the influence of the Kelaa River on the environment, going parallel to it at all times and crossing it on numerous occasions.
First Stage: Towards The Petit Cascade
The first part, just after the picnic areas, takes you to the reservoirs of the waters from the small waterfalls Petit Cascade.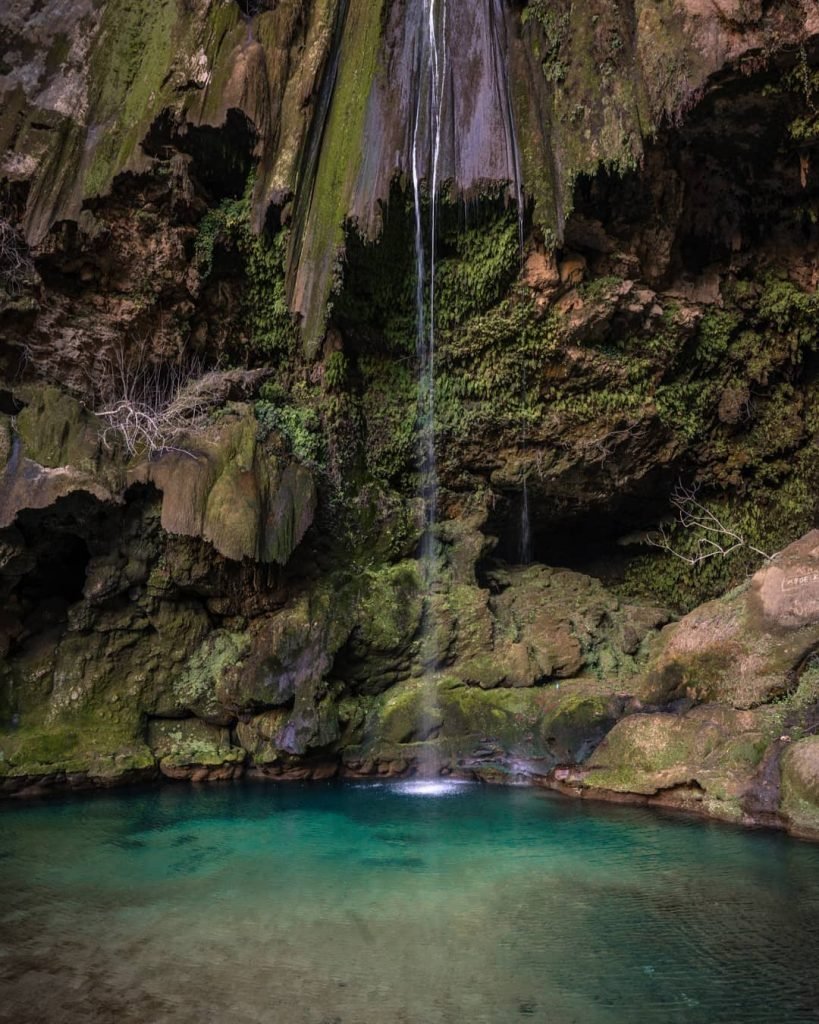 This is probably the ideal stretch for those who want a pleasant walk in natural surroundings, since it's mostly flat. And perhaps for that very reason, it is a somewhat misleading representation of the entire trek. Take your time to take pictures with idyllic natural backgrounds here.
You will need your strength and time later on.
Second Stage: Increasing Difficulty
Once you leave the Petit Cascade behind, you will discover how the geography changes as the route becomes narrower, the slopes steeper and the atmosphere more humid.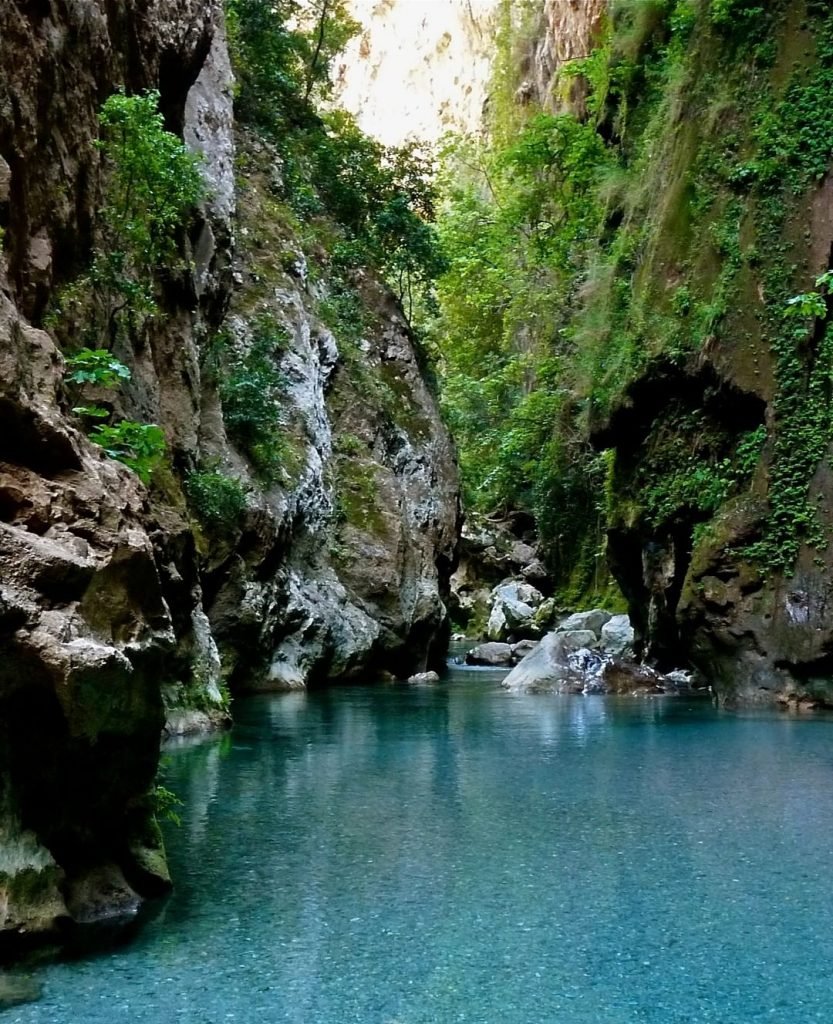 But what most characterizes this section are the forced crossings of the river that multiply, usually with small stones that rise from the bottom of the river, although there are also large stones in the water, they are much more slippery.
There is a good chance that you will slip and get your feet wet, so wearing thin socks is highly recommended!
Final Stage And Return: The Main Waterfall
Eventually, nature will become somewhat more disparate, and although the paths will continue to narrow (sometimes it will be inevitable that you will have to line up very carefully, since there are no railings) and the muddy slopes will make it necessary to hold on to the branches and trees that grow from the walls so as not to stumble, other surprisingly flat and extensive landscapes will appear.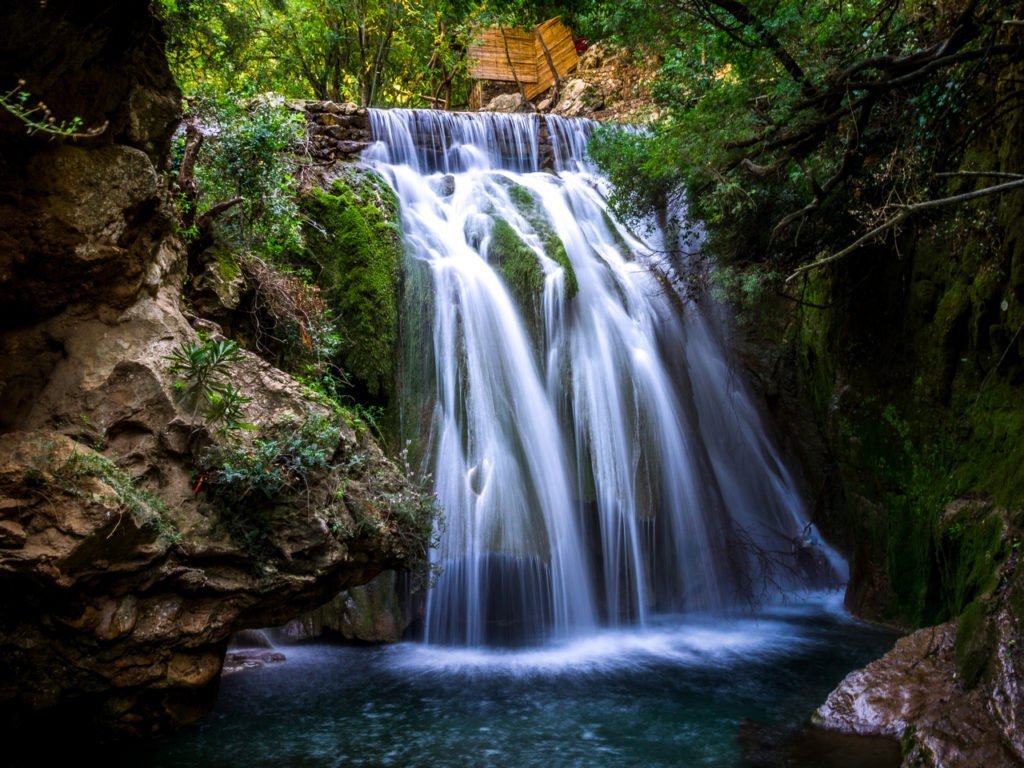 But what most identifies this stretch is the final reward: the Main Waterfall, a geological formation more than 70 meters high and where water flows through layers of moss and mud that over the years have accumulated and petrified in front of a rock wall.
You will probably arrive tired but, even so, when you see the landscape you will understand that the journey has been worthwhile. Because in addition to feeling rewarded with the visuals you are offered, you will share a festive atmosphere with the rest of those who have ventured out and who will be celebrating and chatting, singing and playing rhythmic instruments or even taking a dip in the reservoir that receives the water from the waterfall.
The only thing left to do now is to regain strength and retrace our steps because, perhaps the biggest drawback of this route, there is no possibility of taking an alternative route back.
The Trek To God's Bridge
This itinerary also runs parallel to the Farda River at all times. However, the perspective will be completely different from the previous one, as it will be carried out entirely along the side of a mountain, until it reaches the one known as God's Bridge, a natural construction resulting from the erosion of the river, which connects one side of the canyon with the other in its more than 30 metres of height.
They are, without a doubt, different and complementary experiences, and if in the first case you cannot avoid looking at the details, here the perspectives that will be presented to you will be more general.
Besides, if you travel in a period of low rainfall, you can perform the activity by going through the very flow of the river. It is a route more similar to the one that leads to the Main waterfall, but more rugged and less stable, so that sometimes you will need to hold on to the walls to keep going.
Take a well-deserved dip when you reach the bridge. The water is probably quite cold and it will take some time to get used to its temperature.
A few tips
I would not like to say goodbye without giving you a series of prior recommendations. Most of them may be obvious, but I think it never hurts to list them:
Wear comfortable clothes and shoes, as well as thin socks, because you'll probably suffer from a slip that will lead your foot straight into the water. Also, if the weather is good, it wouldn't hurt to take your swimsuit so you can have a good and well-deserved dip!
Include in your backpack snacks and a one-third to one-half liter bottle of water. Although you will find people offering food and drinks, they will only be nuts and other products that do not need to be preserved, and in the case of drinks they increase the price a little. It is better to make use of some empty stall where they sell tea, and refill your bottle through the tubes that collect drinking water from the spring.
Finally, if you go at any time when it gets hot, bear in mind, especially with the waterfall route: plan to reach the Main Waterfall shortly before the sun starts to beat down, resting there as it does so.