Why is Chefhaouen blue? When was Aït Ben Haddou built? Is that dromedary smiling at me? All these understandable concerns are swept away by Morocco's best-kept secret: What is the real price of what is on offer?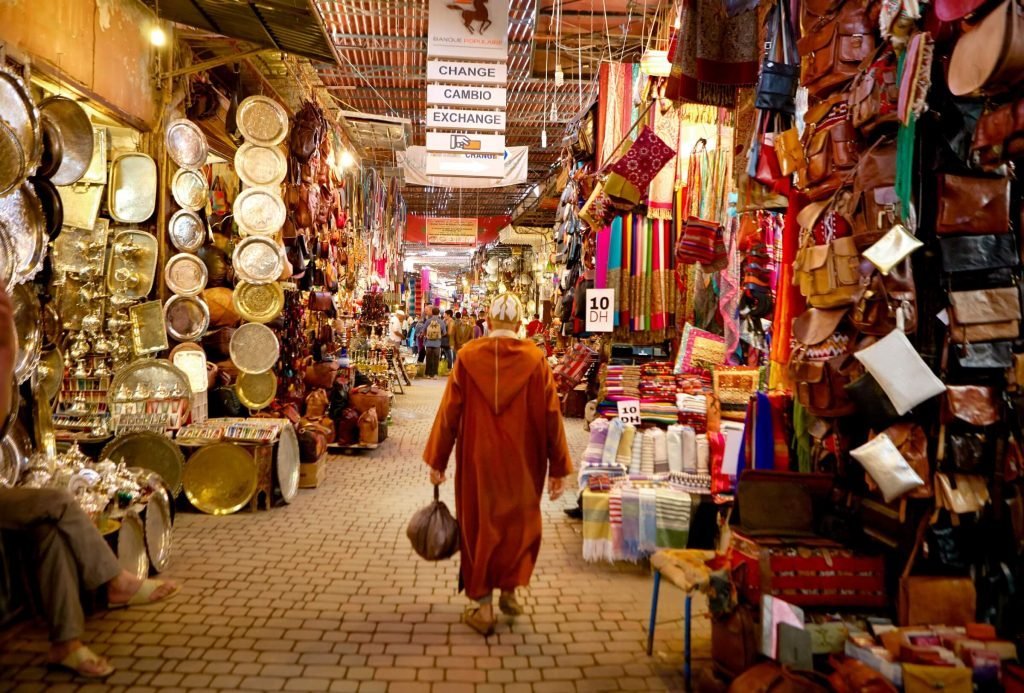 During my continuous travels to the country I have been able to deduce it, not without first causing me more than one headache, it has to be said.
That is why I want to save you the more than inevitable headaches by providing a complete list of prices in Morocco, and thus close a deal at a reasonable cost. But those of you who know me know that I am reluctant to give out facts without being able to explain why they vary so much, and at the same time give some recommendations that will help you get the best possible price.
But I am aware that not everyone is interested in my long diatribes and prefers to get to the heart of the matter. If that is your case, click here to go directly to the list. For those of you who would like to know more … let's get started!
Why Prices Are So Different
Why is it so difficult to know the real price of what I am being offered? Why is the trader on duty reluctant to give me a clear answer? The reality is that there is no definite price as such, as it depends on many factors, many of them independent of the object or service being offered. To understand this better, I will tell you an anecdote.
Some time ago I was discussing with a Moroccan friend, also from the tourism industry, because an acquaintance of mine worked in a riad in Marrakech and her salary, in my opinion, was not fair. Immediately my friend made a series of mental calculations in his head, concluding that he probably increased his initial income by selling excursions by a lot.
He also asked me for his contact, as he knew tour operators who would probably give him a better price directly. This way they could collaborate and at the same time offer a more competitive price to the clients of the accommodation or even better, continue to offer the same price but get more profit.
At that moment I understood: in Morocco the products or services offered are, fundamentally, a tool to get the highest possible profit in a short period of time. That is why their commercial attitude can be quite different from ours, especially when the client has a significant lack of knowledge about the costs in the country, as is the case with tourism.
Before buying clothes in Fez or buying handicrafts in Marrakech we recommend that you consult our price list in Morocco.
And on what factors does price variability depend? Well, almost infinite, but the fundamentals are not intrinsically related to what is sold: business opportunity, customer purchasing power and commissions.
Thus, if two carpet shops in Europe with the same supplier will offer a similar price, if in Morocco you wish to buy a carpet in a well located shop, you have been "advised" by a guide and the shopkeeper intuits a certain purchasing power and that you have little time, be assured that the price will be very high.
Of course, it is far from the premise that a satisfied customer is a repeat customer, which is a fundamental principle when you think about the long term. But in the case of Morocco, or at least that's the view I've had with tourism, you tend to think more in the short term.
Another anecdote to illustrate this, and which also affects a local tourism company: the manager of an accommodation asked a craftsman for the grille on one of his windows. As the result was to his satisfaction, he asked him to do the same for the rest of the building. On this second occasion he raised the cost per unit, probably because he deduced that he had liked it so much that he could afford to pay a little more.
And all this leads us to the second part of this article: in order to achieve the most economical price, we must necessarily know the parameters that make it vary. I warn you that the list is not exactly short and that more than one variable you would not have imagined.
How Prices Vary
By purchasing power
Our Nationality
Prior to a trade agreement, it is common for the trader to ask where we are from. This will have two purposes: to empathise with us (by releasing some local jargon) and to anticipate our purchasing power. Unfortunately, our origin will influence the offer he makes to us.
Thus, a British person will be offered a much higher price than a Spanish person, and a Catalan person a little more than an Andalusian person.
How to avoid it: if we can, by avoiding answering. And if it is inevitable, lie about our origins and try to hide our accent (and when he lets out a little click, pretend we have caught him).
Our Wallet
There is no better way to report our purchasing power than to open our overflowing banknote portfolio in front of a merchant.
How to avoid it: Having two wallets: one with most of our dirhams, well kept, and another more visible, which only has the money needed for the next purchase (as we spend, we are passing the money from one wallet to the other).
If in the wallet shown we have several small coins, better than better. So, when we are haggling, and the merchant refuses to go any lower, we can open the wallet and say "this is all I have" by showing a few small coins. This is usually very effective.
Our previous purchases
Obviously, turning us into a traveling souvenir shop will alert us to our compulsive consumerism and cause them to want to charge us more.
How to avoid it: Don't "show off" what you've bought: a traveler with a hennah tattoo on his hand and a turban on his head is the biggest wake-up call to a Moroccan merchant.
To find out the price of a taxi in Marrakech or any other type of shopping in Marrakech, consult our price table
By business opportunity
The time we have available
Another question that merchants usually ask is how long we are going to stay in the city, which plays in our favor if we are going to stay for several days but is a double-edged sword if we are going to stay for a short time: if he senses that we are easy money, he will propose a high price; if he senses the opposite, he will lower his expectations, because he understands that he will have few opportunities.
How to avoid it: In general, we should say that we are going to stay two or three days, that we want to see everything calmly and that therefore we do not have an urge to buy.
The location of the shop
This is perfectly understandable and can be extrapolated to our western reality: in the same way that a café con leche in Madrid's main square is not the same as a café con leche in San Vicente de Alcántara, in the province of Badajoz, a couscous in the middle of Djema el Fna square is not the same as one 100 metres away.
How to avoid it: Exploring a city in depth will imply a greater effort, but it will also allow us to discover more corners and better prices.
The product
Depending on the type of product or service that we want to acquire, the price will vary, based on the luxury involved and how oriented it is to the tourist or the local client. Thus, the commission for accompanying us to buy dates will be anecdotal, but if it is a rug it could be more than 40%. In fact, there are few things that arouse more illusion in the face of a Moroccan than asking him where to buy a rug.
How to avoid it: Taking extreme precautions when we want to buy a higher cost item, for example going directly to the store without recommendations from intermediaries. Or even better: as far as possible, avoid the purchase.
Speaking honestly, and remembering that the maxim of the merchant is that the product has more value as a tool to make profit and not as a product itself (and therefore its real quality, if it cannot be verified, is not relevant) it is more than likely that they will try to give us a free ride.
In fact, of the times that I have accompanied other travellers to some of the shops that surround the chouwara tannery (since it is the only way to see it) and they have acquired some product always, without exception, once they finish the visit they realize that the leather smells bad (in the shop, surrounded by so many smells, it is not possible to notice) and it will not have solution, for many homemade remedies that other travellers propose to him. You are warned.
The ability to haggle
Bargaining is an ace in the hole to bring the merchant's sales expectations closer to our purchase intention, once he has released his first offer, which is not even close to what he thinks we will pay.
It is an art, and with enough skill we may be able to turn the tables on a trade deal. Because in addition to trying to deduct the original cost of a product, with good bargaining you will be able to induce ideas in the trader such as that you have no need, you are not bad in time or you cannot spend so much.
And if you want more information about it, I remind you the very complete article about haggling that I published at the time.
Prices in Marrakech. How much does it cost to eat in Marrakech? updated prices
For the commissions
This is probably the element that will cause the most variation in prices and with which you will have to be the most careful. To avoid this, we must distinguish who is trying to make a profit at our expense.
Those who "guide" you:
They are those who see you lost and offer you their help. In some cases they may ask you for a tip once you arrive at your destination, but on other occasions they will make a detour (which you will not be able to appreciate) to pass by a shop which they claim to receive no benefit from and which belongs to their cousin. Needless to say, neither statement is true and the commission increase is assured.
How to avoid it: Avoiding moving around the medinas with absent-minded faces. In case we get lost, agree on the cost of the service beforehand (I do not recommend offering more than 2-4 euros) or go to an elderly woman or man for help. In such cases it is more likely that they will not seek interest in helping us.
The local accompanying guides
The visits to shops during a guided tour are usually a not insignificant economic benefit for the guides. Bearing in mind that the more people who accompany you, the more benefit they will get, the larger the group of travellers, the more care will have to be taken.
Accompanying guides and locals, especially the latter (since they are specialists in the city and know all the shops), make a profit from each of the sales made in their presence, without exception.
Moreover, sometimes, especially if the group is large, they earn money by staying in the shop, as it has been proven that if you continue for a certain time there are greater chances of sales. This is the reason for certain "entertainment" techniques, such as product demonstrations in a Berber pharmacy.
How to avoid it: Declining the proposal to enter a store by the guide in a polite way or, failing that, going to the store showing a more than evident desire to buy.
Neither should we ask for suggestions of shops to the guide, because it is more than probable that he will recommend it to us because he perceives a commission. In fact, if we ask for one in particular and he recommends us not to buy there, he will do so because, on rare occasions, there are merchants who do not contemplate giving commissions to guides. In one way or another, most merchants use the same common suppliers, and the qualities of the objects are similar.
Other retailers and our consumer spirit
Indeed, buying a product increases the chances that a subsequent product will have a commission and/or that spontaneous traders will approach us.
Let me give you an example: we go in a group to the medina of Fez, and one of our companions is one of those who goes away the eyes behind any souvenir they offer. With every purchase he makes, the number of shopkeepers around the group increases. This happens because the previous shopkeepers have warned the others that there is a consumerist mood and, needless to say, they want their corresponding commission for the warning.
How to avoid it: Keeping the purchase of products inside shops and in the most discreet way possible.
And now, with this last warning I show you a price list (in dirhams). It goes without saying that if you would like to see any object or service that is not contemplated, you only have to indicate it in the comments. In fact, I have the feeling that no matter how much effort I have invested in the elaboration, I will update it more than once.
You can see that everything has a variable price, for the reasons I have already commented throughout the article (do not expect to get the lowest price on the menu in the middle of Djema el Fnaa square), so take this list as a guide and analyze what is the real situation of the commercial offer before comparing the table.
Gastronomy
Item Price
Coffee/tea 6-15 DH
Natural juice (glass) 6-18 DH
Refreshment 8-20 DH
Beer 15-30 DH
Large water bottle 8-20 DH
Bottle of wine 50-200 DH
Harira 10-40 DH
Couscous (per person) 20-60 DH
Tajin (per person) 40-80 DH
Pastella (on request, for 6 people) 120-230 DH
Sweet pasta (unit) 5-10 DH
Menu 40-120 DH
Spices (250 gr) 80-200 DH
Services/entries
Service Price
City bus ticket 4 DH
Petit taxi (movements in the same city, up to 3 passengers. Price for full taxi) 10-20 DH
Large taxi (transfers between different cities, up to 5 passengers. Price per kilometer for the complete taxi) 10-20 DH
Entrance to monument 20-70 DH
Entrance to disco 70-200 DH
Mobile Internet (price per gig) 8-20 DH (20 dirhams a two gigas card to spend in a week, for example)
Men's haircut 20-90 DH
Women's haircut 80-200 DH
Visit to family doctor (although it is recommended to go with travel insurance) 150-300 DH
Souvenirs/clothes/other
Item Price

Turban 10-30 DH
T-shirt 60-150 DH
Caftan (of the basic-manufactured, handmade can reach prohibitive prices) 90-200 DH
Chilaba 80-150 DH
Slippers 50-100 DH
Tattoo of henna 10-50 DH
Cigarette Pack 20-40 DH
Related Articles
The Moroccan currency. How to change from euros to dirhams
Entering Morocco: Customs formalities, requirements, and documentation