In all my experience there is one question that always arises, and believe me that I am not exaggerating, to all those who travel to Morocco: how to change from euros to dirhams and, above all, how much to change?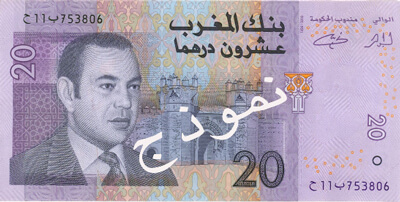 Without a doubt, the EURO is the best currency to take to Morocco. The Euro is the easiest currency to exchange all over Morocco and most touristy places also accept payments directly in Euro.
The Moroccan Currency and the exchange rate
The official currency in Morocco is the Dirham, which is contracted (i.e. as usually shown on receipts, in online shops, etc.) is "MAD", although in some places you will see it as "DH".
How do you calculate the change from euros to dirhams, and vice versa? Probably the most immediate way is to go to an updated online converter.
However, I do not see it as practical in the day-to-day of a trip, as the currency hardly fluctuates and it is not practical to go to the converter for every purchase. It is better to apply a method that allows you to internalize the change: the golden rule is that the euro has always been equivalent to just over 10 times the value of the dirham.
In other words, if you want to change 30 euros into dirhams, think that you will be offered just over 300 dirhams. On the contrary, if they ask you for 80 dirhams for that souvenir that you are so excited about, you will have to pay a little less than 8 euros.
The exchange office in the port is the most recommended place to change euros to dirhams.
Where to exchange money in Morocco
The best option, without a doubt, is to change money once you arrive in the country: there are many exchange offices spread throughout the country and you can change at will during your trip. Fortunately, all of them offer similar exchange rates, so you should not need to compare several of them.
In order to make it easier for you at the beginning (because I am aware that on arrival there is some nervousness about not having local currency), I provide you with the addresses of different exchange offices in the main points of arrival in the country (Casablanca, Fez, Marrakech and Tangier) both on arrival and in the medina or nearby.
Where To Change Money in Casablanca
Mohammed V International Airport (just before leaving the airport)
Near the Hassan II mosque and the medina: Change Goulmima Exchange (550 Rue de Goulmima)
Where To Change Money in Fez
Säis International Airport (just before leaving the airport)
Bab Bou Jeloud: just before entering the medina, if you see the blue door in front of you, on your right hand side and only 50 meters away you have a bureau de change.
Where To Change Money in Marrakech
Marrakech-Menara Airport (just before leaving the airport)
Hotel Ali (Rue Moulay Ismail, near Jemaa El Fna Square). Although it is a hotel, they have a 24-hour exchange stand.
Hotel Omar (Rue Bab Agnaou). Similar to the previous case, but also just 2 minutes walk from the square.
Where To Change Money in Tangier
Ibn Batouta International Airport (just before leaving the airport)
Tangier-Ville port (on departure) or Tangier Med port (inland)
9 de Abril Square (also known as the great souk). In the central square itself at the entrance to the medina you have a bureau de change, opposite the Cinema Rif.
Are there other ways to pay?
You are lost in the medina, you have been looking for an exchange house for more than an hour and all you want is to change the euros in your pocket to have a quiet lunch on a terrace, what other possibilities do you have?
Can you pay directly in euros? Yes, but most probably they will only allow you to pay with banknotes; that is to say, a minimum purchase of 5 euros, since if they want to change the euros back into dirhams they will only let you change banknotes at their bank. On the other hand, they will offer you an exchange of 10 dirhams per euro, which is hardly a loss compared to doing it in an exchange office. Unfortunately, if your currency is another one I do not see it likely that they will accept it.
Is it possible to pay by card? I don't recommend it: not everybody accepts cards, and depending on the bank they can include some abusive commissions. Another option is to use the card to withdraw from an ATM directly in local currency, in which case the commission to be applied will depend on the bank of the ATM and your own.
How much to change
To make a good decision on when and how much to change we must analyze our fixed costs: travel, meals, tickets, … Although obviously everything will depend on the trip (we will not spend the same on only accommodation as on full board) I can tell you that the average per person per day is usually between 15 and 20 euros, although you can always check our price list in Morocco for more accuracy.
And what about those miscellaneous expenses that will almost certainly occur during the trip? An unplanned visit, some medicine we need, a detail for our relatives or, what the hell, for ourselves… How do we foresee it?
The answer is that, as unforeseen as they are, they simply cannot be planned. Therefore, my advice is to change first for the basic expenses (15-20 euros per day or maybe a little more, if we can get the compulsive consumerism) and then, as the trip progresses, make use of the exchange places within the city or pay directly in euros if it is urgent and the purchase is above 5 euros.
In the unlikely event that the amount spent during the trip is less than your expectations, you can always change back what you have left at the airport or port on your return (remembering that the change in reverse will be much less favourable and that you will be required to show the receipt that you were given when you changed from euros to dirhams). Doing it once you are back at your bank can be complicated.
And remember that there is always a last option: use the money you have left over for the next trip to Morocco!