I would like to start with a confession: today's post was one of the ones that I was most excited to write, but at the same time, the one that I respected the most. Today, I'll talk about the fundamental advice for travelling to Morocco.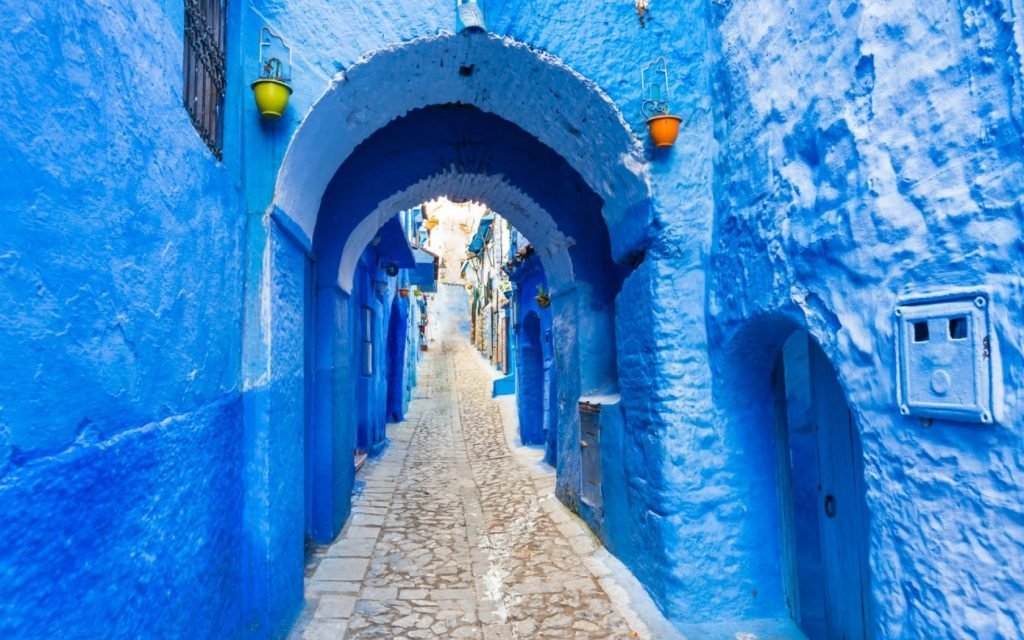 I wanted to be sure of a number of things: firstly, that I did not leave any detail unexplored; secondly, that I contributed something to the enormous amount of information already available on the Internet and finally, and perhaps most importantly, that all of this was not a piece of cake.
Quite a challenge!
Without further ado, I will start my advice for traveling to Morocco, and I hope you enjoy it and that it will help you!
Food and Beverages
Drinking from the tap is what will most likely spoil your holiday in Morocco. It's no secret that their plumbing facilities are not among the best in the world, so I recommend drinking bottled water if you don't want your visits to the bathroom to increase alarmingly.
I would also beware of carbonated drinks which, although they come from most international companies, are not made in the same way. I've had some stomach aches and from the moment I've stopped drinking fizzy drinks, they've stopped (I don't think this is general because it depends on your body, but it doesn't hurt to be warned).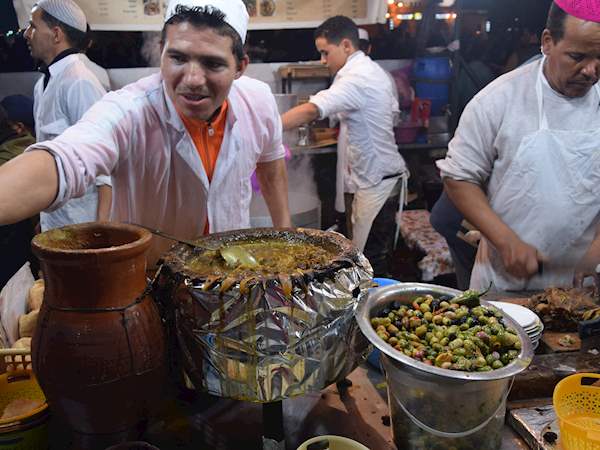 But although I advise you to be careful with your drinks, you can take all the liberties with your food. Regardless of the fact that you don't probably don't eat I have enjoyed the intense flavour of every fruit and salad I have eaten in Morocco.
I would even say more: I recommend you not to be afraid of customs that are far from our hygienic culture.
Have you seen those street stalls, with the meat literally hanging out and surrounded by flies?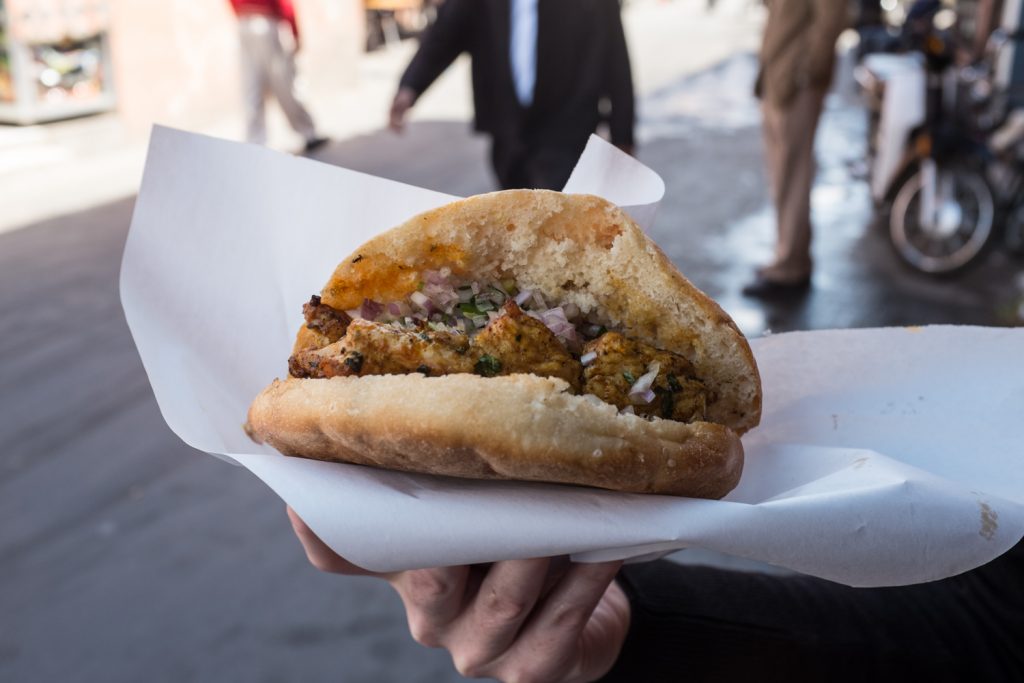 Well, believe it or not, that's where I tried the best lamb sandwich.
Find out what electric power plugs are used in Morocco.
Money in Morocco
The official currency in Morocco is the dirham, and the official exchange rate is usually 10.7 dirhams for every euro (more or less depending on the week).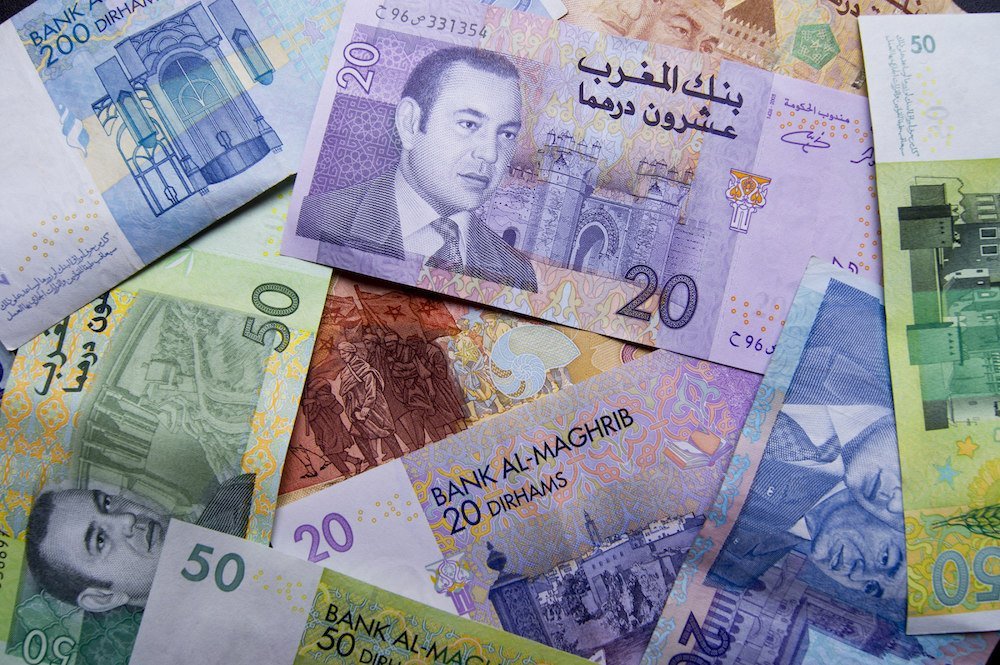 When you arrive you will have many places where you can change your money: exchange offices at the port, at the airport, in the medinas themselves and sometimes you can even change at the reception of the hotels. In addition, a lot of popular shops allow you to pay in Euros.
Depending on where you make the change, the rate will be more favorable or less, but nothing alarming. If you pay directly in euros, they will convert 10 dirhams = 1 euro. However, if the amount is low (less than 50 dirhams), it may be necessary to pay directly in dirhams.
For more information on this subject, I recommend the page about Money in Morocco.
Bargaining in Morocco
If you are reluctant to haggle, but are thinking of making a purchase, you should bear in mind that it is intrinsically linked to Moroccan culture and practically everything can (and should) be haggled over. It is true that some stores set and label the price of items, but that is not, by far, the norm.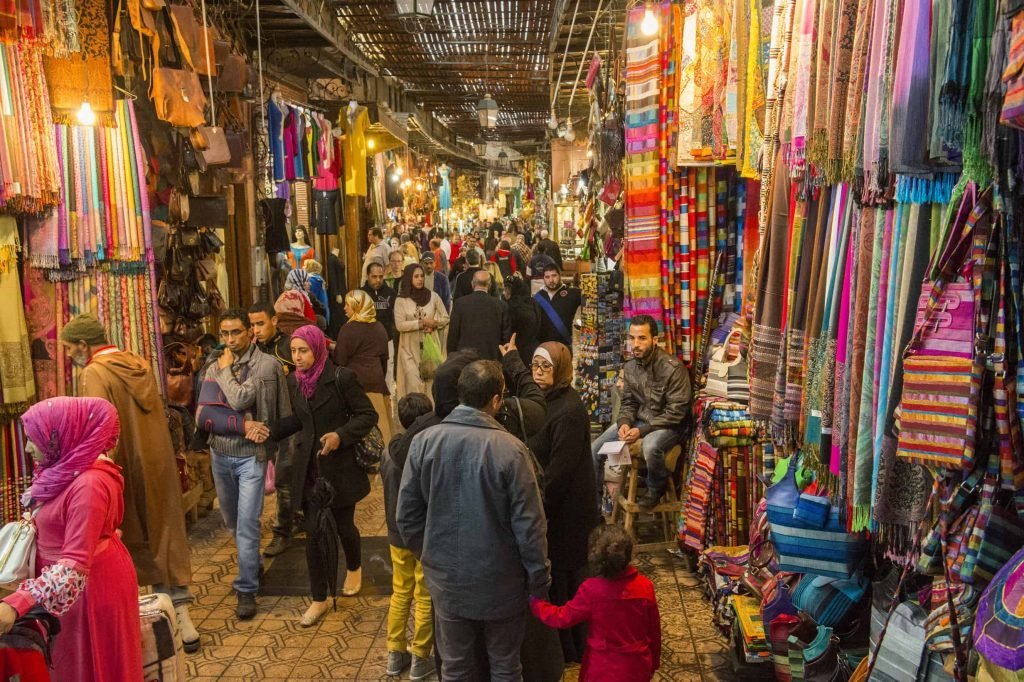 In general terms, you should take it as a game and as part of the merchant's routine. And so you should not think that it is a tense situation, even if sometimes it seems that they get angry about the price you offer, because it is an indispensable part of their game. Think that if they got angry every time someone suggested a price that they considered unfair, the merchants would not reach thirty years of age.
If you want to know all the keys to becoming a professional dribbler, here are my tricks: part one and part two.
Alcohol
Following the maxim that until we don't lose something, we don't realize that we need it, if you think you might feel like it, after a long day walking in the medina, have a drink in your hotel room, I strongly advise you to bring your alcohol from home.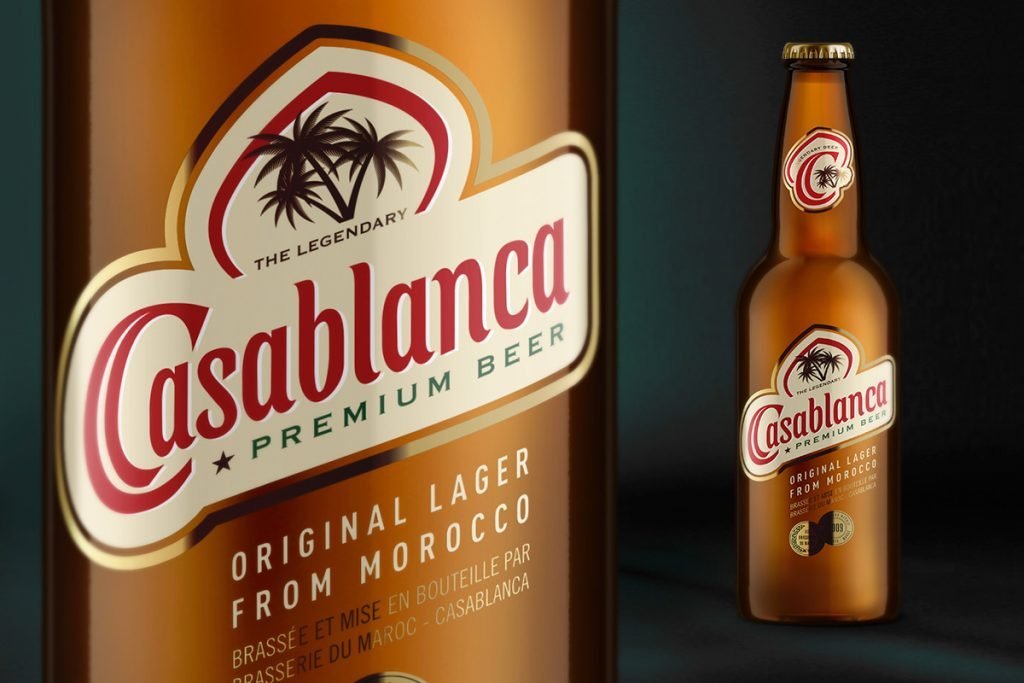 It is not that it is impossible to get it in Morocco, but it is much more complicated than in a western country. In Islam, drinking is forbidden, so alcohol is not usually offered in restaurants (unless it is mainly aimed at foreigners).
Moreover, establishments that sell alcohol have to pay an extra fee to the government, which together with the fact that most of it is imported, makes it quite expensive (a beer can cost between 2 and 2.5 euros and a bottle of wine up to 10).
The only places where you can buy it at reasonable prices are the big shops located in the outskirts.
However, avoid national brands, especially wines.
Cultural Differences
There will be as many reasons to visit Morocco as there are travelers but, I think we will all agree, the main reason to visit is that it is a different world. So, why should that which pushes to know a country also be the reason to reject it?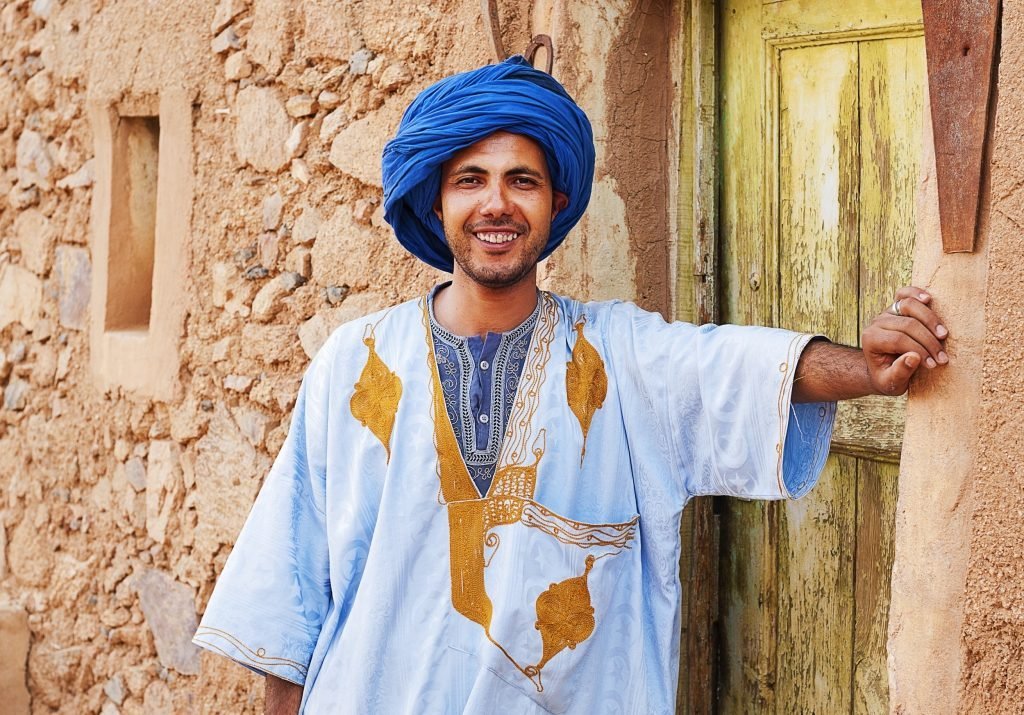 If I could give only one piece of advice to someone traveling to Morocco for the first time I would say: let yourself go. Appreciate it in all its magnitude and think about how lucky you are to know it.
If what we most envy of Moroccans is their quiet lifestyle, why should we be surprised when we ask for something and it takes time? Shouldn't we consider it natural? What's more, shouldn't we get carried away and participate in it?
Or why do we worry about them coming to us to sell us something or to offer themselves as guides? Isn't this style of hustler one of the things that most attracts us to the country? And if you don't want something, all you have to do is say "no", in a clear but friendly way, and continue on your way: as soon as they perceive the naturalness with which you refuse, they will stop bothering you.
I insist: go relaxed, thinking that you are going to live an experience that will mark you for life. This attitude of yours will decide whether you return planning your next trip or that you swear never to set foot in Morocco again. There is usually no middle ground (and believe me, it would be a real shame if you choose the second option).
Mobile Phone Services & Internet
Morocco has three GSM mobile-phone networks: Méditel (www.meditelecom.ma), Maroc Telecom (www.iam.ma) and Inwi (www.inwi.ma). Coverage is generally excellent, apart from in the mountains and deserts. 4G is available in most cities and many towns.
Like in most other countries, you should have no problem finding a WiFi connection in Morocco. Most hotels, restaurants and cafes offer free WiFi.
In addition, I must remind you that a smartphone uses up mobile data continuously, not only when browsing. I am warning you because you won't be the first person who comes back from an international trip with a huge mobile phone bill.
My advice? As soon as you arrive in Morocco, enable the Airplane Mode and then activate the Wifi (you will still be able to use all the applications, including messaging services and the call options they provide, when you connect to a network).
If you need to stay connected all times, your best option is to buy a prepaid SIM card in Morocco, which surprisingly has quite affordable prices and good coverage, (besides some places such as the desert, mountain areas, etc..)
As an example, the card "Jawal" (from the company Maroc Telecom") offers for 20 dirhams 2 gigs to consume during 7 days. You will simply have to go to any shop with logos of telephone operators in its window, buy a SIM card with a voucher and ask them to activate it for you (as the operator's voice is in perfect Arabic).
Ramadan and Other Celebrations
Ramadan, which lasts about a month, is one of the most important times and the moment when Morocco changes most radically. Does this mean that I don't advise going to Morocco in Ramadan? Not at all, but I do think it's necessary to find out first (Read more about Ramadan in Morocco).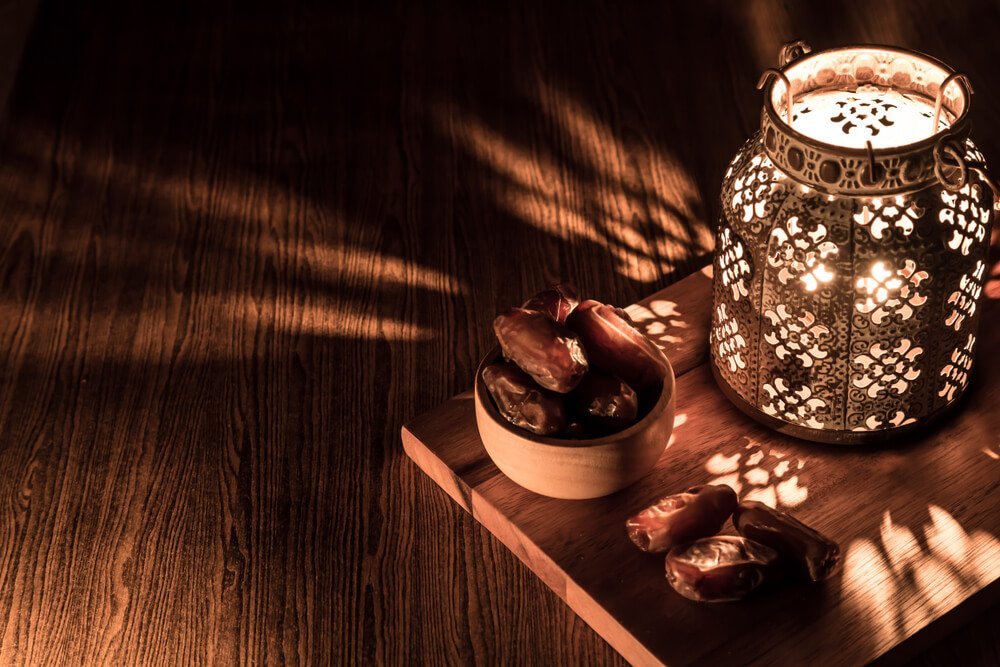 Another time to consider is during the Eid al-Adha, when it's very common to slaughter animals in the street. If you are scrupulous I recommend not to go.
And finally there is the day of the throne, national holiday, where most of the buildings and monuments are closed, but where there are parades through the streets.
Of the three, the throne day is the only one celebrated on a specific date (July 30th), because most of the festivities, as they are governed by a lunar calendar, you don't know when they will happen until a few days before. You can check the updated calendar through this link, but keep in mind that it will always have a margin of error of ±2 days, and that every year it varies (approximately, the religious dates are advanced 11 days each year).
Passports and Visas
If you belong to the European Economic Community or the United States, you do not need a visa. Only your passport, with a minimum expiration of 3 months from the date of arrival, is sufficient (something logical: think of the bureaucratic mess that could result in your passport expiring in the middle of your stay because it is delayed by some mishap).
If you are from another country, you can consult this list or ask the consulate; usually it will be enough to apply for a visa claiming holidays, but in some cases it is possible that the management is more complex or even, exceptionally, your country does not have an agreement with Morocco.
Please, if you have to apply for your passport or visa, do not leave it until the last minute: you would not be the first person to stay on the ground by postponing it until the last moment.
Clothing
So that there is no room for misunderstanding: if you are a woman you are under NO obligation to hide your hair. Just because you see women with scarves covering their heads doesn't mean you have to imitate them. As an exception, if you visit a religious building you may be asked to do so, in which case you will be provided with a handkerchief to wear during the visit.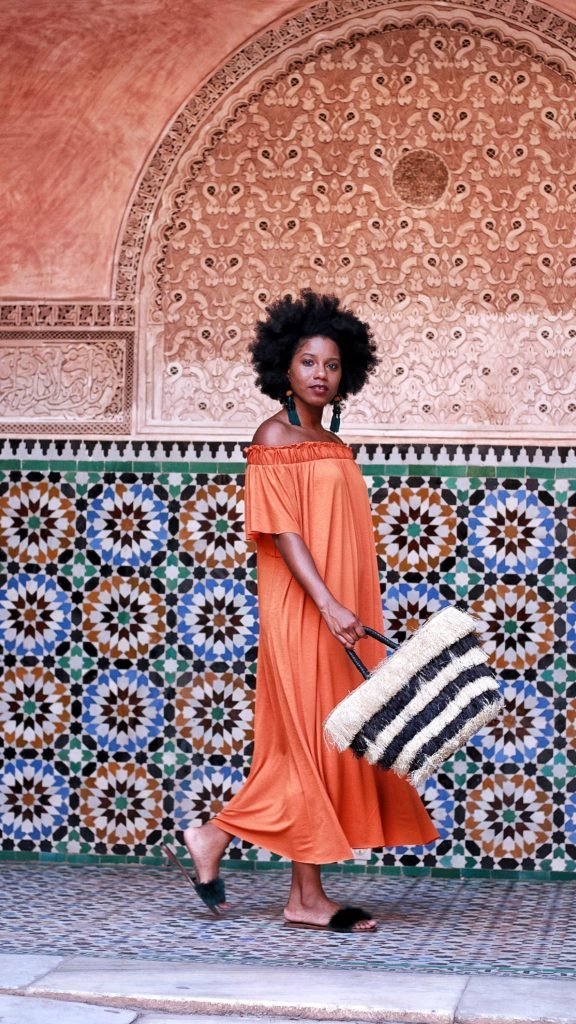 Morocco is a country in which, despite the fact that some customs are still preserved, the life choices of its citizens are increasingly varied. If we add to this that one of their main sources of income is tourism and they are more than used to receiving travelers. You shouldn't worry that your way of dressing will be interpreted as a transgression.
Health
You can travel with peace of mind, as most cities in the country have hospitals and clinics. On the other hand, although it is true that in rural regions specialized medical attention is more complicated, not traveling to the desert for fear of getting sick would be as ridiculous as opposing spending a family weekend in the mountains.
I recommend taking out healthcare insurance, as Morocco does not usually have health agreements with other countries. Nothing should happen to you, but the cost overrun of getting an insurance on your travel budget is negligible in relation to the security it provides.
What To Bring
And finally, I'd like to make a few recommendations about what to pack. For obvious reasons, I will avoid describing everything you would take anywhere else in the world (clothes, changes of clothes, clinex, chargers, hairdryer, etc.) and focus on what is specifically needed when travelling to Morocco:
Try to wear comfortable clothes, because you will appreciate an outfit that allows you, for example, long walks around the medina: slippers, loose clothes, sweatshirts, a jacket for when it gets cold, etc.
If you go in summer you should protect yourself from the sun, as at certain times of day and depending on which places it is quite tight: sunglasses, sunscreen and some mosquito repellent mainly.
And to deal with all possible cases, I recommend, especially if you go to the desert: a wool hat (to protect you from the cold at night if you sleep in a tent), cap (to avoid sunstroke if you plan to be outdoors for a long time) and a handkerchief (to protect you from sand splashes on your face).
If you want more information, our page on the best time to visit Morocco will be useful, because in addition to the weather, it indicates what clothes you should wear depending on the time of year and the area you visit.
Alcohol: As I mentioned in the first part of this article, if you intend to have a drink at some point, I advise you to bring alcohol from home, because once you arrive in Morocco it will be more complicated (and more expensive for sure).
Medicines: although Morocco has several pharmacies, it may be that the medicine you are looking for is very specific and you will have to ask for a similar one (and then you would have to talk to a Moroccan pharmacist about active ingredients). Therefore, everything that is permanently in your medicine drawer, such as aspirin, ibuprofen, fortasec, etc., I recommend taking it to Morocco as well. And if you are susceptible to dizziness, take pills to combat it, especially if you take the ferry or travel to rural areas.
And finally, I recommend carrying a backpack: it may seem like a truism, but you wouldn't be the first person to be accompanied only by a suitcase and a bag and forget that at a certain moment you may need to carry provisions if you are going to be out hiking all day, or even if you plan to spend a night in the desert.
And now, finally, we have finished with all the recommendations before traveling to Morocco. I hope that it will be useful for you if you travel soon.