The Chouara Tannery is the busiest and largest tannery among the four historic tanneries of Fez. It is also the oldest tannery in the world. Operating in the medina, the tannery is home to leather produced from sheep, cows, goats, and other such animals.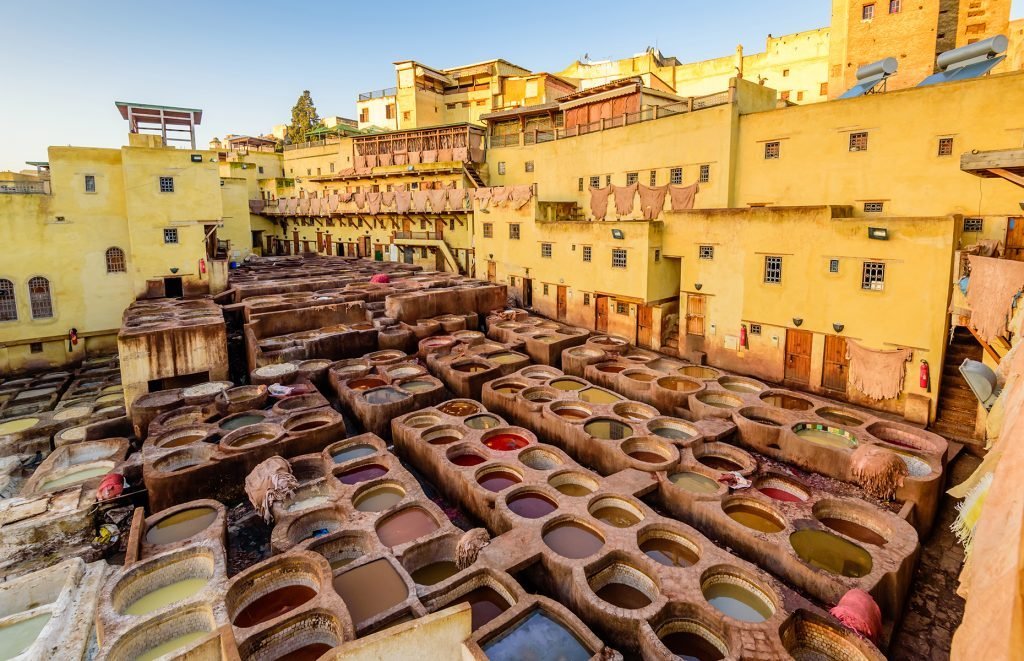 Here, the skins are scraped, cured, stretched, and dyed in several honeycombed earth pits. This process of tanning initially came into existence in the 13th century. The skins and hides undergo an array of procedures, as stated above. In addition, the city as a whole is quite an appealing attraction for tourists. 
From cobblestone streets, small yet fascinating houses, magnificent buildings, and never-ending views, the Chouara tannery is quite an exquisite place to visit. 
Getting To The Chouara Tannery? 
The Chouara Tannery in Fez is quite easy to reach. since it is located in the heart of the city. You can ask anyone in Fes and they'll tell you how to get there. The tannery is surrounded by buildings on all four sites.
You can use the roofs of some of these buildings to get a birds eye view of the tannery, however, expect to go through a LOT of shops on the way to the roof. You'll also be constantly asked for money from everyone you encounter. (more about this below)
Almost every other shop comprises of a terrace that offers an ethereal view out of the courtyard. However, in my opinion, dole no.10 on the Derb Choauwara offers the best possible view.
You can also visit other tanneries while you are here. If you head to Fes El Bali, which is the oldest medina quarter close to Saffarin Madrasa you can reach these tanneries. 
Get Ready For The Smell!
If you hadn't already heard, the Chouara tannery has an unpleasant smell throughout. The smell of this place sometimes gets so bad that it's hard to breathe. The smell of the tannery is generally sour, strong, and pungent. 
During your visit, the guides will offer you a sprig of mint. This mint helps in masking the stink. Thus, if you can't stand extremely strong and harsh scents, you might want to carry a fragranced mask with you.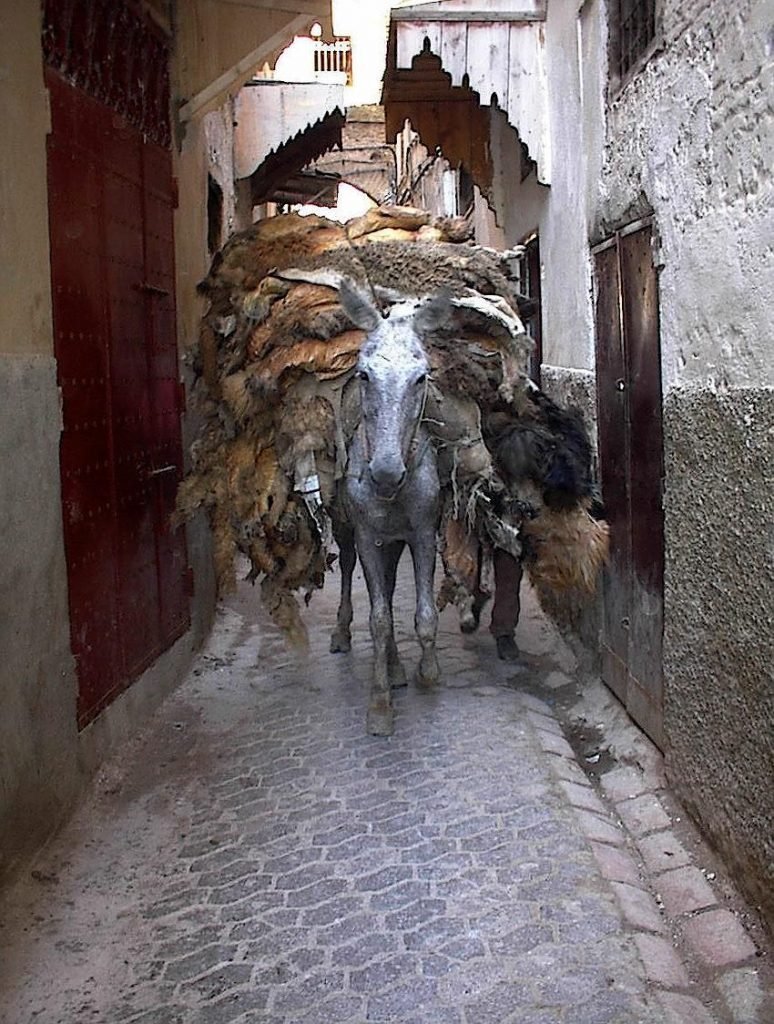 How To Visit Fez Tanneries 
You may have already come across different horrifying stories concerning the tourists. While visiting the Chouara tannery, there is a high likelihood of getting scammed. 
Most tour guides and traders know exactly how to scam money from the tourists. Thus, you must go prepared. 
Given below are a few of the most vital tips that you should keep in mind when traveling to Fez. 
1. Sightseeing The Tannery From Surrounding Tanneries 
Many traders are quite keen on fooling you into viewing the tannery from their terraces. While they may promise to show you the tannery through these terraces, they may charge you heftily.
While the reason for this may be anything, a common reason that these shopkeepers give is that the Tannery is accurately visible. Do not give in to such statements. 
Every terrace in Fez offers a scenic and picturesque view of all the tanneries. Thus, if a shopkeeper asks you for comparatively more money, you might want to explore your options. 
Do not blindly follow a shopkeeper into their terrace. Ensure asking relevant questions beforehand so that you don't encounter any troublesome experiences. 
2. Making Use Of Tour Guides For Visiting The Tannery 
Just like most tourist places, Fez offers a plethora of tour guides to make your journey a bit simpler. If you seem foreign to these guides, they may scam you big time. 
Thus, when you enter the tanneries, you will often find these tour guides. While they might start by normally helping you out for an address, they may ask you money later. 
Choosing a genuine guide can be quite a challenging task. In such cases, you should avoid hiring a guide at all. If you want to hire one, ask your respective hotel staff about an authentic guide.
Along with the most elegantly made leather, the quality of the products made in the tanneries in Fez are incredible. From vibrant shades of clothes and accessories to meticulously dyed leather, this place has a lot to offer.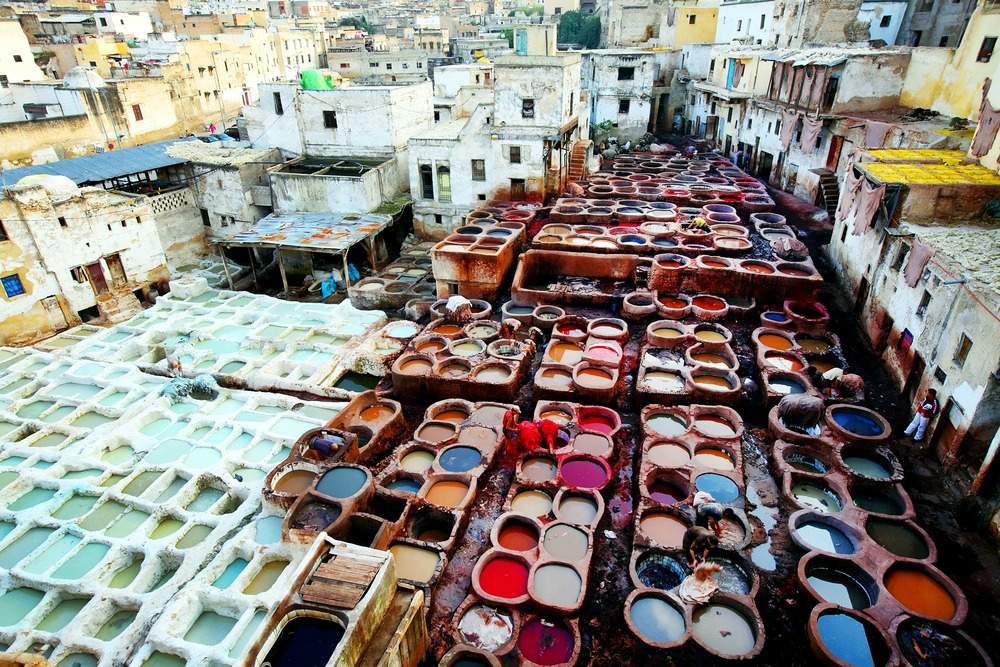 The Process Of Tanning 
The process of tanning is quite complex and involves an array of steps. Initially, it starts with obtaining the skin of the animal. 
When the tanning procedure behind, the animal is skinned and killed before the body's heat leaving the tissues. A Tanner helps in doing this. 
In the slaughterhouse, the animal's skinning takes place. Once this step is done, the next step includes preparing hides.
This step involves curing the animal with salt. Curing takes place to mitigate the risk of putrefaction of the collagen (protein substance) from the growth of bacteria. 
Curing further eliminates water from the skins and hides with the help of a distinguished osmotic pressure. In addition, the moisture content of skins and hides lowers while the osmotic pressure simultaneously increases. 
It enhances to the point that it inhibits their growth. The hides are then significantly salted. They are also chiefly pressed into packs for over 30 days. 
The process of brine-curing involves agitating the hides in a saltwater bath for over 16 hours or so. Curing is also possible by preserving the sins and hides at substantially low temperatures. 
Beamhouse operations 
Every step between the curing and tanning is known as beam house operation. Given below are all of the meticulous steps that go into producing leather. 
Soaking 
As previously suggested, the process of soaking includes soaking the hides in clean water. This, therefore, essentially elongates the leftover salt from curing, thereby enhancing the moisture of the skin and hide. 
To mitigate the risk of any damage to the skin (bacterial growth), biocides come handy. They are later added in the tanning process to denote the hides and skin. 
Liming 
Once the soaking takes place, the hides and skins undergo liming. Skins and hides blend with lime such as cyanides, amines, sodium sulfide, and so on. 
This process helps in a multitude of elements. For starters, it mitigates the hair and additional keratinous matter. It further motivates many interfibrillar soluble proteins like mucins. 
Tanning, additionally, plays an imperative role in swelling up and splitting up the fibers to the required content. Lastly, it inhibits the natural grease and fats to a decent extent, along with bringing collagen in the hide to a good condition.
These elements then help in the successful tonnage of the skins and hides. The hair weakening is entirely based on the disulfide link breakdown. 
Scudding and Unhairing 
The next step involves unhairing and scudding. Unhairing agents, in this phase, are sodium sulfide, sodium hydrosulfide, and sodium hydroxide. 
Here, the majority of the hair is mechanically elongated via a machine, along with a hand-used dull knife.  
Bating and Deliming 
The collagen's pH is lowered to a significant level so that enzymes can act on it. 
This process is called deliming. Based on the leather's end, the hides undergo the enzyme treatment for extra softening. This process is called bating.
Today, the process has substantially evolved. Enzymes are distinctive purified agents, and the process is independent of bacterial fermentation.
Pickling 
After the process of bating, the hides and skins undergo the salt treatment. They are then blended with sulfuric acid for mental tanning. 
This process occurs to lower the collagen pH. This way, facilitating the mineral tanning penetration into a substance takes place.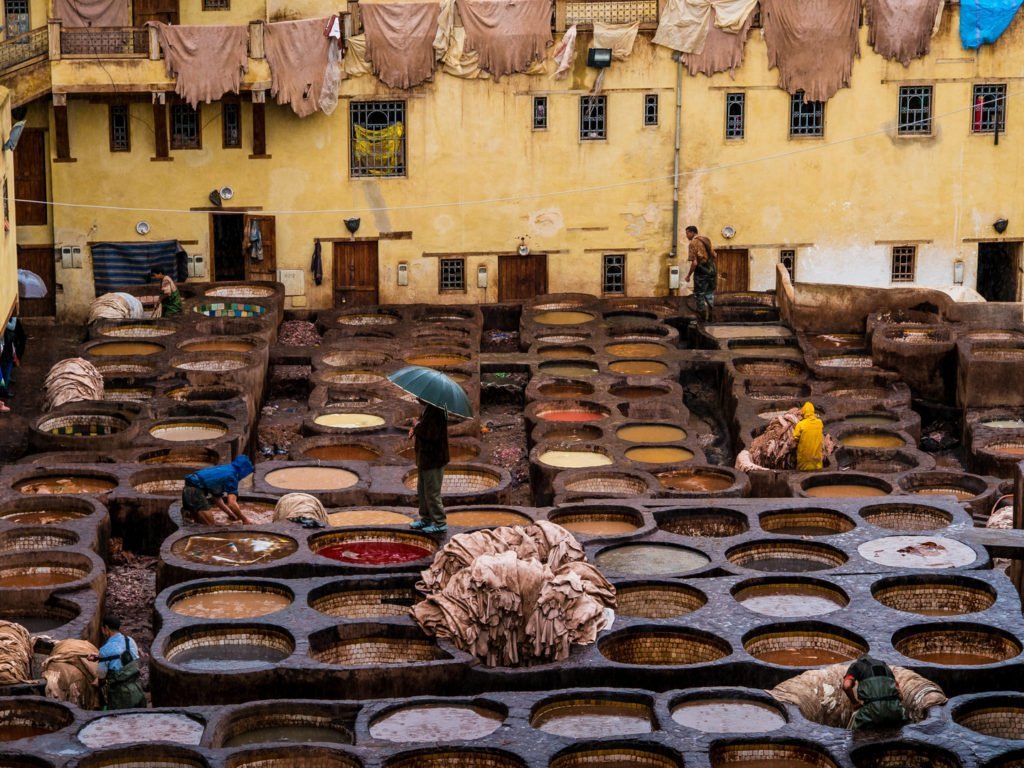 About Moroccan Leather
Chouara Tannery is home to the most standard leather that you may come across. Most shops around the tannery sell various clothing pieces and accessories. 
You can thus buy anything and everything made from leather at this place. Be it handbags, purses, belts, shoes, jackets, trousers, skirts, footstools, hats, poufs, and much more. 
Moreover, the ultimate benefit of buying leather-made production at Fes is that most shops offer any color and style you want. If you don't like what the shop offers, they make adjustments in about 24 hours or so. 
Ways To Get The Best Price For Moroccan Leather 
Given below are a few ways by which you can get the best possible price for your Moroccan leather. 
1. Do Extensive Research
Whatever you choose to buy, make sure to go through the details of the product online. If you have enough time, you should unquestionably browse in the souks. 
On doing this, you may get brief insights into the overall charges of the traders in the souks. Thus, you can use this to your benefit to negotiate with the traders. 
Doing comprehensive research is an excellent way of getting a real chance of paying half the overall amount. 
This is because traders tend to charge you drastically higher. Thus, if you are aware of what you're getting yourself into, you'll be on the safer side. 
2. Analyze The Overall Amount You Wish To Pay
Well, if you are a fashion enthusiast, analyzing how worthwhile the product is matters. You can easily predict how costly a product may be. 
Thus, ask yourself if the product is worth buying. For instance, if you were looking for a leather jacket from an international company, compare its cost to the one offered here.
If it's the same price, it is obvious that you should avoid buying it. However, if there is a drastic difference between the costs, you might want to consider it. 
3. Keep Your Options 
Something that most people fail to look into is choosing from a variety of options. Don't buy your desired clothes or accessories from the very first shop you see.
Make sure that you go through all the shops or at least most of them. The more you explore, the more appealing products and prices you'll stumble across. 
Thus, if you have enough time, you should unquestionably browse through distinguishing leather stores. 
4. Negotiation Is The Way To Go 
If you adore street shopping, you may already know how to go about it. Generally, street shopping is all about bargaining your way to get the best possible price for a product. 
Start by asking the trader about the cost of the product. Here is where all the fun begins. Usually, the salesmen tend to ask much more than the actual price of the product. 
Many people may give in to the price of that product. However, if you don't think the product is worth the price and choose to walk away, there is a high possibility of the trader lowering the price. 
Thus, use your confidence to your benefit and negotiate until you get the best possible price. 
5. Try Buying In Bulk 
This is an excellent way of buying valuable leather products. If you choose to visit the tannery, ensure that you buy in bulk. You can also go with friends so that all of you can buy the products together.
Most traders tend to lower the price of the products to a great extent when you buy them in bulk. Thus, if you want a good price, choose a shop that offers a variety of products.
Well, you know how it works from here. Just ensure that you negotiate with the trader, and you're good to go.
Things You Will Only Find In Fez 
Morocco, undeniably, has a lot to offer. Whether you're here to view the tannery or to stroll through the city, you should definitely take note of the exquisite shopping stores. Given below are a few of the most primary things to buy in Fez.
Moroccan Leather 
The first and foremost thing that you will only find in Fez is the Moroccan leather. The top-notch leather is being produced for centuries now. 
As you may already know, Chouara Tannery Fes produces a vast range of dyed leather. From bags, wallets, belts, jackets, and more, this leather doesn't disappoint. 
Lanterns 
Lanterns are quite popular in Moroccan. They bring out the rich heritage of Moroccan. Made from a few of the embroidery resources, these lanterns are quite appealing to look at. 
You will often stumble across these lanterns in most of the standard shops at Fez. Watch out for the aluminum lanterns as they are just what you need to decorate your home.
Argan Oil 
Moroccan's south region grows vast Argan trees. Thus, if you've desperately been looking for argan oil, there's no better place to look for it than in Moroccan. 
Argan oil has gained peak popularity due to its exceeding benefits. From helping you clear your acne, growing and smoothing your hair, to much more, Argan oil is extremely healthy.
Rugs And Carpets 
Moroccan also has over a myriad of intricately designs rugs and carpets to offer. Have you come across typical embroidery rugs and carpets that you only find in tourist places? Well, Moroccan is just the place to explore such carpets and rugs. 
If you're looking to customize and modify your home, you can unquestionably buy personalized rugs from here.
Pottery 
The pottery you will come across is Morocco is authentic and elegant. Many raids are including pottery art as a traditional decor accessory. 
These pots are affordable, cute, and even trendy. 
Bread Baskets 
Bread baskets primarily originated from the Sahara. Along with a hand-made finish, they are vibrant and attractive. 
These bread baskets are cheap, easy to transport, and even effortless to maintain. 
Djellabas 
A trip to Morocco is incomplete without buying djellaba. Djellaba is the traditional apparel wear of Morocco. The style, design, and color differ for men and women.
You will come across a myriad of colors, starting from black, olive, grey, and much more. Almost every other shop in Morocco offers a wide range of djellabas. 
Most locals buy their own cloth material to transform it into a djellaba. 
Colored Tea Cups 
Lastly, tea is a very big deal in Morocco. To be more precise, you will come across a wide range of mint tea products in Morocco. 
Thus, if you are a real enthusiast, you should, without a doubt, check the products shops out.
Moroccan Pastries
A meal is never complete without a delicious dessert. Well, when in Morocco, you get to experience the exquisite taste of a range of Moroccan Pastries. Some of the much-preferred pastries among locals and tourists are mssemen, harcha, baghir, and batbout.
The recipe for these pastries is passed down for generations in Moroccan families. They are definitely a must-try when you visit Morocco.
Accommodation In Fez 
Given below are a few of the most user-friendly and surreal places to stay at when In Fez. 
If you're under a budget, we highly suggest you explore Funky Fes. The hostel comprises of a simple yet exquisite architecture.
It further had an impeccably refreshing aura to it. Here, you may also stumble across several backpackers like you.
Along with this, the hostel offers fun-loving amenities. From comfortable bedding, free breakfast, and a rooftop terrace, this place has a lot to offer. 
If you're looking for a mid-ranged accommodation, you should unquestionably check out a private arias room. While Riad's can be quite costly, Riad Dar Adam in Fes is quite affordable. 
The Riad is surrounded by spectacular views and locates itself in the heart of the city. The hotel also comprises of sophisticated mosaic tiles and a very royal appeal.
Thus, if you're looking to stay in a mid-ranged, vintage, and historic accommodation, Riad Dar Adam is the perfect choice for you. 
If you're looking for much more luxurious and extravagant accommodation, Dar Essoaoude is quite a catch. The place may be comparatively costly but offers the most royal living experience. 
The boutique-style hotel comprises of a pleasant garden. Every room here consists of a balcony that offers a panoramic view of the city and the mountains.
Finally…
If you plan on visiting this place, make sure to go through the above-mentioned insights so that you have a memorable experience. The Chouara tanneries look absolutely breathtaking in the mornings. Thus, you shouldn't miss out on viewing these tanneries via the roof-terraces of any of the shops.
Read more:
Best Time To Visit Morocco
List Of Countries Whose Citizens Are Exempted From Entry Visa Into Morocco
Ifrane Travel Guide
Best Things To Do In Larache (Morocco)
Where To Eat in Larache
8 Best Restaurants in Fez
Fez in 1 Day
Taghazout
Erg Chegaga
Where To Stay in Tetouan