Throughout the year there are numerous festive events celebrated throughout Morocco. Today's post is dedicated to three musical events that are held annually in the beautiful city of Essaouira: the "Gnaoua and World Music Festival", the "Trade Winds Festival" and the "Festival of the Atlantic Andalusians".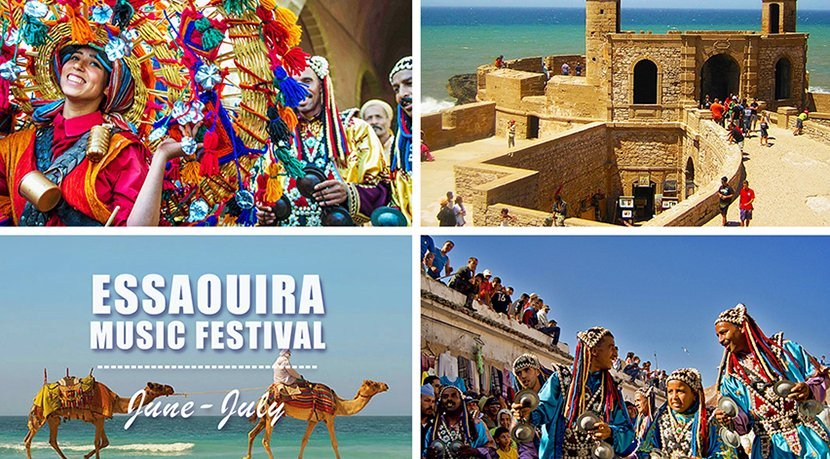 Here are the best places to stay in Essaouira.
Get the best deals and discounts on hotels here.
Gnaoua and World Music Festival
Since 1998, the city of Essaouira has hosted the annual Gnawa (or Gnaoua) Music Festival. The 2020 edition of this festival will take place from Thu, Jun 25, 2020 to Sun, Jun 28, 2020.
It is one of the most important events in the country and brings together a multitude of international musicians because, although it is centred on Gnawa music, you can listen to different musical styles such as jazz, rock, pop or reggae.
What began as a cultural event has become a meeting point for Gnawa musicians and world musicians, with fusion shows between the two. It is estimated that it currently attracts some 450,000 people every year. The message that the festival wishes to convey is one of peace and union of cultures.
The concerts and performances take place in the streets, squares and other public places with an impressive festive atmosphere. Large stages are set up in Muley Hassan Square and Bab Marrakesh, as well as outside the walls, next to the beach, with electronic fusion music or for young talent. There are also concerts, aimed at a smaller audience, which are not free of charge.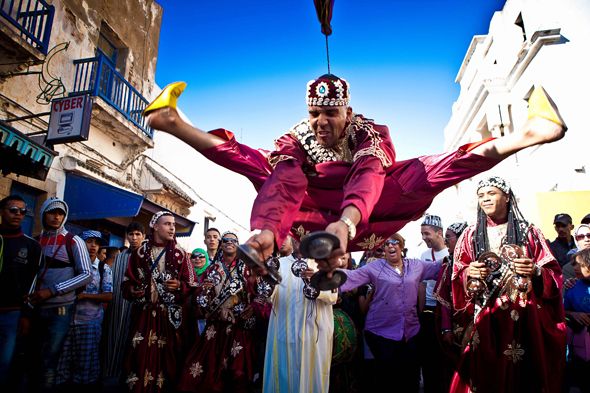 Gnawas is the name given in Morocco, and elsewhere in the Maghreb, to members of a series of mystical brotherhoods descended from slaves who came from countries such as Guinea, Senegal, Sudan or Mali, and who are today fully integrated into Moroccan society. They use dances, songs and rituals as a way to reach trance and other modified states of consciousness. The music and the dances are very rhythmic, they start by moving their heads describing circles, then they spin around themselves, squat and keep turning.
The colorful dresses and hats covered with shells, along with the different sounds of the instruments used (the guembri, a three-stringed instrument, the qraqebs, metal castanets, and drums or gangs), provide a real spectacle both audibly and visually.
Other festivals
Although the Gnawa Festival is undoubtedly Essaouira's greatest musical spectacle, the Festival of the Trade Winds and the Festival of the Atlantic Andalusians, also held in Essaoiura, are well worth a mention.
Since its inception in 2001, the Trade Winds Festival has become famous and has become a must for music lovers, hosting famous musicians and major national and international orchestras. For four days, Essaouira is filled with free concerts of symphonic, classical and operatic music that take place in different stages of the city.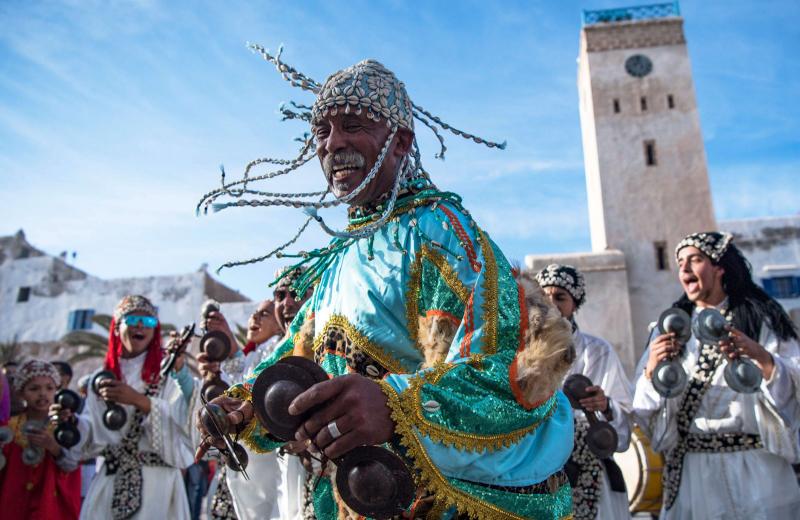 It is a unique festival that pays tribute to the great classical music composers. This year's edition pays homage to the Viennese School: Wolfgang Amadeus Mozart, Franz Schubert and Joseph Haydn, and will take place from April 28th to May 1st.
The Festival de los Andalusíes Atlánticos takes place over three days in October and is promoted by the Junta de Andalucía, the Fundación Tres Culturas and the Fundación Alizés. It is an event that seeks cultural exchange between Morocco, Spain and South American countries and brings together, in parallel to music, other cultural activities such as exhibitions, workshops, symposia and others like horse races on the beach and fireworks.
Spanish artists such as Pasión Vega, Marina Heredia, Paco Ibáñez, Juan de Mairena and Anabel Veloso, among others, have passed through here.
If you still haven't been to Essaouira, one of these dates can be a good opportunity to visit this city open to all cultures of the world and enjoy nights full of color and sound that captivate the public.
Don't forget to comment if you want to add something!
Read more:
Best Time To Visit Morocco
List Of Countries Whose Citizens Are Exempted From Entry Visa Into Morocco
Ifrane Travel Guide
Best Things To Do In Larache (Morocco)
Where To Eat in Larache
8 Best Restaurants in Fez
Fez in 1 Day
Taghazout
Erg ChegagaWhere To Stay in Tetouan