Upon arriving in Morocco, tourists may be surprised and delighted to meet these cute creatures such as cats. Likewise, a passion is not born overnight, but as in many countries (especially in the Middle East), Morocco has a fairly large population of stray cats and dogs that roam the streets in search of food and comfort among its population.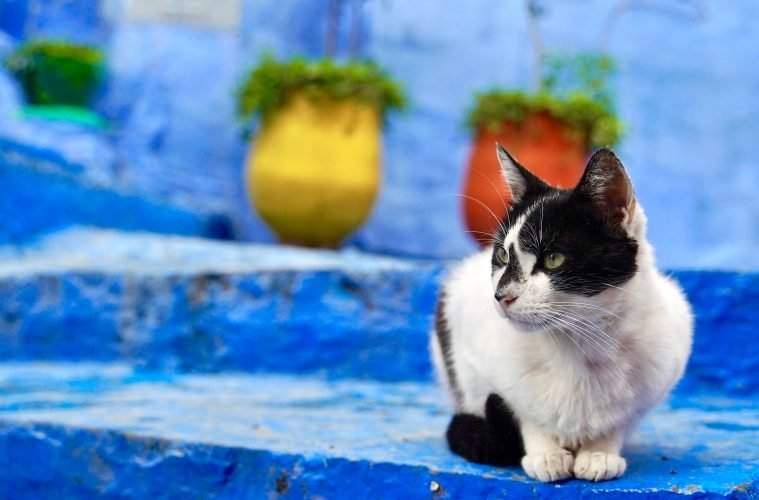 Why cats?
The origin of this passion may have religious as well as cultural reasons, as it turns out that not infrequently the Koran speaks of the obligation to respect all animals, even considering their mistreatment a major sin. So we can explain the respect and kindness shown to felines and other animals due to the Koran, but what makes them to be in every corner of Morocco? The answer could be that people like to have them because of their hygiene and care, in addition to the fact that they spread quickly if they are not properly controlled.
But for sure, no one knows why there is in the capital of Morocco this overpopulation of pussies. Some say it is just a coincidence, and that it is due to a lack of sterilization. However, there are those who believe that these animals are the guardians of the city. Be that as it may, the locals are already used to living with them and although they do not adopt them, they let them hang around their stores because they eat the mice and attract tourists.
An interesting belief
In Morocco, the story goes that if you have a very deep desire, you should tell it in your cat's ear and then give it food. If it accepts the food, the wish will be fulfilled.
Also a curiosity is that cats with different colored eyes are highly prized, as they are believed to be "gifts from Allah".
The feline situation
The kindness and affection shown by the people of this country towards these animals makes contrast to the rejection experienced by these when they are in a street situation in other places, but like all things that seem good also have their negative side and is that although they are treated in a good way that does not exempt them from suffering problems, such can be the spread of diseases and the deterioration of their quality of life, however many colonies of cats are treated in a process for sterilization and thus ensure that they are not affected by unwanted litters that can not be maintained.
Read More:
Riad Assilah in Chefchaouen
The Kasbah Museum in Chefchaouen (Ethnographic Museum)
Best Time To Visit Morocco
List Of Countries Whose Citizens Are Exempted From Entry Visa Into Morocco
Ifrane Travel Guide
Best Things To Do In Larache (Morocco)
Where To Eat in Larache
8 Best Restaurants in Fez
Fez in 1 Day
Taghazout
Erg ChegagaWhere To Stay in Tetouan