Seffa madfuna is a festive dish in Morocco, it is prepared especially on special dates or to please the palate of guests. It is a dish with an exquisite combination of flavors that transports you to a world full of flavors and colors.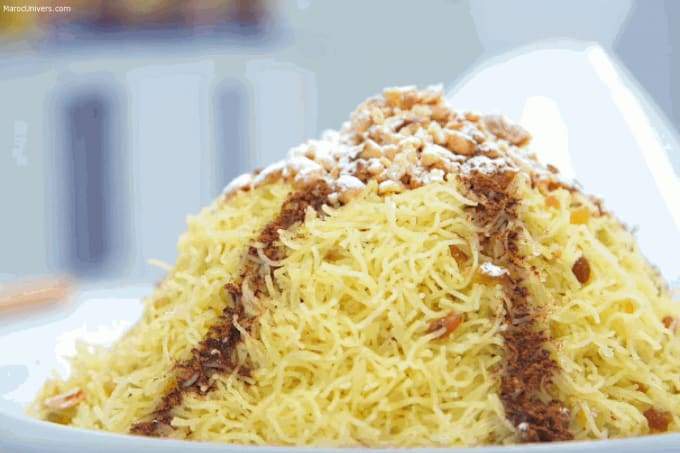 Ingredients
● 500 gm thin noodles.
● 50 gm butter
● salt
● 100 gm raisins
● 2 tablespoons sunflower oil.
Preparation
We wash the raisins and soak them in water for an hour.
Second we are going to Put the noodles in a dish and mix them softly with the sunflower oil, Mix well so that the noodles do not stick together, then in a couscous pot we add two liters of water to boil and place the noodles on top of the couscous pot to steam for 30 minutes ….
After this time we remove them from the couscous cooker and put them on a plate. We add little by little a glass of water, stirring continuously with a fork so that they are hydrated but do not stick together. Add salt to the mixture.
Let it rest for about 5 minutes and return it to the couscous for about 20 minutes.
After 20 minutes we take them again out of the couscous cooker and we place them on the plate. We add again a glass of water while stirring with a fork, so that they absorb it well. Then add two tablespoons of powdered sugar and the raisins. Stir everything and cook them for another 20 minutes.
After 20 minutes, remove, add the two teaspoons of butter and stir well. We check that the noodles are tender…
Now our meal is ready and we just have to serve it.
Read more:
Moroccan Food in Fez
Moroccan Avocado and Banana Shake
Batbout Recipe
Fish Briouats Recipe
Byessar Recipe (Moroccan Bean Cream)
Lentil Falafel Recipe
Zaalouk (Aubergine Caviar)
Seffa Recipe
Beet and Coconut Balls Recipe
Moroccan Fritters Filled With Jam
Chebakia Recipe