Harira is a typical Moroccan soup, an ideal dish to eat in winter or at other times of the year. Due to its high nutritional content, it is usually eaten at night during the Ramadan season.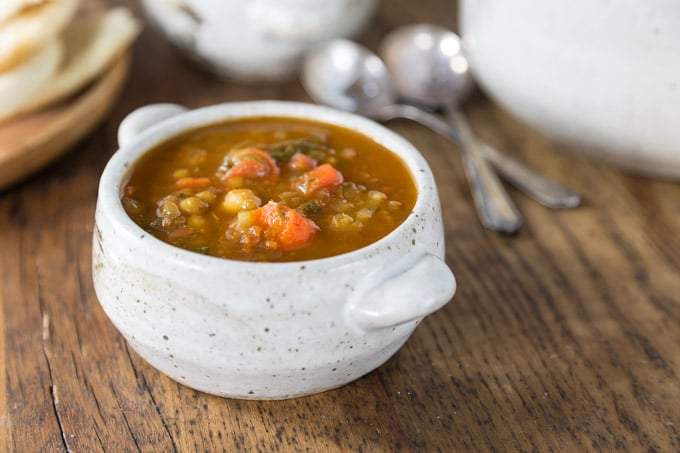 Ingredients
400 g of veal for stew (shank, shank or skirt steak)
75 g chickpeas
55 g lentils
1 grated onion
2 stalks celery
650 g natural tomato, sieved
800 ml chicken broth
1 teaspoon of (turmeric, cinnamon and ginger)
½ teaspoon ground saffron or coloring agent
4 sprigs of parsley
4 sprigs of coriander
Lemon slices
Virgin olive oil
Salt and pepper
Preparation
First, cut and chop the parsley and coriander and make a sprig with the celery. In a saucepan we put the tomatoes cut in pieces with water to cook and when they are cooked we crush them with the water and reserve. In a pressure cooker put the extra virgin olive oil and the finely chopped onion, add the spices, the coriander, the parsley, the tomato concentrate, the rancid butter and the salt.
Then add the celery and the chickpeas, cover with water, close the pot and when it starts to whistle, let it cook for 40 minutes. After 40 minutes, open the pot and add the chicken pieces, the lentils and the tomato already crushed. Add more water and a chicken stock cube. Close and let it cook for another 30 minutes. Finally, beat the flour until there are no lumps and add it to the soup.
Then stir with a ladle until the flour is well cooked, beat the three eggs and add it and do the same operation, stirring the soup until it is thick and homogeneous and ready. (Optional) Cook some eggs, cut them in slices and add them to each portion on top.
Read more:
Moroccan Food in Fez
Moroccan Avocado and Banana Shake
Batbout Recipe
Fish Briouats Recipe
Byessar Recipe (Moroccan Bean Cream)
Lentil Falafel Recipe
Zaalouk (Aubergine Caviar)
Seffa Recipe
Beet and Coconut Balls Recipe
Moroccan Fritters Filled With Jam
Chebakia Recipe