There is no better way to understand a city than simply being there without making any major pretensions. We tend to make mistakes when we think that the ideal way to make the most of a trip is by accumulating all the experiences and places possible, as if a greater sum of parts were to conceive a more complete whole. Thinking about this way of travelling, we will talk about probably one of the best places in Morocco where you can let the hours go by: the Café Hafa in Tangier.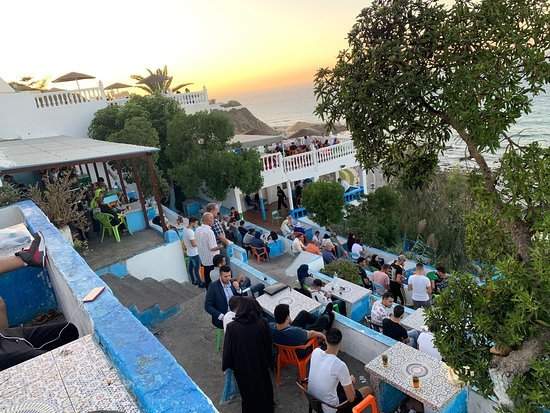 Here are the best places to stay in Tangier.
Get the best deals and discounts on hotels here.
How to get there
Taking into account that its location is peripheral, I recommend thinking of the coffee as the perfect end to a visit to the city, either taking advantage of it to recognize places near it (such as the necropolis or, a little further away, the kasbah), or enjoying the rest of the afternoon there.
Assuming that we are somewhere central, for example the Plaza 9 de Abril, we will have three options to reach the Café Hafa. The first and most direct, by agreeing – and haggling – on a transfer by petit taxi (it should not cost more than 20 dirhams for a full taxi).
If we dare to take a walk for about 20 minutes, we could either go through the door to the Mendoubia Gardens and continue straight up, or go to the central café, then take the street just in front of it and continue straight on. Of all the ways proposed, this last one is the most suggestive, since we will avoid the slope and we will give ourselves the pleasure of wandering around the medina.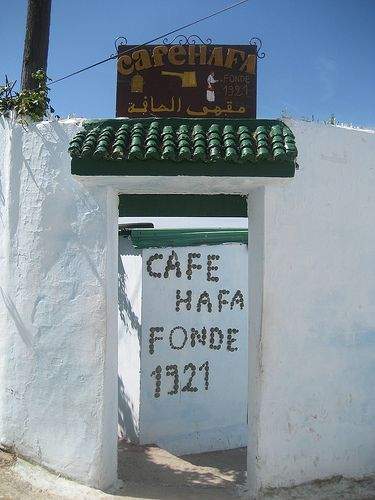 In any of the three cases we would access the square captured in the photo. Once there, we will have to take the street to the right, until we reach the entrance of the café. It is easily identifiable, thanks to the sign built with stones on a white wall that can be seen in the background.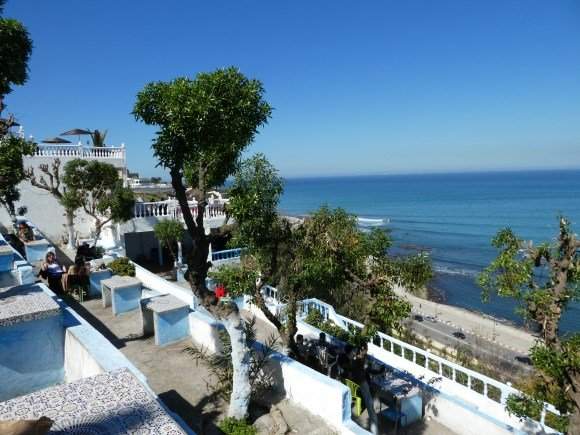 The characteristics of this singular and iconic space do not stand out, as so often happens in Morocco, because of its great architectural value or the wise choice of its materials: concrete floor, brick railings, plastic chairs and a peculiar and varied catalogue of tables, some made of masonry, others of wood and some of metal, in a more than evident state of oxidation.
Probably, when the regent of the premises, Ba M'Hamed, decided to conceive this place in 1921, his intention was not to give it a singular beauty. He definitely knew that the magic of the moment does not depend so much on the design as on the setting and the people who share that moment.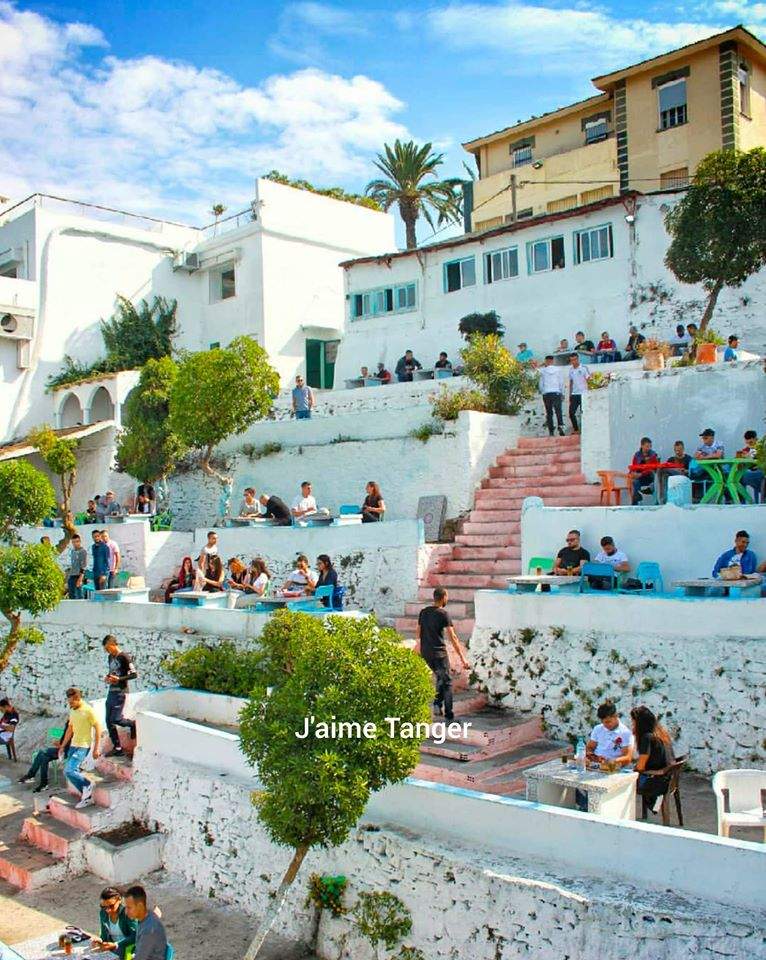 In that sense, Café Hafa has plenty of reasons to be considered a space of the highest level: staggered terraces where its inhabitants spend hours and hours in front of impressive views of the Strait of Gibraltar, drinking mint tea -one of the best I have tasted in all of Morocco, I would dare say-, chatting, playing or listening to music.
This is certainly not a place to be taken lightly, in more ways than one. Firstly, because a large part of Tangier's history and culture lies within it (many and varied are the celebrities who have passed through here), but fundamentally because it cannot be understood in a visit of just a few minutes.
And not only because of the need to be patient in order to receive what has been asked for – to the country's official motto, hurry kills, one must add a small number of waiters and inefficient logistics due to its terraced design – but, above all, because even spending an entire afternoon, watching time go by and sharing it with the rest of the attendees, does not come to be understood in its proper measure.
One last thought
A Moroccan's conversation about mint tea is usually less heated and more leisurely. They prefer observation and contemplation, perhaps accepting that there are certain things that cannot be changed, but above all being grateful for what they already have.
These particularities of a country's culture cannot be learned by hiring a guide or visiting a museum. They can be understood by letting yourself go, watching time go by in some of the places that populate the cities. In this sense, Café Hafa is probably one of the best places in Morocco to do so.
Read more:
Sleeping In Tents: An Unforgettable Experience
Best Beaches in Asilah
Getting Around Morocco
Moroccan Arts & Crafts
16 Best Things To Do In Meknes (Morocco)
Meknes To Volubilis
Fez in 2 Days
Marrakech to Ouzoud
Tamegroute Travel Guide
Where to Eat in Chefchaouen