I recently did a tour of Fez and the Sahara, and decided that it was a good idea to share my experiences about it. In the previous entry I talked about the tanners' square, and in this case I'll do it about where and how to sleep in tents.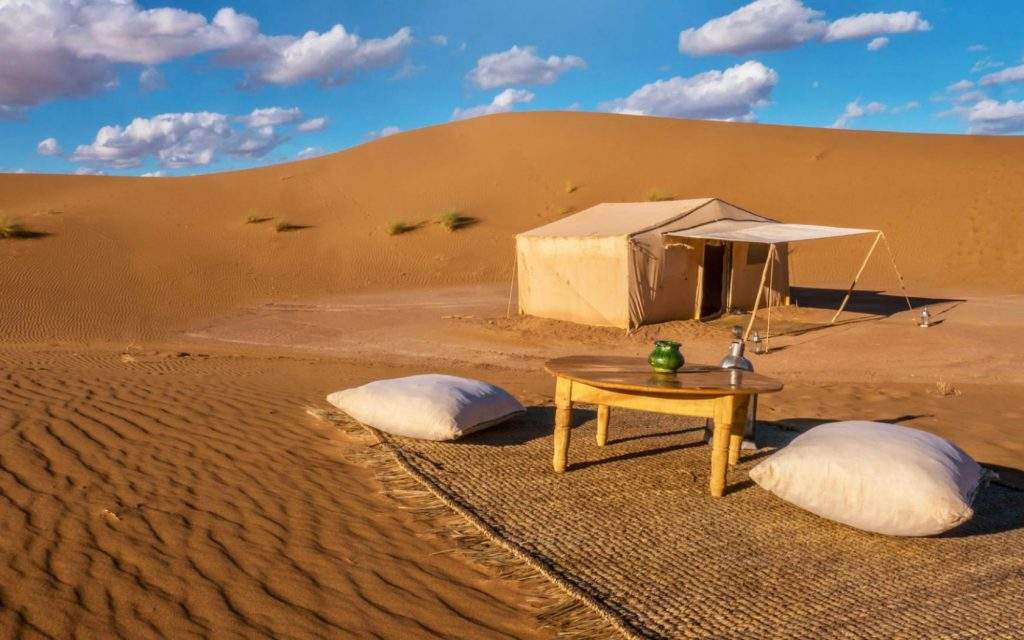 In my case, I chose to sleep in the dunes of Merzouga, and I have to admit that it was a great experience; in fact, it was the second time I went there, and I wouldn't mind repeating it a third (or fourth) time. I'm sure that when I tell you about it, you'll feel like it too!
Arriving in the Sahara
To get to Merzouga I left from Fez. Note that this is a fairly long road trip (approximately 8 hours) but, although it may seem otherwise, it is not that bad. The main reason? That you will know landscapes of Morocco that otherwise would be impossible. Moreover, you will discover that, contrary to what you may think, Morocco has a great geographical heterogeneity.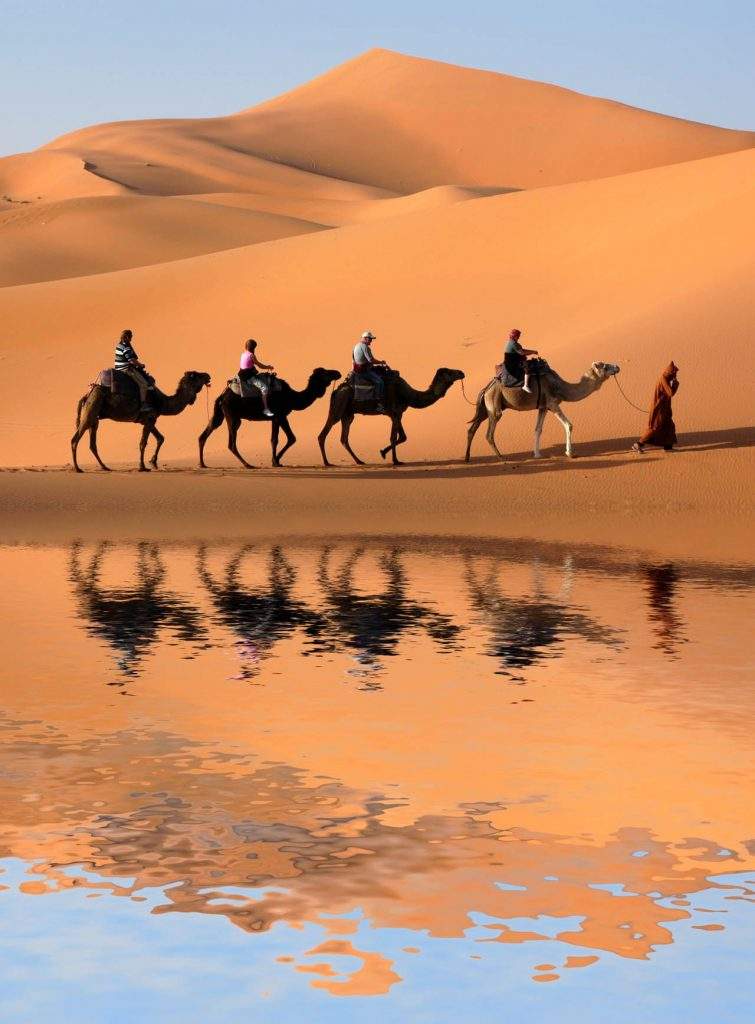 The first kilometres to be travelled are on a more conventional road and landscape, but as soon as you reach the High Atlas the landscape will change radically. What caught my attention most was Lake Isle, a huge reservoir of turquoise blue water, which contrasts with the landscape around it of dark sand. As you go along, the landscape will become orange and, furthermore, depending on the moment you choose to travel, and due to the high temperature differences in some areas, you will be able to see frost or even snow.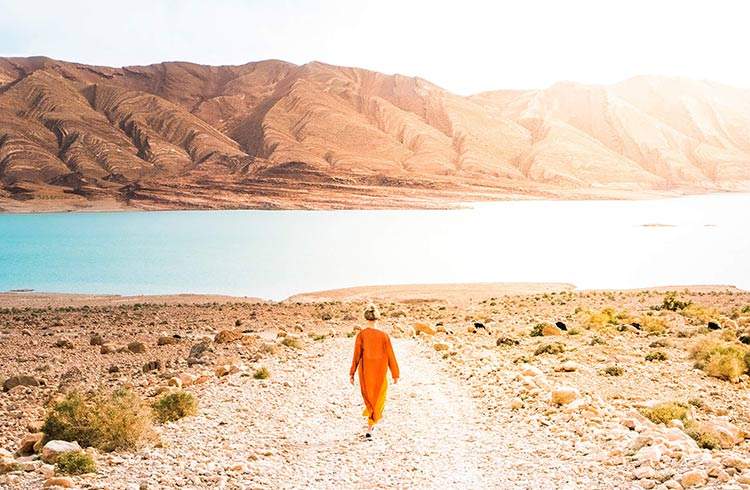 Surely, and with the aim of stretching your feet and getting strength for the last pull, one of the planned stops will be an area of large palm groves where, in addition to offering a viewpoint with spectacular views, you can have a cup of tea or buy a souvenir.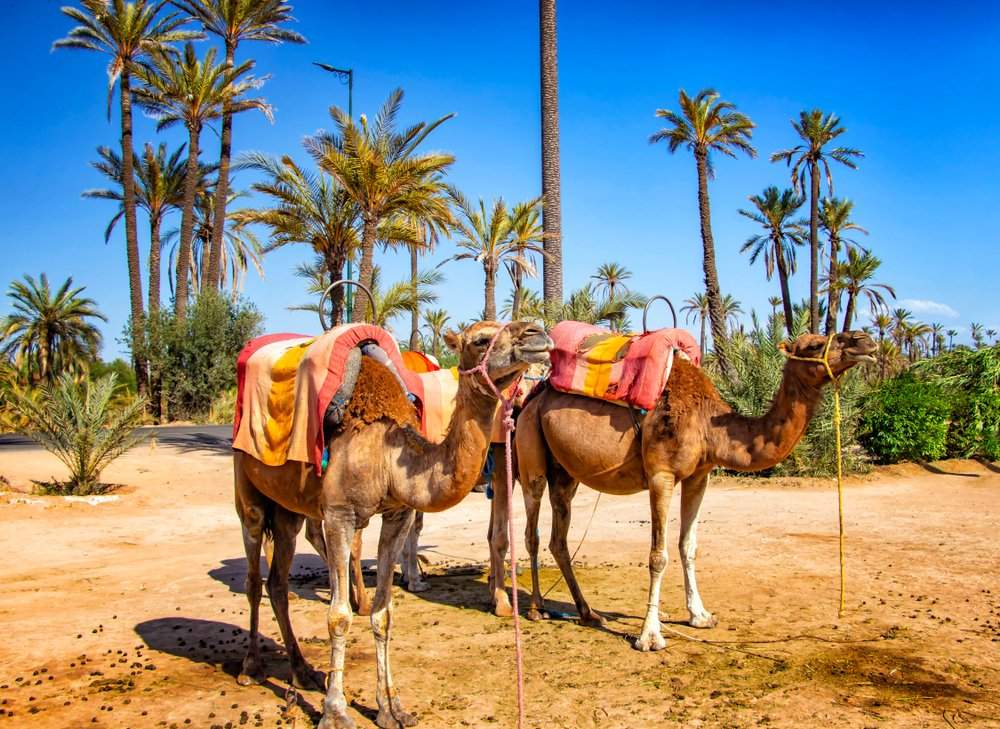 Shortly before arriving in Merzouga, you will have to change vehicles, and will be divided into groups in 4×4. This is because, from there, you either cross the desert on tracks or on bad roads, and only vehicles with great damping are suitable for this. A word of advice: without encouraging the driver … he can speed up a bit and give you a few bumps!
Where To Sleep In Tents
Once I arrived in Merzouga, it took me only a short time to reach the hostel where I had decided to stay: Ksar Merzouga (I decided to choose this one after the positive feedback I had heard about its cleanliness and care)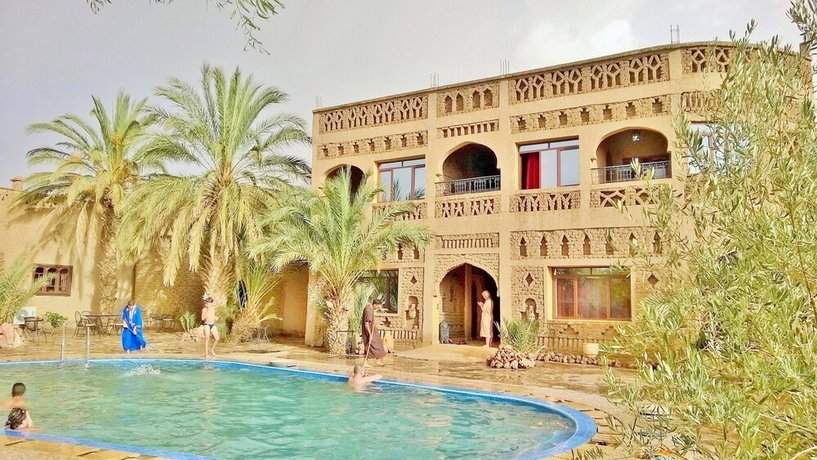 With regard to this type of accommodation, I would like to clarify that, although they are known as hostels, they should not be confused with what we know by that name in Europe. In fact, because of its facilities it can be compared to a small rural hotel, with the difference that they offer two types of accommodation:
First option (the most common): sleeping in tents: Next to the complex there is a small camp, formed by about 10-15 tents, and distributed through corridors made with carpets.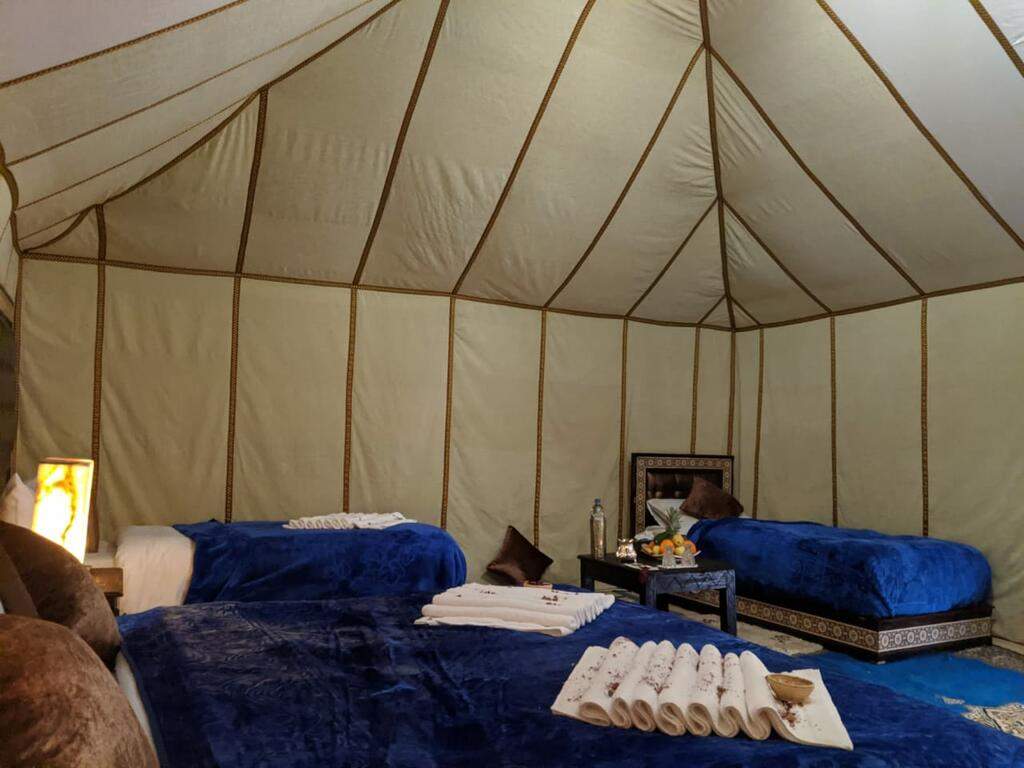 Originally, these tents (or haimas) were made of camel skin, but now they are made of carpet fabric on a metal structure. They hold four people and are divided in half with a sheet suspended from the ceiling as a screen. So you may feel like "sharing a room" with a stranger, but on the other hand, it has always been said that sleeping in the desert has to be an adventure!
If you are wondering whether it is comfortable or not, I am not going to deceive you: you are going to sleep on a mattress on the floor, but with a sheet, pillow and blankets (and if you need more, you only have to ask for them), so you should not expect a similar feeling to sleeping in your own house. On the other hand, I'm one of those who think that, if you want to live a real experience, sometimes you have to give a little bit of comfort, and I sincerely believe that this is one of those occasions.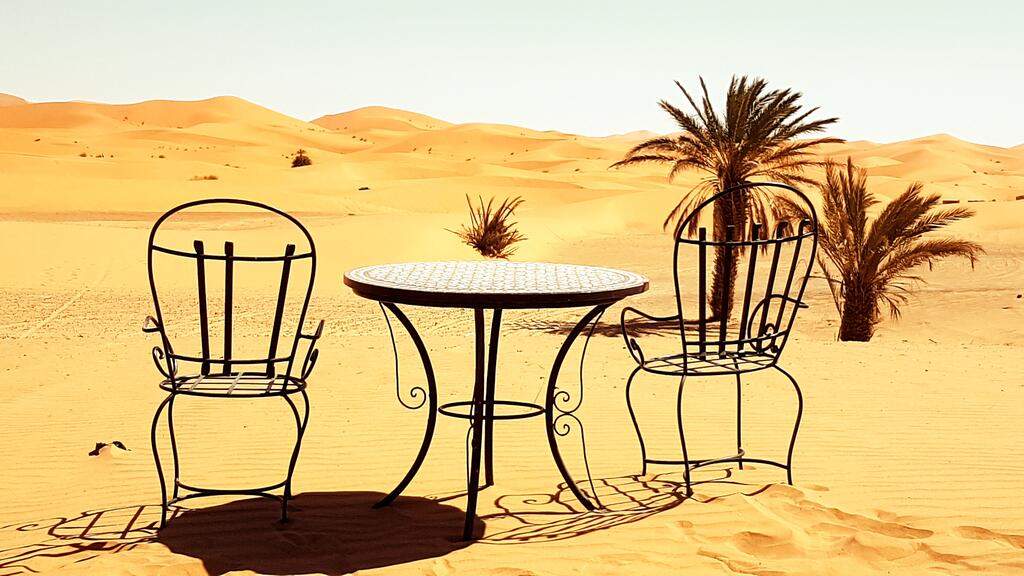 Finally, if you need to go to the bathroom, there are public toilets and showers in the hotel complex, just a three minute walk from your haima.
Alternative option: sleeping in a room: If sleeping in tents is not an option that you consider, or you simply want to have the feeling of sleeping in the desert but without giving up certain comforts, you can always book a room with the same characteristics of a hotel and paying a supplement, which is usually around 15 euros per person. These are simple but very spacious rooms with a bathroom and air conditioning.
I would not like to finish this section without telling you about the facilities you will have the right to, whether you choose one option or the other: on the one hand you will have breakfast and dinner buffet, quite varied I would dare to say, taking into account the limitations they have being in the middle of the desert, with the nearest population just over 30 kilometers away.
In addition, you will have at your disposal a wonderful swimming pool for your use and enjoyment, so try not to forget your bathing clothes! You will not have many more opportunities to take a dip in the Sahara desert!
Why not sleep in the middle of the desert if we're in the Sahara?
There is a question I am often asked by those who are interested in this type of travel: If the intention is to live the experience of sleeping in a haima, what sense does it make if it is attached to a hotel complex, surrounded by a small stone wall, instead of in the middle of the desert? And, although the doubt is reasonable, in my opinion the option is not advisable because of an unavoidable security issue.
Even so, you will have heard experiences, possibly even from people close to you, from people who have decided to sleep in the middle of the desert, but, although nothing has to happen, I would not advise it if you want to guarantee a happy ending to your vacation: among the many factors that can ruin it, there are sandstorms and scorpions or other animals that can enter the tent.
Anyway, I assure you that once you get inside the tent, and listen to the wind sliding through it, while enjoying a last view of the desert just before sleeping, you will not envy a more complete experience.
As an alternative, and provided that you have enough people coming, you can consider an installation in the middle of the desert if you have the right advice; an experienced company will provide you with a reliable camp at a structural level, as well as knowing where to place it and how to distribute the tents to stop the wind, in order to guarantee the stability of the whole. But as I say, this requires that you go in a large enough group and that you seek the services of a company with experience in this area.
5 Tips For Sleeping In Tents
Better safe than sorry! Bearing in mind that you will experience a completely new sensation, in an isolated environment, where extreme changes in temperature can also occur, I don't think there are any recommendations left in this respect:
-Carry only one backpack: ideally, to the suitcase you use for all your holidays, you should add a small backpack for the night you spend in the desert, where you can put that night's change of clothes and some other element you consider essential. In this way you will not drown the capacity of the tent, besides how uncomfortable it can be to go dragging a suitcase in the middle of the desert.
-Include a woolen cap in your luggage. As you know, the temperatures in the desert drop very low at night, and if you add to that the high humidity it is essential to sleep with a piece of clothing covering that which the blanket cannot do, otherwise you will get up with a considerable headache.
-Optionally, I also recommend that you include a cap and a handkerchief: the cap will help you to avoid sunstroke if you spend a lot of time outdoors during the day, and the handkerchief will protect you from possible sand splashes on your face due to a storm.
-Wear good footwear, boots if possible. If you intend to walk on the dunes you will appreciate this warning, as it is common for your feet to sink, and sand to get into your feet. Therefore, my advice is to wear thick socks and sturdy, wide-toed shoes, with plenty of coverage above the ankle, to avoid chafing and other discomforts.
-It's not bad to bring some food and water, as well as dirhams: even if you have breakfast and/or dinner hired, you will probably want to have a bottle of water for the rest of the day or even some more food to eat, so it's not bad to bring it, or bring money to buy those products in the hostel (or also if you want to buy some souvenirs). Also, bear in mind that there are no banks or exchange offices in the Merzouga area, so they usually refuse to accept euros as payment.
Read more:
Best Time To Visit Morocco
List Of Countries Whose Citizens Are Exempted From Entry Visa Into Morocco
Ifrane Travel Guide
Best Things To Do In Larache (Morocco)
Where To Eat in Larache
8 Best Restaurants in Fez
Fez in 1 Day
Taghazout
Erg ChegagaWhere To Stay in Tetouan