Chebakia is a Moroccan sweet made with strips of dough coated with honey and covered with sesame, which are made with anise seeds inside.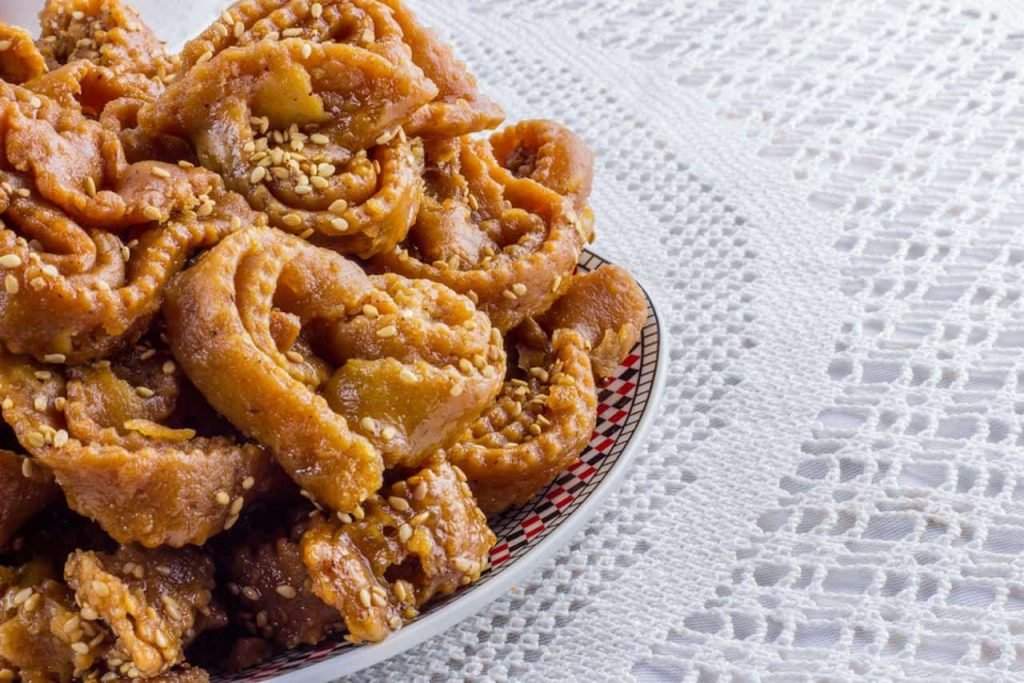 Almonds, flour and a teaspoon of vinegar, cinnamon, barley, saffron and orange blossom water are also used.
The appearance of the Chebakia is that of a series of strips joined together forming a sort of twisted rose or lattice, hence its name, which roughly means "lattice".
A traditional edible
A typical sweet during the month of Ramadan as well as the harira soup, a delicacy for those who like intense sweets. Dough with almonds that is fried in oil and then impregnated with honey and sesame seeds this type of dessert, very common in the cuisine of Morocco is usually taken in the dessert phase accompanied by mint tea.
Likewise, consumption soars during the Islamic month of Ramadan, because its high nutritional power makes them very suitable to break the fast that is mandatory for Muslims in that month.
This is because during the month of Ramadan the faithful have to fast from first light in the morning until dawn. Not only must they abstain from food, they may not drink anything either. They go hungry all day, but when they get home they enjoy delicacies such as shebbakiyya.
Chebakia Recipe
Ingredients
500 g flour
One sachet of yeast
30 g ground almonds
100 g sesame seeds
80 g butter
½ tablespoon vinegar
A teaspoon of orange blossom water
Pinch of salt
1 teaspoon cinnamon
A pinch of aniseed
450 ml of honey
Saffron strands
Sunflower oil (250 ml)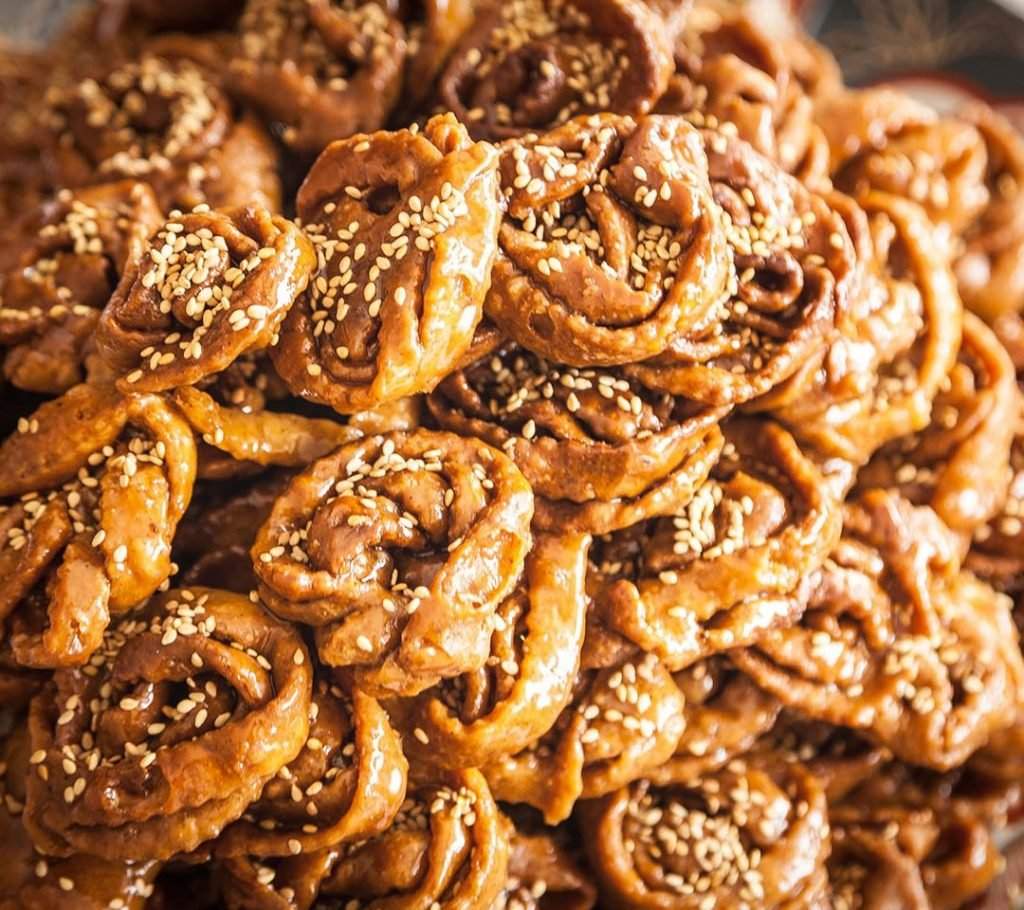 Preparation
It is prepared by mixing all the ingredients in a bowl, without the need for it to ferment; the dough is then kneaded and divided into balls which are then stretched and cut into squares, then four incisions are made from top to bottom, respecting a margin on the upper and lower parts.
Once this is done, the resulting strips are linked together, giving them the characteristic rose or tangled shape. When all the pastries are ready, they are fried in abundant sunflower oil, removed from the fryer without draining and put in a pot with honey or very thick and hot syrup so that they are well soaked, the more juicy they are the better, once coated in honey they are presented on a plate or bowl if done in large quantities and sesame seeds are added to taste.
A good appetizer
Undoubtedly this delicious dessert will make your palate will not forget the sensation of Morocco in your memory and you can relive it every time you want just by preparing it in the comfort of your kitchen.
Read more:
Moroccan Food in Fez
Moroccan Avocado and Banana Shake
Batbout Recipe
Fish Briouats Recipe
Byessar Recipe (Moroccan Bean Cream)
Lentil Falafel Recipe
Zaalouk (Aubergine Caviar)
Seffa Recipe
Beet and Coconut Balls Recipe
Moroccan Fritters Filled With Jam