Morocco is known for its vibrant blues, expansive deserts, and hospitable culture. Travel to cities like Marrakesh, Fes, and the Mediterranean coast is a top bucket list item for adventureres around the globe — and what better way to optimize your journey here than to be able to communicate effectively with Moroccans!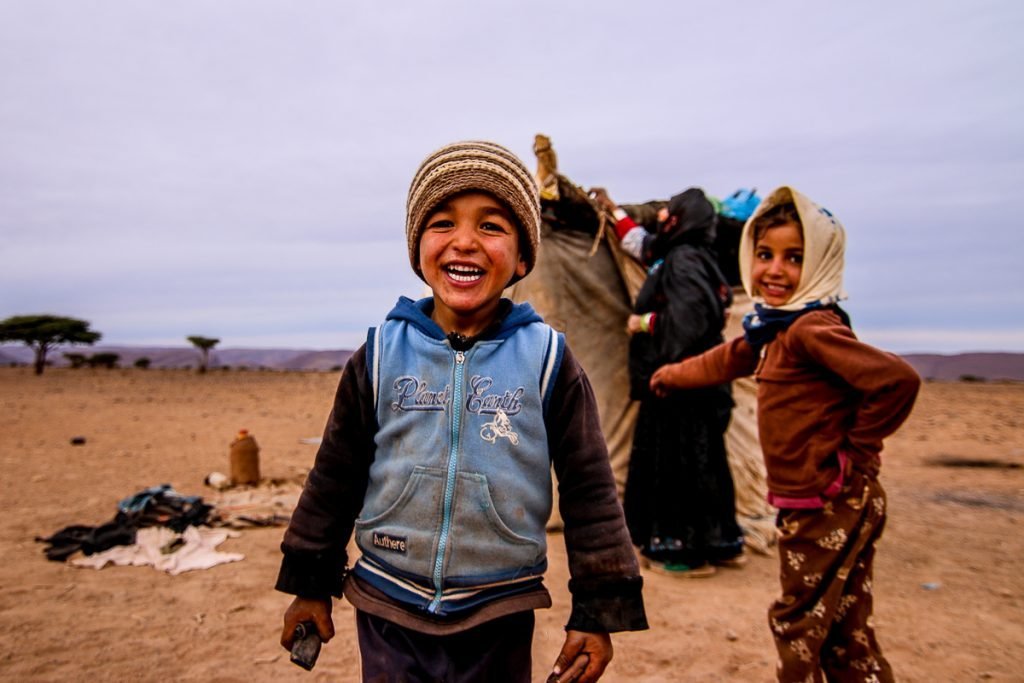 Arabic is the dominant language, so in order to get the most out of your trip, it's important to have a grasp on basic Arabic travel phrases before heading out. These five resources will give you everything you need — with the bonus of being free!
Online language school Live Lingua offers comprehensive study materials for more than 130 languages for free, including a full deep dive into Moroccan Arabic. The coures features audio files, PDFs, and plenty of info to get you started speaking basic Moroccan as fast as possible — provided by the US Peace Corps, the Defense Language Institute, and the Foreign Service Insititue.
The materials are start with basics and work all the way through to full-on conversation (if you're dedicated enough!) and are super easy to understand. The audio files and PDFs are designed for beginners, so there's no pressure in feeling intimidated or underprepared.
Speaking of the US Peace Corps, Friends of Morocco is another free online resource started and maintained by RPCVs who have lived in Morocco and have a firm grasp on how Arabic is spoken and understood in the country. The RPCVs break down basic Moroccan Arabic with a number of free guides that walk you through the phrases — and while it's not as comprehensive as the Live Lingua Project, their website also links to a number of directories and books, for those looking to take their studies a bit further.
It's been said that video is the future of media, and if that's true, than Aswaat Arabiyya just might be the future of free, pre-recorded Arabic learning materials. The site, hosted by the University of Texas at Austin, offers a diverse collection of Arabic learning videos for students of all abilities — from first-timers to near-fluent conversationalists. They're a great ay to work on your understanding and ability to engage in basic conversation without embarassing yourelf in front of a locall — after all, your computer screen isn't going to laugh at you.
Loecsen is a bit of a mashup of the the prior two services and the final one. It offers videos for learning Arabic, along with quizzes to test your comprehension of those videos. But for absolute beginners, the most useful of their offerings is the vocabulary rundown provided underneath the videos — a solid way to repeat some basic Arabic words and phrases to yourself before putting your ability to speak and understand them to the real test (by watching the videos and taking the quizzes!)
Once you've worked through the material in the Live Lingua Project or one of these other resources, put your newfound skills to the test with ITESLJ. This site offers a wide collection of tests for English speakers learning Arabic, focused on specific situations and skillsets. You can confirm your grasp on everything from fruits and vegetables in Arabic to introductions and basic conversation, and maybe even work through some common haggling and business negotian scenarios. Some are more relevant to travel in Morocco than others, but the more you can comprehend and understand, the better your experience in The Land of Colors will be!
Read more:
Moroccan Food in Fez
Moroccan Avocado and Banana Shake
Batbout Recipe
Fish Briouats Recipe
Byessar Recipe (Moroccan Bean Cream)
Lentil Falafel Recipe
Zaalouk (Aubergine Caviar)
Seffa Recipe
Beet and Coconut Balls Recipe
Moroccan Fritters Filled With Jam
Chebakia Recipe