Discover Morocco and its undeniable oriental charm by getting to know six of its regions.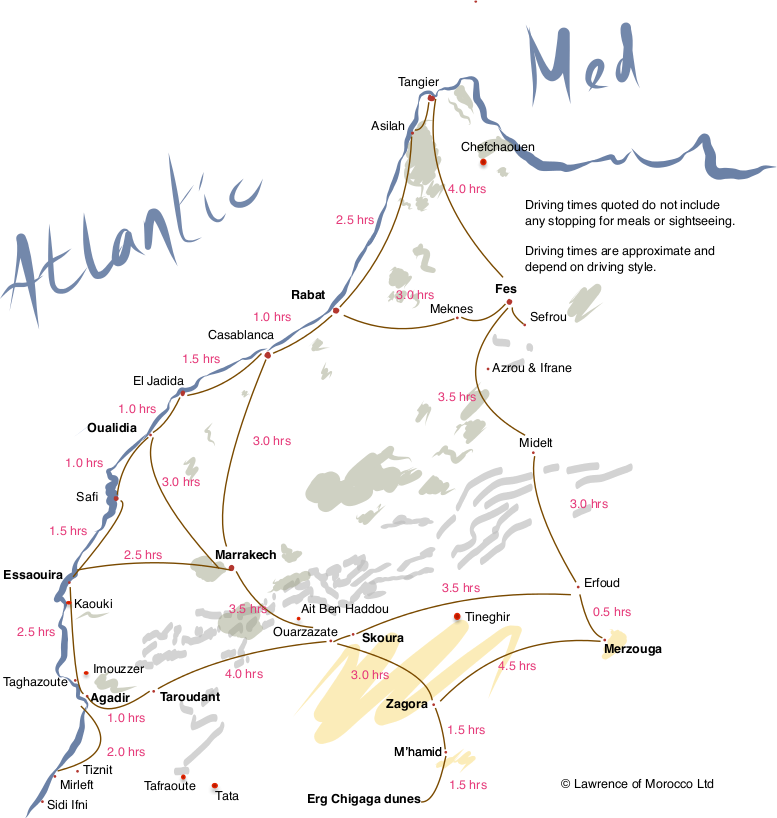 If you visit the south of the country, you will discover the Grand Sud and the Souss-Massa region, a vast expanse of desert landscapes ideal for a camel ride. The Atlantic coast, with its many charms and important history, has become a first-class tourist destination.
Further north, you can discover the cities of Tetouan, Oujda or Fez, where you will find extraordinary landscapes: a wide variety of oases, valleys, deserts and mountains are waiting for you!
The Geography of Morocco
Morocco has four mountain ranges: the Rif, the Middle Atlas, the High Atlas and the Anti-Atlas. The highest mountain is the Toubkal, which reaches an altitude of 4162 meters. Between the Rif and the Middle Atlas is the Sebu valley.
From Larache to Agadir is the Atlantic plain and between the former and the Middle Atlas is a plateau located above 500 meters. South of the Anti Atlas, the Sahara desert begins. The main rivers: Sebu, Muluya, Um Er-Rbia, Tensift, Sus and Draa.
Likewise, this country is bordered on the north by the Mediterranean Sea, with Spain in its land borders of Ceuta and Melilla and the Atlantic Ocean, united by the Strait of Gibraltar.
To the south it borders Western Sahara (or Mauritania, depending on whether the Sahara is recognized as an independent country or annexed to Morocco). To the east and southeast it borders Algeria and to the west with the Atlantic Ocean.
How Big is Morocco?
The extension of its territory is 458,730 km² and there are 321 protected areas covering 125,346 km², 30.78% of the territory, and 718 km² of marine areas, 0.26% of the 276,136 km² belonging to the country.
Among these there are 10 national parks, 19 natural parks, 8 natural reserves, 1 biological reserve, 69 sites of biological and ecological interest and 185 permanent game reserves.
Therefore a good map would be necessary in the case of visiting this wonderful and extensive country if you do not want to get lost or overwhelmed by not knowing where to go.
Plan your trip:
7 Best Hotels in Tangier
Best Hotels in Casablanca
Best Hotels in Larache
Best Hotels in Marrakech
Best Hotels in Meknes
Where To Stay in Fez
Where To Stay in Rabat
Where To Stay in Tetouan