Marrakech is an overwhelming city, very difficult. I'm not sure it could be any other way. Still I will tell you what happened to me and some tips to avoid bad experiences in Marrakech if you decide that it is worth seeing it with your own eyes. How can I avoid it? I don't really have the answer. In sha'a Allah! Just some tips to avoid bad experiences in Marrakech.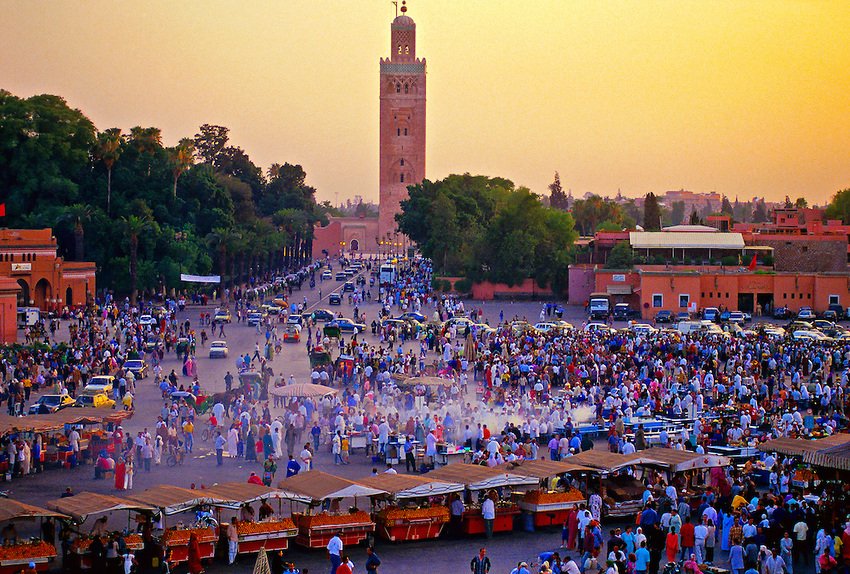 How to avoid bad experiences in Marrakech?
The Red City is a shopping centre where anything goes, a wrestling ring where many of its inhabitants (fortunately there are still good people) have become real sales zombies who only see the traveller as a ticket with legs.
Treating you like a person? No, that's not normal here.
Do not let them guide you
Don't give them a chance to 'help you' because help is the only thing you won't get.
Marrakech is famous for the souks of its medina. A complex of narrow streets where signs are scarce and difficult to follow. Inside the labyrinth, you'll find merchants, locals shopping, a lot of visitors as lost as you are and men whose only task is to confuse tourists even more. Their strategy is to tell us that we are going in the wrong direction (even if it is not true). But make no mistake, they don't want to help us. Their goal is to show you the 'right way out' so you can pay them. Don't give them the opportunity.
This was the first and only bad experience I had in Marrakech on my first visit. We were looking for the Dar Cherifa riad, the oldest in the medina. A real gem, an oasis of peace and kindness in chaotic Marrakech. Totally recommended. The only drawback is that it is extremely difficult to reach. It is necessary to go through the alleys to find it.
So we were walking around without knowing where to go and a man asked us. I'm sure he thought something like this: "More lost tourists from whom to get some money". We showed him the place we were looking for and he gave us directions. As we did not understand you very well, he ended up accompanying us, even though we told him it was not necessary, but he did not hesitate.
When we arrived, we thanked him for his kindness. But that was not enough. We were shocked when he asked us for money. We insisted that we had nothing, and he screamed louder and louder. He became so aggressive that we ended up giving him something out of pure fear.
Google Maps to get less lost
Guides or maps are the perfect magnet to attract this kind of people. Until this incident I was quite assiduous in going around the cities with the guides' maps. Since then I have never used one again. Now what I do is save the places I'm interested in in the Google Maps highlights and download the city map to have it offline. That way I can see all the streets of the city offline. Then I only have to look for the marked points. It's not the ultimate and true solution, but it will help you get less lost.
Get ready to walk
Taxi drivers are the great wizards of the con. I've seen how many tourists accept a short trip for 50 dirhams (it doesn't reach 5 euros and we might think that's an adequate price because that's what we would pay in our home country). For me this is a mistake. We have to think about how much things are worth in the place we are visiting, how much it costs for the people who live in that city. Otherwise we would be contributing to the price increase and the local people would end up not being able to pay for basic services). Also, during peak hours, only those who go to the airport are accepted, since the price is higher.
This is exactly what happened to us. I was walking down the street with my rucksack on my back, I had left the hostel and before going to the airport I wanted to visit the Majorelle gardens. A taxi driver rings me up, stops next to me and asks me "airport?" I say "no, Jardin Majorelle". He grunts, pouts and goes on his way without bothering to answer me. And I, a little indignant, think I hear his thoughts "bah, a small bill, I don't even bend down to pick it up, there are a lot of big ones around".
So between some who don't bother and others who want to take you but rip you off too, the best option is to walk. Unless you really have to go to the airport, everything else is within walking distance. The farthest it is maybe 45 minutes and that's if you want to go to the train station.
The tanneries, the big scam
In my opinion this is 'the big con' and everything that has happened to you up to this point has been silly in comparison. Let me explain.
I also understand the mea culpa because I didn't investigate anything at all before I got here. In fact, we weren't even planning on going to the tanneries in Marrakech because we saw them in Fez. But we found a non-guide who told us how nice it was and that we had to visit them… blah, blah, blah. We fell for it.
He took us and didn't ask us for money, what a relief! But he did lead us straight into the trap. The non-guide introduced us to the yes-guide and left us with him. Again, we made a mistake, we didn't negotiate the price. And I didn't because, foolishly, I thought they would ask us the same as in Fez, 20 dirhams each. Wrong! Never, ever, ever take a price for granted. Never start a tour without agreeing on a cost.
The guide led us through two tanneries: the Berber tannery and the Arab tannery. They were interesting and the smell was bearable. The tour lasted about 10 minutes, and ended up putting us in a leather goods store. We played their game, looked around a bit and didn't buy anything. We left. Not before hearing screams of "why did you come here?", "why are you wasting my time?" and I don't know how many other aggressive stupidities.
Who was waiting for us around the corner? The yes-man who demanded his payment. And asked us for the 150 dirhams madness! I told him we didn't have that much money, that I could only give him… I don't really remember the amount, but it was much less. He started shouting: "No, these are poor people, we have to help the cooperative". I insist that I can't (which was totally true, but even if I could I wouldn't give it to him either).
He kept shouting at me and we started to walk quickly in the opposite direction to where we had come.
So you don't get ripped off at the tanneries
Think if you really want to go and don't go if you have already visited other tanneries, especially those in Fez that are much more impressive.
Go as a group. You will feel safer and you will be able to share the price of the tour.
Keep them from seeing how much money you have. Keep some coins handy, but hide the bills.
Hire your own guide.
Shows in Djemaa el-Fna square, see and pay
This is the main arena of the wrestling center that is Marrakech. I'm sure you've heard the wonders of Djemaa el-Fna Square and I won't deny them. The square is full of life and is a must see. Just have to find two things:
Stay away from monkey, snake or any other animal exploiters and keep a safe distance from any musician, storyteller or whoever is putting on a show. Go alone to large groups where you can go unnoticed and don't stay more than a minute. Ah! And don't even think about taking pictures of them. If you follow these rules you will only have to say "no thanks" a few times, but they will leave you alone.
However, if you fall into the trap of standing and looking or if you take a picture of them (even if you haven't focused on them), you're lost. The softest ones will ask you for money and make a bad face if you give them less than you expect or don't give them anything. But many will even come after you saying "Give me money for the picture! Give me money!" clearly angry and very aggressive.
Look at this man's face. I was just framing, looking for a nice shot of the square, I hadn't taken the picture and so he came towards me. So I had to take the picture.
If you're going to eat at the stalls in the square, be careful. After an intense day, of exhausting negotiations, of rejecting the numerous 'non-guides', we arrived to have dinner at the square. I remember again my previous visit to the city because it was an enchanting experience. The kids who were looking for people to fill the tables were very nice and we talked pleasantly with some of them. And, now, on my second visit, it seemed to me that this had not changed. Their mood was still the same.
So we sat down. I was not very hungry and I thought I would just order some vegetables. Obviously I was going to get a cheap dinner. And the waiter was not willing. So after I told him over and over again that I didn't want anything but vegetables, he tore off my bread and silverware and started yelling at me. Logically we got up and left, although we kept hearing the screams for a while longer.
In the end, we ended up having dinner in another restaurant in the square and the guy who had sat in the first place apologized and invited us to tea (although at the time of payment he had disappeared and we had to wait for him for a while).
Oh, and be careful with what you don't ask for (bread, olives) because it can double the price of the dinner.
If you are not going to buy, don't look, don't enter and much less haggle
Arabs are known worldwide for their business skills. The truth is that they are good at selling and when I was first in Marrakech I had a lot of fun with some of them. Everything works perfectly until you refuse to buy what, under the illusion of you, you have stopped for a moment to observe. Then, the courtesy of these famous merchants disappears completely and the aggressiveness typical of combat arenas appears again.
Bear in mind that in Morocco, haggling is the norm, but in Marrakech it is exaggerated. Bargain, aware that they start off by charging four or five times the fair price.
Finally…
I can't stand generalizations. I found some honest people in Marrakech too, people I would have given a huge hug to for giving me a little warmth in such cold times. I remember with special affection a fabric salesman who welcomed us into his shop, treated us like people and didn't mind us leaving without buying. That made us finally come back and buy his handkerchief.
I am writing this article from my own experience, which of course does not apply to everyone equally. The only way you can get to know a place is by yourself. So, in spite of all the bad things, I invite you to travel to Marrakech and draw your own conclusions.
Morocco is a great country, with wonderful people that I have loved to meet. In fact, in the other places I visited I didn't have a single bad experience.