Marrakech is a city that assumes – and is proud of – its chaotic and excessive identity. But if silences are part of even the loudest score, there are also spaces in the red pearl where the hustle and bustle is rushed to its limits. In one of these places, motorcycles, which are used to avoid pedestrians, are transformed into plants that rise up in search of the sun, and the rhythmic force of Gnaoua music passes the baton to the whisper of water: Jardin Majorelle.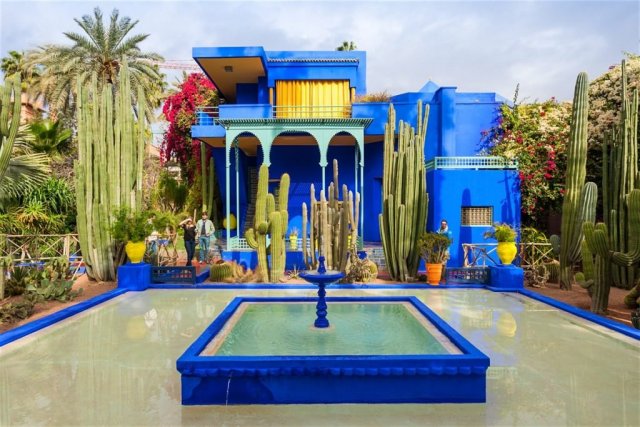 The Jardin Majorelle are one of the best gardens in Marrakech, and they stand out for their blue colour, called majorelle blue.
Here are the best places to stay in Marrakech.
Get the best deals and discounts on hotels here.
The origin
Having a father who was a cabinetmaker and co-founder of an Art Nouveau school, a meeting point for artists of the most diverse disciplines, it was inevitable that Jaques Majorelle would devote his life to art, first studying architecture and then finally devoting himself to painting.
Motivated both by his health and his interest in the culture of Islam through his stay in Egypt, he moved to Morocco, using it as a starting point to explore the unique combination of colours that make up the African continent. It only took three years for him to realize that this place was his home. He then bought a plot of land outside the bustling medina and built a house and workshop.
Collecting is something inherent to human beings: it allows us to objectify our history and define ourselves. Jaques Majorelle was passionate about botany, and the incorporation of a garden populating his estate with species from the most diverse corners was the best way to bear witness to his travels around the world.
But as it usually happens, collecting became greed, and to pay for the incredible maintenance of the villa, he had no choice but to open it to the public. Different financial, personal and health problems forced him to gradually give up parts of it and when he died in Paris, forced to move months earlier to recover from an accident, nothing belonged to him anymore.
The plot was abandoned and threatened with demolition to build a hotel. Yves Saint Laurent and Pierre Bergé had to rescue it. They set out to develop it while respecting the essence of the place, increasing the number of species of plants and redefining it both in design and its use.
When Yves died in Paris, his ashes were scattered in the gardens and a memorial was erected in his honour, in which a Roman column brought from Tangiers was erected on a base with the characteristic Marrakesh colour. Finally, Pierre Bergé delegated his management to the foundation that bears his name.
The Gardens
In the Majorelle gardens, tree species brought from the five continents are displayed in a majestic but planned way, interrupted by decorative elements and constructions of modern design and lively colours. A priori, something that has little or nothing to do with Morocco, except for a few winks in the form of roofs, pergolas or Arab borders.
But this is a work that absorbs as much from the place where it is built as from the author who creates it. It is Jacques Majorelle's particular pictorial vision of the country, where the monolithic and repetitive geometry of the kasbahs and medinas contrasts with the vibrant colours that spring from nature, from the ceramics and above all from the clothes of the Amazigh people, the true cultural heritage of the country.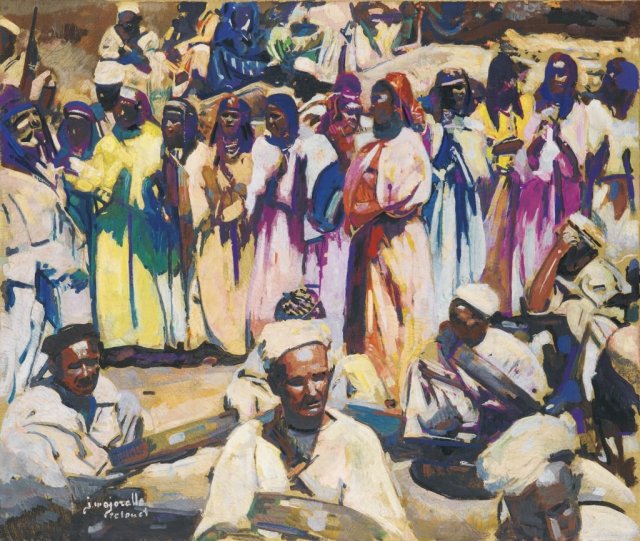 This intention becomes clear when you walk through it and, more than crossing spaces, it seems to parade an infinite succession of paintings. Impressionist scenes formed by infinite shades of green with bamboos, cactus and water lilies as the main protagonists, in clear contrast and yet dialoguing with brushstrokes of yellows, oranges but, above all, purple and intense blues that make up pottery and architecture.
Within these buildings, the ditch that crosses the town from side to side and connects at one end to a pavilion and at the other to a fountain stands out, which together with the rest of the constructions are located on the right edge of the enclosure, serving as the final culmination of a circular visit.
Yves Saint Laurent made a series of reforms in the Majorelle Gardens that still preserved their essence
This section also includes a pond with water lilies, a café, a bookshop, a poster gallery and a boutique, the latter two dedicated to Yves Saint Laurent's production.
However, the most remarkable part of the last section is the Berber museum, which occupies most of the old workshop and where it is as important as its content. Divided into three rooms, the first displays objects of Amazigh daily life and the second shows traditional dresses from different regions of the country, which, thanks to their arrangement and a collection of carpets arranged in cascades, produce a surprising dynamism.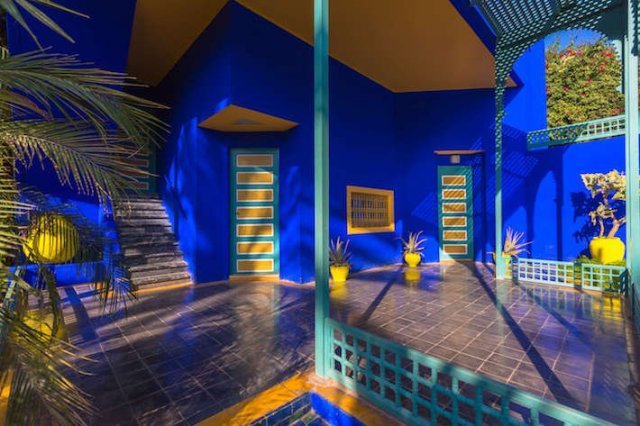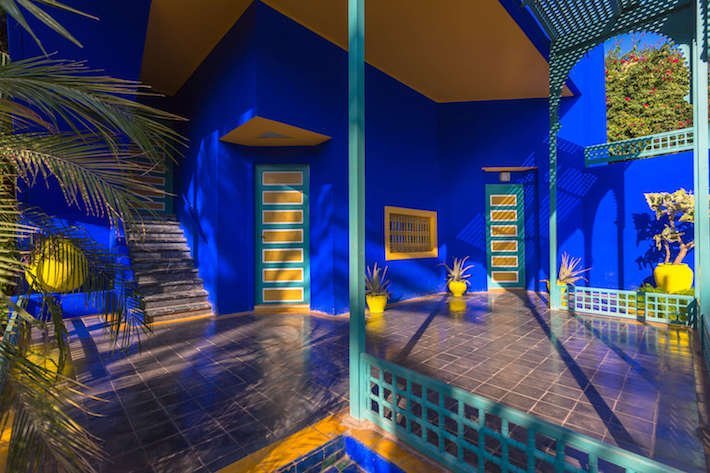 The room for jewellery and accessories deserves a special mention, objects that not only have an aesthetic function, but also a social and tribal identity function, as well as a very effective way of saving money. Distributed in a semicircular display that embraces the visitor, it also serves as a base for 6 equidistant busts, which together with a calculated system of mirrors and a ceiling simulating a starry sky provide an atmosphere as mystical as it is human.
Visiting the Majorelle gardens it is inevitable to think that one is witnessing a complex and lively work of art, an exquisitely timeless design studied to the millimetre. And once you leave, you can't help but relate to the complex, contradictory, and always surprising city that is Marrakech.
If you have more time, get to know the surrounding area: Essaouira, the Ourika valley, Ouarzazate, …