Southwest of Marrakech, wrapped in a halo of legend and with the imposing Atlas Mountains in the background, are the inspiring Menara Gardens. A symbol of this charming city, along with the Koutoubia  Minaret and Ben Youssef's Madrasa, these immense gardens were commissioned by Abd al-Mumin, the 12th century Almohad caliph.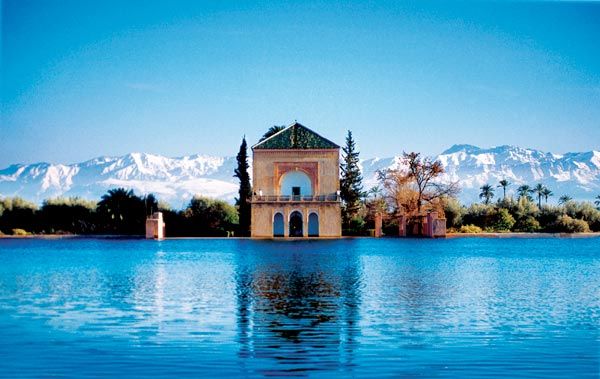 A visit to Marrakech is a must on any trip to Morocco and walking through this beautiful and peaceful place is a comforting experience.
Here are the best places to stay in Marrakech.
Get the best deals and discounts on hotels here.
Just a few kilometres from the Marrakech medina – less than an hour's walk if you take Menara Avenue – and next to the modern Hivernage district, are the Menara Gardens. This vast space was born around a large pond of slightly salty water and a delicious olive grove, which is currently the oldest and most important in the city both for its size and for having forty varieties of olive trees.
The surprising thing is that the olive grove and the lush crops that accompany it receive water from the Atlas Mountains, whose snowy peaks adorn the landscape. For almost nine centuries, meltwater has come from the mountains through a complex underground system of channels that stretch some 30 kilometres.
This place is one of the favorite places of the inhabitants of Marrakech to walk, enjoy pleasant talks among the vegetation or declare their love, especially at sunset, when the sun reflects on the pond.
The main avenue of the gardens is lined with the Koutoubian minaret and in the pond you can see huge carps waiting patiently for visitors to feed them. It is said that the ponds were also used by the Almohad soldiers to learn how to swim before crossing the Strait of Gibraltar and arriving in Andalusia.
The Pleasure Pavilion in the Menara Gardens
The Menara Gardens have a charming pavilion – the Menara Pavilion – named after the green pyramid that crowns it. This building was built in the 19th century on top of an old minzah from the 16th century – erected during the reign of the Saadí dynasty – as Sultan Abd al-Rahman ibn Hisham wanted to enjoy it and its privileged surroundings during his summer holidays.
It is called by many the Pavilion of Pleasure, as the legends tell that one of the ancient sultans – whose name shall remain unspoken – not only enjoyed his love affairs there, but when the sun rose he would throw the chosen one he had enjoyed into the pond during the night.
The legends, the proximity of the Atlas, the seductive palm trees and the reflections of the pond make it a charming place for those who wish to stop on the way or feel the freshness of the greenery in the summer.
If you have more time, get to know the surrounding area: Essaouira, the Ourika valley, Ouarzazate, …
Read more:
Marrakech to Ouzoud