Rabat is the capital of the Kingdom of Morocco and of the Rabat-Salé-Kenitra region. It is located on the Atlantic coast, on the southern shore and at the mouth of the Bu Regreg River, which separates it from neighboring Salé.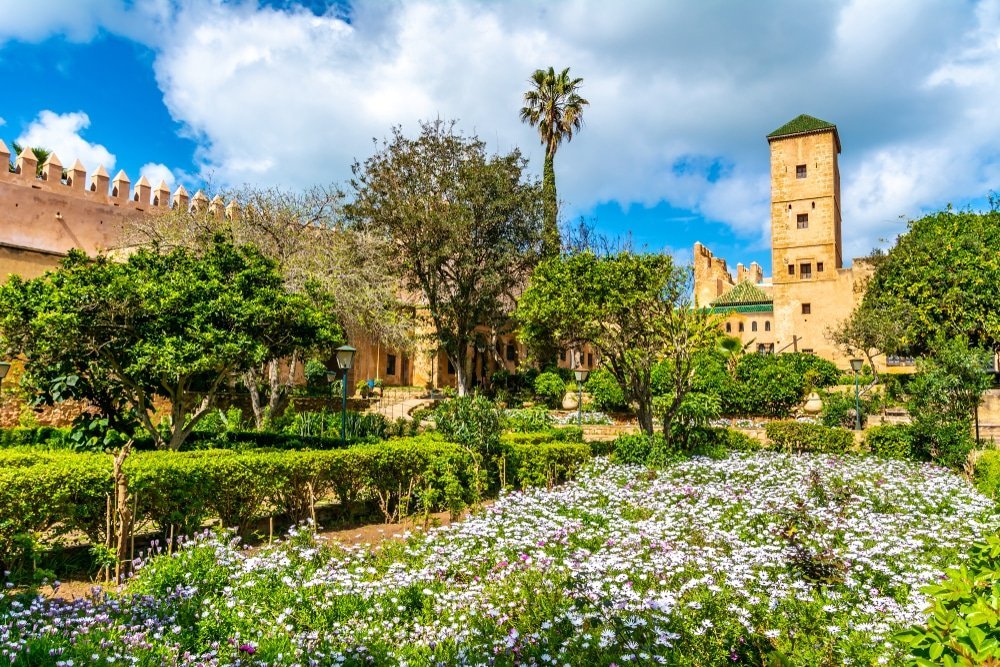 If we stick to the old area, the Kasbah of the Udayas alone is worth a visit to Rabat: a citadel that is the starting point of the city and with a style more reminiscent of northern streets, such as those of Asilah.
What to do in Rabat
Step back in time in Chellah
The walled complex of Chellah is a wonderful snapshot of medieval Muslim life, although it was originally a necropolis. This Berber fortress has many architectural details characteristic of Islam, such as high prayer minarets, tiles and royal tombs. Strolling through this area is like being transported back in time.
Kasbah of the Udayas
The Kasbah of the Udayas is located next to the Chellah, at the mouth of Bu Regreg, and has been declared a World Heritage Site by UNESCO. It still preserves, intact, the brightly colored walls, the cobblestone streets, the ivy growing on its walls and the beautiful and intricate details perfectly defined on the door frames. Despite its subtle resemblance to Santorini, helped by its atmospheric and winding streets, this area pulsates and conveys the mystical Arabian essence, making it unique and inspiring.
Admire Morocco's largest mosque
The Grand Mosque Hassan II is the largest mosque in Morocco: its minaret is a 210-meter-high skyscraper. If you stand at its base and look up, you will feel small and insignificant. Appreciate the classic Moorish architecture as you walk through its palatial interiors, admire its extensive libraries, steam-filled hammams, cooling courtyards and majestic fountains. In fact, the mosque is partially built on land and over the Atlantic Ocean.
Exploring the Hasan Tower
The Hasan Tower, which was always the majestic minaret of a mosque, is now part of an unfinished project begun in 1195, which aimed to erect one of the largest mosques in the world. By partially preserving some of its walls, columns and ramps, it provides a strange feeling of an open-air mosque.
Relaxing in the Andalusian Gardens
Rabat's Andalusian Gardens also have a strong sense of ancient mystique and beauty. Built by the French during their colonial period, the gardens are associated with the Kasbah of the Udayas. Their walkways are made of stone and tiles, and include ancient fountains and water bowls, plants, small, fragrant and exotic flowers, as well as dates swaying lazily in the breeze.
Practical Information
Things To Do In Rabat
Where To Eat in Rabat
Where To Stay in Rabat
Places of Interest
Kasbah of the Udayas
Mausoleum of Mohammed V
Necropolis of Chellah