The Mausoleum of Mohamed V is located in Rabat, on the esplanade of the Hassan Tower, near the medina and the Bu Regreg river. In memory of Mohammed V, the father of Moroccan independence, his son Hassan II built this mausoleum which houses the tomb of King Mohammed V, and that of his sons Hassan II and his younger brother Mulay Abdellah. The Mausoleum of Mohammed V consists of a mausoleum, a mosque and a museum.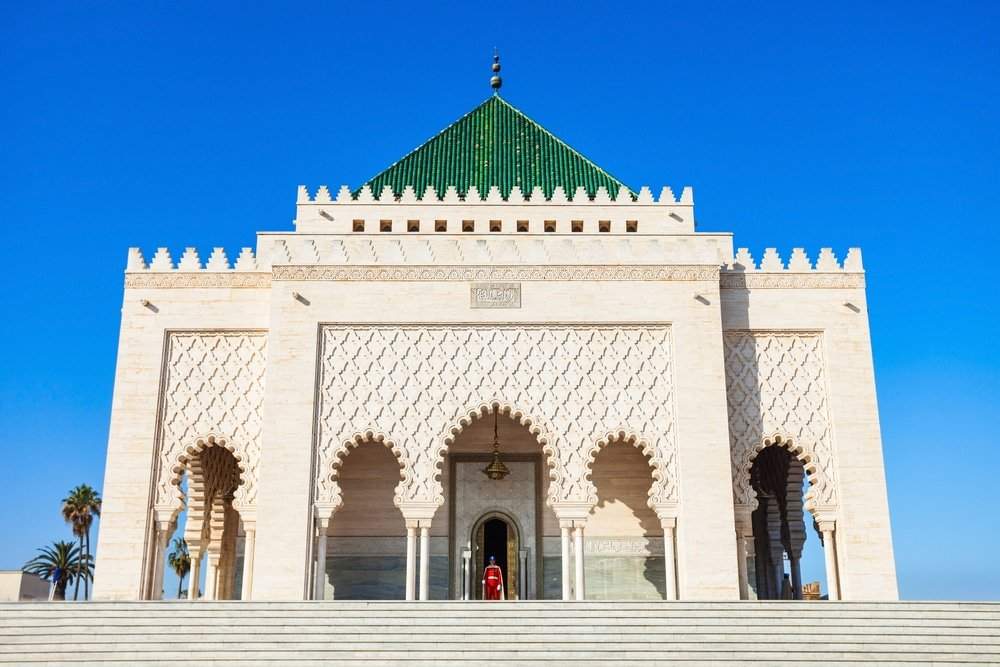 The architect was the Vietnamese Eric Vo Toan, who employed 400 Moroccan craftsmen for the construction work. The mausoleum, built between 1961 and 1971, includes a mosque and a museum dedicated to the history of the Alaouite dynasty. The design of the Mausoleum of Mohamed V is characterized by its classical Andalusian Arabic style.
With a white Italian marble facade, it was built on a high pedestal of 3.50 meters and an area of about 1500m². Through a portal, forged in iron, one can access the stairs that lead to the dome, whose stained glass windows come from the workshops of the Saint-Gobain company in Paris. The dodecagonal dome, above the tomb chamber, has muqarnas (decorative architectural elements based on juxtaposed prisms) made of mahogany and Atlas cedar.
The portals on all four sides of the Mausoleum of Mohammed V are flanked by slender Carrara marble columns. The entrances lead to a balcony, from which the upper part of the sarcophagus can be seen.
Carved from a single piece of white Pakistani onyx, the marble sarcophagus of Mohamed V rests on a block of granite, facing the quibla (wall facing Mecca).
Read More:
Best Bars in Rabat
Rabat in 1 Day
Rabat in 2 Days
Where To Stay in Rabat
Necropolis of Chellah in Rabat