That Chefchaouen is the most touristic pearl of northern Morocco is well known. The indigo and white glow of this mountain village welcomes thousands of travelers every year who decide to get lost in its narrow streets. Although it is true that Chefchaouen is a magical place, the hordes of tourists have made it lose some of its charm.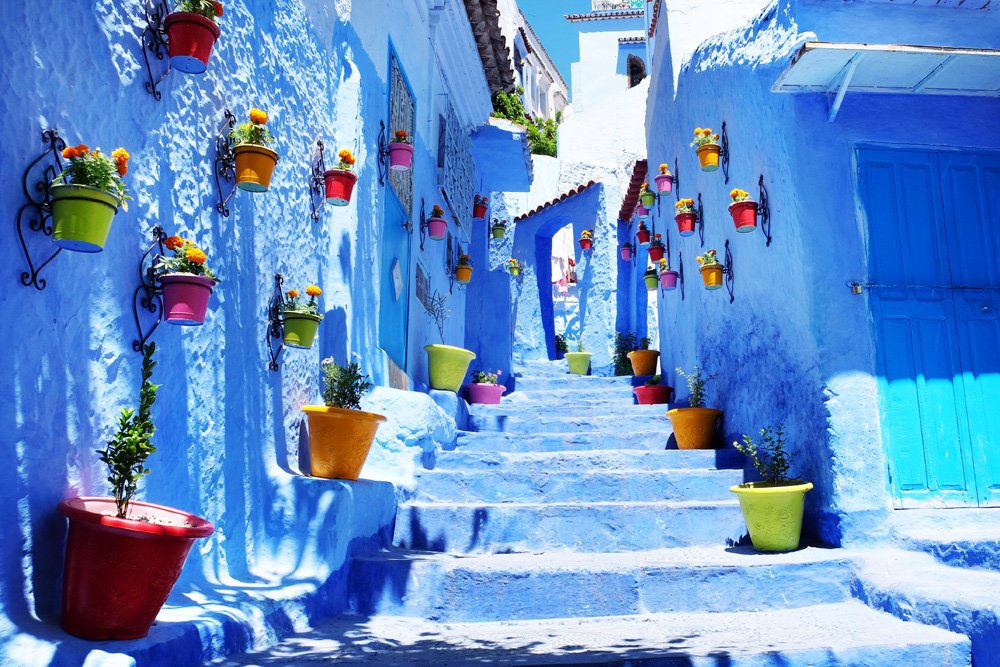 If you prefer to escape from the crowds that pile up on the terraces of the Uta el-Hammam square, the epicentre of Chefchaouen, the best thing to do is to spend a morning with the sacred village and then go out and get to know this more unknown but more authentic Morocco.
Whether it's a day trip back to sleep in Chefchaouen or on the way to Tetouan, it's worth renting a car to admire the Mediterranean mountains of the Moroccan Rif.
AKCHOUR, LIVING NATURE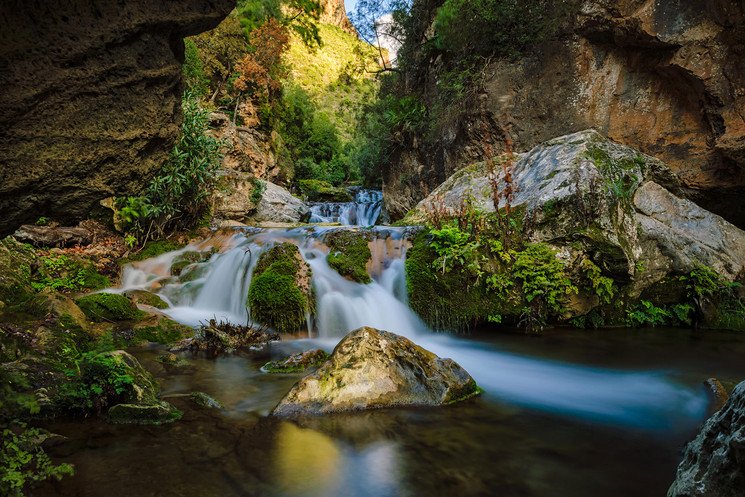 This natural spot offers nature in its purest form, waterfalls, streams and forests.
Only forty-five minutes by car (there is a distance of about 30 kilometers but with several stretches of curves), is Akchour, in the Talambote valley.
Once there, you can opt for a quiet walk without a fixed destination and enjoy the many terraces on the river bank or, conversely, you can schedule an excursion.
If you want to go for a walk, we recommend you to be prepared: comfortable shoes, appropriate clothing and a change of clothes (especially socks), some snacks and water. It is possible that at the entrance of the park you can buy something to eat, but it is better to be prepared.
If you are going in summer, it is advisable to take your swimsuit, as there is no better rest than a dip in the river that borders the road to survive the stifling heat; and do not forget warm clothes, as you will be walking through a mountainous area.

There are two popular walks: the Bridge of God, which runs parallel to the Oued Farda (Farda river); and the route of the waterfalls, which runs parallel to the Oued Kelaa (Kelaa river). Whether you choose one or the other, it is strongly recommended to plan your time and be prepared.
Although both routes are spectacular, perhaps the most popular is the waterfall route, which takes about two or three hours there and as many hours back. Before starting the route, it is necessary to consult a tourist office in Chefchaouen or Tetuán: it is necessary to know the weather and the conditions of the trails, as well as to be aware of the physical condition of each one.
FROM AKCHOUR TO TETOUAN, THE CHARMING ROUTE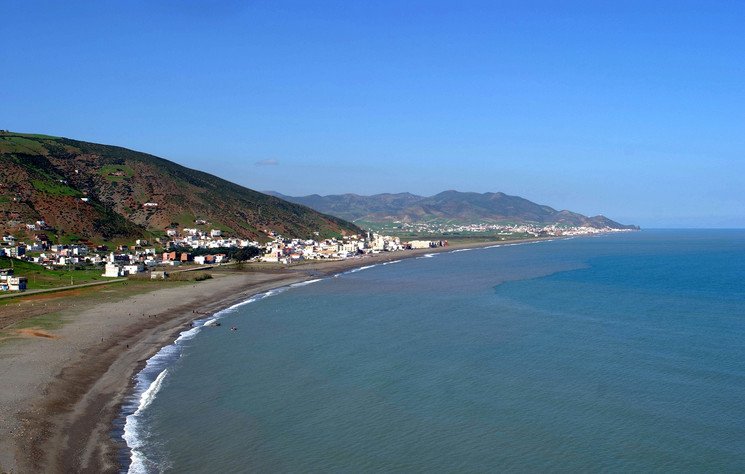 Once you have walked through the Akchour area, you can continue the route by car to Tetouan.
Warning for those who get dizzy: the road along the coast is beautiful, but it is full of bends. Nevertheless, it is worth taking the risk.
Although there are only about 80 km between Akchour and Tetouan, it takes about two hours to get there. If you also stop to enjoy the scenery and take pictures, it can become a three or four hour journey.
In winter, moreover, at 6pm it starts to get dark and, frankly, it is not advisable to walk on those roads after dark. It is dangerous because it is not lit up and there are sections of sharp bends.
Bordering the coast to Tetouan you will first arrive at the wonderful town of Oued Laou, a small coastal town that still maintains its essence.
Silence, peace, fishing and black sand beaches of spectacular beauty. Absolutely forced to stop for a fish tajin (if you have arrived with your stomach in condition after the curves) .
If you continue along the coastal road, you will reach the beaches of Amsa and Azla, in summer full of families with small children.
These are tourist locations but quiet, as most of the visitors they receive are locals in search of peace and quiet and family days. It is a delight to get out of the car and stretch your legs on the promenade or on the beach.
Finally, and already in Tetouan, you can make an excursion to Martil, where the Spanish military spent their summers during the time of the protectorate. They called it Villa Martín because they called the river that passes through there Martín.
Now, students populate the streets of Martil, which is home to the University of Tetouan, the best in Morocco and one of the best in North Africa.
There is a beautiful (and very long) promenade with many terraces where you can drink a good mint tea, a well loaded coffee (not suitable from 15.00 hours if you want to sleep at night) or an ice cream.
The Goya cafeteria stands out, overlooking the sea and which, in reality, is a Madrid-style peña. A perfect place to watch the sunset, if you are not a fan of F.C. Barcelona, of course.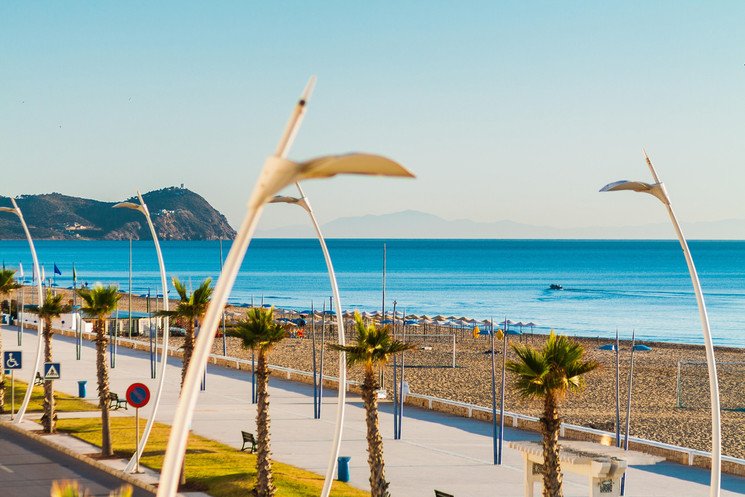 CAPE NEGRO AND RINCON
To the north of Martil is Cape Negro, a destination that can be passed by, as it is a residential complex where many Tetuanis have their second home.
In Cape Negro you can find one of the best golf clubs in Morocco. This place has lost the essence that makes Morocco so special. Five-star resorts, private swimming pools and residential complexes with identical villas are its protagonists.
However, if you want to have an idea of how the north of Morocco is changing thanks to the millionaire investments of the last years, it won't be out of place to take a walk by car through the brand new avenues. Kilometres and kilometres of new roads that will not leave anyone indifferent.
It is essential, once you have passed Cape Negro, to visit Rincón, also called M'Diq, although even the Moroccans continue to use the name Rincón, given by the Spaniards.
One of the royal palaces of Mohammed VI is located in Rincón, but the most interesting and beautiful thing is the fine sand dunes, the crystal clear waters of its beach and the nightlife.
If you want peace, it is better to go back to the mountains, because in summer, Rincón, which is halfway between Tetuán and Ceuta, gets crowded with local tourists. Sandwiches, skewers, mixed dishes and tajines are the most popular dishes in Rincón.
Leaving the tourist route in the north of Morocco is as easy as renting a car and setting out on your own.
If you can not or do not want to drive, you can always go in a shared taxi and make the route in sections. It shouldn't be too expensive, perhaps 600-700 dirhams from Chefchaouen to Tetouan (53-62 euros).
However, stop by a pharmacy first to buy medication for motion sickness: the curves do not respect anyone, and what is a beautiful route on horseback between mountains, mountains, beaches and fishing villages, can end up becoming a hell on earth.