With a long history and an extremely large cultural diversity, the Moroccan Gastronomy has become one of the most popular gastronomies over the world.
In addition to herbs and typical Moroccan spices that add irresistible flavours and aromas and make each dish more special, the secret of this great success is due to an exceptional ancestral know-how combined with a wide range of healthy ingredients and unique local products such as orange blossom, mint, honey and olive oil…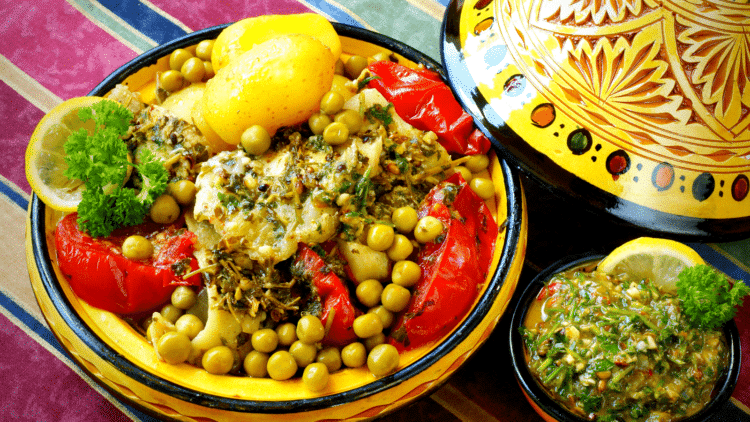 Morocco has earned an honourable reputation with a real gastronomic identity, that has over the years become well known beyond the borders.
As a result, several Moroccan dishes become very popular and highly appreciated in different countries.
The Most Popular Moroccan Dishes
You cannot spend your holidays in Morocco or visit a Moroccan Restaurant without being amazed by the tastes and the delights of Moroccan Gastronomy as well as the wide variety of the local dishes…
Here is a selection of the best and most popular Moroccan Dishes:
Couscous: Couscous is one of the most important dishes of Moroccan Gastronomy. The original version contains seven vegetables, beef or chicken, and chickpeas. This is the main dish usually served after Friday's prayer.
You can eat Couscous in almost all Moroccan Restaurants all over the world.
Tajine: A Berber dish and a Must for the lovers of the Moroccan Cuisine, the Tagine is available in different versions, it can contain lamb, beef, chicken, vegetables, fish, dried fruits or seeds.
All the local and organic ingredients are seasoned with typical Moroccan spices such as pepper, turmeric, cumin, paprika and saffron.
You can enjoy a Tagine every day without having to use the same recipe… In other words, you can have a beef Tagine with dried fruits for lunch and a chicken Tagine with lemons and olives for dinner!
Tanjia: an emblematic dish of Marrakech, prepared with beef or lamb meat, a mixture of Moroccan spices, olive oil and preserved lemons.
Generally, it takes more than 4 hours to cook the Tangia in a traditional local oven.
Several Restaurants in Marrakech serve this Marrakchi dish almost every day, especially restaurants and snacks located around the legendary Jemaa el Fna Square.
Pastilla: This Andalusian old speciality is one of the most delicious and refined dishes in Morocco. Pastilla is a kind of puff pastry filled with almonds, chicken, even with fish or seafood, then sprinkled with powdered sugar and cinnamon, making it both salty and sweet.
The Pastilla is usually served in Moroccan weddings and big family events.
Harira: This is the most popular local soup, traditionally served during Ramadan with dates and Chebakia (Moroccan cookies).
The traditional soup or Harira contains tomato, chickpeas, lentils, coriander, parsley and a selection of Moroccan spices.
Moroccan Salads
We don't talk much about Moroccan Salads, but they still essential on each Moroccan table: Light, healthy or gourmet, Moroccan salads are an excellent food accompaniment in Maghreb.
There is various kind of salads: Cooked, steamed or roasted salads, sweet and salty salads, vegetable salads or fruit salads…
The big diversity of recipes allows everyone to fill up on vitamins and energy by eating onions, eggplant, carrots and tomatoes.
Usually the salads can be served cold or hot as an entry before the main courses.
The most popular salads in Morocco are Taktouka made with tomatoes, Moroccan Spices and olive oil and Zaalouk or eggplant caviar grilled and marinated in olive oil.
The Moroccan salads are extremely delicious and suit perfectly with all Tagines and local dishes, and even with skewers and grills.
Drinks & Moroccan Pastries
The is no talk about the Moroccan Gastronomy without mentioning the local pastries.
In addition to the famous Moroccan pastries, basically made with honey, cacao almonds and nuts… You can also enjoy some other Moroccan delicacies like Baghrir, Harcha, Briouates, Sellou, Chebakia & M'Hancha.
Obviously, we don't need to introduce the Moroccan mint tea, it's the most popular local drink in the country, composed of green tea leaves, mint, water and sugar and prepared in different traditional ways.
The Moroccan mint tea is served all the day for family members, friends and guests with traditional local pastries.
The Moroccan gastronomy will remain one of the best international specialities, thanks to its almost unique perfumes, culinary delights, original flavours and enchanting colors.