Here we will show you a Moroccan dish that you will like a lot, the Moroccan version of this zaalouk eggplant salad is prepared with cumin and olive oil that are added at the end of cooking. Depending on the zaalouk recipe, the eggplant can be roasted or not before cooking.
In all cases, it is possible to keep the skin or remove it and it is very similar to ratatouille, it is a dish that can be served hot or cold.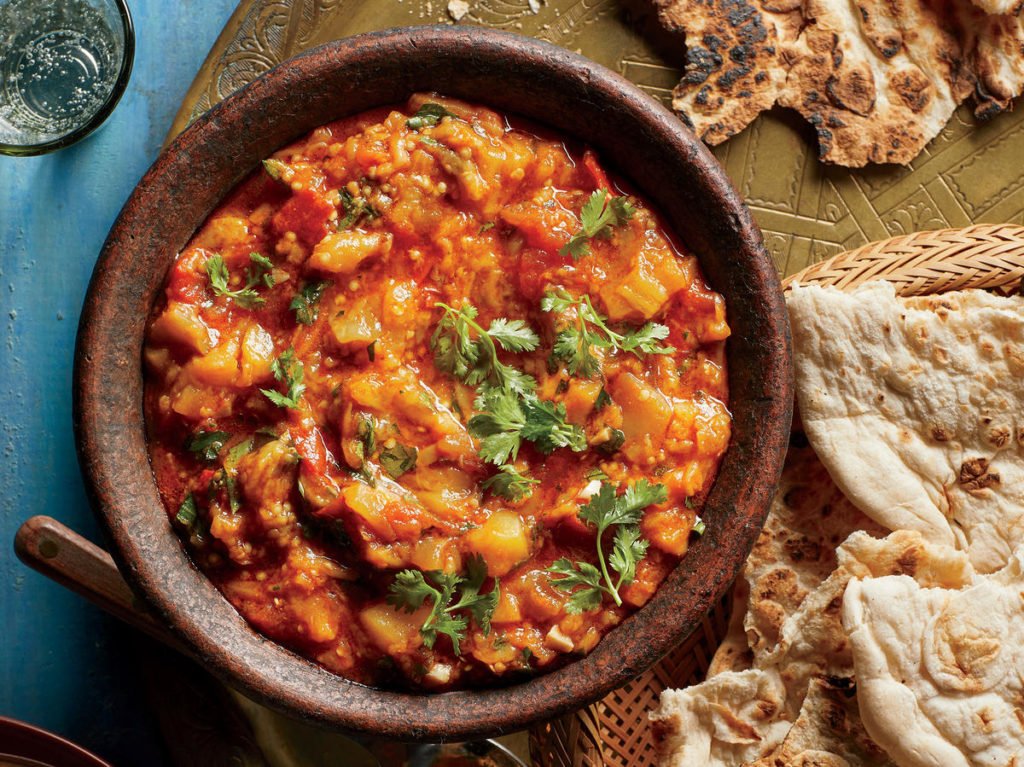 Ingredients
4 eggplants
1/2 Kg tomatoes
80 Gr pitted black olives
3 cloves of garlic
Juice of half a lemon
5 tablespoons olive oil
1/2 teaspoon ground pepper
1 teaspoon sweet paprika
1 teaspoon ground cumin
Salt to taste
1 teaspoon tabasco, not necessarily hot
1 teaspoon sugar
STEP BY STEP PREPARATION
Wash the eggplants and peel some strips without peeling them completely. Cut them into cubes and cook them in boiling salted water for 15 minutes. Once cooked leave them in a colander and press them a little so that they release the maximum of water.
Meanwhile, peel and dice the tomatoes, removing the seeds. Then heat a frying pan with 3 tablespoons of olive oil and add the finely chopped garlic cloves. Add the tomatoes before the garlic browns, and also add the coriander, parsley and spices. Let it cook for 15 minutes until we have a kind of tomato sofrito.
Now add the well-drained eggplants, add the vinegar and let it cook for 10 more minutes. Adjust the salt and add some chili or hot paprika to taste.
The zaalouk can be eaten hot or cold and is served as a garnish with meat, fish or eggs. But I love to spread it on toast.
Besides, this dish can last several days, even up to 5 days in the refrigerator and can also be frozen.
Read more:
Moroccan Food in Fez
Moroccan Avocado and Banana Shake
Batbout Recipe
Fish Briouats Recipe
Byessar Recipe (Moroccan Bean Cream)
Lentil Falafel Recipe
Seffa Recipe
Beet and Coconut Balls Recipe
Moroccan Fritters Filled With Jam
Chebakia Recipe