This week, and in honor of the diet I've been on for about a month, I'm dedicating the entry to Moroccan cuisine. So in this post, I'm going to tell you everything you need to know about where to eat in Tangier.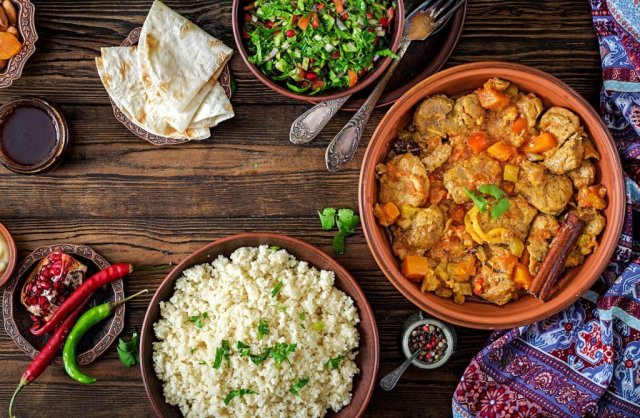 Tangier has an abundance of restaurants. In most of them it is not possible to get alcohol and when they offer it it is at a high price.
Here are the best places to stay in Tangier.
Get the best deals and discounts on hotels here.
Traditional Moroccan Restaurants in Tangier
Restaurant Communautaire Darna
My first suggestion is the Restaurant Communautaire Darna, especially if you are a home-cooking enthusiast, as it only offers menus of the day with one or two dishes to choose from, at 60 dirhams per person.
Moreover, you will contribute to a social cause, as it is run by an association of single mothers (people who, to be honest, do not enjoy a very comfortable life in Morocco).
Located next to the Cinema Rif, as it is inside a building where courses are also given and crafts are developed, its facade can be misleading.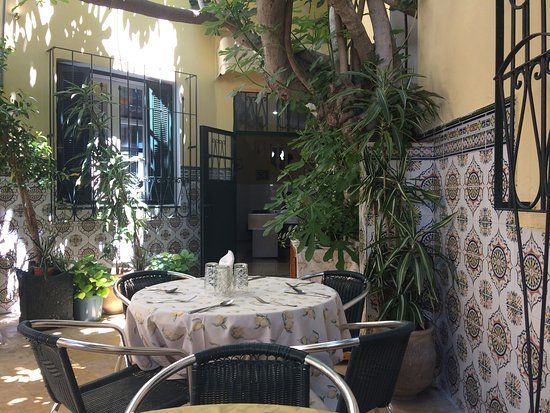 Restaurant Communautaire Darna
Rue Jules Cot
Tel. 539 947 065
Restaurant Ahlen
On the other hand, if you want to eat à la carte, I recommend the Ahlen Restaurant located in one of the alleys leading to the Petit Zoco square.
It has all the basics of traditional Moroccan food, prepared with a lot of love and at a very reasonable price (for 60-70 dirhams you can have a big lunch). If you go, you won't regret it (and you'll probably repeat as all his clients do) because Rachid (the owner) will make you feel at home.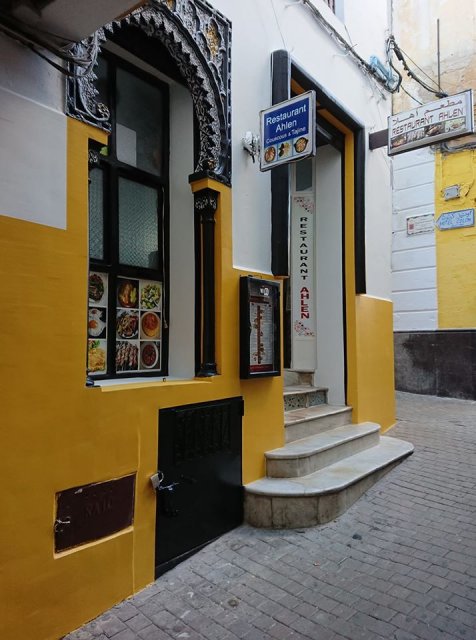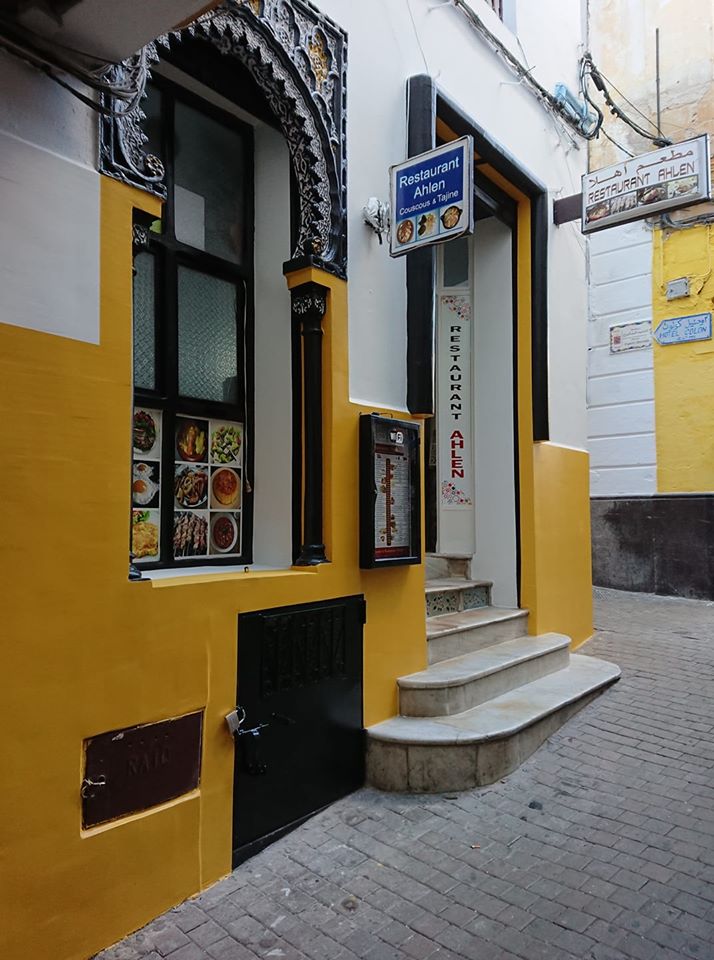 Restaurant Ahlen
8 Mokhtar Aherdan Avenue
Tel. 645 007 510
Hammadi Restaurant
Another one with similar characteristics to the previous one is the Hammadi Restaurant, which on the one hand has a more worked and traditional decoration and with a local music group entertaining, but on the other hand it is more expensive (100 dirhams per person). You should not miss out on the harira flavored with cinnamon.
The Hammadi restaurant is a restaurant in Tangier where musicians entertain the evening.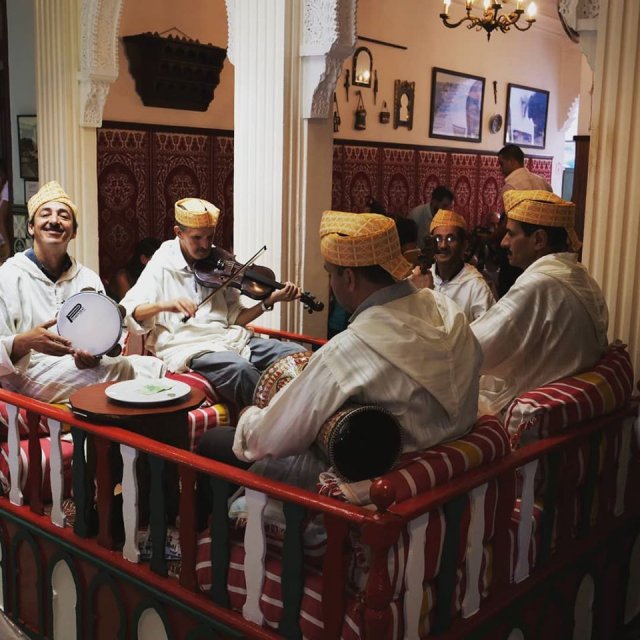 Hamadi Restaurant
Rue de la Kasbah, no. 2
Tel. 539 934 514
Le Saveur du Poisson
And if we focus on the fish, there is one place I discovered thanks to the recording of the program Movie Destinations and I highly recommend it: Le Saveur du Poisson. A place, I admit, somewhat expensive for Morocco (200 dirhams per head) but with a simply delicious grilled fish, accompanied by fruit juice (similar to sangria, but with many more nuances), several starters and dessert (usually strawberries with pine nuts and honey).
In spite of the price, the menu is more than abundant, so you can always order it for two, so that it costs 100 dirhams per head.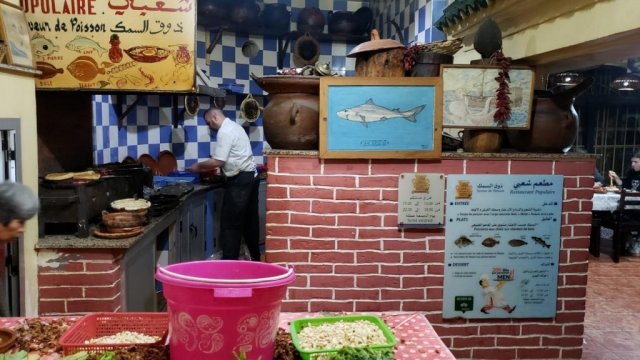 Le Saveur du Poisson
Escalier Waller 2
Tel. 539 336 326
These are ideal for getting your strength back and continuing to tour the city, as they are all located just a few metres from the central Plaza 9 de Abril. However, if you want to eat quickly, there are numerous places in the medina to choose from.
One of my last times I tried the Mix Max Restaurant, because I saw quite a few people from the area having lunch there (it goes without saying that I was right in my choice). Besides the typical paninis, they also offer hamburgers and pizza for those who are looking for something more western.
Mix Max
4 Prince Heritier Avenue
Tel. 539 938 465
Best Snack in Tangier
If you are looking for a place to have a tea or a coffee accompanied by pasta, I recommend the Café Central, located in the middle of the Petit Zoco Square. It is a very popular place with tourists and locals alike, who consider it the ideal place to have a cup of tea while watching the bustle of the medina.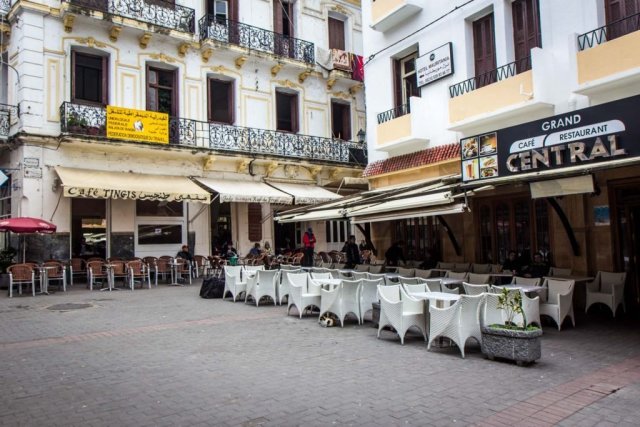 If, on the other hand, you don't mind moving away from the centre, I strongly recommend the Café Hafa (located next to the necropolis), a space which, in my modest opinion, is not defined as a café, as it is one of the places with the greatest identity in Tangier.
Because, as if it were an urban amphitheatre, it is located on a hillside, with terraces staggered from which to admire the Strait of Gibraltar, see the ships cross and, with a little luck and if the day is good, appreciate the silhouette of the Spanish coast.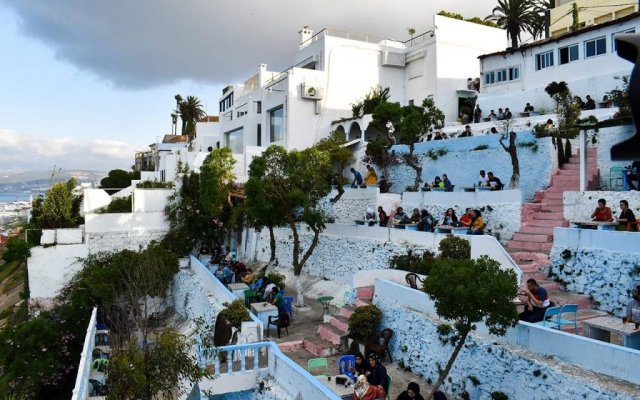 However, be patient when you order your tea (one of the best I've ever had, I'd add), which you can have with nuts, cakes, and other delicacies, as the waiters who write down the orders have to go through all the terraces. Enjoy the wait by talking to your friends, or even playing Parcheesi, while you contemplate the view.
As soon as you understand the essence of it, you won't mind waiting and, with a bit of luck, you'll enjoy an afternoon in an extraordinary atmosphere full of history.
Finally, if your intention is simply to buy and eat a snack while you continue to explore the city, I recommend the Taj el Amrani, where you can buy very tasty cakes at a very cheap price. It is also ideal for, in the case of Tangier, to return home with enough food to extend the experience.
For example, I usually come back to the boat with 20 chicken cakes and as many fish cakes from this place, ready to be frozen as soon as I arrive and heated when I feel like it. And I assure you that they don't usually last long.
Boulangerie-Patisserie Taj el Amrani
Rue de la liberté nº53
… In addition
Finally, I recommend a very special place: The Morocco Club. Located in the Kasbah, it is ideal to go at any time of day, as it has several floors, each with an exclusive function: the first floor is dedicated to the restaurant, while the second floor has reserved areas for dinners and special occasions and terraces with spectacular views of the medina where you can have a cocktail.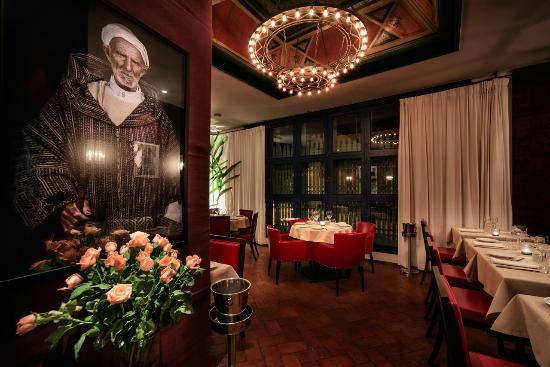 Finally, on the ground floor they have a piano bar, which functions as a discotheque on days when there is no show.
Focusing on food, it offers traditional dishes with a modern touch and great presentation; without a doubt a different way to experience Moroccan cuisine. However, two things should be noted: first, it is necessary to book, as it is very popular and there are usually no free tables. And second, keep in mind that it is not exactly cheap. Even so, the dishes they have, both for their exquisite preparation and for their originality, are well worth every euro you spend.
And with this last suggestion ends this article on places to eat in Tangier. I hope it will help you next time you visit the city, and of course feel free to offer your suggestions.
Read more:
Shopping in Tangier
Hotel Continental
Best Hotels in Tangier
Cafe Hafa
TANJazz Festival