I would like to talk about Riads, it's something that most people want to know about. So what's a Riad?
The riad, which in Arabic means garden, is a house with an inner courtyard, around which the rooms and some common areas are distributed.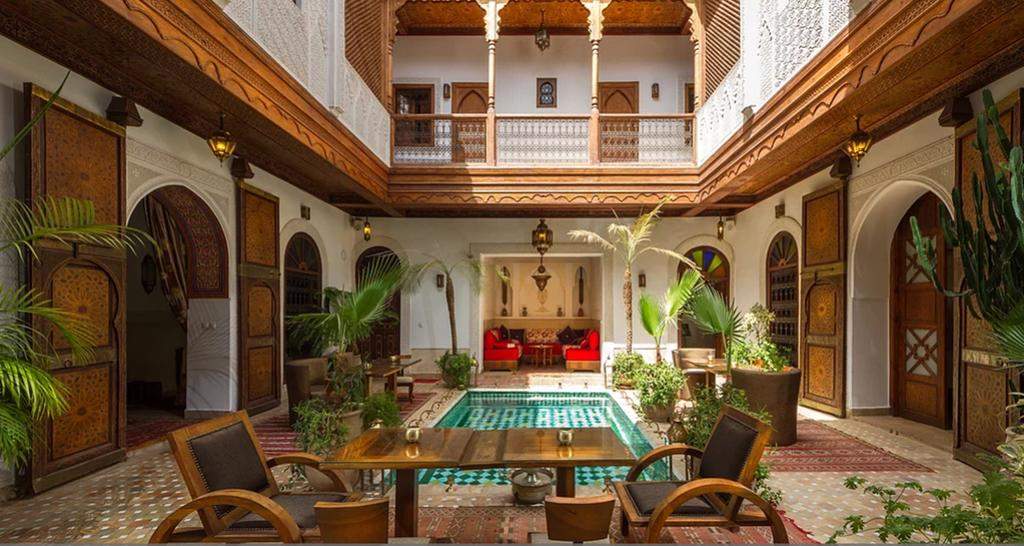 It is precisely this inner courtyard that usually characterizes the accommodation, and it is usually decorated with mosaics and plants and, even on occasion, references to water, such as a fountain or even a swimming pool. They usually have two or three floors at most and have a small number of rooms (about five).
Amenities in a Riad
With respect to what they can offer, although due to their size they do not have a large number of common spaces, they will not lack the comforts that a hotel with Spanish charm can have, for example, reception, rooms with bathroom included, breakfast, half board, etc.to which we must add an exquisite decoration.
Difference Between a Riad and a Hotel
As you know, hotels are distinguished by the number of stars, but that number does not mean the same thing in the rest of the world as Morocco. Well, if they tell you that a hotel in Morocco has a specific category, you have to get used to the idea that it is equivalent to a European hotel with one less star.
Another basic difference between a riad and a hotel is based on the size of the first one: as it has an average capacity of 5 rooms, it makes it possible to deal with the client much closer and more personalized, which causes the sensation of being at home with a friend or family member. In addition, you have to take into account the type of person who runs it: while hotels are usually run by local people, riads are led by European citizens who, fascinated by Moroccan culture, decided at the time to take the initiative to buy these homes and convert them into accommodation for tourists. This is why, although their architecture is respected, they have a way of offering themselves to tourists closer to Western culture.
Another difference is the decoration: think of a Spanish hotel from the eighties that has not undergone any reform: carpeted floors, floral motifs, predominance of brown and reddish colors, etc… Although it is difficult to find a hotel with a modern and minimalist style, take for granted that they will be clean and will have some more modern details, such as flat television in the rooms or wifi service in the common areas.
That's why I don't recommend choosing a hotel lightly, motivated by your previous experience in Europe, but inform yourselves well and try to get someone to advise you.
Eventually ..
Having described both options for staying in Morocco, surely most of you have thought that the best option is to stay in a riad, something I share. Even so, there will be people who prefer the staff to be less close and value more the number of common areas.
It is, of course, another possible option. Although as I said, in my case, I almost always end up deciding for a riad.
Read More:
Riad Assilah in Chefchaouen
The Kasbah Museum in Chefchaouen (Ethnographic Museum)
Morocco Travel Guides
Morocco
Asilah
Fez
Marrakech
Rabat
Tangier
Casablanca
Agadir
Chefchaouen
Meknes