When you think of salads, the first thing that comes to mind is a Caesar salad or a cabbage and carrot salad, but this time you will get to know this vegetarian recipe, very simple to prepare and with an exotic mix of spices, topped with yogurt, pistachios and molasses. Warmer days are synonymous with salads, lots of salads, because I don't like to serve them only with dinner.
Here's a short and simple Moroccan Chickpea Salad recipe. We also have several other Moroccan recipes here. Without further ado, let's get started!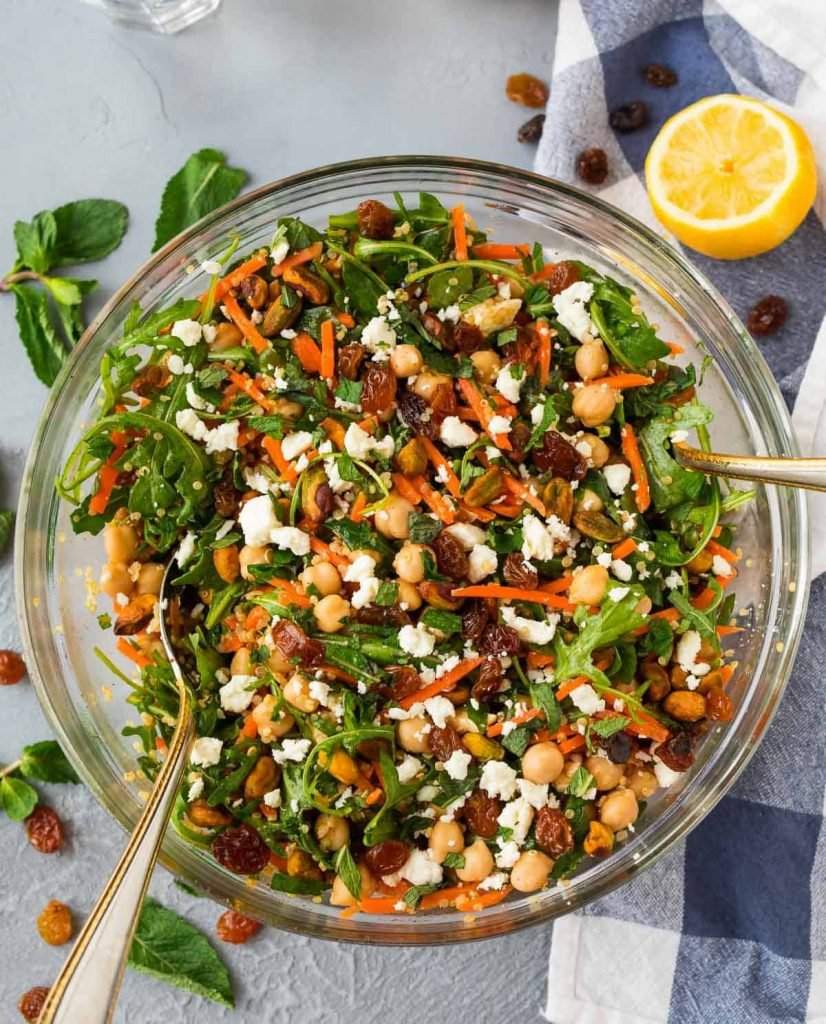 So with that said let's start looking at what to have to prepare it.
Ingredients:
200 g. of Your recipes to accompany with NOMEN quinoa.
200 g. of cooked chickpeas, drained
2 spring onions in julienne
150 g. pitted dates, diced
50 g. of chopped shelled pistachios
50 g. toasted slivered almonds
1 tablespoon of chopped preserved lemon (or some lemon slices boiled 4′ in salted water)
100 g. pitted black olives from Aragon
1 handful of mint leaves
1 handful of coriander leaves
For the dressing
100 ml. orange juice
100 ml. lemon juice
4 tablespoons of extra virgin olive oil
1/2 teaspoon ground cumin
Preparation:
Cook the rice with quinoa in salted water for 16 minutes and drain.
In a bowl mix the still warm rice with the chickpeas, spring onions, dates, pistachios, almonds, preserved lemon, olives and half of the leaves.
Gather all the dressing ingredients in a glass jar with a screw lid, shake and pour over the salad.
Finish with the rest of the mint leaves and cilantro.
Our delicious Moroccan style chickpea salad is ready and waiting for us to taste it.
Read more:
Moroccan Food in Fez
Moroccan Avocado and Banana Shake
Batbout Recipe
Fish Briouats Recipe
Byessar Recipe (Moroccan Bean Cream)
Lentil Falafel Recipe
Zaalouk (Aubergine Caviar)
Seffa Recipe
Beet and Coconut Balls Recipe
Moroccan Fritters Filled With Jam
Chebakia Recipe